This Slow Cooker Cranberry sauce is tart with a hint of citrus. The amount of sugar can be adjusted to suit individual tastes. Since it's made in a slow cooker, this cranberry sauce is an easy 'set it and forget it' Thanksgiving Day side dish.
You guys are going to think I'm crazy when I admit this… but I really love the jellied cranberry sauce. You know the kind I'm talking about… the deep red, can-shaped, jello-esq kind. It jiggles, it wiggles, it makes a weirdly satisfying gloopy plopping sound as it slides out of the can and hits the plate. As a kid, I shunned any cranberry sauce that had any kind of chunky berry in it. Give me the canned jellied stuff all day err day.Then I grew up and my tastes changed. I realized that whole berry cranberry stuff wasn't so bad after all. And I also decided homemade whole berry cranberry sauce trumps the canned stuff. Growing up, we always had the canned whole berry cranberry sauce, the jellied cranberry sauce and a homemade one. Now, we stick with the homemade kind and we still include the jellied sauce for our Thanksgiving Day spread.
Yes, I still eat the jellied kind. There's a special place for it right next to the homemade version. I feel like I'd be excluding an old friend. Or throwing out a favorite childhood memento if I no longer had the jellied cranberry sauce next to my turkey. So if you didn't think I was crazy before, you probably most certainly do now. It's cranberry sauce for crying out loud. To each their own, right?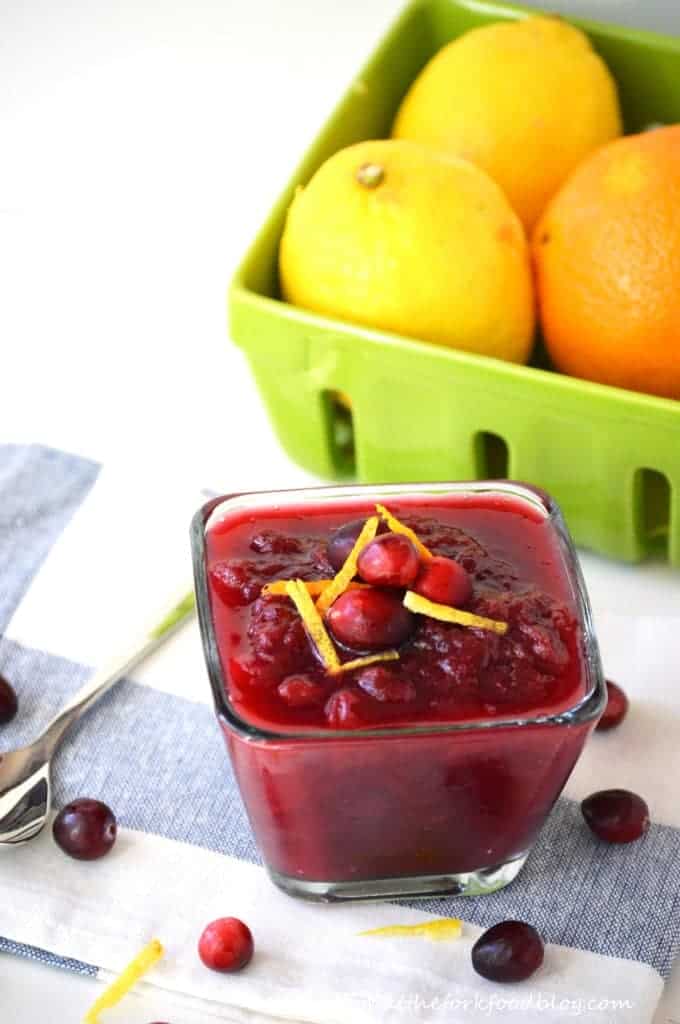 Since the canned cranberry sauce is perfectly fine as is (for me), I wanted to make my own whole berry kind since I didn't love the canned version of that. I've been making it on the stove top for a few years now but this year I wanted to test it out in the slow cooker. You guys, this slow cooker cranberry sauce is so easy it's not even funny. There are only a few ingredients and you just mix them together in your slow cooker, set it, forget it and it's done.
Actually, don't forget it. You don't want to burn your cranberries. Yes they will burn. I actually did set it and forget it one day. I had a well-deserved nap calling my name. My cranberry sauce cooked an extra hour and a few of the berries that were touching the edges of the slow cooker burned. So don't be like me! Don't literally forget about your cranberry sauce. Set your timer and enjoy!
Slow Cooker Cranberry Sauce
Ingredients
12 oz fresh cranberries
1/2 C water
1/4 C orange juice
1 tsp orange zest
1 tsp lemon zest
3/4 C granulated sugar
1/8 tsp ground nutmeg (optional)
Directions
Rinse cranberries and remove any mushy or dried up cranberries.
Add cranberries and all of the remaining ingredients to a slow cooker. Stir to combine. Cook on low for 3 hours.
When cranberry sauce is cooked, use a spoon to mash up the berries a bit. Refrigerate until ready to serve.
Recipe Notes
The cranberry sauce will thicken slightly when chilled.
If you love this recipe for Slow Cooker Cranberry Sauce, be sure to sign up for free email updates! New recipes will be delivered straight to your inbox!
 This recipe is linked to Merry Monday, Inspiration Monday, Made by You Monday, Inspire Me Monday, Two Cup Tuesday, Tasty Tuesday, Totally Talented Tuesdays, Create Link Inspire, You're Gonna Love It Tuesday, Time to Sparkle, Handmade Tuesdays, Tickle My Tastebuds, The SITS Girls, Create & Share DIY and Recipe Party, Gluten-Free Wednesdays, What's Cookin' Wednesday, Allergy Free Wednesday, Show and Share Wednesday, Wine'd Down Wednesday, A Little Bird Told Me Link Party, Full Plate Thursday, Showcase Your Talent Thursday, Create it Thursday, Pin It Thursday, Your Turn To Shine, Pin Junkie Pin Party, Gluten-Free Fridays, Pure Blog Love, Link Party Palooza, Foodie Friday, Kitchen Fun and Crafty Friday, Foodie Friday, Strut Your Stuff Saturday, Show Stopper Saturday, Saturday Night Fever, Weekend Bites, Weekend Wind-Down, The Weekend Social,  Weekend Potluck, Best of the Weekend, Weekend Recipe Link Party and Sweet & Savoury Sunday.