This month for the March Gluten Free Baking Challenge, we're baking a bright and citrusy quick bread. Join the fun and let's bake something delicious together!
The photo above is by Sharon Lachendro for
The Gluten Free Quick Bread Cookbook
Welcome to the March 2019 Gluten Free Baking Challenge! I know, I know.. it's been so long since our last challenge. Since October to be exact…
However, we're bringing it back FULL FORCE for the remainder of the year. Hold me to this, ok? I may need your help with that!
This month, we're prepping to launch The Gluten Free Quick Breads Cookbook, which is now available for pre-order 🎉🎉
In celebration of that, this month's gluten free baking challenge recipe will be a quick bread! I polled the members of the Gluten Free Baking Club to choose this month's challenge recipe and they picked a good one.
---
The March Gluten Free Baking Challenge Recipe is….
Gluten Free Meyer Lemon Bread 🍋💛
Honestly, I love this bread so much. Meyer Lemons are not as tart as regular lemons. They're a cross between lemons and mandarin oranges. And they make the most delicious baked goods!
This bread is one of the featured quick breads from my website that also makes an appearance in the cookbook. There are 75 bread recipes in the book, only 3 of them are also here on the blog.
That means there are 72 NEW quick bread recipes for you to explore. You guys, that's a lot of delicious breads!
So bottom line is this – if you love this Gluten Free Meyer Lemon Bread recipe as much as I do, you will absolutely love The Gluten Free Quick Breads Cookbook too!
---
Since it's been a while since our last gluten free baking challenge, let's go through the run-down of everything you need to know about participating in the challenge 👇🏼
What is the Gluten Free Baking Challenge?
A gluten free baking recipe is chosen to be the monthly challenge recipe. To participate in the challenge, you'll bake the chosen recipe, take a quick picture of it, then share it to be entered to win the giveaway.
Where To Share Your Photos
Instagram – Share your photo of the Gluten Free Baking Challenge recipe to your public Instagram account. (If it's a private account, I won't be able to see it.)

To qualify, you must use the #gfbakingchallenge and tag @whattheforkfoodblog

For those of you who have participated in the past, #gfbakingchallenge is a NEW hashtag for the challenge ❤️

Then, you must enter the link to your Instagram post in the giveaway form below.

Facebook Group – If you're a member of the Gluten Free Baking Club Facebook group, you can post your image there.

To qualify for the prize, include the #gfbakingchallenge in your post!
Once your post is approved, grab the link and to the post and enter it into the giveaway form below.

Facebook Page – Share your photo to my What The Fork Food Blog Facebook page with the official baking challenge hashtag, #gfbakingchallenge then enter the link to your post into the giveaway form below.
Share your recipe to a gluten free recipe sharing group on Facebook. This entry method is new and can be used as a bonus giveaway entry. Be sure to link to the Gluten Free Meyer Lemon Bread recipe in your post (so others can get to the recipe!) and don't share the full recipe in the group.
The March Gluten Free Baking Challenge Prize
This month's gluten free baking challenge prize is a $50 Amazon eGift Card. Please note, your chance of winning the challenge prize has nothing to do with photo quality. Winner will be randomly drawn from the giveaway form. There will be additional entries to increase your chances of winning. To be eligible for the prize, you must use the entry form to enter. The giveaway form is located at the end of this post. All winning entries will be verified and winners will be contacted by email.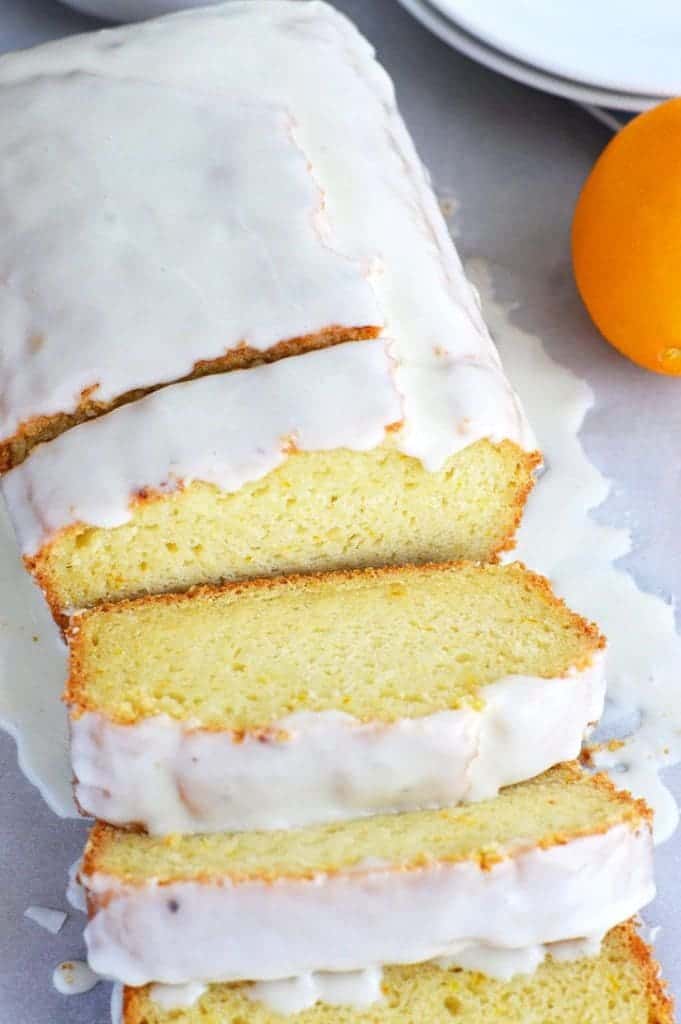 ---
What You Need To Know to Make the Meyer Lemon Bread Recipe
Key Ingredients
Meyer Lemons (not regular lemons). Meyer Lemons are a bit darker, more orange-yellow than yellow and have a smoother peel than regular lemons. They should be clearly labeled as Meyer Lemons.
Gluten Free Flour – I use my Nightshade Free Gluten Free Flour blend in this recipe. However, Arrowroot doesn't always play nice with acid. Since Meyer Lemons aren't as acidic as regular lemons, it's not always an issue. If you use this flour blend and find that your bread is slightly chewy, your lemons have a higher concentration of acid. Just reduce the amount of xanthan gum to a 1/4 teaspoon next time.

If you don't want to deal with any guesswork when it comes to acid, Arrowroot, and xanthan gum, just use a good 1:1 flour blend. Bob's Red Mill 1:1 Gluten Free Baking Flour contains xanthan gum already (and no Arrowroot) and it work's great in this recipe. It's a blend that recipe testers used when testing recipes for my cookbook.

Avocado Oil – I bake exclusively with avocado oil. If you don't have it, you can use any neutral oil such as canola oil or vegetable oil.
Milk – I use unsweetened coconut milk when baking dairy free. If you don't need dairy free, regular milk works just fine.
Meringue Powder – The glaze used to call for meringue powder but I omitted it for the cookbook to keep it nice and simple.
---
Gluten Free Meyer Lemon Bread
Total Time:
1 hour
10 minutes
Meyer lemons are a special fruit - they're like a cross between a lemon and a mandarin orange. Get this seasonal fruit before it's gone and make this Gluten Free Meyer Lemon Bread!
Ingredients
For the Bread:
1 cup (195 g) granulated sugar
zest from 1 Meyer lemon
2 cups gluten free flour blend (see note 1)
1/2 teaspoon xanthan gum (see note 2)
1 teaspoon aluminum-free baking powder
1/2 teaspoon baking soda
1/2 teaspoon fine sea salt
2 large eggs, room temperature
3/4 cup (180 ml) unsweetened coconut milk beverage(or milk of choice)
2 Tablespoons (30 ml) Meyer lemon juice
1/3 cup (80 ml) avocado oil (or vegetable/canola oil)
1 tsp (5 ml) vanilla extract
For the Glaze:
1 cup (132 g) powdered sugar
Zest from 1 Meyer lemon
1 Tablespoon (15 ml) Meyer lemon juice
Instructions
To make the bread:
Preheat oven to 350 degrees and spray a 9x5 inch loaf pan with non-stick spray and line it with parchment paper.
Add the granulated sugar and Meyer lemon zest to a large bowl. Rub the zest into the sugar to help release the natural oils.
Add the gluten free flour, xanthan gum, baking powder, baking soda, and salt. Whisk together to combine then set aside.
In a medium bowl, beat the eggs. Whisk in the coconut milk, Meyer lemon juice, oil, and vanilla extract.
Pour into the dry ingredients and stir until combined, then transfer the batter into the prepared baking pan.
Bake at 350 degrees for 50-60 minutes or until a cake tester comes out clean.
Cool in the pan for 30 minutes then remove it from the pan and cool completely on a wire rack before glazing.
To make the glaze:
Stir the powdered sugar, Meyer lemon zest, and Meyer lemon juice, together until it's smooth and thin enough to drizzle. Add a little coconut milk or water (1 teaspoon at a time) to thin out he glaze if needed.
Pour the glaze over the bread and let it set before serving.
Notes
I use my Nightshade Free Gluten Free Flour Blend in this bread (260 g). However, you can use a 1:1 gluten free baking flour (such as Bob's Red Mill 1:1, 285 g) and omit the xanthan gum called for in the recipe.
The flour blend I use contains Arrowroot. When baking with Arrowroot and acid, less xanthan gum is required. If your flour blend does not have Arrowroot, use 1 teaspoon of xanthan gum instead of 1/2 teaspoon.
This bread can be frozen with the glaze on it. Just slice it, freeze the slices on a baking sheet, and then store them in a freezer bag/container with parchment paper between layers.
You can also freeze the bread whole before it's glazed. Just thaw completely before glazing.
This bread can also be baked in an 8x4 inch pan if that's what you have.
This recipe can also be found in my cookbook, The Gluten Free Quick Breads Cookbook.
Recommended Products
As an Amazon Associate and member of other affiliate programs, I earn from qualifying purchases.
Nutrition Information:
Yield:

12
Serving Size:

1
Amount Per Serving:
Calories:

261
Total Fat:

8g
Saturated Fat:

1g
Trans Fat:

0g
Unsaturated Fat:

6g
Cholesterol:

33mg
Sodium:

206mg
Carbohydrates:

45g
Fiber:

1g
Sugar:

26g
Protein:

4g
---
March 2019 Gluten Free Baking Challenge