See what we're baking for the June Gluten Free Baking Challenge! Hint, it features a seasonal fruit for a delicious and easy dessert!
You guys. I can't believe May is over and it's already June and at the same time I feel like it should have been June 2 weeks ago. May felt like the longest and shortest month ever all at the same time.
For us, May was packed with end of the year activities, birthdays, anniversaries, Mother's Day, Memorial Day, and a weekend getaway.
Adam and I celebrated our 10 year wedding anniversary (we were basically kids when we got married!) and I still can't believe we're old enough to say we've been married for a decade. We met our freshman year of college when we were just 18 and the rest is history.
I won't go into a sappy love story or anything because frankly, that's not really me. And it hasn't been all rainbows and butterflies either but that's also not real life.
Life is messy, chaotic, and a work in progress. But it's always better when your best friend is by your side through thick and thin. He makes a great taste-tester too.
Not to mention, this blog wouldn't even exist without him since he's the one who eats gluten free!
So, now let's get to what you're really here for, the June Gluten Free Baking Challenge. Are you ready?!
🥁DRUM ROLL 🥁….
---
The June Gluten Free Baking Challenge Recipe is ….
Gluten Free Strawberry Shortcake 🍓
Since the peak of strawberry season is happening right now, I thought it would be appropriate to choose a strawberry recipe for the June Gluten Free Baking Challenge. Nothing is better than fresh strawberries when they are at their ripest, juiciest, and freshest!
Strawberry shortcake is a really simple dessert with just a little bit of baking. My family has always used drop biscuits as the base of our shortcake and we would probably never change it!
This gluten free strawberry shortcake recipe has been on the blog for a few years now and it's been popular this time of year every year since posting it! I just updated the photos for it last year, since my photography has come a long ways in the past couple years.
They just make you want to grab a spoon and start digging in don't they? So let's get in the kitchen and start baking!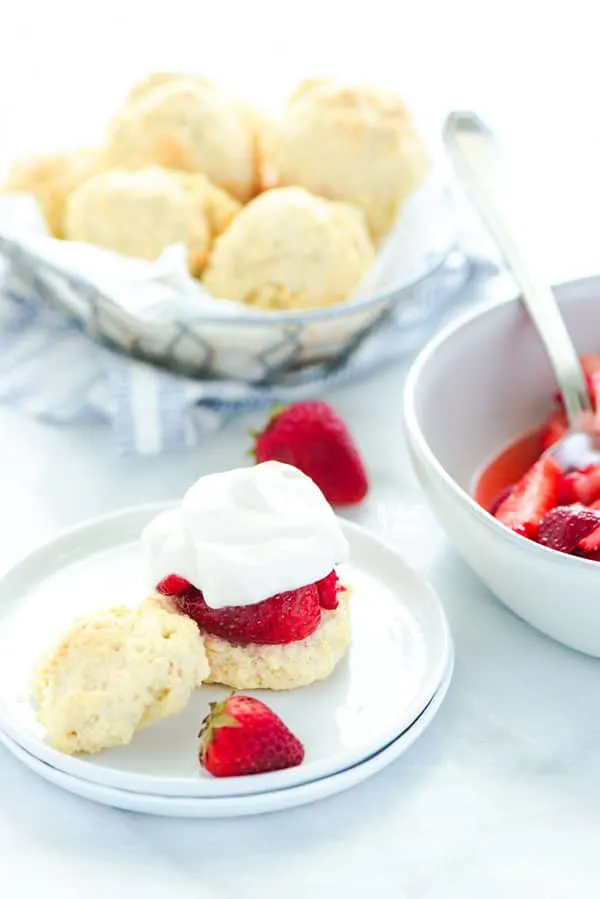 ---
Tips for Making Gluten Free Strawberry Shortcake
Don't over measure your flour. Be sure you measure your flour the correct way. Over-measuring your flour will make the biscuits dry and dense.
Use a flour blend that works well for biscuits. As much as I love my Nightshade Free Flour Blend, it's not ideal with biscuits. Instead, I use my Brown Rice Flour Blend.
Mix up the dry ingredients ahead of time. Mix the dry ingredients up and store them for later so you can have homemade gluten free biscuit mix on hand any time you want it!
Use fresh strawberries. Frozen strawberries won't cut it here – this recipe is all about the fresh strawberries. The fresher the better and best during strawberry season!
Use homemade whipped cream. Take the extra step, whip that cream yourself! That little extra effort pulls the strawberry shortcake recipe together – something CoolWhip can't do!
Freezer friendly! These gluten free drop biscuits are freezer friendly. Cool the baked biscuits to room temperature and then freeze them in a freezer bag for 4-6 months. Defrost at room temperature before serving. You can warm them in the oven wrapped in aluminum foil before serving if you want to serve them warm with your fresh strawberries and whipped cream.
---
Where To Share Your Photos
Share your photos to one or more, mentioned below. Only one is required as an entry for the giveaway so don't feel like you need to share everywhere!
Instagram – Share your photo of the Gluten Free Baking Challenge recipe to your public Instagram account. (If it's a private account, I won't be able to see it.)

To qualify, you must use the #gfbakingchallenge and tag @whattheforkfoodblog
Then, you must enter the link to your Instagram post in the giveaway form below.

Facebook Group – If you're a member of the Gluten Free Baking Club Facebook group, you can post your image there.

To qualify for the prize, include the #gfbakingchallenge in your post!
Once your post is approved, grab the link and to the post and enter it into the giveaway form below.

Facebook Page – Share your photo to my What The Fork Food Blog Facebook page with the official baking challenge hashtag, #gfbakingchallenge then enter the link to your post into the giveaway form below.
---
The June Gluten Free Baking Challenge Prize
This month's gluten free baking challenge prize is a $50 Amazon eGift Card. Please note, your chance of winning the challenge prize has nothing to do with photo quality. Winner will be randomly drawn from the giveaway form. There will be additional entries to increase your chances of winning.
To be eligible for the prize, you must use the entry form to enter. The giveaway form is located at the end of this post directly after the recipe. All winning entries will be verified and winners will be contacted by email.
---
Be sure to follow me on instagram and hashtag #whattheforkfoodblog or tag @whattheforkfoodblog – I love seeing what you make!
If you love gluten free baking recipes, be sure to follow me on social media so you never miss a post:
---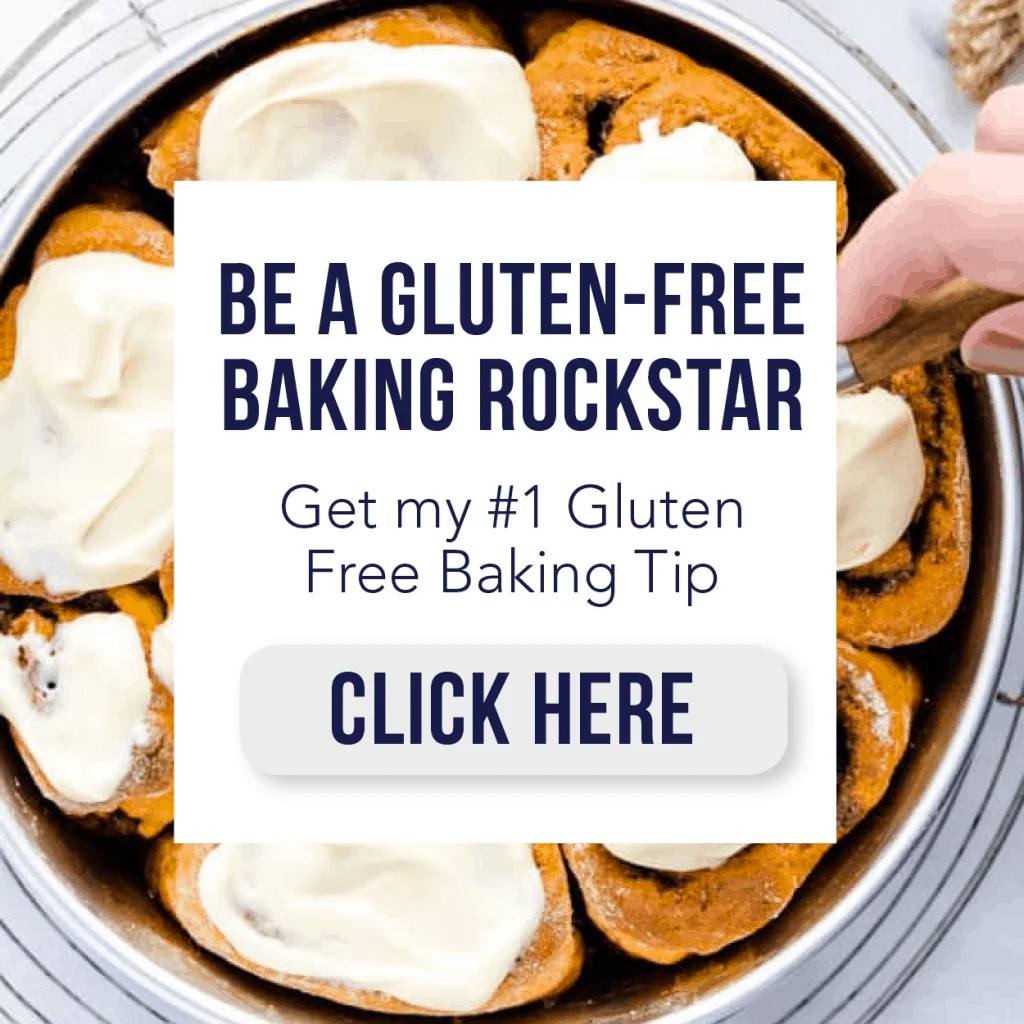 Gluten Free Strawberry Shortcake
This Gluten Free Strawberry Shortcake is made with gluten free drop biscuits, sweetened fresh strawberries and vanilla whipped cream.
Check out this recipe
JUNE 2019 Gluten Free Baking Challenge