Creamy, chocolatey, nutty Nutella Overnight Oats are a delicious way to start your day.
Fact: I love overnight oats.
Fact: I love Nutella.
Fact: Oatmeal is good for you.
Fact: Nutella is a magical ingredient.
Fact: Nutella and oatmeal taste wonderful together.
See where I'm going here? You need these Nutella Overnight Oats in your life. You really do. Especially if you've been wondering how to work more Nutella into your breakfast without feeling too guilty about it.
I have a slight obsession with overnight oats. I've got two different kinds in my fridge right now as I'm typing this. Of course Nutella overnight oats are one of them. The other one is this can't-miss Cookie Dough Overnight Oats recipe from Food Faith and Fitness!
If you're not an overnight oats kind of person yet, try these! It's a great starting place because, hello, Nutella. So. Good. It kind of makes you feel like you're eating dessert instead of breakfast. And there ain't nothin' wrong with that!
Make them, eat them, enjoy them!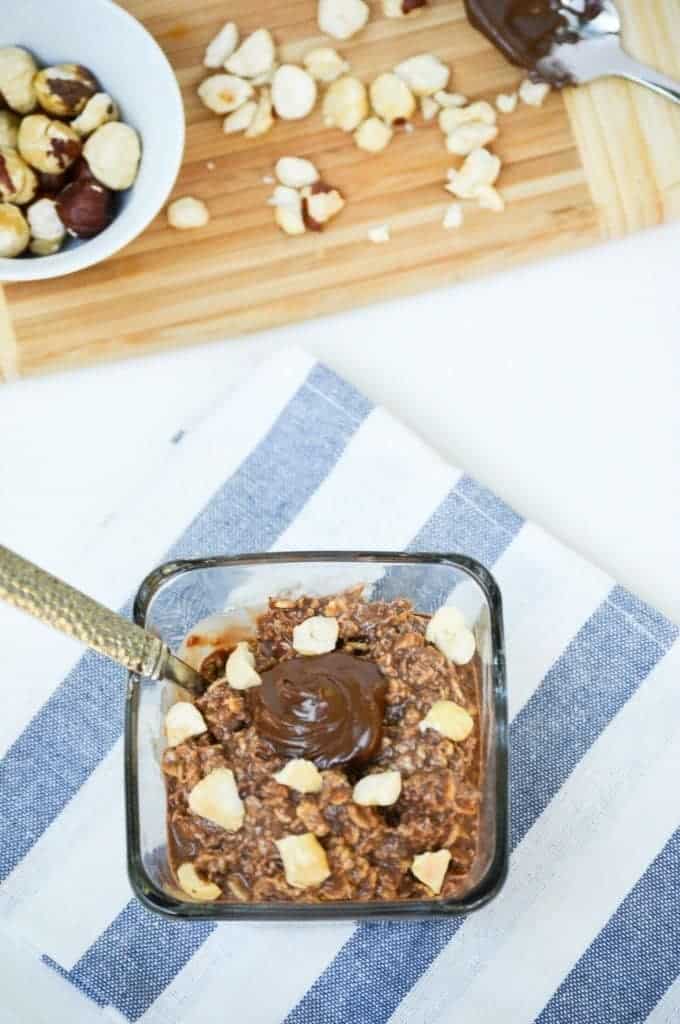 Ingredients
1 1/2 C certified gluten-free oats
1 1/4 C milk
1/4 C Nutella
toasted hazelnuts, optional
Directions
Mix oats and Nutella until combined. Stir in milk and mix well. Refrigerate oats overnight. Before serving, mix in toasted hazelnuts.
Recipe Notes
When following a gluten-free diet, be sure to use gluten-free ingredients.
be sure to follow me on instagram and hashtag #whattheforkfoodblog or tag @whattheforkfoodblog – i love seeing what you make!
if you love this gluten free biscuit mix recipe, be sure to follow me on social media so you never miss a post:
| snapchat – whattheforkblog |