This Gluten Free Berry Rhubarb Crisp is perfect for those warm summer days when you're looking for something sweet, but not too sweet. Kid tested and parent approved!
Berry Rhubarb Crisp
Before I get into the deets of this Gluten Free Berry Rhubarb Crisp, I'll recap a little about what I've been up to. Kelsey's 2nd birthday party was this past weekend so we were crazy busy trying to get ready for a party of 40 at our house. Insane, now that I'm thinking back on it. Not sure why I thought throwing a huge party with 2 under 2, a husband working long days and a ton of set up, decorating and food prep would be no big deal. Thankfully, we had a lot of help so we were actually able to pull it off!
So the party was done, time for a low-key relaxing rest of the weekend!
Um, no.
My car decided to have a stroke. Literally, it seems to have stroked out. The lights have to be off in order to be on, it drives but has no acceleration, half of the display lights are lit up, the other half is off, the check engine light and check gear box lights are lit up and the radio/CD player have stopped working.
It's an old car, a '98, and I got it right after I graduated college. I'm honestly surprised it made it this long without any major issues. It's not really a practical car for our family since it's a small 2 door hatchback but we wanted to keep it as long as we could. Since the cost of repairs would be more than the car is even worth, it's time for an upgrade. Sad that it's an end of an era for my cutie little Saab but I'm excited to be getting a new-to-me car. Yay for that!
Did I mention we went car shopping with a two-year old toddler and three-month old baby? Again, we're crazy. Maybe slightly insane. But it all worked out and they were so good! Not a single meltdown or tantrum from Kelsey and Mackenzie slept in the Ergo the whole time. Luck was on our side that day, for sure!
I'm guessing you're probably getting a little bored reading about my week so let's get back to what you're really here for, the Berry Rhubarb Crisp. There are three words that describe this crisp: Yum, yum and yum.
Crisps are an under-rated dessert, often over-looked for cakes, pies, cupcakes, etc. But this Berry Rhubarb Crisp is not to be skipped over. It's bursting with sweet berries and tart rhubarb, the perfect combo. And did I mention the topping? You can't have a Berry Rhubarb Crisp without a delicious crispy topping and this one is a must try! Oatmeal, butter, flour, sugar – it's like a giant crispy oatmeal cookie on top of your deliciously juicy fruit! It's hands down the best crisp topping I've ever had. Old school me would say it's the bomb dot-com.
And if you ignore the butter and sugar and look at the 8 cups of fruit AND the oatmeal you can say that it's basically a health food, right? Right?!
I know, I know… Not a "health food" but let's pretend and celebrate in our serving of fruit for dessert. Amen.
Be sure to follow me on Instagram and hashtag #whattheforkfoodblog or tag @whattheforkfoodblog – I love seeing what you make!
If you love this berry rhubarb crisp recipe, be sure to follow me on social media so you never miss a post:
---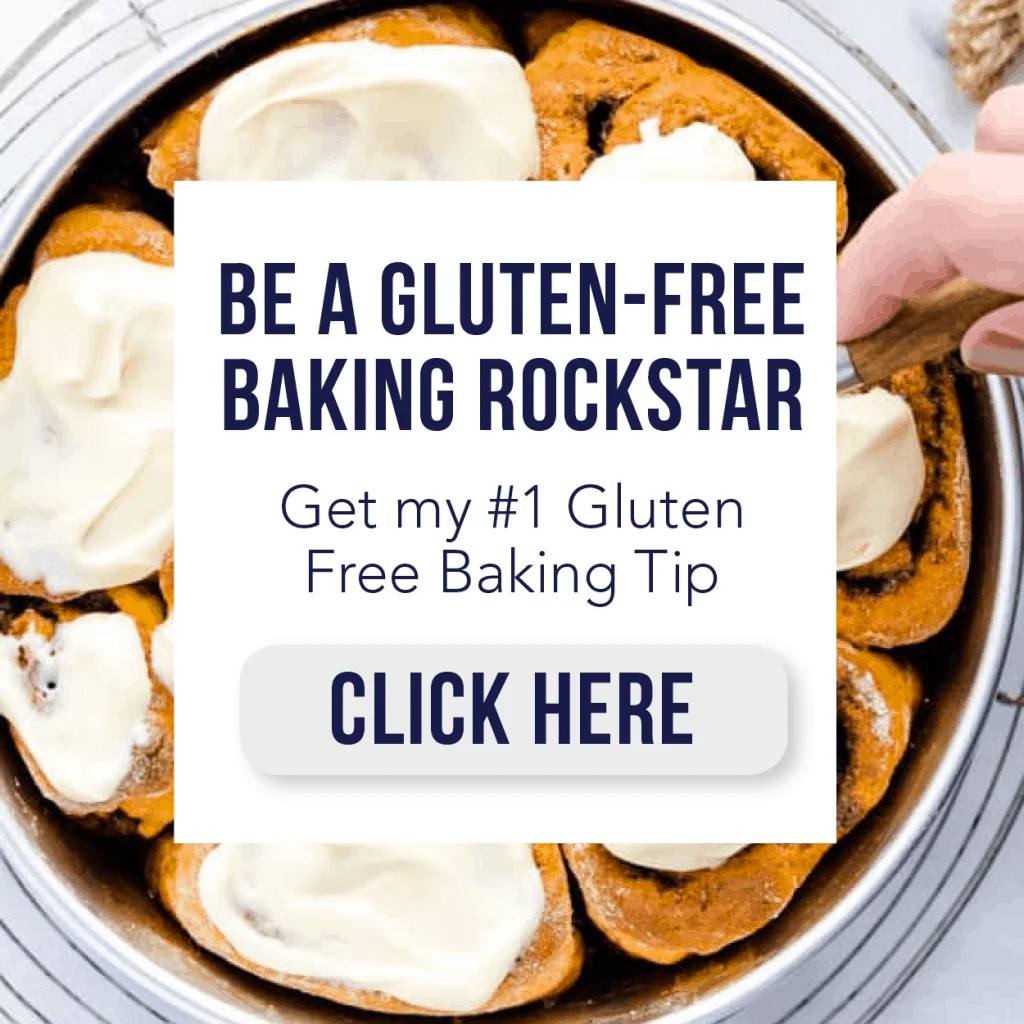 Berry Rhubarb Crisp
This Berry Rhubarb Crisp is perfect for those warm summer days when you're looking for something sweet, but not too sweet. Kid tested and parent approved!
Print
Rate
Pin
Ingredients
4

C

rhubarb

cut in 1 inch pieces

2

C

strawberries

quartered

1

C

blackberries

1

C

raspberries

Zest from 1/2 navel orange

Juice from 1 navel orange

1

Tbsp

cornstarch

1 1/2

C

granulated sugar

1

C

gluten-free all-purpose flour

1

C

old-fashioned oats

1/2

C

brown sugar

1/2

tsp

kosher salt

1/4

tsp

xanthan gum

12

Tbsp

cold butter

diced
Instructions
Pre-heat oven to 350 degrees.

In a medium sized bowl, combine rhubarb, strawberries, blackberries, raspberries, orange zest and 1 cup granulated sugar.

In a small bowl, mix together cornstarch and the fresh orange juice. Mix until the cornstarch dissolves and add to the fruit. Mix well. Pour into a 9x13 inch baking dish.

In the bowl of a stand mixer fitted with a paddle attachment, add 1/2 cup granulated sugar, gluten-free all-purpose flour, xanthan gum, salt, brown sugar and oats. Mix on low speed until ingredients are combined.

With the mixer on low, add the cold diced butter to the dry ingredients. Mix until the dry ingredients are moist and stick together. Slowly increase speed to medium. When it is ready, you will be able to pinch the dough together and it will hold its form.

Sprinkle the dough over the top of the fruit, spreading evenly and covering the whole dish.

Bake at 350 degrees for 1 hour. Serve warm with vanilla ice cream.
Notes
This can be made with regular all-purpose flour too. Just use an equal amount of regular all-purpose flour and omit the xanthan gum. Please remember to use gluten-free ingredients when following a gluten-free diet. Oatmeal is a gluten-free food but is sometimes processed in a facility that also processes wheat. Always check your labels to be sure.
Disclaimers
As an Amazon Associate and member of other affiliate programs, I earn from qualifying purchases.
Nutrition Facts are estimated and aren't always accurate. Please consult a doctor or nutritionist if you have special dietary needs.