Cucumber, lemon and mint infused water is a delicious way to keep hydrated and quench your thirst on a hot summer day.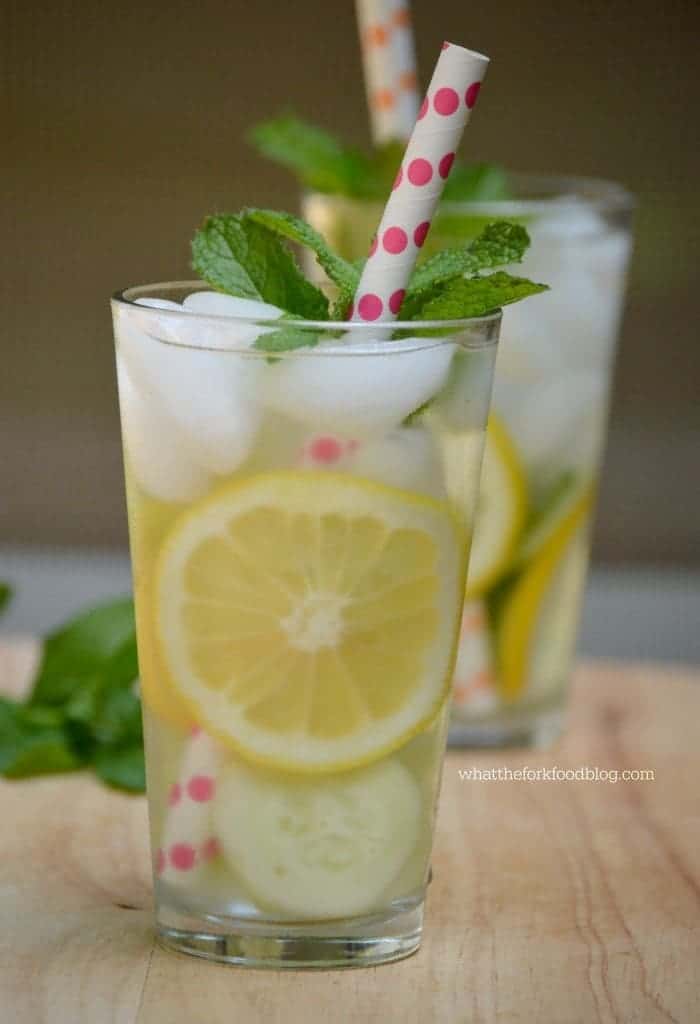 I used to drink a lot of diet soda back in the day. And by a lot, I mean about 1-2 cans a day. Which, to me, is a lot. Maybe to you it's not. I know it was diet so I wasn't really getting all that extra sugar, but it was still soda. And it still wasn't good for me.
When I was pregnant with Kelsey, I cut back on the soda big time and started drinking lots of water. The things we do for our kids, right? Drinking water instead of soda is a habit that has stuck and I actually prefer water over soda.
There are some days, though, that I really miss having flavor in my drinks. Especially on a hot summer day. I just need a little something, something in my water without having to reach for a diet soda or other artificially flavored drink.
Homemade infused water is the perfect solution. My favorite combination is cucumber, lemon and mint. I have an herb garden and every summer I have a ton of mint. It seriously grows like a weed so adding it to my water is a perfect way to keep the mint under control and keep it from taking over the rest of my herb garden.
If you're a little bit skeptical about having cucumber in your water, don't be! It gives such an amazing and fresh taste. I love it! The cucumber flavor is actually my favorite part of this infused water.
I've seen this infused water recipe all over Pinterest listed as an infused water and as a detox water. Now, I don't really know enough about detoxing to go into details about the health benefits of it, so please don't ask. I don't want to give anybody misguided advice. I do know this though, this water is refreshing and delicious. Anything else is a bonus.
Kelsey really loves this water too. As you can tell, she's absolutely thrilled that she had to wait until I was done taking pictures before she could drink some. She had also just woken up from a nap that was obviously too short. She's also sick, so please excuse the baby boogs. Sorry about that.
Cucumber, Lemon and Mint Infused Water
Ingredients
2

L water

1

Lemon, thinly sliced

1

Cucumber, peeled and thinly sliced

12

mint leaves
Instructions
Combine all ingredients in a large pitcher and steep overnight. Remove mint, lemon and cucumber from the water after steeping and serve with fresh lemon, cucumber and mint.
If you love this recipe be sure to sign up for free email updates. New recipes will be delivered straight to your inbox!
This recipe is linked to Merry Monday, Two Cup Tuesday, Tasty Tuesday, Handmade Tuesdays, Party on the Porch, Gluten-Free Wednesdays, What's Cookin' Wednesday, Allergy Free Wednesday, Show and Share Wednesday, #PinterestFoodie, Wine'd Down Wednesday, Full Plate Thursday, Showcase Your Talent Thursday, Create it Thursday, Pin It Thursday, Gluten-Free Fridays, Foodtastic Friday, Kitchen Fun and Crafty Friday, Foodie Friday, Strut Your Stuff Saturday, Share it Sunday,  Weekend Potluck and Weekend Recipe Linkup.
I've been making this water for several years now but I found the original recipe here.