These chewy Gluten Free Oatmeal Raisinet Cookies are a fun twist on regular oatmeal cookies. You get the best of both worlds with chocolate and raisins. Plus, you'd never know they were gluten free!
I've always been a fan of oatmeal cookies. I think maybe it's the cinnamon that reels me in… that warm spiciness that's super addicting. Whatever it is, these gluten free oatmeal cookies do not disappoint.
I know many people are not always fans of oatmeal cookies because they often come with raisins. I've always been a big raisin fan too so this was never a problem for me.
My husband, on the other hand, is not a fan of raisins. He's an all-chocolate all the time kind of guy.
To compensate, I make these cookies with a combination of chocolate chips and chocolate covered raisins so we really get the best of both worlds. And no, he doesn't object to the chocolate covered raisins because well, the chocolate.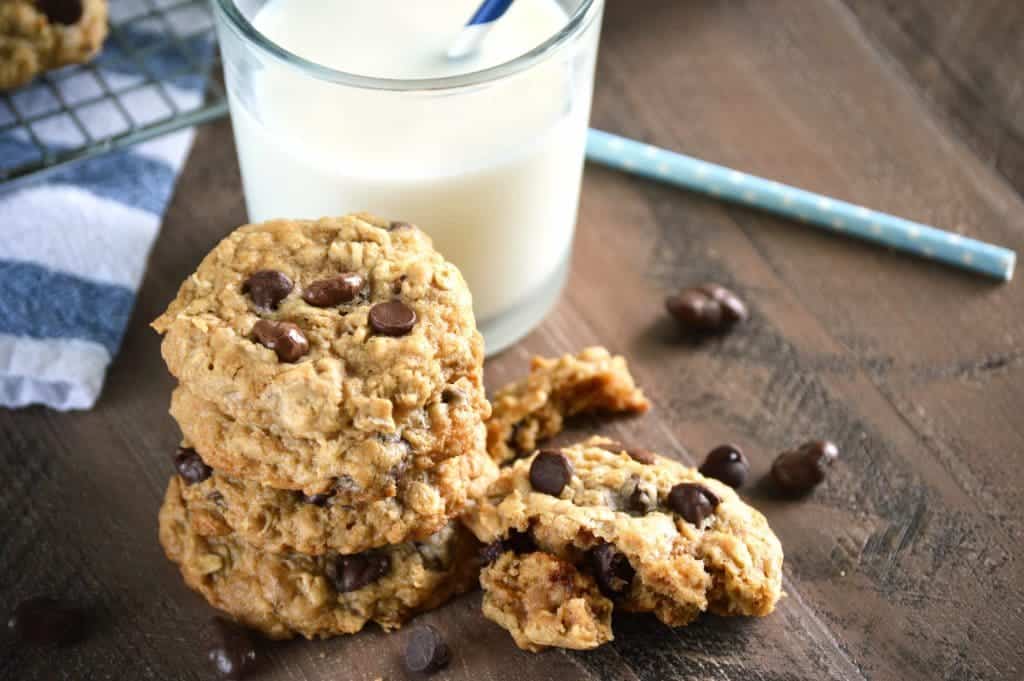 If you're anti-chocolate, use raisins. If you're super anti-raisins and can't even deal with them, not even with chocolate, then just use all chocolate chips.
Another thing to take note of from this ingredient list, the melted butter. Usually cookie recipes call for creaming the butter and sugar together. For some reason, that step annoys me. I've been taking a lot of short cuts in the kitchen lately just to avoid having to cream butter and sugar together. It just feels like a tedious step that I just do not have time for. Not really sure why, but I'm weird like that. #sorrynotsorry
So, to avoid creaming the butter, I melted it. I kind of took a gamble because I wasn't entirely sure how it would turn out but I've been using melted butter in other cookie recipes and it was fine. Thankfully it's fine in this recipe too, yay for small victories.
Since the butter is already melted, you don't have to worry about the cookies spreading weird or completely running all over the place. You can bake these cookies as soon as the dough is ready, no chilling time! And no chilling time means you can enjoy your cookies without having to wait ages. Another small victory!
I did test this theory out by baking a batch as soon as it was mixed and then I chilled some of the dough and baked the chilled version. In my opinion, the room temperature dough baked better because the cookies spread more evenly and kept a rounder shape. The chilled dough did bake well, they just weren't as round. So in theory, you could chill the dough if you want but you definitely don't have to.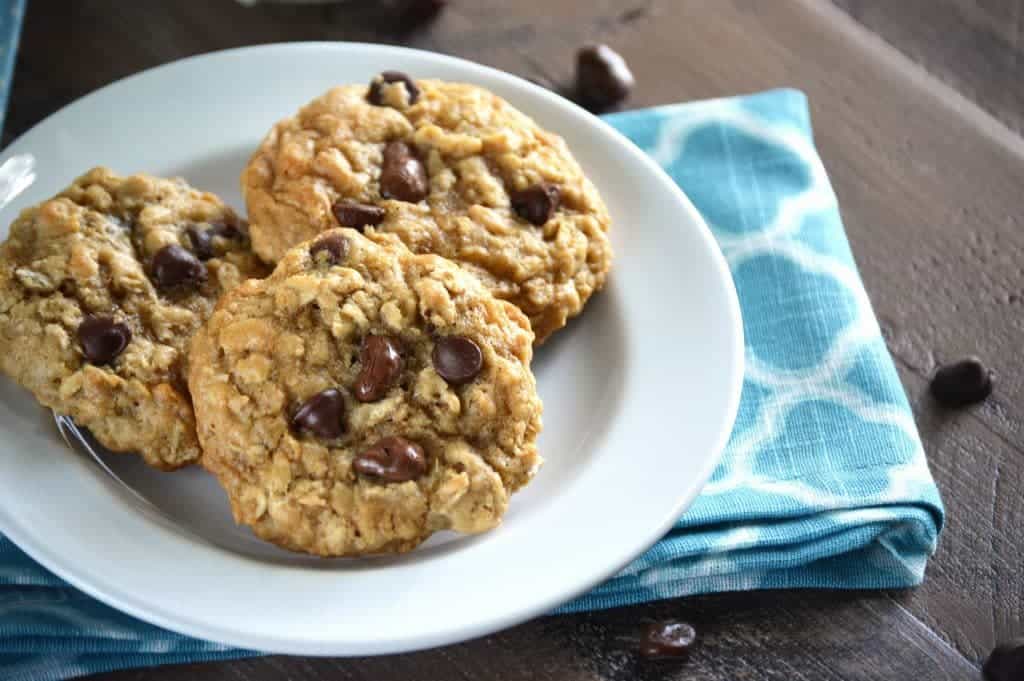 You can also freeze the dough if you want. I often make a batch of cookies and then only bake half the dough and freeze the other half. Just defrost the dough before baking. If you'd rather freeze the baked cookies, you can do that too. This recipe is so versatile it's not even funny. Also not funny – how amazing these cookies taste. However you end up making these gluten free oatmeal cookies, enjoy! You can also find the full Gluten Free Oatmeal Raisinet Cookies recipe on Food Fanatic.
P.S.- If you like these cookies, try these Gluten Free Oatmeal Raisin Cookies from Sandi at Fearless Dining. They have this amazing irish cream glaze on top and are soft and chewy!
Be sure to follow me on Instagram and hashtag #whattheforkfoodblog or tag @whattheforkfoodblog – I love seeing what you make!
If you love this gluten free oatmeal raisinet cookies recipe, be sure to follow me on social media so you never miss a post:
---