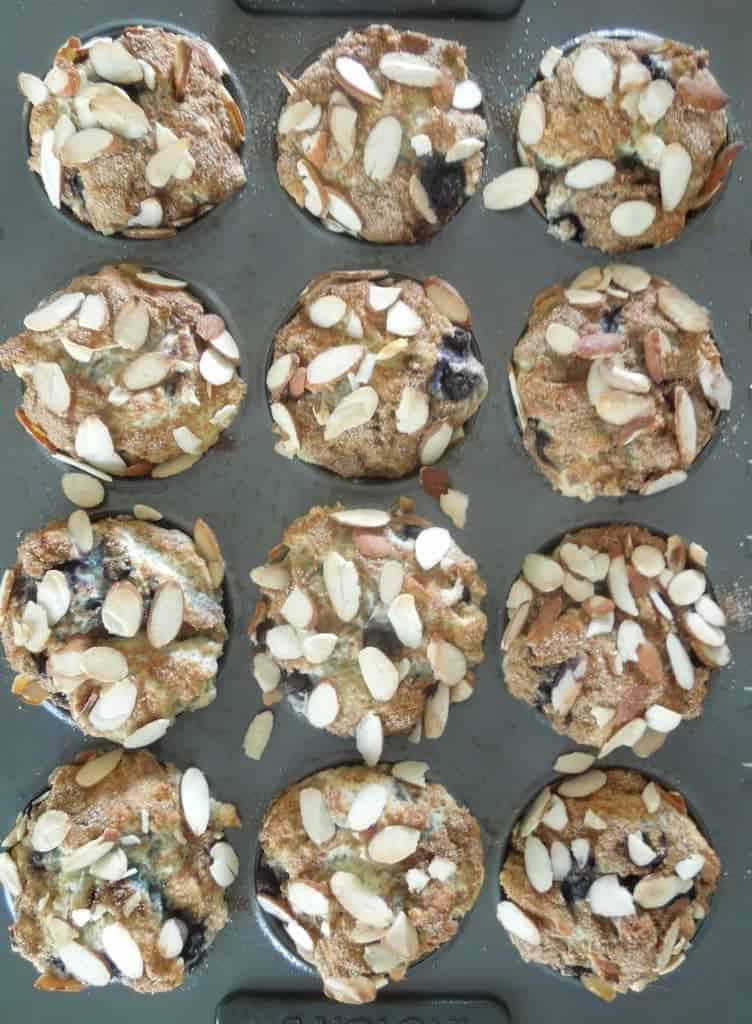 These Blueberry Almond Muffins are Adam's favorite weekday breakfast. They're quick to grab (and eat!), easy to warm and downright delicious. Savor them with your morning coffee or do what Adam does and eat them on the drive to work. Either way, you're going to enjoy them!
The first time I made these muffins Adam looked at me and said, "These are gluten-free?" That one little question is music to my little baking ears. That's exactly what you want people to say when you serve them something gluten-free. Since breakfast is his favorite meal, he was extremely relieved to know that these blueberry almond muffins would be a great gluten-free alternative to his usual cinnamon raisin toast that he could no longer eat.
Not only are these muffins tasty but they're a cinch to make. And the (second) best part? You only need one bowl to make them! I don't know about you but I hate doing dishes so the less I need to use the better! The batter is really easy to mix so you don't even need to use your mixer, just a big ol' bowl and a big spoon. I'm telling you, these blueberry almond muffins are going to be a staple in your house as they are in mine. They're too good and too easy not to be!
The cinnamon sugar topping is so good. I forgot to put it on once and they're not quite the same without it. Still good but they're were missing that little something-something that cinnamon sugar brings to the party. The almonds are great too, they get a little toasted while the muffins bake so they're extra nutty/yummy.
Look at those beautiful blueberries. So. Good. And look at that nice crumb these muffins have. I'm telling you, the texture to these muffins have is phenomenal. Gluten-free what? Try these blueberry almond muffins today. You'll be amazed and then you'll be making them again and again.

Ingredients
For the Muffins
2 C All-Purpose Gluten-Free Flour
1 1/2 tsp xantham gum
4 tsp baking powder
1/2 tsp fine sea salt
1/2 C granulated sugar
1 C milk, room temperature
2 eggs beaten, room temperature
1/4 C canola oil
1 tsp vanilla extract
1 tsp almond extract
1 C blueberries, fresh or frozen
Topping
1/2 C sliced almonds
1 Tbsp granulated sugar
1/2 tsp cinnamon
Directions
Pre-heat Oven to 400 degrees
Lightly spray a 12 cup muffin tin or line with paper liners
Stir together cinnamon and sugar for the topping and set aside.
In a large bowl, sift together flour, xantham gum, baking powder, salt and sugar. Whisk to combine.
In a separate bowl or large measuring cup, combine milk, eggs, canola oil, vanilla extract and almond extract.
Add wet ingredients to the dry ingredients and stir until just combined.
Stir in blueberries.
Spoon batter into the prepared muffin tin. Try to distribute the batter between the 12 cups as much as possible. The cups will be almost filled.
Sprinkle the cinnamon sugar topping onto muffins and top with almonds.
Lightly press almonds into batter to help them stick.
Back in preheated oven for 15-17 min or until tester comes out clean.
Cool in pan 5 min. before removing to cool on a wire cooling rack.
Recipe Notes
Store muffins in an airtight container up to 2-3 days. These muffins freeze really well so I usually just freeze them as soon as they're completely cool.
This recipe can be easily doubled.
 IF YOU LOVE THIS BLUEBERRY ALMOND MUFFINS RECIPE, BE SURE TO SIGN UP FOR FREE EMAIL UPDATES! NEW RECIPES WILL BE DELIVERED STRAIGHT TO YOUR INBOX!
Follow Sharon | What The Fork Food Blog's board Breakfast/Brunch Recipe Ideas on Pinterest.