Step up your banana bread game with this easy Gluten Free Banana Bread French Toast! It's kid-friendly, freezer-friendly, and can be made dairy free with one simple swap!
There's never, ever a shortage of over-ripe bananas in my house. Which also means there's never a shortage of gluten free banana bread or gluten free banana nut muffins.
So sometimes when I want to class our breakfast up a bit, I turn an ordinary (yet super delicious) loaf of banana bread into this stellar Gluten Free Banana Bread French Toast. Holy happy taste buds Batman!
My family absolutely LOVES this recipe. I mean, sweet banana bread, walnuts, fresh bananas, and a French toast batter made with almond extract? You CAN'T GO WRONG here people! All you need is a side of bacon or sausage and you've got yourself an amazing weekend breakfast. Or weeknight dinner.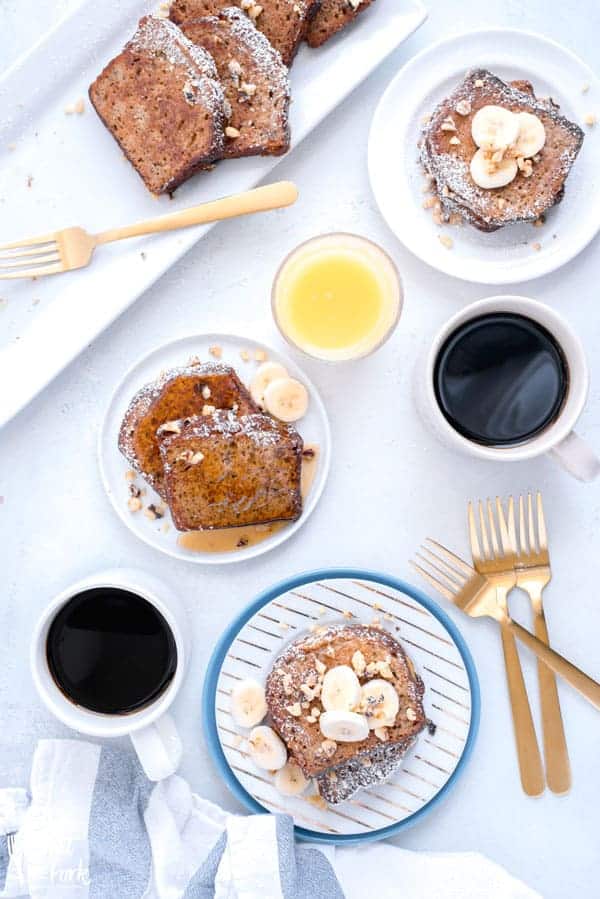 We're BIG fans of breakfast for dinner once a week. I went into detail about that when I wrote the post for my gluten free pancakes recipe.
Basically, it's a meal that keeps the kids happy and when the kids are happy, mom is happy. AKA ME.
But about this Gluten Free Banana Bread French Toast, it's so good it's holiday brunch worthy. Easter brunch would be looking pretty good with this on the table! You can even make it ahead and freeze it then just reheat it by defrosting it and warming it in the oven before serving.
This Gluten Free Banana Bread French Toast can also be made dairy free. The banana bread recipe has a dairy free option and I've included a dairy free option for the French toast liquid here as well.
I prefer using unsweetened coconut milk in recipes. You could use unsweetened almond milk but I find that it gives a bit nuttier taste. That would work nice in this recipe, you just might want to use a little less almond extract if you do end up using almond milk.
You guys will love this Banana Bread French Toast recipe and it would be excellent with my gluten free pumpkin banana bread too. I wouldn't be surprised if you start hoarding bananas like me so you always have an abundant supply of overripe bananas. Enjoy!
Be sure to follow me on instagram and hashtag #whattheforkfoodblog or tag @whattheforkfoodblog – I love seeing what you make!
If you love this Gluten Free Banana Bread French Toast recipe, follow me on social media so you never miss a post:
---