These are the Gluten Free Cinnamon Rolls you've been dreaming of! Soft, yeasty, and just as good as ones made with wheat! There's even an option to make these dairy free cinnamon rolls!
<< click here to pin this recipe >>
Gluten Free Cinnamon Rolls
I've been promising you guys some recipes for a while and these Gluten Free Cinnamon Rolls are one of them. But with the huge amount of work that writing and photographing a cookbook was, I wasn't able to deliver until now.
I seriously feel like a politician of the food blog world – making promises I haven't been able to keep. But times are changing, my friends! I've had big, BIG plans for the dough of my magical (yes, MAGICAL) gluten free dinner rolls for a while now.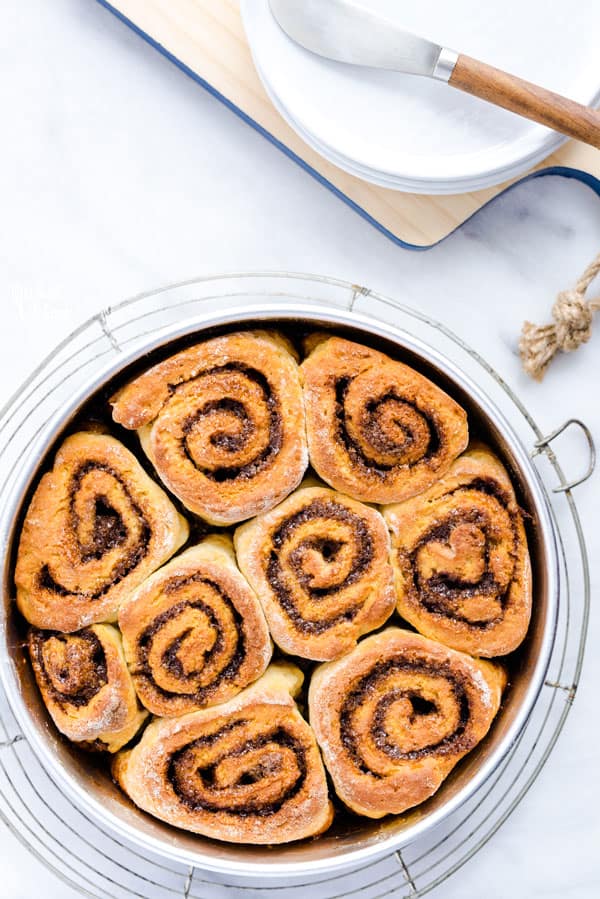 Did you make this recipe? Leave a star rating and let me know in the comments! You can also leave a photo/comment on this pin for others to see.
Gluten Free Cinnamon Rolls, Gluten Free Breadsticks, Gluten Free Bread, Gluten Free Hamburger Rolls, Gluten Free Hot Dog Rolls, etc. ALL the carb-alicious possibilities.
Guys, this dough recipe really is magical, as mentioned above. It's easy to work with, it's versatile, and it yields unimaginable yeasty goodness, previously not thought possible with gluten free bread products.
These truly are the best gluten free cinnamon rolls and will rival any cinnamon roll made with wheat flour. And I'm not just saying that based on how I remember "real" cinnamon rolls tasting.
Don't forget, I'm not the one that needs to eat gluten free in my household so I'm free to eat any and all the gluten-containing cinnamon rolls I want.
Spoiler alert – I would choose these every time!
<< pin this recipe to your Brunch board >>
If you're looking to serve these with a holiday brunch, be sure to also make my Ham and Cheese Quiche or Bacon and Swiss Quiche (made with my favorite gluten free pie crust), some fruit salad, and bacon wrapped kielbasa bites. It'll make for a 100% gluten free show stopping, drool-inducing spread for sure!
PS if you're looking for an easy gluten free breakfast that tastes like cinnamon rolls but is less work, try my Gluten Free Overnight French Toast Casserole with Cinnamon Swirl! I also made a blueberry version of this – Blueberry Sweet Rolls that are perfect for spring 💙
be sure to follow me on instagram and hashtag #whattheforkfoodblog or tag @whattheforkfoodblog – I love seeing what you make!
if you love this easy gluten free cinnamon rolls recipe, be sure to follow me on social media so you never miss a post:
---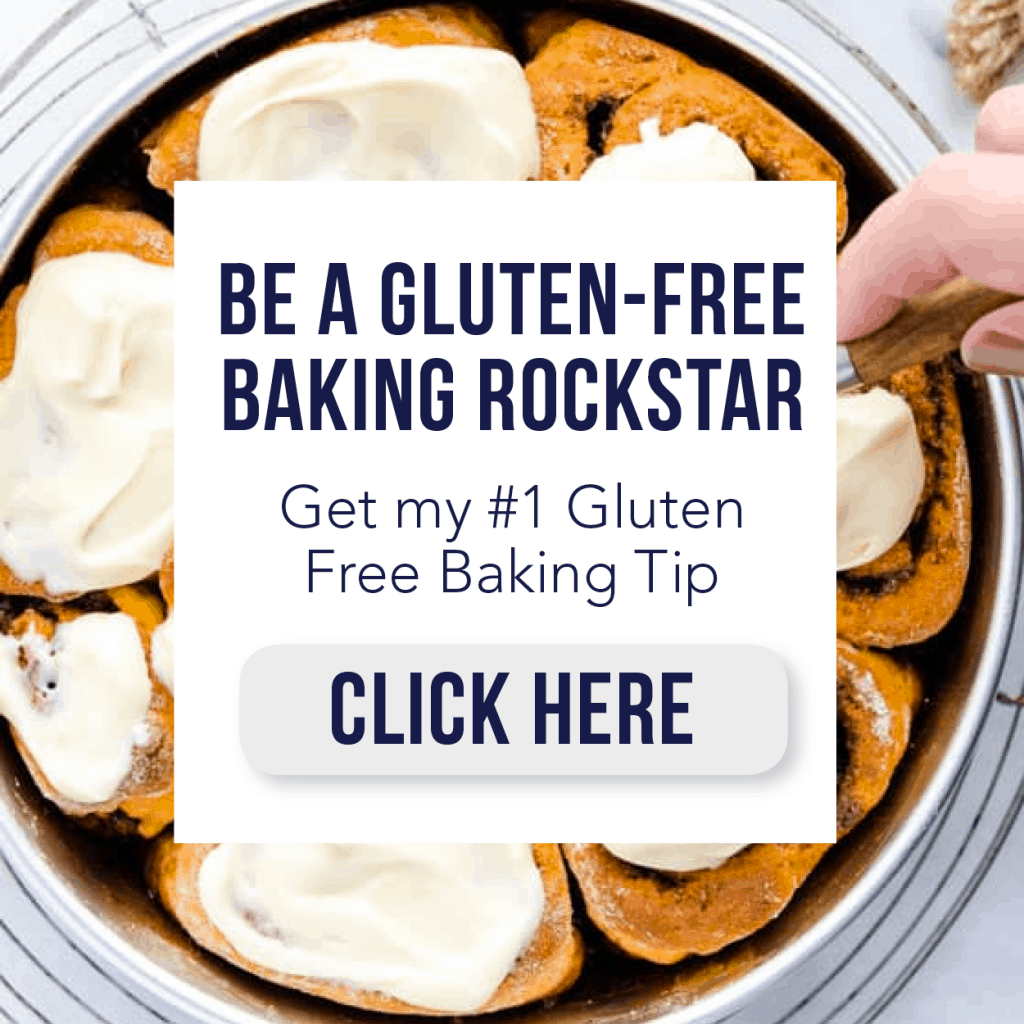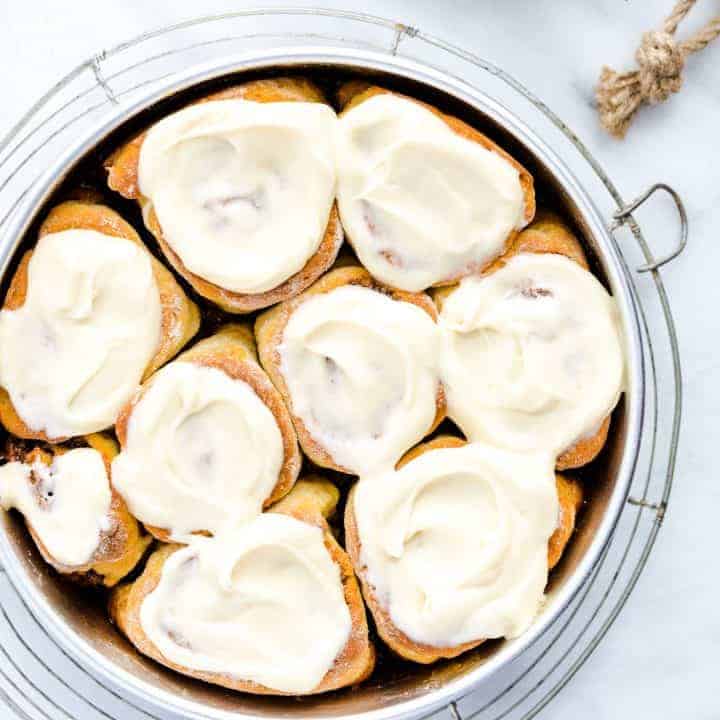 Gluten Free Cinnamon Rolls
Total Time:
1 hour
40 minutes
These are the Gluten Free Cinnamon Rolls you've been dreaming of! Soft, yeasty, and just as good as ones made with wheat! There's even an option to make these dairy free cinnamon rolls!
Ingredients
For the Rolls:
1/4 cup (4 Tablespoons) unsalted butter, melted
1/2 cup light brown sugar
1 Tablespoon ground cinnamon
2 1/4 teaspoons active dry yeast (1 packet)
1/2 teaspoon granulated sugar
1/2 cup milk heated to 105-110º (see notes for dairy free)
55 grams white rice flour (1/3 cup)
50 grams brown rice flour (1/3 cup)
65 grams Arrowroot (1/2 cup)
30 grams tapioca flour (1/4 cup)
16 grams sorghum flour (2 Tablespoons)
1 1/2 teaspoons xanthan gum
1 teaspoon baking powder
1/2 teaspoon fine sea salt
1/4 cup granulated sugar
1 large egg, room temperature
3 Tablespoons avocado oil (see notes)
For the icing:
2 oz. cream cheese, softened
2 Tablespoons butter, softened
3/4 cup powdered sugar
1 teaspoon pure vanilla extract
2 teaspoons milk
Instructions
Sir together the melted butter, light brown sugar, and ground cinnamon until combined then set aside.
Butter an 8-inch cake pan or spray generously with non-stick spray and set aside.
Add the yeast and granulated sugar to the bowl of a stand mixer. Slowly pour in the warm milk, making sure the yeast is moistened. Let it sit for about 15 minutes to "bloom" as you prepare the other ingredients.
Add the white rice flour, brown rice flour, arrowroot, tapioca flour, sorghum flour, xanthan gum, baking powder, and salt to a medium bowl. Whisk to combine and set aside.
When the yeast has bloomed, add the egg, 1/4 cup granulated sugar, and avocado oil. Mix on low until combined.
Add the dry ingredients and mix on low until the dry ingredients are incorporated. Turn up the speed to medium and mix for 1 minute. The dough should be slightly sticky and will easily form a ball.
Spread out two sheets of plastic wrap on a flat surface and have them slightly overlap to create a large, square work space. Dust the plastic wrap generously with gluten free flour and dust the dough with flour as well. Transfer the dough ball to the center of the prepared work space and top with two more pieces of plastic wrap. Roll the dough out into a thin, rectangle, approximately 10 inches by 14 inches.
Carefully remove the top layer of plastic wrap and spread the cinnamon mixture over the dough, leaving a half inch of space on all sides.
Use the plastic wrap to help roll the dough into a log, rolling it as tightly as you can. Use a knife (or unflavored dental floss) to cut the log into 9 equal pieces.
Transfer the cinnamon rolls to the prepared baking pan. I sometimes gently roll them to round the sides again before putting them in the pan.
Cover the pan loosely with plastic wrap and place in a warm spot to rise for one hour (I let mine rise on top of my preheated oven when my house is chilly).
Preheat oven to 350 degrees. When the rolls have risen for one hour, remove the plastic wrap and bake for 20 minutes.
Make the icing while the rolls are baking. Add the cream cheese and butter to a medium bowl and beat together using an electric hand mixer. When smooth, add the powdered sugar, vanilla extract, and milk. Mix until smooth and creamy. If you want a thinner icing, add more milk.
Top the warm cinnamon rolls with the icing before serving. Serve immediately.
Notes
To make these cinnamon rolls dairy free, use unsweetened coconut milk in the dough and spray the pan very generously with non-stick spray. To make the icing dairy free, use dairy free cream cheese, vegan butter, and unsweetened coconut milk.
Vegetable oil or canola oil can be subbed for the avocado oil.

Store leftover rolls in an airtight container for up to 1 day at room temperature or up to 3 days in the refrigerator. If you wish to freeze these rolls, I recommend freezing them without the icing.
Recommended Products
As an Amazon Associate and member of other affiliate programs, I earn from qualifying purchases.
Did you make this recipe? Leave a star rating and let me know in the comments! You can also leave a photo/comment on this pin for others to see.