These Sticky Asian Garlic Wings have been a family favorite for years. They're perfect for parties or as a game-day snack or appetizer.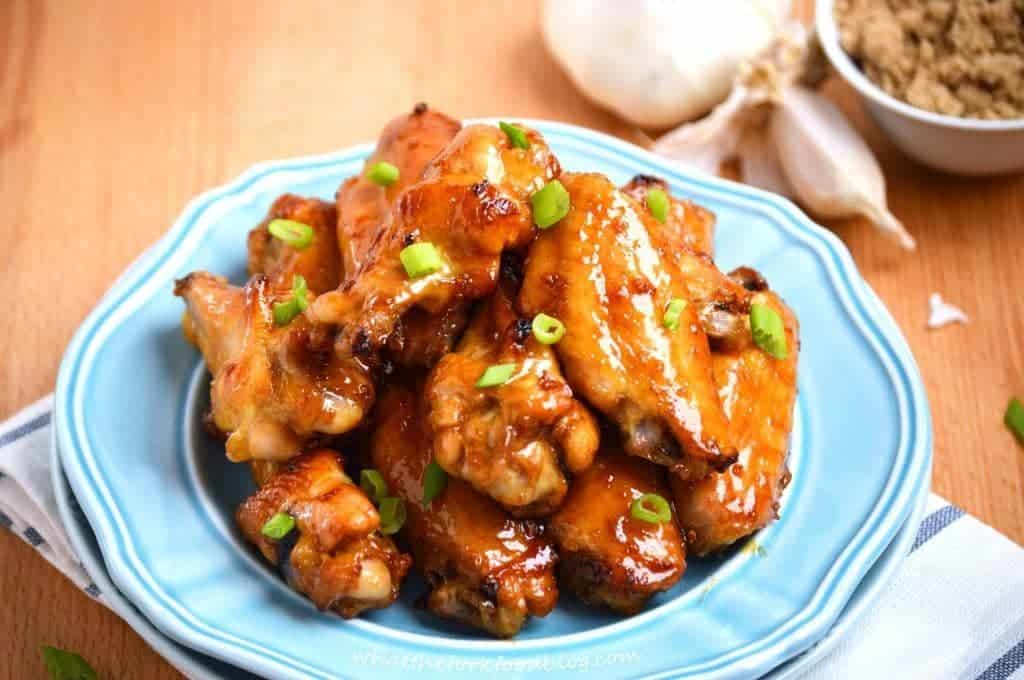 I've been promising you guys chicken wings for weeks. Up until now, they've pretty much been empty promises. But here they are! These have been well worth the wait, my friends. These sticky asian garlic wings are my favorite chicken wings of all time in the history of ever. I'm not a fan of buffalo wings. I've never been a passenger on the buffalo everything bandwagon train thing. I just don't love that buffalo chicken flavor, I don't really even like it at all. It's probably because I've been eating a version of this chicken wing my entire life and it's so good.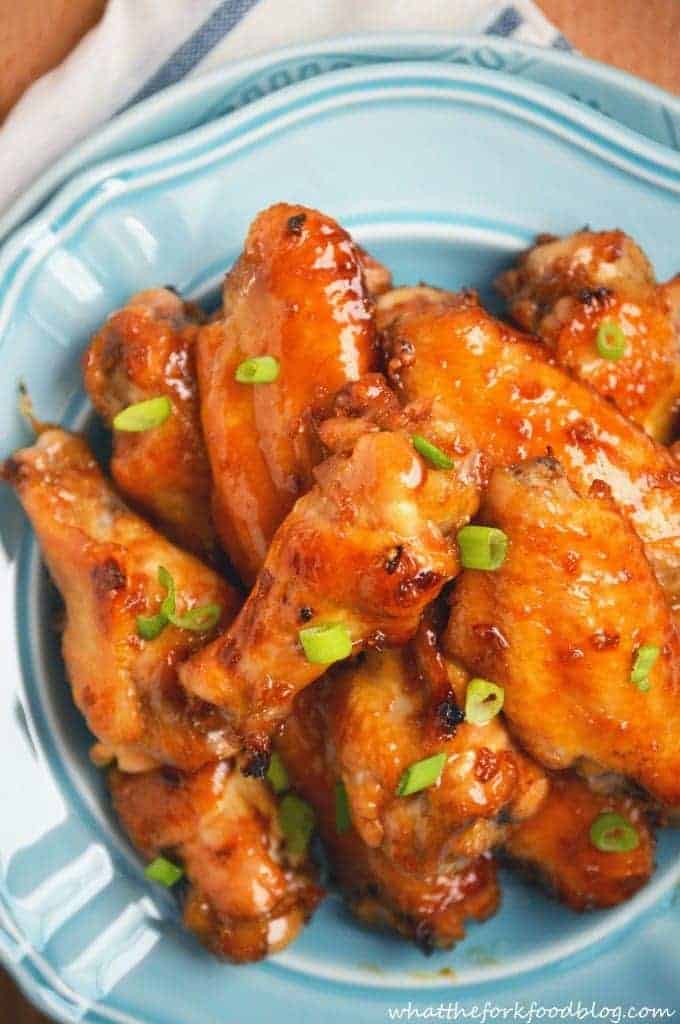 My mom used to make these wings when we were growing up. We used to have them for special occasions like the day we got picked out and decorated our Christmas tree. These wings are a little bit sweet from the brown sugar but it's balanced perfectly from the soy sauce. The garlic and ginger add such a great flavor too so don't leave it out! This recipe was one of those recipes that you made based on taste so when I first started making them myself (years ago) it took a bit of tweaking to get it 'right'.  Now they're a football food staple around here. We also sometimes make this into a meal by serving it with rice and stir-fried snow peas.
So to make a long story short, sticky asian garlic wings are just plain awesome. Also awesome? A chance to win $800 Paypal CASH. Woot woot! Who couldn't use an extra $800? I mean really, that's almost a grand. Pretty freakin sweet. So make sure you follow the Rafflecopter link below to get to the Rafflecopter entry form. You do not want to miss out on this! Enjoy your wings and good luck winning the moolah!
a Rafflecopter giveaway (the giveaway ended 10/5/14)

Sticky Asian Garlic Wings
Ingredients
3 lb. chicken wing pieces
1 C light brown sugar
1/2 C soy sauce (see notes for gluten-free suggestion)
3 cloves garlic, crushed
1/2 tsp ground ginger
Directions
Pre-heat oven to 400 degrees.
Add brown sugar, soy sauce, garlic and ginger to a bowl and mix well. Set aside.
Line a rimed baking sheet with alluminum foil and top with a wire rack. Place chicken wing pieces on the wire, skin side up.
Baste the top side of the chicken with the marinade and bake for 15 minutes. After 15 minutes, turn the chicken and baste the other side. Bake for another 15 minutes.
Turn and baste the chicken wings and bake for an additional 10 minutes.
Turn and baste the wings and baste for 10 more minutes.
Serve wings immediately or keep warm.
Recipe Notes
Turning and basting the chicken wings several times seems tedious but it makes a difference in the wings. They bake more evenly and the marinade has a chance to form a nice sticky caramelized coating on both sides of the wings without burning.
When following a gluten-free diet, be sure to use gluten-free soy sauce. I've used Kikoman, San-J Tamari and La Choy soy sauce in this recipe.
If you love this recipe for Sticky Asian Garlic Wings, be sure to sign up for free email updates! New recipes will be delivered straight to your inbox!
This recipe is linked to Merry Monday, Inspiration Monday, Made by You Monday, Inspire Me Monday, Two Cup Tuesday, Tasty Tuesday, Totally Talented Tuesdays, Create Link Inspire, You're Gonna Love It Tuesday, Time to Sparkle, Handmade Tuesdays, Tickle My Tastebuds, Gluten-Free & DIY Tuesday, Wonderfully Creative Wednesdays, The SITS Girls, Create & Share DIY and Recipe Party, Gluten-Free Wednesdays, What's Cookin' Wednesday, Allergy Free Wednesday, Show and Share Wednesday, Wine'd Down Wednesday, A Little Bird Told Me Link Party, Full Plate Thursday, Showcase Your Talent Thursday, Create it Thursday, Pin It Thursday, Pin Junkie Pin Party, Gluten-Free Fridays, Pure Blog Love, Link Party Palooza, Foodtastic Friday, Kitchen Fun and Crafty Friday, Foodie Friday, Strut Your Stuff Saturday, Show Stopper Saturday, Saturday Night Fever, Weekend Bites, Weekend Wind-Down, The Weekend Social,  Weekend Potluck, Best of the Weekend and Weekend Recipe Linkup.