Gluten Free Baked Double Chocolate Donuts dipped in a chocolate glaze and topped with sprinkles, coconut or whatever your heart desires. These gluten free donuts are light, easy and oh-so-good. They can easily be made dairy free too!
Recipe and photos updated January 2018
Watch the video below (right before the recipe) to see how easy it is to make these!  Also, check out the video on Facebook!
Today is the LAST day of summer. I'm so sad. I really, really need to move to a place where summer weather is endless. Sunshine, flip-flops and beach weather all day err day. Please tell me where such a place exists. San Diego? Florida, duh but Florida is wicked humid. I guess I could live with that if I was near water.
Please tell me where this perfect weather Utopia town exists. I need it. It's essential to my happiness and well-being.
Also essential to happiness and well-being… donuts. Gluten Free Baked Double Chocolate Donuts to be exact. With sprinkles. You can't forget the sprinkles. Unless you're really into coconut like I am because you can totally do toasted or shredded coconut here too.
Donut shop donuts are one food that Adam really truly misses since he's been eating gluten-free. I've tried a couple of gluten-free donut recipes out but we hadn't found a 'winner' gluten free baked double chocolate donut… until now.
The other baked chocolate donut recipes I've tried came out too dense for my liking. Yes, it's a cake donut but I still want a nice, light textured donut. This gluten free donut recipe is soo light, airy and almost have a cupcake type texture. So. Good. Also good? The chocolate glaze on top.
These are a must-try recipe if you're following a gluten-free diet and feel like you absolutely need a donut in your life (because you absolutely do). By the way, these donuts are super easy to make. It took me less than an hour to mix, bake and top these donuts with the glaze. That's including clean up too!
CLICK HERE TO PIN THIS RECIPE TO YOUR GLUTEN FREE BREAKFAST BOARD
I also had to bake them in two batches because the recipe makes 10 and my donut pan makes 6. AND Kelsey was helping so anyone with toddlers in the kitchen knows how that goes. The bottom line, these are easy and delicious gluten free donuts. You're welcome! Enjoy!
Watch the video below to see how easy these are to make. You can also watch this video on Facebook where you can easily share it.
be sure to follow me on instagram and hashtag #whattheforkfoodblog or tag @whattheforkfoodblog – i love seeing what you make!
if you love this baked double chocolate donuts recipe, be sure to follow me on social media so you never miss a post:
sign up for my free newsletter subscription for new recipes and exclusive giveaways + my free ecookbook – recipes with chocolate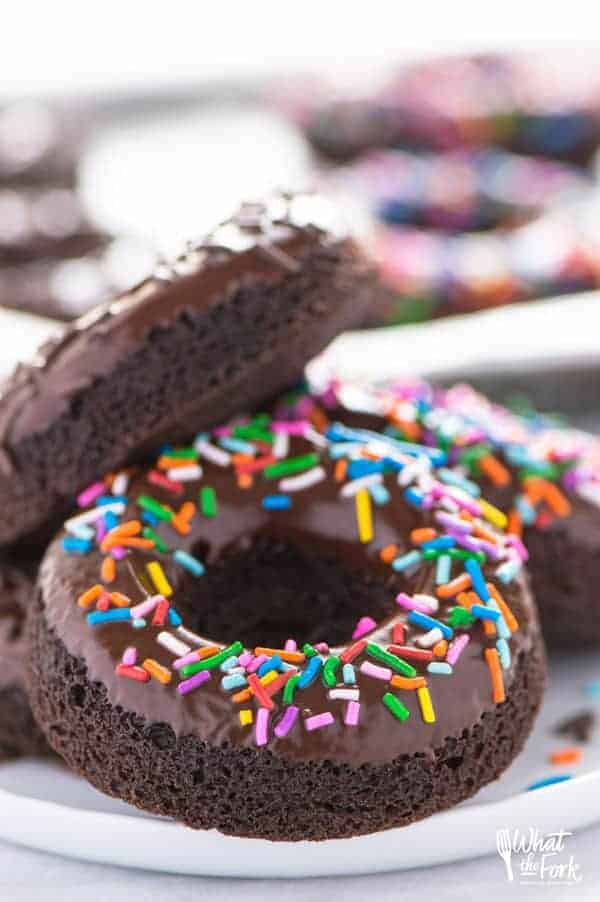 If you love baked donuts, here are a few other gluten free donut recipes for you to try: Gluten Free Yellow Cake Donuts, Gluten Free Apple Cider Donuts, Gluten Free Peppermint Mocha Donuts, and Gluten Free Chocolate Chip Donuts.
Gluten Free Baked Double Chocolate Donuts
Gluten Free Baked double chocolate donuts dipped in a chocolate glaze and topped with sprinkles, coconut or whatever your heart desires. These gluten free donuts are light, easy and oh-so-good. They can easily be made dairy free too!
Print
Ingredients
For the donuts
1 cup gluten free all-purpose flour*
1/4 teaspoon xanthan gum
1/2 cup granulated sugar
1/4 cup Dutch Processed Cocoa Powder
1/2 teaspoon baking powder
1/2 teaspoon baking soda
1/4 teaspoon fine sea salt
1/2 cup milk (regular or unsweetened coconut milk)
1/4 cup avocado oil
1 teaspoon vanilla extract
1 large egg
For the glaze
1/2 cup semi-sweet chocolate chips (dairy free if necessary)
2 tablespoons butter (or coconut oil for dairy free)
2 teaspoons light corn syrup**
1 Tablespoon heavy cream (or full-fat coconut milk for dairy free)
gluten free sprinkles, coconut, nuts, etc. for topping - optional
Directions
Pre-heat oven to 350 degrees and spray donut pan with non-stick spray.
In a large bowl, sift and mix together flour, xanthan gum, sugar, cocoa powder, baking powder, baking soda and salt.
In a separate bowl, whisk together the milk, oil, vanilla, and egg.
Pour wet ingredients into the bowl of dry ingredients. Stir until just combined.
Transfer batter into a ziplock back. Cut one corner and pipe batter into the prepared donut pan. You can also use a spoon to transfer batter to the pan but piping it from the ziplock bag is easier.
Bake donuts for 8-10 minutes. The top of the donut will spring back when touched when done.
Cool donuts completely on a wire rack.
To prepare the chocolate glaze, add chocolate chips, butter, corn syrup and heavy cream to a microwave safe bowl.
Heat on 50% power for 1 minute. Stir well. If the chocolate isn't completely melted, heat at 50% power for an additional 10 seconds.
Dip cooled donuts 1/3 of the way in the chocolate glaze. Top with sprinkles, coconut or toppings of your choice.