Gluten Free Magic Cookie Bars made with a chocolate cookie crust. Also known as Seven Layer Bars or Hello Dollies, these bar cookies are a crowd pleaser.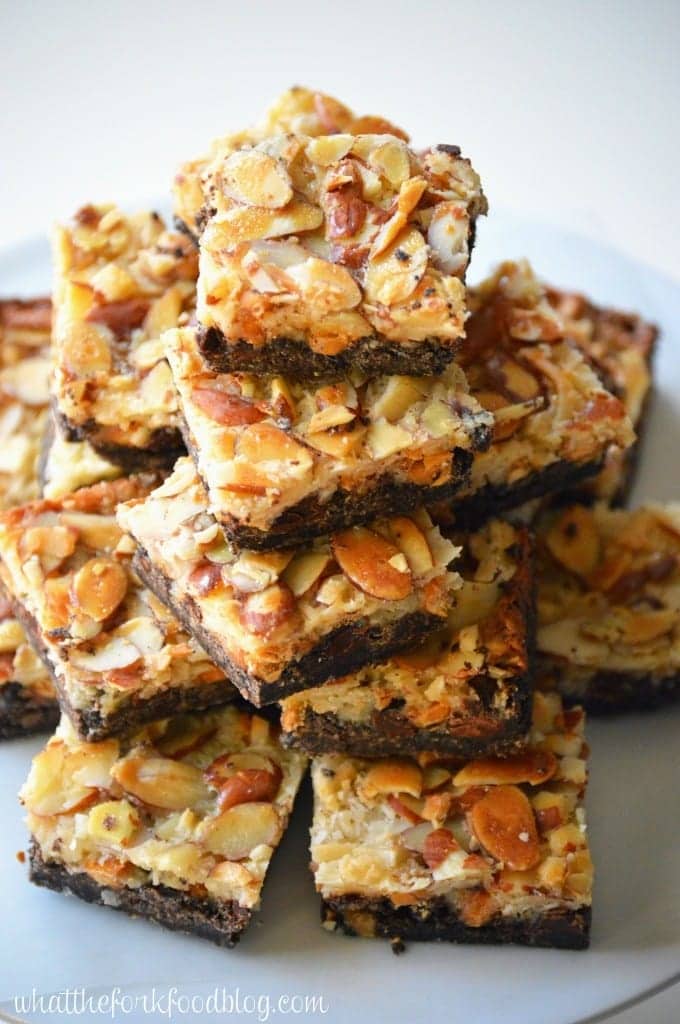 Before Christmas, I promised you some Magic Cookie Bars and I just could not deliver. Every year there seems to be less time before Christmas and this year was no exception. So much to do, so little time. Throw in a couple of kids and 4 Christmas parties in 5 days and you've got yourself a jam packed holiday. 
I was on a mission this year to get all my holiday baking done early, that didn't happen either. I got a few things done ahead of time but, of course, I left the rest until the day before I needed to deliver all my cookies, fudge and quick breads. Oops. Maybe one day I'll actually stop procrastinating. Or get my sht together. Maybe..
Please tell me I'm not alone on that though!
BUT finally, here are the gluten free magic cookie bars I promised, in all their magic cookie bar glory. Better late than never, right? RIGHT.
One thing that sets these magic cookie bars apart is the crust. Instead of an all graham cracker crust, these ones are made with gluten free chocolate sandwich cookie crumbs. So. Good. If you really need to go full-classic with these, just use gluten free graham cracker crumbs instead. They just won't be quite the same. More chocolate = mo'better.
Since it may be too late to package these up for Christmas gifts this year, bring them to your New Years parties 😉 Enjoy!
Be sure to follow me on Instagram and hashtag #whattheforkfoodblog or tag @whattheforkfoodblog – I love seeing what you make!
If you love this recipe for Gluten Free Magic Cookie Bars, follow me on social media so you never miss a post:
Sign up for my free newsletter subscription for new recipes and exclusive giveaways + my free ecookbook – recipes with chocolate
Gluten Free Magic Cookie Bars
Ingredients
2 cups gluten-free chocolate sandwich cookie crumbs (1 10.5 oz package)
1/2 cup gluten free graham cracker crumbs
1/2 cup (1 stick/ 8 tablespoons) butter, melted
1 cup semi-sweet chocolate chips
1 cup butterscotch chips
1/2 cup white chocolate chips
1 1/2 cups shredded sweetened coconut
1 cup sliced almonds or chopped nuts (pecans or walnuts)
1 14 oz can sweetened condensed milk
Directions
Preheat oven to 350 degrees and spray a 9x13in baking pan with non-stick spray. Line with parchment paper and then spray the top of the paper with more non-stick spray.
In a medium bowl combine the chocolate sandwich cookie crumbs, graham cracker crumbs, and butter. Mix until combined. Transfer mixture to the prepared pan and evenly spread evenly across the bottom of the pan, pressing down with your hand or off-set spatula.
Top with (in this order) chocolate chips, butterscotch chips, white chocolate chips, coconut, almonds/nuts, and sweetened condensed milk.
Bake at 350 degrees for 20 minutes or until lightly toasted. Cool to room temperature and then refrigerate at least 2 hours before cutting. Cut into squares and serve.
Recipe Notes
These magic cookie bars freeze very well.