An easy, lighter all purpose gluten free flour blend that can be subbed cup-for-cup with regular all-purpose flour. Use it in baked goods, as a breading/coating for meat and as a thickener for soups and gravies.
A while back I shared my go-to gluten-free all-purpose flour with you. It called for brown rice flour, potato starch and tapioca flour. While it was a great flour blend, I wanted to experiment with it a bit more. I wanted a flour that produced lighter baked goods. That flour is this all purpose gluten free flour blend!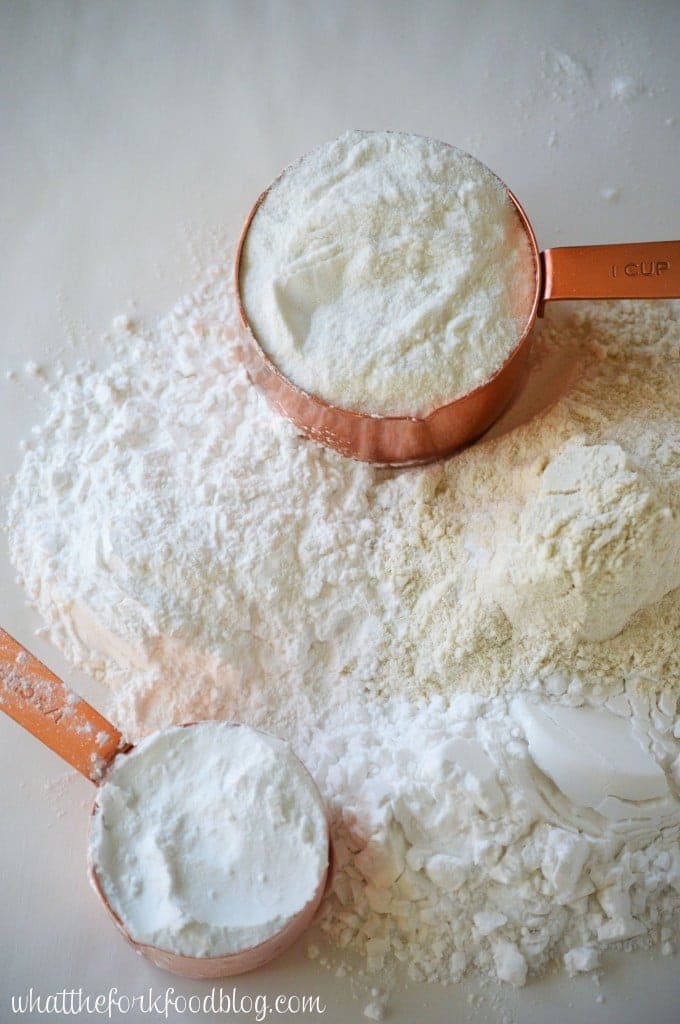 Instead of using all brown rice flour, I use equal parts of brown rice and white rice flour. I've found that the texture of muffins and cake are a little less dense and 'feel' better when eating. I've also started measuring my flour differently. I used to just scoop it out and level it off. By measuring it that way, I was actually using a little bit more flour than I should have been. Now, I give the flour a quick stir and then us a spoon to scoop the flour into my measuring cup. I then use the straight edge of the spoon handle to level it off. I know that's not a new way of measuring and it does take a few extra seconds of work but it really does make a difference. I just didn't do it because of the extra few steps it took. Lazy. But now I do it the right way and it seems to be paying off with better baked goods. So give this all purpose gluten free flour blend a try and let me know how it works for you!
All Purpose Gluten Free Flour Blend
Ingredients
1

C brown rice flour

1

C white rice flour

2/3

C potato starch

1/3

C tapioca flour
Instructions
Mix all ingredients together, whisk until combined. Store in an airtight container.
If you love this recipe for All Purpose Gluten Free Flour Blend, be sure to sign up for free email updates! New recipes will be delivered straight to your inbox!
This recipe is linked to Inspiration Monday, Made by You Monday, Two Cup Tuesday, Tasty Tuesday, Totally Talented Tuesdays, Create Link Inspire, You're Gonna Love It Tuesday, Time to Sparkle, Tickle My Tastebuds, The SITS Girls, Create & Share DIY and Recipe Party, Gluten-Free Wednesdays, What's Cookin' Wednesday, Allergy Free Wednesday, Wine'd Down Wednesday, Full Plate Thursday, Showcase Your Talent Thursday, Create it Thursday, Crafty and Delicious Party, Your Turn To Shine, Pin Junkie Pin Party, Gluten-Free Fridays, Link Party Palooza, Kitchen Fun and Crafty Friday, Strut Your Stuff Saturday, Show Stopper Saturday, Saturday Night Fever, Weekend Bites, Weekend Wind-Down, Weekend Potluck and Best of the Weekend.