These homemade Fried Onion Straws are the perfect gluten free and dairy free solution to the onion strings you'd get at a restaurant. Enjoy them as an appetizer, snack, on your burgers or on top of green bean casseroles. The possibilities are deliciously endless.
There's no rhyme or reason to why I post some of my recipes when I do. While I do share some recipes with seasonal ingredients (like my double chocolate zucchini bread and tomato bruschetta), I don't like to follow any particular food calendar all the time. I think it's perfectly ok to post something like these fried onion straws in August when everyone else is starting to post apple recipes. Because, hello, sometimes, a girl just wants some onion straws.
But don't worry. I'll be posting some apple recipes soon because I do love my apples and I can't completely ignore what's going on in the food world.
These fried onion straws are great any time of the year though. They're great on top of burgers or steak, you can top your green bean casseroles with them for the holidays, you can serve them as a fun game day snack for football (yay for football season starting soon!), or you can make them because it's a day that ends in Y.
Basically, you're just going to want to make them always and forever.
A local pizza place makes some really fabulous onion tanglers that we're no longer able to get (super sad face) so I set about trying to recreate them on my own. It actually wasn't difficult to do because it's really just onions, buttermilk, flour and spices. Although, now I'm making them gluten free so Adam can eat them AND dairy free so Kelsey can eat them.
I just used my regular go-to gluten free all-purpose flour seasoned with some of my fave spices for the breading and instead of soaking them in buttermilk, I soaked the onions in some unsweetened coconut milk (from the carton) mixed with some vinegar to help tenderize the onions. It worked fabulously!
Now go and get your fry on. Enjoy!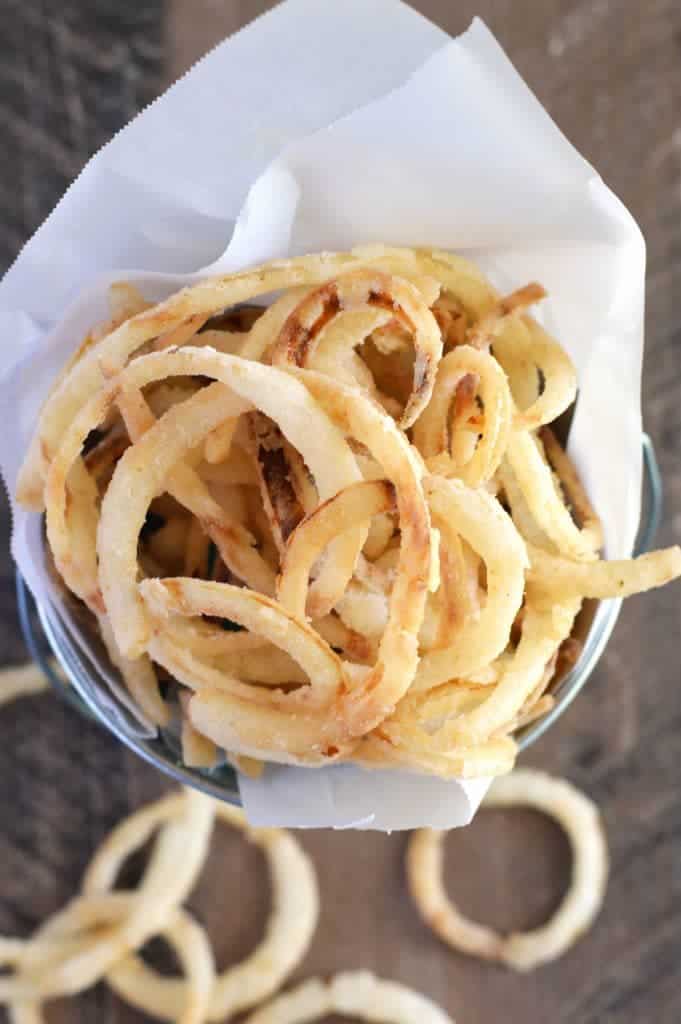 Ingredients
2 C milk (unsweetened coconut milk and unsweetened almond milk work well)
2 Tbsp white vinegar
1 large onion
1/2 C gluten free all-purpose flour
1 tsp garlic salt
1 tsp paprika
1/2 tsp ground black pepper
1.5 qts canola oil, for frying
Directions
Add the milk and vinegar to a 9x13 inch dish and whisk to combine. Peel and slice the onion into very thin rings (a mandolin works great). Place the sliced onions in the milk and press the onions down into the milk. It's ok if they're not completely submerged, just stir them a bit while they soak for 30 minutes.
When the onions are soaking, add the flour, garlic salt, paprika, and pepper to a medium bowl. Whisk to combine.
Add the oil to a large heavy bottom pot and heat over medium high heat. Dredge the onions in the flour mix and shake off the excess flour. When the oil reaches 350 degrees, fry the onions in batches until golden brown, about 1-2 minutes. Drain the onion straws on paper towels and season with salt. Repeat the process with the remaining onions. Serve immediately.
Recipe Notes
Prep time does not include soaking time and the time it takes to heat the oil.
Store leftover onion straws in an airtight container in the refrigerator or freezer. Reheat in the oven at 425 degrees until hot and crispy.
IF YOU LOVE THIS FRIED ONION STRAWS RECIPE, BE SURE TO SIGN UP FOR FREE EMAIL UPDATES! NEW RECIPES WILL BE DELIVERED STRAIGHT TO YOUR INBOX!
Follow Sharon | What The Fork Food Blog's board Appetizers on Pinterest.
Other Recipes You Might Enjoy:
Gluten Free Fried Ravioli from What The Fork Food Blog
Gluten Free Avocado Fries from Shared Appetite
Gluten Free Mozzarella Sticks from Serious Eats
Betsy's Baked Fried Pickles from Food by Betsy