This Double Chocolate Zucchini Bread is the best way ever to use up that garden fresh zucchini. This loaf is super moist and perfect for breakfast or afternoon snacks. Trick those kids into eating some extra veg, they'll never know!
Are you up to your eyeballs in zucchini? I'm not since I don't have my own garden (big time sad face) but I sure have been taking advantage of all the fresh zucchini from my parent's garden and from our favorite farm stand. It's one of my favorite vegetables since it's so versatile.
Like this double chocolate zucchini bread, for example. How many vegetables can you sneak into your breakfast without anybody noticing? The answer would be: not many. My kids have no idea there's zucchini in this bread I've been serving them. I just call it chocolate bread ?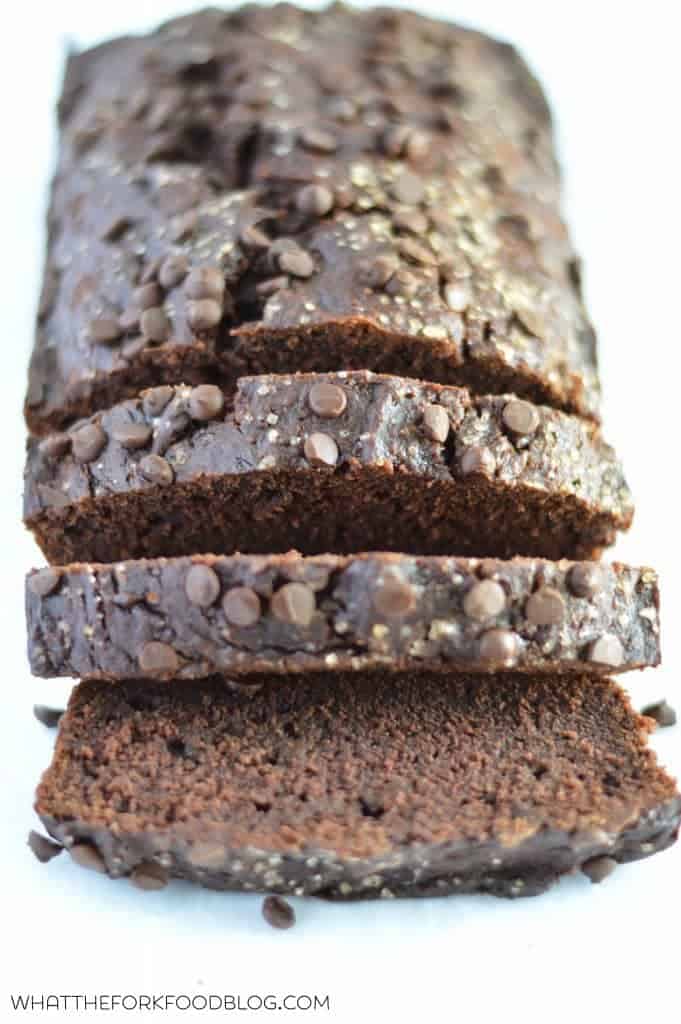 You can definitely make some healthier swaps in this bread by using a natural sweetener of choice and using melted coconut oil in place of the canola to make it a more guilt free food. I've actually started baking with avocado oil and I LOVE it!
I'm really lacking in the words department today. I just feel like I don't have a lot to say about this wonderful bread other than it truly is wonderful. So I'll leave you with that. ✌out and enjoy!
PS Be sure to check out the VIDEO I made of this recipe – so fun! You can find it right above the recipe card.
be sure to follow me on instagram and hashtag #whattheforkfoodblog or tag @whattheforkfoodblog – i love seeing what you make!
if you love this recipe for gluten free double chocolate zucchini bread, be sure to follow me on social media so you never miss a post:
sign up for my free newsletter subscription for new recipes and exclusive giveaways + my free ecookbook – recipes with chocolate
Double Chocolate Zucchini Bread
This Double Chocolate Zucchini Bread is the best way to use up that garden fresh zucchini. This loaf is super moist and perfect for breakfast or snack.
Print
Directions
Preheat oven to 350 degrees and spray a 9x5 loaf pan with non-stick spray .
In a large bowl, sift and whisk together the flour, cocoa powder, xanthan gum, baking powder, baking soda and salt. Stir in the mini chocolate chips and sugar (breaking up any clumps) and set aside.
In a small bowl (or large measuring cup), whisk together the eggs, vanilla, milk and oil. Stir into the dry ingredients. Add in the zucchini and mix well.
Transfer the batter to the prepared baking pan and bake for 55 minutes to 1 hour, or until a toothpick comes out clean. Cool in the pan for 10 minutes before cooling completely on a wire rack.
Store bread wrapped tightly with plastic wrap at room temperature up to 3 days. You can also freeze the bread and defrost at room temperature as needed.
Recipe Notes
* I have made this recipe with regular dairy milk and non-dairy milk. For non-dairy, I prefer coconut milk from the carton in the refrigerated section.
** I've shredded zucchini with a box grater and with my food processor. I prefer the texture of the finer zucchini from the food processor in this bread. Just be sure to add any liquid that comes out of the zucchini to the bread. It helps the bread stay moist since there is very little milk called for in the recipe.
Other Zucchini Recipes You Might Enjoy:
This post contains affiliate links for products or ingredients used to make this recipe. As always, thank you for supporting What The Fork Food Blog ♥