Super easy, 4-ingredient Crock Pot Bark with Salted Peanuts. This makes a great gift for those who love that sweet and salty combo!
Be sure to enter the 2017 Christmas giveaway at the end of the post. One winner will receive their choice of a $75 gift card to Williams Sonoma or Amazon!
Crock Pot Bark
You guys have probably seen quite a few recipes for crock pot candy and this is technically another one. However, instead of making individual candies, I went the lazy route and turned it into a bark.
Yes it's true, I didn't feel like spooning 30+ pieces of candy into tiny paper liners or onto wax paper. I know, whatever. Adulting can be hard and I may or may not like to take shortcuts 😉😂 But you know what? Short cuts this time of year are always welcome, especially if it doesn't have any effect on taste!
I first started making this bark 2 Christmas's ago when I wanted to try Fake Ginger's Crock Pot Candy recipe. Except I didn't have the ingredients I needed and I didn't want to run out to the store and get them.
You guys, I'm sensing a theme here and it's not making me look good. I swear I'm a hard worker and not as lazy as this post is making me sound 😬😂
Any-who… I still wanted to make this so I used what I had on hand which was a hodge-podge mashup of almond bark, chocolate chips, and SALTED peanuts. Most recipes call for unsalted but whatever. I went with it and I'm so glad I did.
The combination of chocolate is really good but honestly you can throw a lot of different chocolates together and you'd probably still get good results. Just don't use unsweetened – that would be BAD!
It's the salted peanuts here that really make this crock pot bark stand out. I am a sucker for that salty sweet combo so this easy candy just speaks to me. I have a really hard time packaging it up and sending it away for others to enjoy. But tis the season and I can literally make this any time I want (or any time I have enough of the ingredients on hand).
I'm a BIG fan of bark because it's so easy to make. Melted chocolate + toppings = a no-bake dessert that's hard to mess up. If you're looking for other ideas, try my Candy Cane Bark or Ina Garten's French Chocolate Bark. Both are perfect for holiday gifts!
I'm sure you'll love this version of crock pot bark with salted peanuts as much as I do – especially if you love salty sweet foods. You're in for a treat!
And if you're feeling a little bit more ambitious than I usually am, you can make this in pretty little festive mini cupcake liners. I also sometimes sprinkle the top with some festive red, white, and green gluten free sprinkles for an extra bit of fun. Either way you make them, enjoy!
Don't forget to enter the giveaway at the end of the post! One winner will get to choose from a $75 Williams Sonoma gift card or a $75 Amazon eGift card. Good luck! And be sure to check out all of the other blogs listed below, they're all hosting their own giveaways and recipes for a virtual gluten free cookie exchange!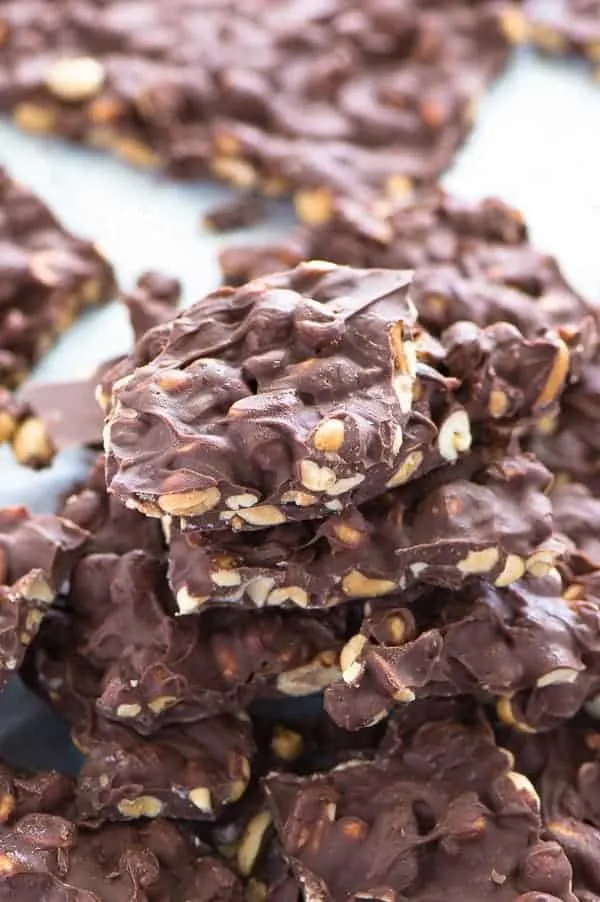 Be sure to follow me on Instagram and hashtag #whattheforkfoodblog or tag @whattheforkfoodblog – I love seeing what you make!
If you love this recipe for crock pot bark with salted peanuts, follow me on social media so you never miss a post:
---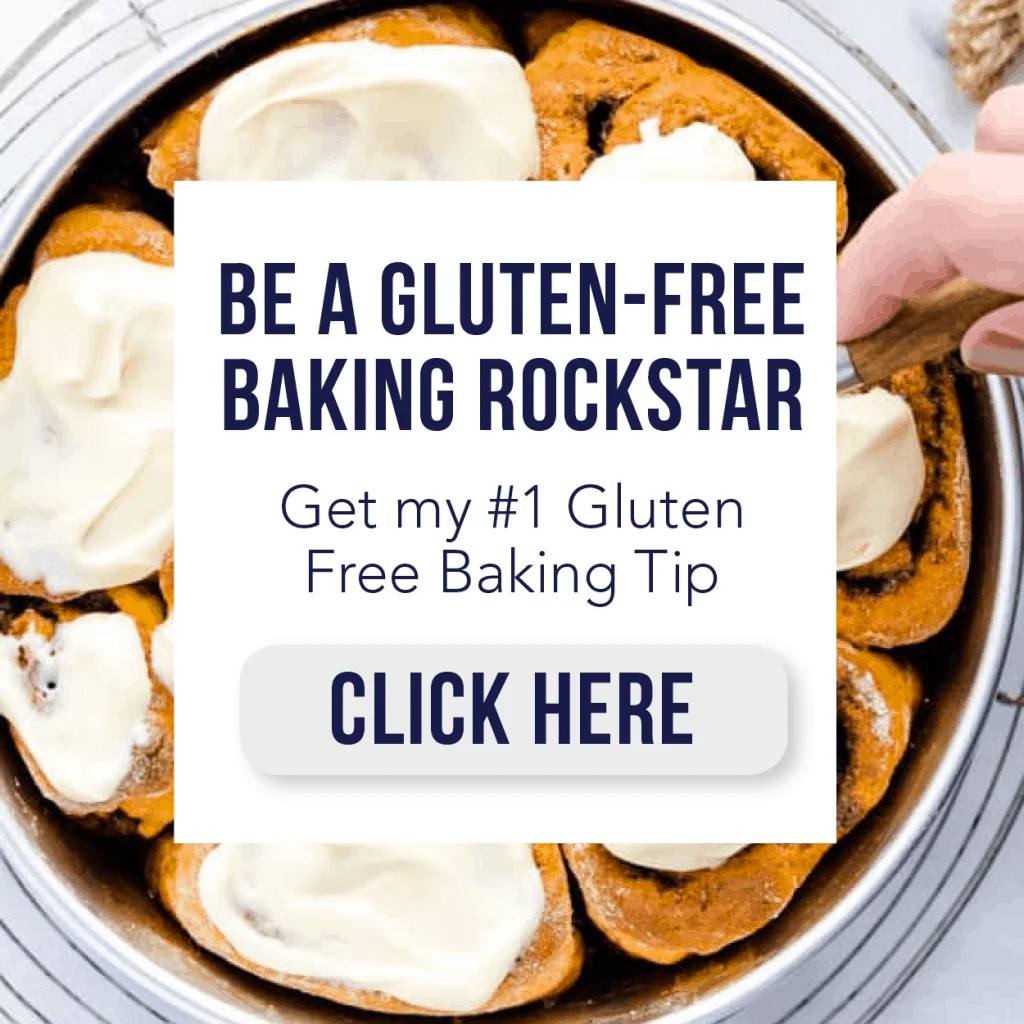 Crock Pot Bark with Salted Peanuts
Super easy, 4-ingredient Crock Pot Bark with Salted Peanuts. This makes a great gift for those who love that sweet and salty combo!
Print
Rate
Pin
Ingredients
1

pound

16 oz. lightly salted peanuts

10

oz.

bag dark chocolate chips

or semi-sweet

3/4

4.6 oz cup white chocolate chips

1

pound

16 oz. vanilla almond bark (can sub white chocolate chips)
Instructions
Add the peanuts to your slow cooker bowl and spread evenly over the bottom. Top with the dark chocolate chips and white chocolate chips.

Break up the almond bark and place on top. Cover and cook on low for 1 1/2 - 2 1/2 hours (SEE NOTES ON COOKING TIME).

When done, line a large baking sheet with wax paper or parchment paper. Stir the candy until completely combined and then transfer to the prepared baking sheet. Spread it in an even layer across the pan.

Let sit at room temperature to harden or place it in the refrigerator for 15 minutes. Break or cut into about 36 pieces.
Notes
If desired, this can also be made in mini muffin tins lined with paper wrappers for a prettier presentation.
Store at room temperature in an air-tight contain or refrigerate. This bark can be frozen.
If your Crock Pot / Slow Cooker runs HOT, you may need to decrease the cooking time. If yours runs on the slower end of cooking times, you may need to cook this up to 2 1/2 hours.
Nutrition Information
Calories:
189
kcal
|
Protein:
4
g
|
Fat:
12
g
|
Saturated Fat:
5
g
|
Cholesterol:
2
mg
|
Sodium:
63
mg
|
Fiber:
2
g
|
Sugar:
14
g
Disclaimers
As an Amazon Associate and member of other affiliate programs, I earn from qualifying purchases.
Nutrition Facts are estimated and aren't always accurate. Please consult a doctor or nutritionist if you have special dietary needs.
2017 Christmas Giveaway

I've joined a bunch of my gluten-free food blogger friends for a Virtual Gluten-free Cookie Exchange.
Check out all 12 recipes in our virtual gluten-free cookie exchange, listed in the order they appear in the photo, left to right, row by row:
Gluten-free Oatmeal Cranberry Chocolate Chip Cookies by My Gluten-Free Kitchen
Gluten-free Gingerbread Kiss Cookies by Gluten Free Palate
Snowball Cookies by Allergylicious
Gluten-Free Double Chocolate Mint Cookies by Meaningful Eats
Cinnamon Stars by Life After Wheat
Gluten-Free Chocolate Chip Cookies in Jar by This Vivacious Life
Candy Cane Cookies by gfJules
Coffee Flour Cookies by Flippin' Delicious
Snickerdoodle Cookies by Veggie Balance
Lemon Cranberry Cookies by Vegetarian Mamma
Gluten Free Vegan Raspberry Pinwheel Cookies by Sarah Bakes Gluten Free