Sweet, tender scones stuffed with fresh and juicy strawberries. These gluten free Strawberries and Cream Scones are perfect for a special summertime breakfast, snack or brunch.
Gluten Free Strawberries and Cream Scones
If you're looking for a different use for all those fresh strawberries you've picked (or picked up at the store) you can end your search right here. These Strawberries and Cream Scones are the PERFECT twist on a strawberry classic. And a twist to the classic scone, I might add.
I don't know if you know anything about the classic strawberries and cream dish but it's rather unappealing to me. Basically, it's a bowl of sliced strawberries in a pool of cream. With some sugar. So by calling these gluten free strawberries and cream scones, I'm using a rather loose reference to the classic. The scones have strawberries and some cream in the glaze – Boom. Strawberries and Cream Scones, naturally. And that, my friends, is what's so much fun about cooking and baking. You can put a spin on anything and create whatever your little heart desires.
I love, love, love scones. Always have, always will. My mom used to make them sometimes for our big breakfast that we would have on Sundays after church. She would make chocolate chip ones that were so, so good and cranberry ones, which she preferred.
They add such a fun twist to breakfast. First of all, scones are so easy to make. And they're so versatile. You can really make any kind of scone you want. Sweet ones, savory ones, plain ones, chocolate ones, any kind of fruit… You can Bubba Gump those scones and make 100 different kinds.
You get my point. The sky is the limit. Unless you freeze-dry them for an awesome astronaut breakfast. Now there's an idea! Get on that NASA, hungry astronauts will thank you.
Here's a few tips for success when making these gluten free scones:
If your dough is too dry and there's flour that isn't incorporating well, add a few drops of milk. But literally just a few drops at a time. The dough will go from too dry to too sticky in a flash.
If your dough is too sticky, add a little bit more flour. Only add a tiny bit at a time so you don't make it too dry!
Try not to work the dough too much in order to keep the end result a nice tender scone.
I know my tips make these scones sound like a lot of work but trust me, they're not! You will know when your dough is too dry or too wet. These scones are phenomenally moist and tender with just the right amount of crumble. I know you'll enjoy these as much as I do.
Be sure to follow me on Instagram and hashtag #whattheforkfoodblog or tag @whattheforkfoodblog – I love seeing what you make!
If you love this strawberries and cream scones recipe, be sure to follow me on social media so you never miss a post:
---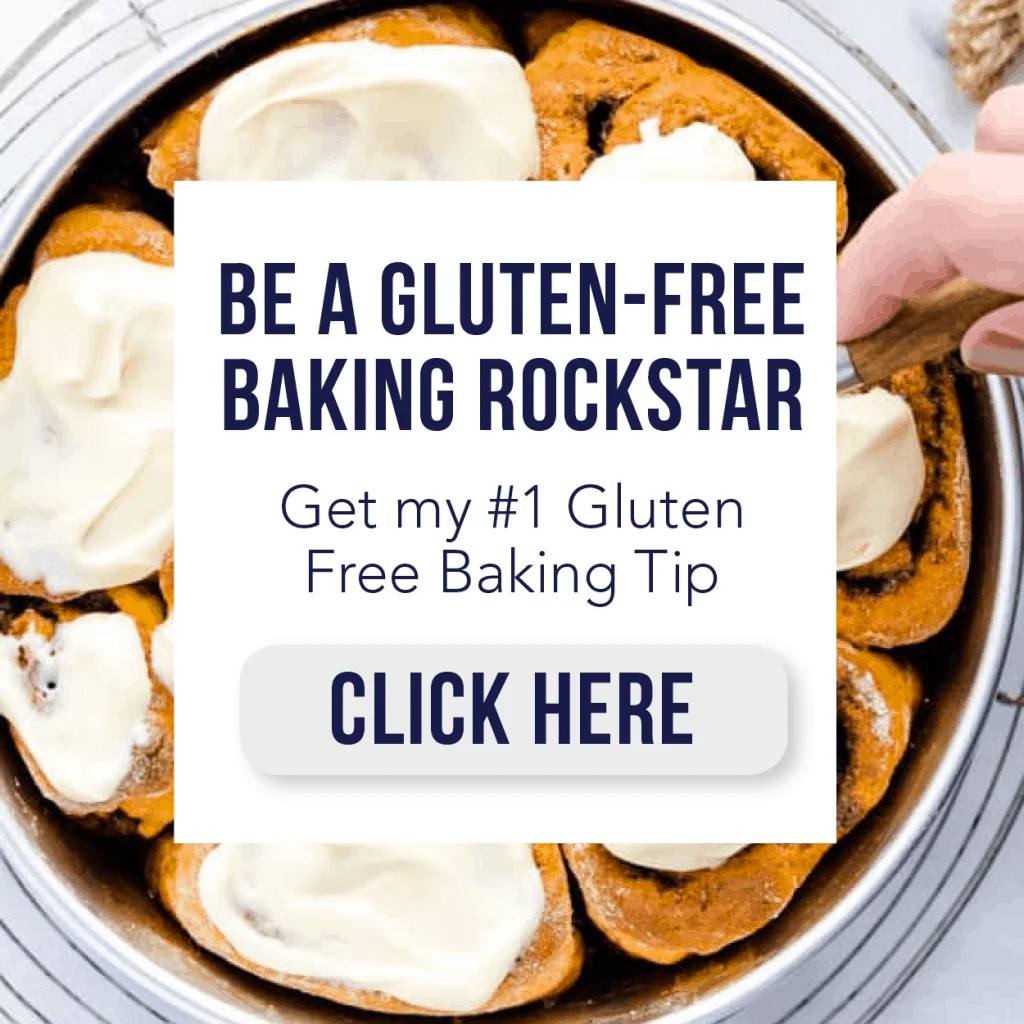 Strawberries and Cream Scones
Sweet, tender scones stuffed with fresh and juicy strawberries. These Strawberries and Cream Scones are perfect for a special summertime breakfast, snack or brunch.
Print
Rate
Pin
Ingredients
2

C

gluten-free all-purpose flour

plus more for dusting your cutting board

1/2

tsp

xanthan gum

1/2

C

granulated sugar

1

Tbsp

baking powder

1/8

tsp

fine sea salt

1/2

C

1 stick unsalted butter, cut into cubes and very cold

1

large egg

1/2

C

sour cream

I used lite

1 1/2

tsp

vanilla extract

divided

1

C

strawberries

heaping, diced or quartered

1/2

C

confectioners sugar

1 1/2

tsp

milk or cream
Instructions
Pre-heat oven to 400 degrees and line a baking sheet with parchment paper or silpat-type non-stick liner.

Sift flour, xanthan gum, sugar, baking powder and salt together in a large bowl. Sift to combine and set aside.

In a small bowl, combine egg, sour cream and vanilla extract. Set aside.

Cut butter into the flour mixture using a pastry cutter or two forks. Work the butter into the flour until it feels like wet sand. A few pea sized pieces of butter are ok but most should be incorporated well.

Fold in the wet ingredients until it comes together. If it is too dry, add a bit of milk one tsp. at a time. If the dough is too wet/sticky, add a tiny bit of flour until it reaches the right consistency. Fold in the strawberries.

Form dough into a ball and move to a cutting board dusted with flour. With your hands, form dough into a disk shape. Cover with plastic wrap and roll into a 10 inch (or so) disk.

Using a large knife or pizza wheel, cut the dough into 8 wedges and move to the prepared baking sheet. Place scones about 2 inches apart.

Bake for 18 minutes at 400 degrees.

Cool on the baking sheet for 5 minutes before moving to a cooling rack.

While scones are cooling, make the glaze by combining the powdered sugar, 1 tsp. vanilla extract and 1 1/2 tsp milk or cream.

Drizzle over the scones. Eat and enjoy!
Notes
Regular flour can be used instead of gluten-free flour. Use equal parts flour and omit the xanthan gum. Using parchment or silpat is very important! Strawberries give off a lot of juice when baking. When the juice comes in contact with the pan it will burn. Using parchment or a silpat liner will prevent it from burning.When prepping the ingredients for the scones, make sure you have everything done (like dice the strawberries, etc) before you cut in the butter. You want to the butter to stay as cold as possible for as long as possible. When following a gluten-free diet, be sure to use gluten-free ingredients. The scones are best served the day they are made. Freeze leftover scones and reheat in the toaster or oven (even with the glaze on).
Disclaimers
As an Amazon Associate and member of other affiliate programs, I earn from qualifying purchases.
Nutrition Facts are estimated and aren't always accurate. Please consult a doctor or nutritionist if you have special dietary needs.
This recipe has been adapted from Averie Cooks.