Pretzel crusted chicken tenders served with a spicy honey mustard dipping sauce. Pretzels used in place of breadcrumbs on the chicken tenders are a unique spin on the regular chicken tender. These pretzel crusted chicken tenders are a family favorite.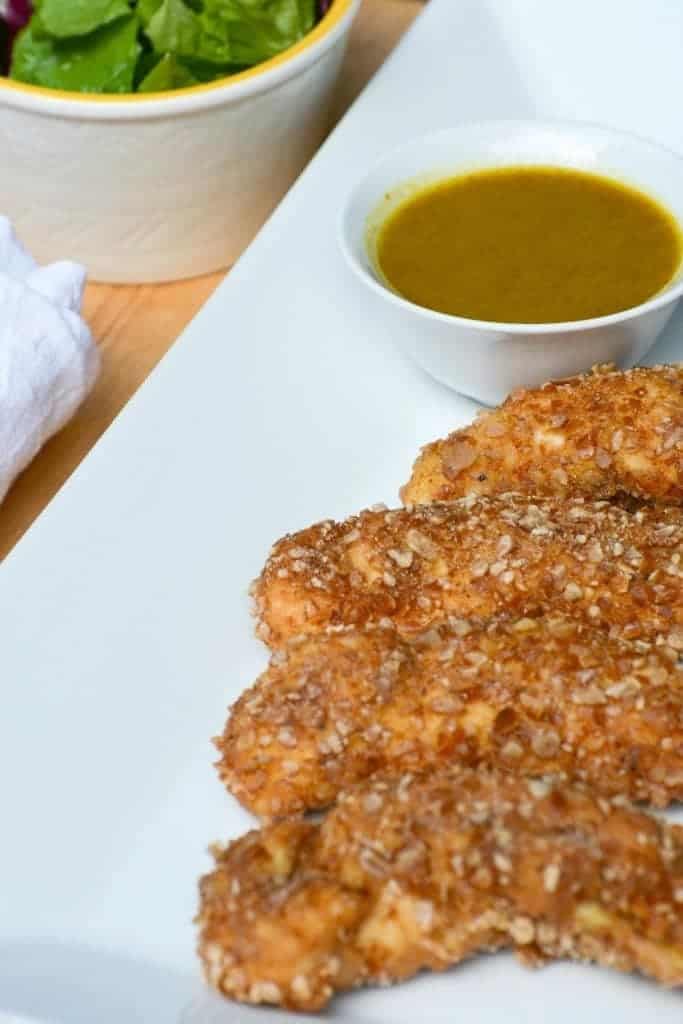 I don't really have a ton to say about these Pretzel Crusted Chicken Tenders. They're excellent. How can you really elaborate on that? Chicken tenders breaded and pan-fried have always been a favorite in our house but these are the mac-daddy of chicken tenders. And the spicy honey mustard dipping sauce? It'll blow your regular honey mustard out of the water. If pretzels and mustard are a winning combo then the pretzel crusted chicken and spicy honey mustard are a champion team.
Not only is this chicken delicious, it's so easy to make. If you're worried about the pretzel crumbs, don't be. If you have a food processor, use it! Just pulse your pretzels in the food processor until you have crumbs. It couldn't be any easier! If you don't have a food processor, (lightly) smash them in a bag on the counter with a rolling-pin. Making dinner and a therapy session all in one, multi-tasking at its finest!
Another thing that makes these pretzel crusted chicken tenders so stellar is the dipping sauce. You've all probably had honey mustard dipping sauce, who hasn't? Dijon mustard and honey. Easy and delicious. But this isn't just any honey mustard dipping sauce I'm talking about. This is honey mustard made with SPICY BROWN mustard. You guys. This is THE stuff regular honey mustard wants to be when it grows up. Sweet and spicy. It's pretty insane and by insane I mean insanely awesome. There's a chance you may never go back to your regular old honey mustard dipping sauce.
I guess I had more to say about this chicken than I thought but I guess when you eat something delicious, its easy to talk about. Try it and you'll see what I mean! Enjoy!
Pretzel Crusted Chicken Spicy Honey Mustard Dipping Sauce
Ingredients
1 1/2

pounds chicken tenders

1 1/2

C pretzel crumbs*

2

eggs, beaten

2

tsp water

1/2

tsp dry ground mustard

1/2

tsp onion powder

1/2

tsp granulated garlic powder

fine sea salt

ground black pepper

vegetable oil for frying

1/3

C honey

1/4

C spicey brown mustard
Instructions
Pour oil into your frying pan until it is about 1/4-1/2 inch deep. Heat oil to 350 degrees.
Season chicken by evenly spriknkling with salt, pepper, dried mustard, onion powder and garlic powder.
Combine egg and water in a bowl large enough for dipping the chicken. Add pretzel crumbs to a separate shallow dish large enough to dredge the chicken in.
Dip and coat the chicken in the egg. Shake of excess egg and coat with pretzel crumbs. Press the pretzel crumbs onto the chicken to help it stick and to form a nice crust on the chicken. Repeat for each piece.
Fry the chicken in batches as necessary until it becomes a deep golden brown and reaches an internal temperature of 165 degrees. Chicken tenders cook fairly quickly. Remove chicken from the pan when done and rest on a paper towel or cooling rack while the rest of the chicken cooks.
Serve hot with the spicy honey mustard dipping sauce.
Combine honey and mustard, mix well. Serve at room temperature or chilled.
Recipe Notes
* I used Snyders brand pretzel sticks.
If you love this recipe for Pretzel Crusted Chicken, be sure to sign up for free email updates! New recipes will be delivered straight to your inbox!
This recipe is linked to Merry Monday, Inspiration Monday, Sweet Sharing Monday, Made by You Monday, Two Cup Tuesday, Tasty Tuesday, Create Link Inspire, Share Your Stuff Tuesdays, You're Gonna Love It Tuesday, Time to Sparkle, Handmade Tuesdays, Tickle My Tastebuds, Gluten-Free & DIY Tuesday, Wonderfully Creative Wednesdays, The SITS Girls, Gluten-Free Wednesdays, What's Cookin' Wednesday, Allergy Free Wednesday, Show and Share Wednesday, #PinterestFoodie, Wine'd Down Wednesday, Full Plate Thursday, Showcase Your Talent Thursday, Pin Junkie Pin Party, Create it Thursday, Pin It Thursday, Gluten-Free Fridays, Link Party Palooza, Foodtastic Friday, Kitchen Fun and Crafty Friday, Foodie Friday, Foodie Friday, City of Links, Strut Your Stuff Saturday, Show Stopper Saturday, Saturday Night Fever, Share it Sunday, Weekend Wind-Down, The Weekend Social,  Weekend Potluck, Best of the Weekend and Weekend Recipe Linkup.