Mini cheesecakes with a chocolate chip cookie crust, creamy cheesecake center and topped with an eggless chocolate chip cookie dough. These chocolate chip cookie dough mini cheesecakes are for cookie dough lovers and cheesecake lovers alike.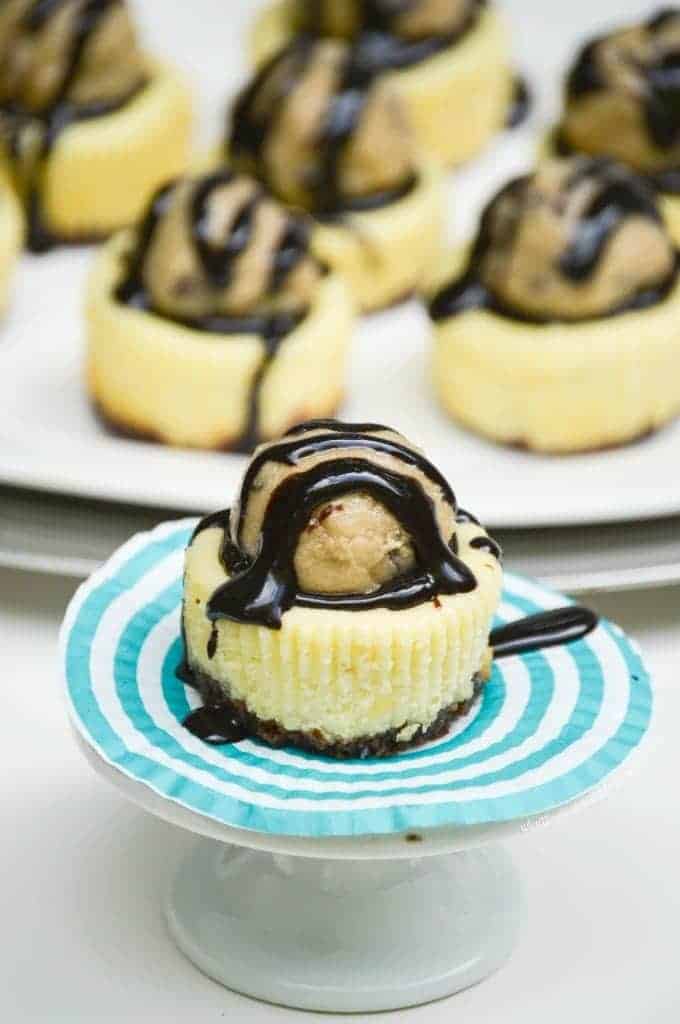 I have a confession. This recipe came about because I had a container of chocolate chip cookies getting stale. I know, I know. It's probably a crime somewhere. But I don't eat a lot of cookies and Adam just wasn't eating 3 dozen cookies fast enough. I should have frozen some or given some away but I wasn't thinking straight, apparently.
So I was trying to think of what I can do with chocolate chip cookies that weren't bad but were no longer at their peak. Turning things (like bread, crackers, pretzels, etc.) into crumbs is usually my go-to thing when they're on their way to Staleville. My next thought was turning the crumbs into a crust, cheesecake ideas bounced around in my brain and here is the result. Chocolate Chip Cookie Dough Mini Cheesecakes. Yum, yum and yu-um.
And this time around I got smart – no desserts are getting left behind to get old here! See, I owed my father-in-law a little thank you treat and these chocolate chip cookie dough mini cheesecakes fit the bill. My father-in-law has done A LOT to help us fix things up around our house since we bought it several years ago. So far, he's put in a new dishwasher, moved a water line to put our fridge in a different place, helped us build a shed, changed our sliding closet doors to doors that pull open, installed a wall ac unit, and some other various things. It totally pays to have someone handy in the family and I pay with a currency otherwise known as dessert.
This past July, my father-in-law helped Adam build me a deck. I reaaalllly wanted a deck (built over the existing concrete slab patio) and thanks to Adam, his dad, my brother and my dad, I got an awesomely huge deck for my birthday. Yay! But building a deck is so time-consuming and takes tons of time. It took the whole 4th of July weekend (minus 1 day due to rain) plus some other random days to finish the stairs and the railings. Adam's dad was here quite a bit helping to get all of that done. So I had to make him something special as a nice 'thank-you'. And by had to, I mean wanted to. These little cheesecakes are the perfect little token of appreciation.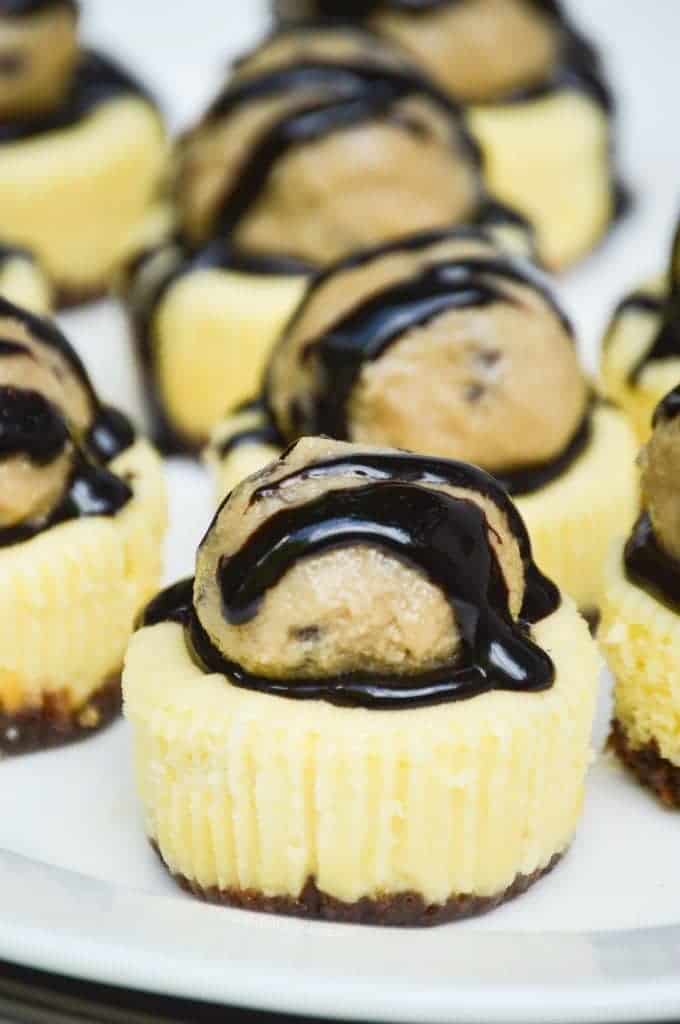 These chocolate chip cookie dough mini cheesecakes are sososo good. Chocolate chip cookie crumb crust, creamy cheesecake, hot fudge and chocolate chip cookie dough. #yesplease. The chocolate chip cookie dough is what makes this cheesecake. It's the best of both worlds, cheesecake and cookie dough. You guys need to try this. It's almost too good to explain. I mean, really. Cheesecake tastes amazing. Cookie dough is amazing. It's a whole lotta amazing in one little package. It's #bangarang
ps the cookie dough has NO EGGS so it's totally safe to eat raw!
Enjoy!
Chocolate Chip Cookie Dough Mini Cheesecakes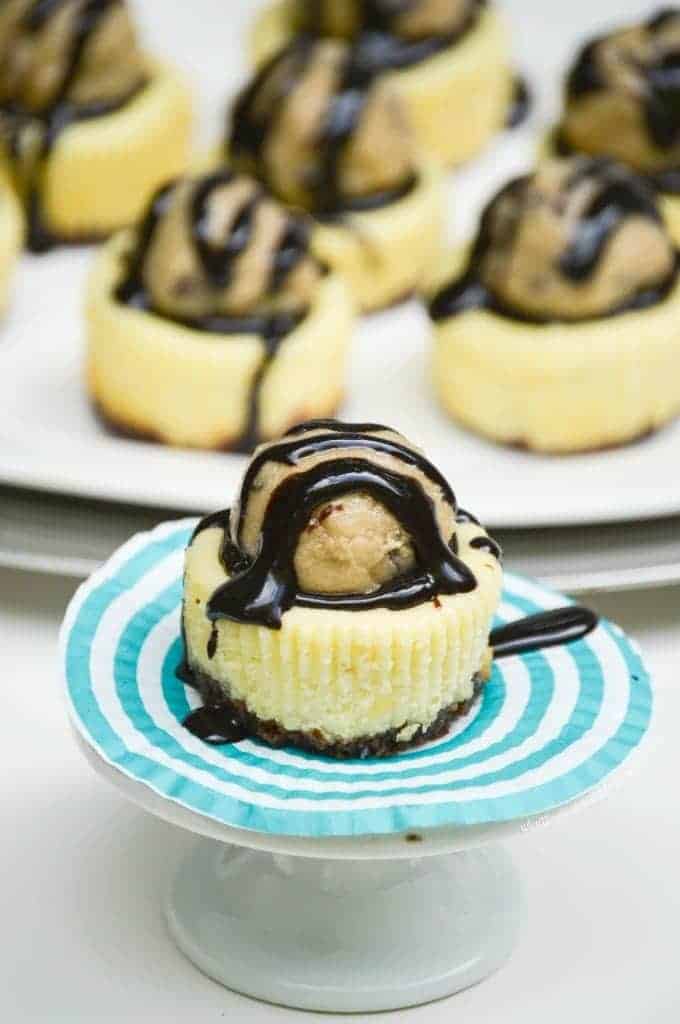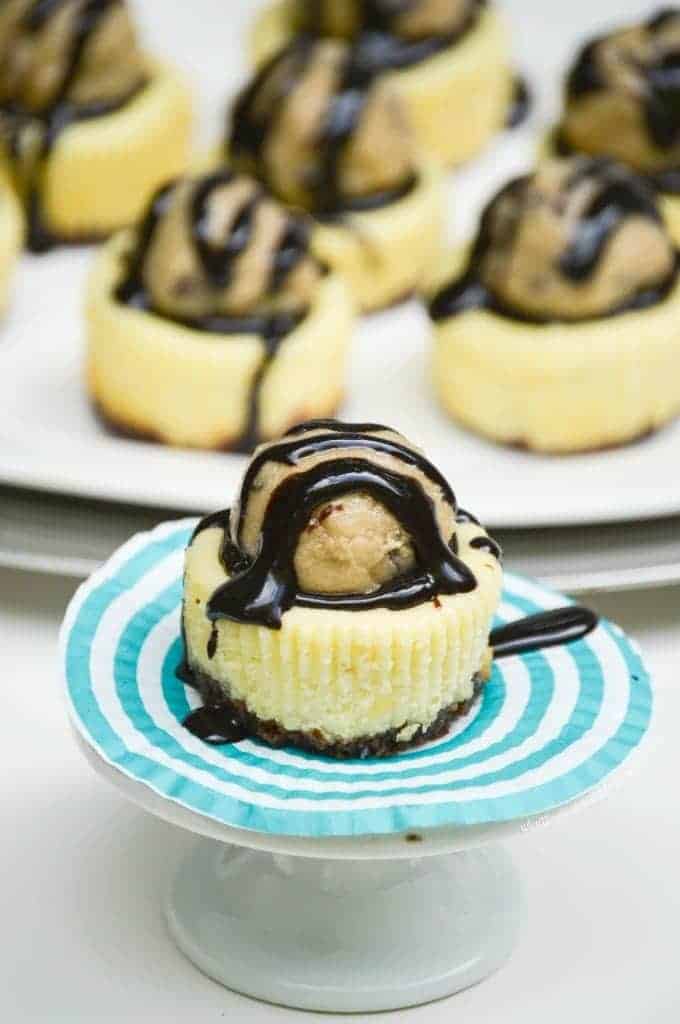 Ingredients
For the Cheesecakes
1

C chocolate chip cookie crumbs (gluten-free or regular)

3/4

C granulated sugar

2

Tbsp butter, melted

3

(8oz) packages cream cheese, softened

1 1/2

tsp vanilla extract

3

eggs

hot fudge sauce
For the Chocolate Chip Cookie Dough
Instructions
Pre-heat oven to 325 degrees and line muffin tins with 18 paper liners.
Mix chocolate chip cookie crumbs with melted butter and evenly distrubute between the 18 cups and press down to form crust.
In a large bowl (or with a stand mixer) beat cream cheese, sugar and vanilla until combined. Beat in eggs one at a time, mixing after each addition. Use a scoop to cover crusts. I used a large OXO scoop (about 3 Tbsp).
Bake 25- 30 min or until centers are set. Cool completely on a wire rack and then refrigerate for 2 hours.
While cheesecakes are cooling, make the cookie dough. Cream together butter and brown sugar.
Mix in milk and vanilla.
Add flour and mini chocolate chips. Mix until combined. Refrigerate cookie dough (FOR AT LEAST 30 MINUTES) until cheesecakes are done cooling.
To assemble the cheesecakes, top each mini cheesecake with 1-2 tsp hot fudge sauce. (I used Hershey's Special Dark). Form cookie dough into 18 balls of dough. I used a medium OXO scoop and it made exactly 18.
Place a ball of cookie dough on top of the hot fudge. Top with additional hot fudge sauce, if desired.
Refrigerate until ready to serve.
Recipe Notes
When following a gluten-free diet be sure to use gluten-free ingredients.
* I would not recommend using gluten-free all-purpose flour containing garbanzo bean/chickpea flour or Sorghum.
** Do NOT bake the eggless cookie dough. It is NOT meant to be baked. **
If you love this recipe for Chocolate Chip Cookie Dough Mini Cheesecakes, be sure to sign up for free email updates! New recipes will be delivered straight to your inbox!
This recipe is linked to Merry Monday, Inspiration Monday, Sweet Sharing Monday, Made by You Monday, Two Cup Tuesday, Tasty Tuesday, Totally Talented Tuesdays, Create Link Inspire, Share Your Stuff Tuesdays, You're Gonna Love It Tuesday, Time to Sparkle, Handmade Tuesdays, Tickle My Tastebuds, Gluten-Free & DIY Tuesday, Wonderfully Creative Wednesdays, The SITS Girls, Create & Share DIY and Recipe Party, Gluten-Free Wednesdays, What's Cookin' Wednesday, Allergy Free Wednesday, Show and Share Wednesday, #PinterestFoodie, Wine'd Down Wednesday, Full Plate Thursday, Showcase Your Talent Thursday, Create it Thursday, Pin It Thursday, Pin Junkie Pin Party, Gluten-Free Fridays, Link Party Palooza, Foodtastic Friday, Kitchen Fun and Crafty Friday, Foodie Friday, Foodie Friday, Strut Your Stuff Saturday, Show Stopper Saturday, Saturday Night Fever, Weekend Wind-Down, The Weekend Social,  Weekend Potluck, Best of the Weekend and Weekend Recipe Linkup.