These baked sweet potato fries are crisp on the outside and chewy in the center. They're perfect for snacking, as a side or for munching on while watching the game.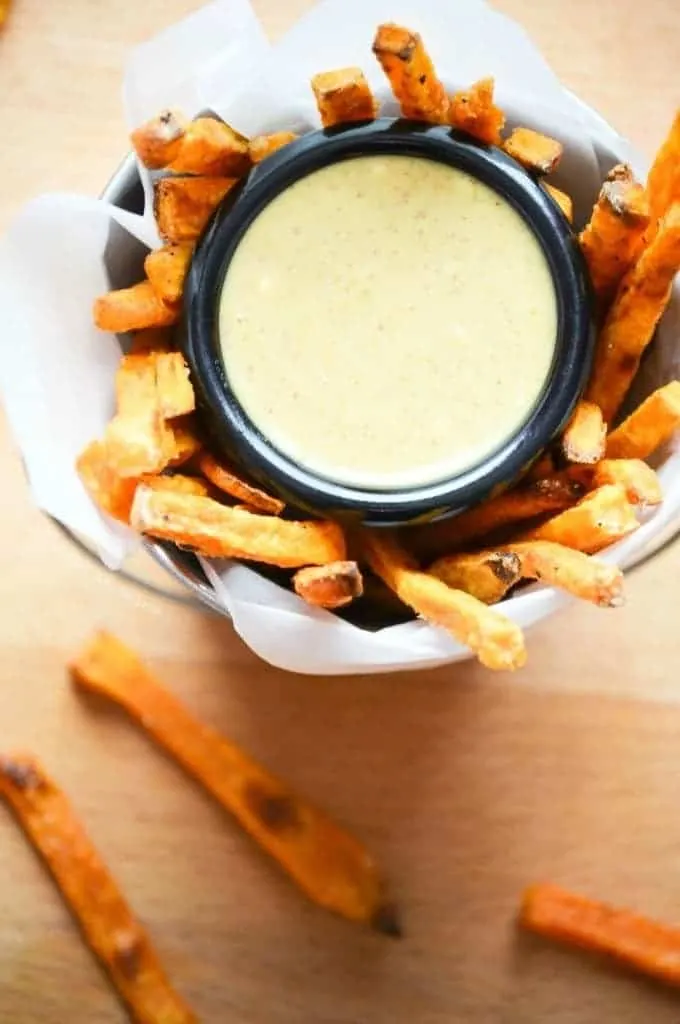 Baked Sweet Potato Fries with Maple Mustard Dipping Sauce
If you follow me on Facebook, you were probably expecting a chicken wing recipe today.
Crispy, baked sweet potato fries are obviously not chicken wings. And this isn't some kind of foodie mind game where I'm going to trick you into thinking you're eating chicken wings instead of sweet potatoes. (Vegan cauliflower buffalo wings, anyone?)
These are most definitely oven baked sweet potato fries.
So what happened to the chicken wings? First of all, they were delicious.
But I just hated the pictures I took. So I'll have to make them again. What. A. Shame. Note the heavy sarcasm there.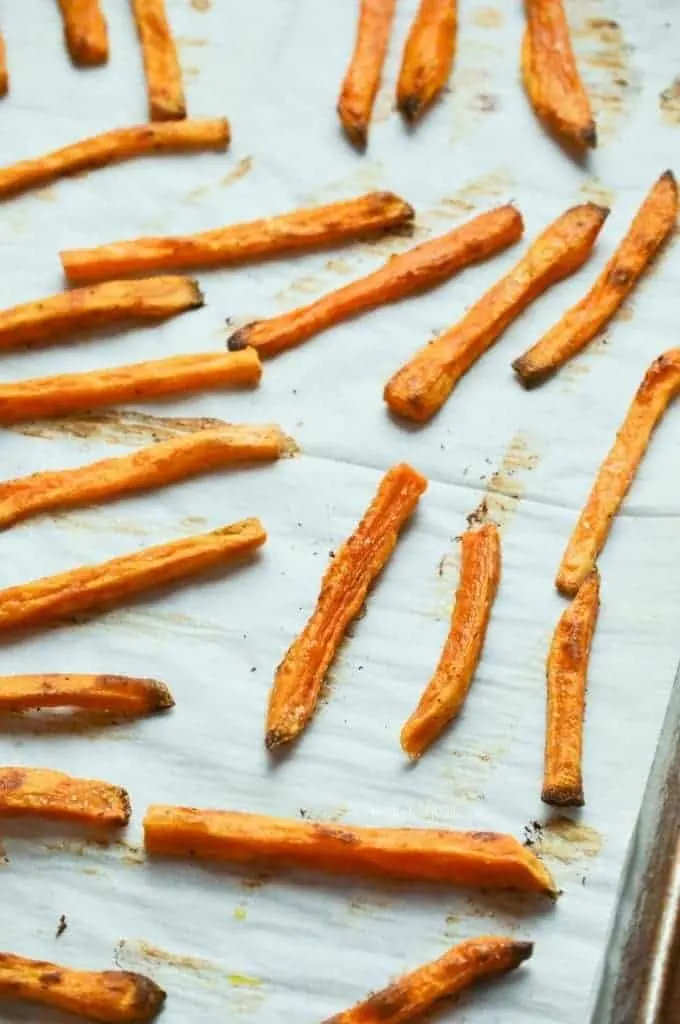 I have a lot of love for sweet potato fries. They're so addicting.
Basically everyone knows how to bake a sweet potato but today, we're baking sweet potatoes as fries. The most delicious, crispy, baked sweet potato fries.
And you don't have to feel too guilty about them because they're baked instead of fried and sweet potatoes are a good-for-you veg. I'm not saying that these fries are a health food but I also wouldn't say they're in the bad-for-you category either.
But I'm not a nutritionist so please take everything I say with a grain of salt. Also, salt is really good on fries 🙃
So here's how to make sweet potato fries! I soaked these fries overnight in the fridge in a bowl of water. You could soak them for less, about 2 hours, but don't skip the soaking process!
Apparently, soaking potatoes in cold water helps to remove the starch from the outside of the potato. It helps make the fries crispy on the outside and nice and soft in the middle. And remember, we're baking these fries so we can use all the help we can get in the crispy department.
Another note of importance, the size of these baked sweet potato fries. I cut them relatively thin. Not matchstick thin but a little thinner than the standard french fry. When you're cutting them, picture a McDonald's fry.
That's the size you're aiming for. I find that cutting the sweet potatoes a little bit smaller and thinner helps them bake up a little more evenly. The insides get nicely cooked without the outside burning.
If you are looking for another delicious appetizer to try, you should try Wholesome Yum's Zucchini Fries Recipe. It's low carb, healthy and would be a great snack to have with these sweet potato fries on game day!
Also if you have leftover baked or mashed sweet potatoes, use it to bake a batch of Gluten Free Sweet Potato Muffins or Sweet Potato Bread (in The Gluten-Free Quick Breads Cookbook). SO good!
And how cute is my little hand model?! I swear it's not child labor. Kelsey took it upon herself to start dipping. She was ready for the best sweet potato fries and absolutely could not wait a second longer.
Enjoy!
---
be sure to follow me on instagram and hashtag #whattheforkfoodblog or tag @whattheforkfoodblog – i love seeing what you make!
if you love this baked sweet potato fries recipe, be sure to follow me on social media so you never miss a post:

Baked Sweet Potato Fries with Maple Mustard Dipping Sauce
These baked sweet potato fries are crisp on the outside and chewy in the center. They're perfect for snacking, as a side or for munching on while watching the game.
Print
Rate
Pin
Ingredients
1

large sweet potato

peeled and cut (about 1 lb.)

1

Tbsp.

cornstarch

1

Tbsp.

extra virgin olive oil

1/2

tsp

garlic salt

1/4

tsp

ground black pepper

1/4

C

mayonnaise

1/4

C.

spicy brown mustard

2

Tbsp

pure maple syrup
Instructions
Peel and cut your sweet potato into thin fries (think McDonalds fry size). Soak in water overnight in the refrigerator.

Pre-heat oven to 425 degrees and line two baking sheets with parchment paper. Drain the sweet potatoes and dry really well on a clean kitchen towel.

Combine mayonnaise, spicy brown mustard and maple syrup in a small bowl. Set aside.

In a large bowl, toss the sweet potatoes and cornstarch together until the sweet potatoes are coated. Toss with the olive oil, garlic salt and pepper.

Divide the sweet potatoes between the two baking sheets and spread them out so that they are not touching each other. Bake at 425 degrees for 15 minutes. After 15 minutes, stir the fries and rotate baking pans as needed. Bake for another 10-15 minutes. Check frequently aftter the 10 minutes and remove fries as they are done. Overcooked fries will burn and larger fries will take longer to bake. Serve immediately with the maple mustard dipping sauce.
Nutrition Information
Serving:
1
g
|
Calories:
178
kcal
|
Carbohydrates:
11
g
|
Protein:
1
g
|
Fat:
15
g
|
Saturated Fat:
2
g
|
Polyunsaturated Fat:
7
g
|
Monounsaturated Fat:
5
g
|
Trans Fat:
0.03
g
|
Cholesterol:
6
mg
|
Sodium:
544
mg
|
Potassium:
49
mg
|
Fiber:
1
g
|
Sugar:
6
g
|
Vitamin A:
20
IU
|
Vitamin C:
0.1
mg
|
Calcium:
22
mg
|
Iron:
0.3
mg
Disclaimers
As an Amazon Associate and member of other affiliate programs, I earn from qualifying purchases.
Nutrition Facts are estimated and aren't always accurate. Please consult a doctor or nutritionist if you have special dietary needs.