This Blueberry Dutch Baby makes an easy weekend breakfast with minimal ingredients. A dutch baby is essentially a baked pancake and this one is bursting with blueberries and topped with powdered sugar and pure maple syrup. It's breakfast perfection.
This gluten free blueberry dutch baby is definitely a family favorite breakfast. First of all, it's super easy to make. All you need is one bowl and just a handful of ingredients. I've been making these gluten free blueberry dutch babies for well, forever? I'm not exactly how long but it's been for as long as I can remember. They're always a quick go-to weekend breakfast when I just don't feel like cooking. They're so easy, even my husband could make these.
Blueberries are not really cheap this time of year. And by not really cheap, I mean outrageously crazy expensive. So if you don't want to splurge for fresh blueberries, frozen blueberries will work just as well. I almost always use frozen blueberries in baked recipes. Last summer, we picked tons of blueberries at the orchard when they were in season. Ok, it felt like we literally picked tons based on the amount of time it takes to pick. But really, it was probably somewhere around 30 pounds during the whole picking season. That's still a lot though. I really love stocking up on fruit straight from the farms during the summer when we can get them cheap and super fresh. I shared some really awesome blueberry crumb bars and a blueberry coffee cake with you last summer that I made with the fresh berries. I soo can not wait to be swimming in fresh blueberries again…
I'm really envious of all of you guys who can get fresh produce at a great price year round straight from the farmers market. We still have snow on the ground. so it'll be a loooong time before the farmers markets will start to open. Actually, it'll be a long time before we even see the ground. We're actually supposed to get more snow this weekend – it's looking more and more like we'll be having a white Easter since. No need to dye the eggs this year! We'll be having the ultimate camouflage Easter egg hunt! White eggs in white snow, good luck kids!
But back to gluten free blueberry dutch babies before I completely derail from my train of thought.
I like to dust these with powdered sugar before serving. It gives them a little something special. We eat ours with maple syrup too, but again, that's optional – just not optional in our house.
There's one very important bit of information to note about this blueberry dutch baby, when you're adding the blueberries, keep them away from the edges of the pan! The batter will puff up and spread up the side of the skillet while baking. If the blueberries are too close to the edge, they'll prevent that from happening. I've experimented with different amounts of blueberries and I use just a ¼ cup for that reason. Too many will deflate your dutch baby and you'll end up with a flat slightly dense-ish dutch baby. Which is absolutely not what you want. So if you really want more blueberries, add them after you cook it. Enjoy!
Be sure to follow me on Instagram and hashtag #whattheforkfoodblog or tag @whattheforkfoodblog – I love seeing what you make!
If you love this gluten free blueberry dutch babies recipe, be sure to follow me on social media so you never miss a post:
---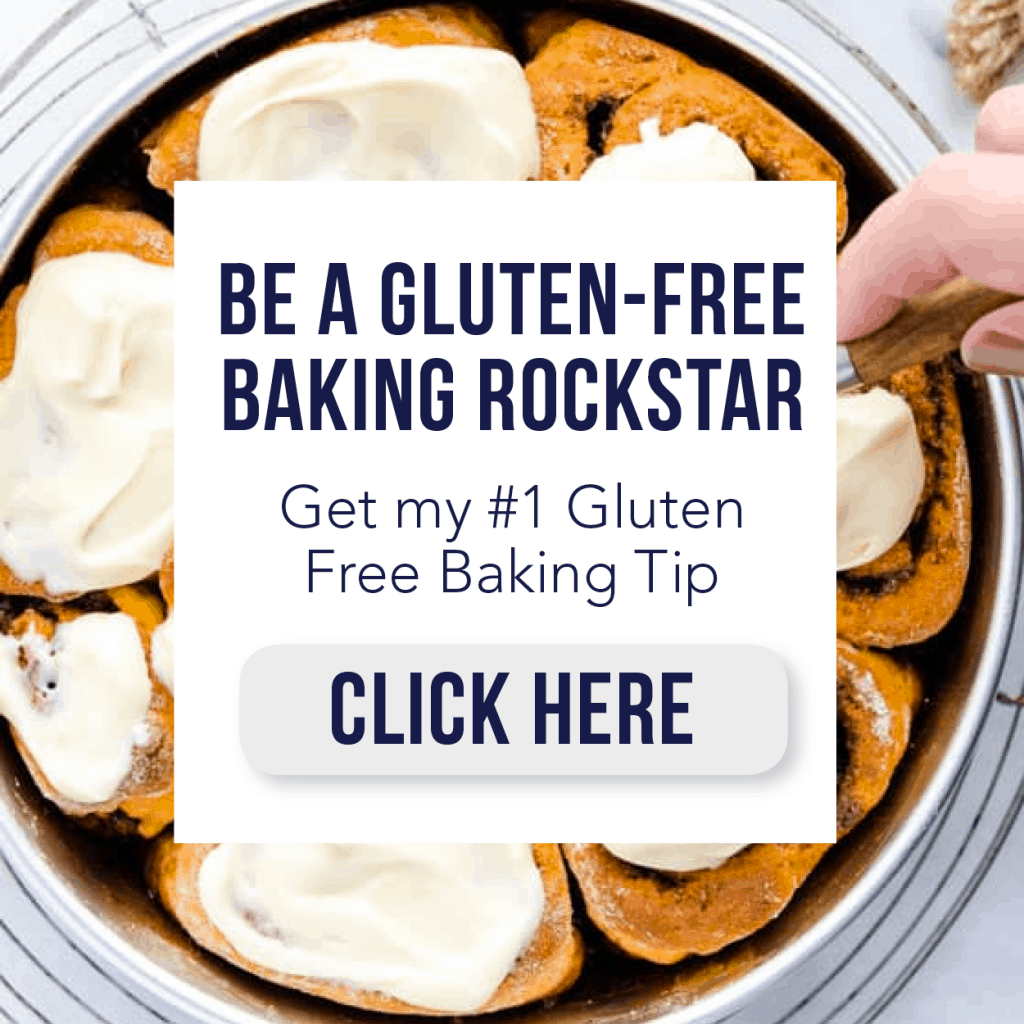 This post is linked to Inspiration Monday, Made by You Monday, Two Cup Tuesday, Totally Talented Tuesdays, Create Link Inspire, You're Gonna Love It Tuesday, The SITS Girls, Create & Share DIY and Recipe Party, Gluten-Free Wednesdays, What's Cookin' Wednesday, Allergy Free Wednesday, Wine'd Down Wednesday, Full Plate Thursday, Showcase Your Talent Thursday, Create it Thursday, Crafty and Delicious Party, Your Turn To Shine, Pin Junkie Pin Party, Gluten-Free Fridays, Link Party Palooza, Kitchen Fun and Crafty Friday, Savoring Saturdays, Weekend Wind-Down, Weekend Potluck and Best of the Weekend.
You can also see this gluten free blueberry dutch babies recipe on Food Fanatic.