This REESE's Peanut Butter Cup Cookie Pie (Pizookie) is the ultimate chocolate-peanut butter lovers dessert. Serve it by the slice for sweet snacking or deck it out with ice cream step up your dessert game.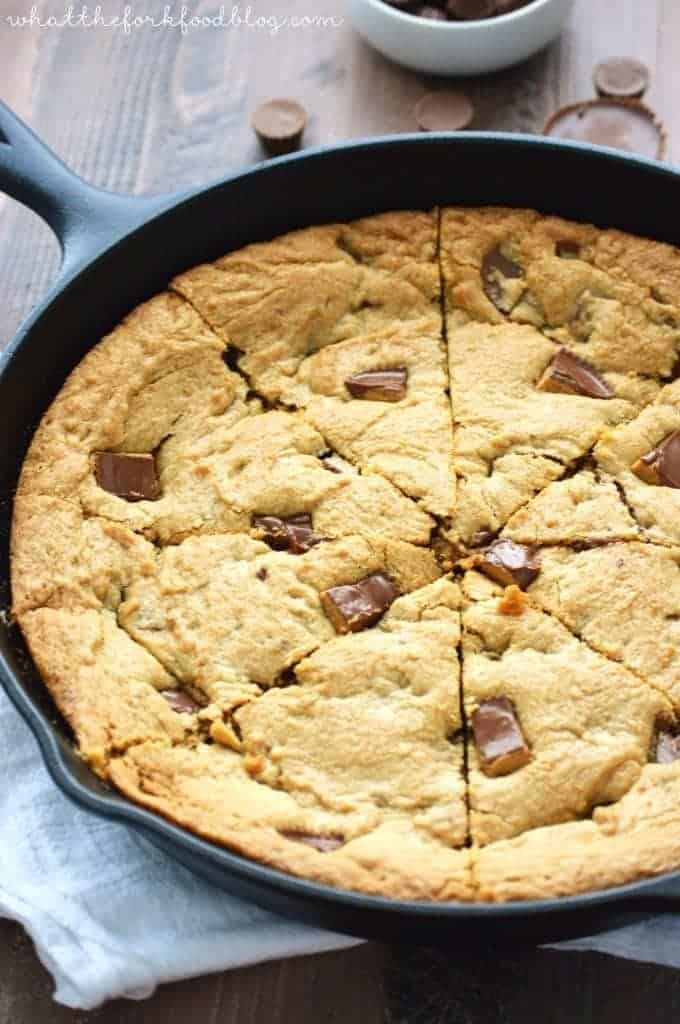 This shop has been compensated by Collective Bias, Inc. and its advertiser. All opinions are mine alone. #snacktalk #CollectiveBias
Watch the video below (right before the recipe) to see how easy it is to make these!
REESE'S peanut butter cups are the number one candy in our house. Adam is a huge, huge fan. One year for Christmas, our friends gave him an entire shirt box stuffed with them. They barely lasted.
When I make a dessert, I always have Adam rate it on a scale of 1-10. The only desserts that get a 10 include chocolate and peanut butter, even better if they include REESE'S peanut butter cups too. This recipe, it was a perfect 10.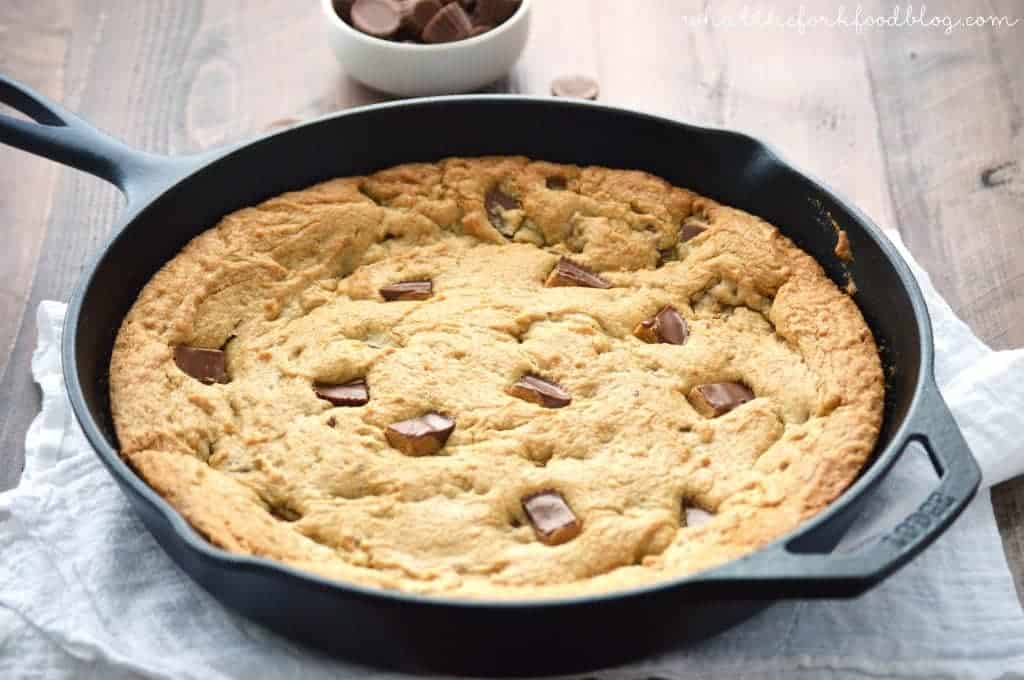 Cookies are another favorite around here. Actually, desserts in general because I can say that about cakes and pies too. (Please try not to say that like I do in my head – like the line from Deuce Bigelow… cakes and pies, cakes and pies…. Seriously I just can't..)
But what I'm really trying to say is, anything and everything sweet is a hit. But one super special dessert that we really love – the cookie pie. Or as some of you know it, the pizookie recipe. Even better than a plain ol' (delicious) cookie pie is a peanut butter cup cookie pie. Warm brown sugar peanut butter cookie cookie pie with warm, gooey, chocolatey peanut butter cups. Top it off with some ice cream and you've got yourself a party in your mouth. Yes puh-lease.
Also a yes please? Basketball in March. My family and I are big sports fans. College basketball is especially big around here since we don't have our own in-state pro team to root for. So you know we'll be noshing on some sweet treats as we (hopefully) watch our team cruise to victory. Hope I didn't just jinx it…
Served straight up, this peanut butter cup cookie pie makes for a perfect, sweet snack. Great for hanging out with your friends watching some basketball, perfect for packing up and bringing to the park or wherever the snack attack hits.
Served a la mode, and you've got yourself a kicked up dessert. Cold vanilla ice cream pairs so well with a warm peanut butter cookie pie. It gets all melty and gooey and awesome.
For an even more decadent treat, turn it into a sundae. That's right, turn that snacking slice in to the ultimate dessert. You won't have a care in the world with this little ditty in your hands. Even if your bracket is completely destroyed.
Walmart has a really great display of REESE'S products ready to use for snacks and treats while you're watching the basketball tournaments. Because, hello. What's better than candy when you're watching some action packed sports? Ok, candy and watching your team win. That's a winning combination.
Speaking of winning, REESE'S is hosting a little competition of their own. They're challenging you to submit your own REESE'S #SnackTalk recipe highlighting Reese's products. Follow REESE'S on Twitter @ReesesPBCups, make your best REESE'S recipe and share your recipe on on Twitter or Instagram with #SnackTalk #ChallengeEntry. You can submit your recipes here, which is where the winner will be announced and also be recognized by CBS Sports and Walmart.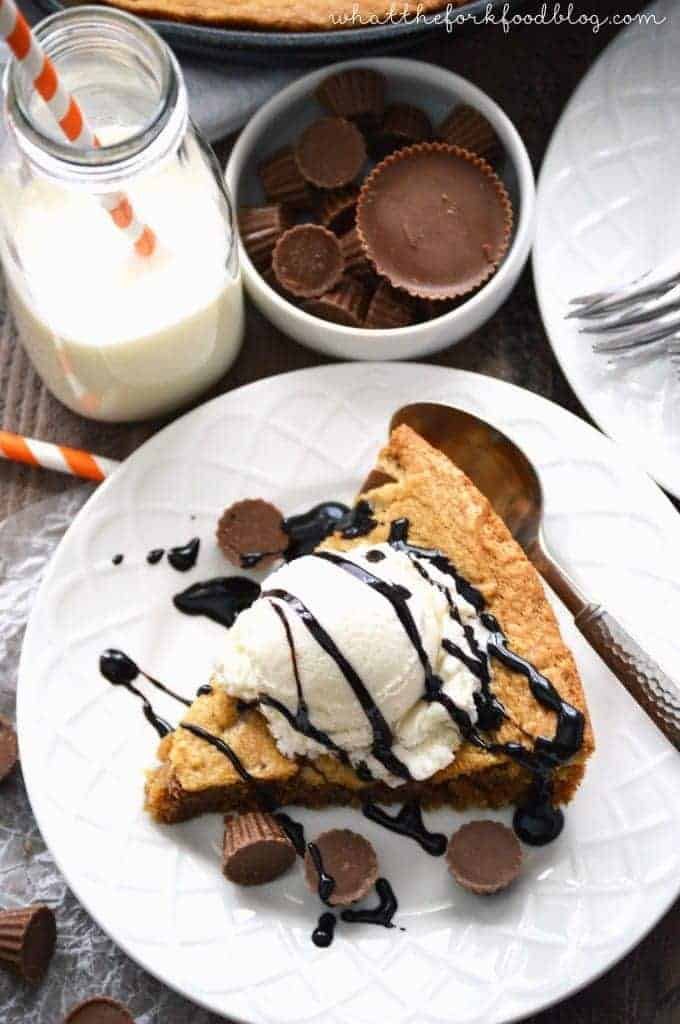 Did I mention how easy this homemade pizookie recipe is to make? Crazy easy – no excuses not to make it! So, whether you serve this peanut butter cup cookie pie as is for a sweet, snack-able treat or jazz it up for an extra special dessert, Enjoy! And don't forget to submit your entries!
be sure to follow me on instagram and hashtag #whattheforkfoodblog or tag @whattheforkfoodblog – i love seeing what you make!
if you love this reese's peanut butter cup cookie pie recipe, be sure to follow me on social media so you never miss a post:
sign up for my free newsletter subscription for new recipes and exclusive giveaways + my free ecookbook – recipes with chocolate
Yield: serves 10
REESE'S Peanut Butter Cup Cookie Pie (Pizookie)
This REESE's Peanut Butter Cup Cookie Pie (Pizookie) is the ultimate chocolate-peanut butter lovers dessert. Serve it by the slice for sweet snacking or deck it out with ice cream step up your dessert game.
Ingredients
1/2 C butter, softened
1 1/4 C brown sugar, packed
1/2 C creamy peanut butter
2 eggs, room temperature
1 tsp pure vanilla extract
2 C gluten-free all-purpose flour
1/2 tsp xanthan gum
1 tsp baking soda
1/2 tsp fine sea salt
12 REESE'S peanut butter cups, chopped
Instructions
Preheat oven to 350 degrees and grease a 12 inch cast iron skillet with butter.
In the bowl of a stand mixer fitted with the paddle attachment, cream together the butter, brown sugar and peanut butter.
Beat in the the vanilla and the eggs, one at a time.
In a separate bowl, whisk (or sift) together the flour, xanthan gum, baking soda and salt.
Add half the dry ingredients to the butter/sugar mixture and mix on low speed until incorporated. Mix in the remaining flour mixture until completely combined. Mix in the peanut butter cups.
Transfer the batter to the prepared skillet. Bake at 350 degrees for 20 minutes. If you're using a 10 inch skillet, increase baking time. Let cool for at least 30 minutes before serving. Cool completely for portable sliceable pieces.
Recommended Products
As an Amazon Associate and member of other affiliate programs, I earn from qualifying purchases.