Today I've partnered with Barefoot Refresh to bring you this recipe for Strawberry Peach Spritzers. Fresh strawberries, tree-ripe peaches and Barefoot Refresh are  the perfect refreshing mix to help you hang on to those last few days of summer.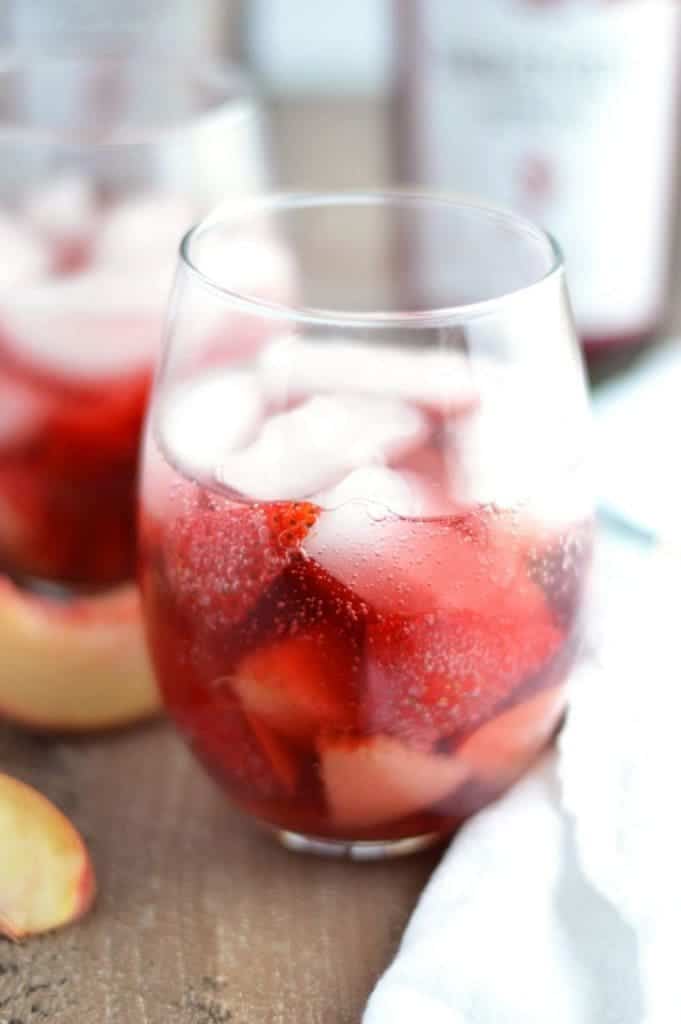 I am holding onto every last second of summer that I can.  I just never want it to end. Every year, it seems harder and harder to see the summer come to a close. The school year seems to start earlier (Adam's a teacher), the leaves start to turn and fall earlier, and the nights get cooler faster.
I know it's technically in my head since Adam went back later than usual, the leaves are pretty much the same every year and we've just had a heat wave with the lows being in the 80's at night.
But still. I want my summers to last forever. Who wouldn't want summer to last forever?! One way I can hang onto summer? Drinking all the summery drinks I can. And I'll start with these seriously summery Strawberry Peach Spritzers. Also, at this time, I really wish  peach started with the letter S.
The star of this spritzer show (aside from the summer fruit) is Barefoot Refresh Summer Red Spritzer. It's the perfect base because all you need to add to the drink are some ice cubes and your fruit. It's such an easy cocktail that you can throw together at the last minute with very little effort on your part.
Barefoot Refresh comes in five amazingly refreshing blends: Crisp Red Spritzer, Crisp White Spritzer, Sweet White Spritzer, Summer Red Spritzer and Perfectly Pink Spritzer and retail for about $7/bottle. At that price, you can afford to try them all!
You guys will probably hear me continuously whining about the end of summer approaching for the next few weeks. #sorrynotsorry In the meantime, let's sip on our summery spritzers (yay for alliteration) and soak up that summer sun (again with the alliteration #cantstopwontstop). Enjoy!
Strawberry Peach Spritzers
Ingredients
2 C Barefoot Refresh Summer Red Spritzer, chilled
1 large peach (preferably white), diced
6 strawberries, quartered
1 C ice cubes
Directions
Divide the peaches and strawberries evenly between two wine glasses. Add half a cup of ice to each glass and top with 1 cup of the Summer Red Spritzer each. Garnish with additional peaches or strawberries if desired. Serve immediately.
IF YOU LOVE THIS STRAWBERRY PEACH SPRITZER RECIPE, BE SURE TO SIGN UP FOR FREE EMAIL UPDATES! NEW RECIPES WILL BE DELIVERED STRAIGHT TO YOUR INBOX!
Follow Sharon | What The Fork Food Blog's board Cocktails on Pinterest.

Other Recipes You Might Enjoy:
Strawberry Moscato Wine Spritzers – What The Fork Food Blog
Sarasota Lemonade – The Pampered Jes
Strawberry Ginger Spritzers – The Cooking Bride
This is a sponsored post written by me on behalf of Barefoot Refresh®. Content for 21+. All opinions are 100% my own. As always, thank you for supporting brands that support What The Fork Food Blog ♥