This Grilled Bacon Wrapped Chicken makes the perfect easy dinner, game day grub, or backyard bbq meal. It's full of fresh flavor and calls for just four ingredients!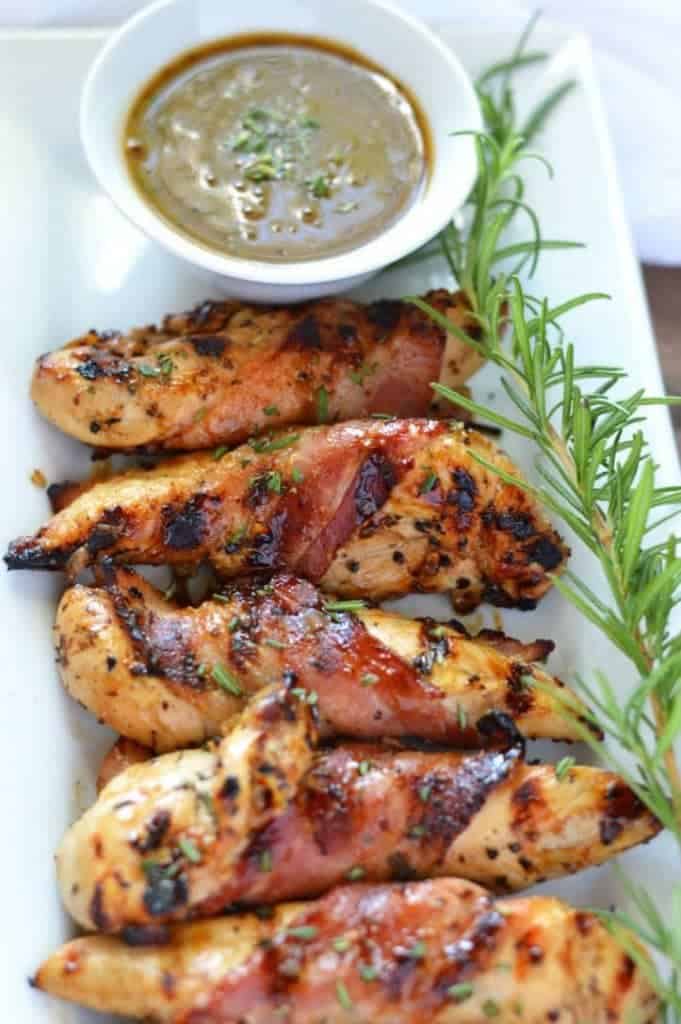 I love this chicken. Love. Love. Love. Maybe because I'm obsessed with rosemary. Maybe because I love grilled chicken. Maybe because I love this sweet black pepper marinade. Maybe because I love how well it all just marries together. Maybe it's that bacon. Whatever. It's goo-oood.
This grilled bacon wrapped chicken is straight out of flavor-town. It's got a bit of a kick from the pepper, a hint of sweet, smokiness from the bacon, and a great earthy taste from the rosemary to tie it all together. It's perfect for dinner, tailgating, or any time you want a little something special and different from the grill.
The chicken marinates for at least an hour but you can always start it before heading out for the day and you'll come home to some flavorful meat. The easiest part about the marinade is that it comes right from the bottle, no mixing, chopping, cutting, measuring multiple ingredients, or whisking required. Because sometimes, that's just too much work in the morning. All you do is pour your marinade over the chicken and let it chill. Perfect!
This is one of those dishes that will please the guys and the girls. The guys will be happy because there's that peppery kickPut some bacon on it and you've got yourself a manly meal. Plus everyone loves bacon. And all the girls will be happy because chicken is a nice lean protein and then there's some nice fresh, green rosemary. The perfect blend of flavors, protein, and tastes to please any palette. My work here is done, guys. Enjoy!

Grilled Bacon Wrapped Chicken with Sweet Black Pepper and Rosemary
Directions
Add the chicken and 1/2 a cup of the marinade to a resealable bag and refrigerate at least an hour or up to 24 hours.
When the chicken has marinated, preheat grill to 500 degrees. Cut the bacon slices in half and wrap half a slice of bacon around each chicken tender and secure with toothpicks. Sprinkle the rosemary over the top of the chicken.
Grill the chicken about 8 minutes per side or until the bacon is cooked through, brushing the remaining 1/4 cup of reserved marinade on the chicken in the last few minutes. Serve with additional sauce and an extra sprinkle of fresh rosemary if desired.
Recipe Notes
I used 8 slices of bacon because two pounds of chicken came out to be 16 tenders. Use a half a piece of bacon per chicken tender. You may need more or less depending on how your chicken is packaged.
Do not use thick cut bacon for this recipe, it will not cook through properly without the chicken overcooking.
IF YOU LOVE THIS GRILLED BACON WRAPPED CHICKEN WITH SWEET BLACK PEPPER AND ROSEMARY RECIPE, BE SURE TO SIGN UP FOR FREE EMAIL UPDATES! NEW RECIPES WILL BE DELIVERED STRAIGHT TO YOUR INBOX!
Follow Sharon | What The Fork Food Blog's board Chicken and Turkey Recipes (Poultry) on Pinterest.

Other Recipes You Might Like:
As a Stubb's brand ambassador, I receive products to help me develop recipes like these for you to enjoy. As always, thank you for supporting brands that support What The Fork Food Blog ♥