This gluten free cake batter fudge makes a fun birthday treat for eating or gifting. Change up the sprinkles to fit any holiday or birthday party theme.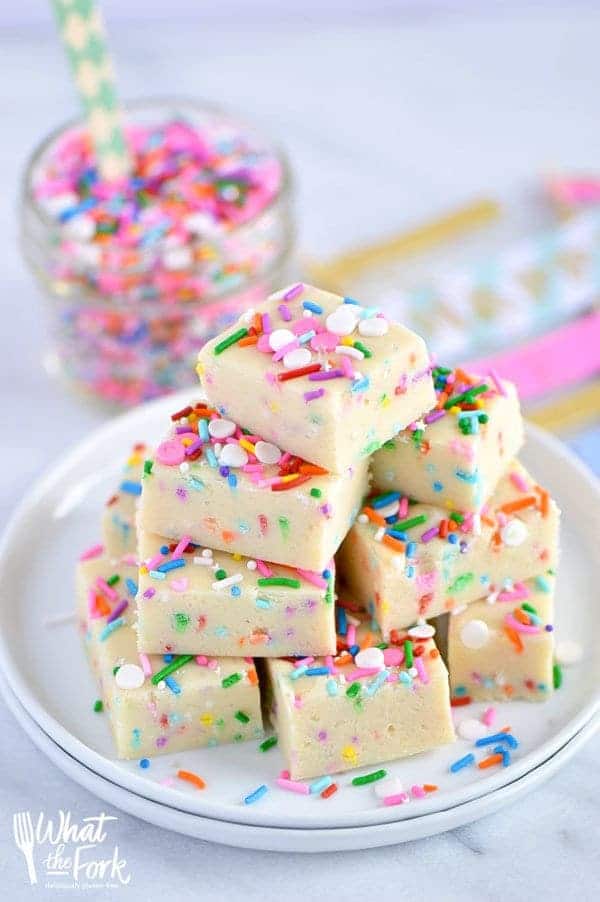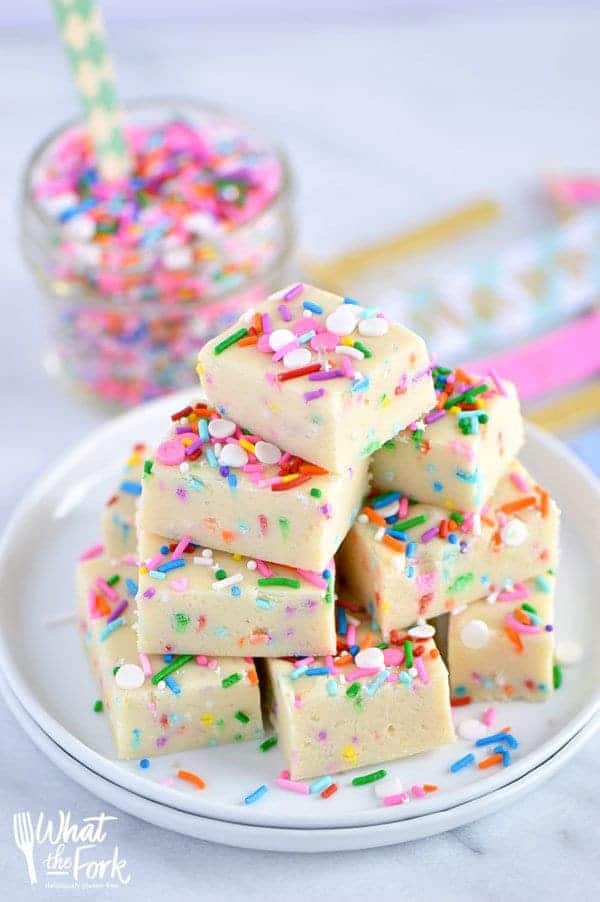 Gluten Free Cake Batter Fudge
It's no secret that I love sprinkles. So much so that I just spent a small fortune on a bunch of fun different gluten free sprinkles from my favorite sprinkle shop, Sweetapolita.
This isn't a paid post or anything, it's just that it's super exciting to have great options for gluten free sprinkles. That's right, if you need to eat gluten free, even your sprinkles might not be safe so be sure to check those labels, kids.
While you might be able to get some gluten free sprinkles at your regular store, they're sometimes just the basic rainbow, chocolate, or nonpareils. Good, but not super fun sprinkle mixes that'll make you want to shower everything in your life with a sweet coating of sprinkle mixes.
This gluten free cake batter fudge is super easy to make. The cake batter part comes from a store-bought gluten free funfetti cake mix but you could use gluten free white cake mix or gluten free yellow cake mix with extra sprinkles if you can't find a funfetti version at your store.
If you don't need gluten free, regular cake mix will do too! I love easy gluten free swaps like that, it makes things so much simpler.
This gluten free cake batter fudge is also kind of like a shortcut fudge. I use melted chocolate and sweetened condensed milk in my fudge recipes. I like the texture so much more than the classic old fashioned fudge way. The melted chocolate and condensed milk give it an almost chewy but melt-in-your-mouth texture that is undeniably good. Addicting even.
My toasted coconut fudge and milk chocolate fudge are the chocolate counterparts to this white chocolate cake batter version.
This gluten free cake batter fudge is perfect for birthdays. I originally made this batch for my husband's grandmother for her birthday, she loved it!
My youngest baby Mackenzie is turning 3 this week so I'm making her a birthday batch as well. She actually requested some, she loves her "budge". Yes, she actually calls it budge and I will never, ever correct her. I'm holding onto that as long as I can. The same for my 4yo who still calls scissors "snissors". Never grow up girls, never grow up.
Enjoy!
be sure to follow me on instagram and hashtag #whattheforkfoodblog or tag @whattheforkfoodblog – i love seeing what you make!
if you love this easy paleo chocolate truffles recipe, be sure to follow me on social media so you never miss a post:
---