This Baileys Chocolate Pudding is a great dessert to serve on St. Patrick's Day. It's made with cocoa powder and melted dark chocolate for the ultimate creamy, boozy, and satisfying chocolate dessert.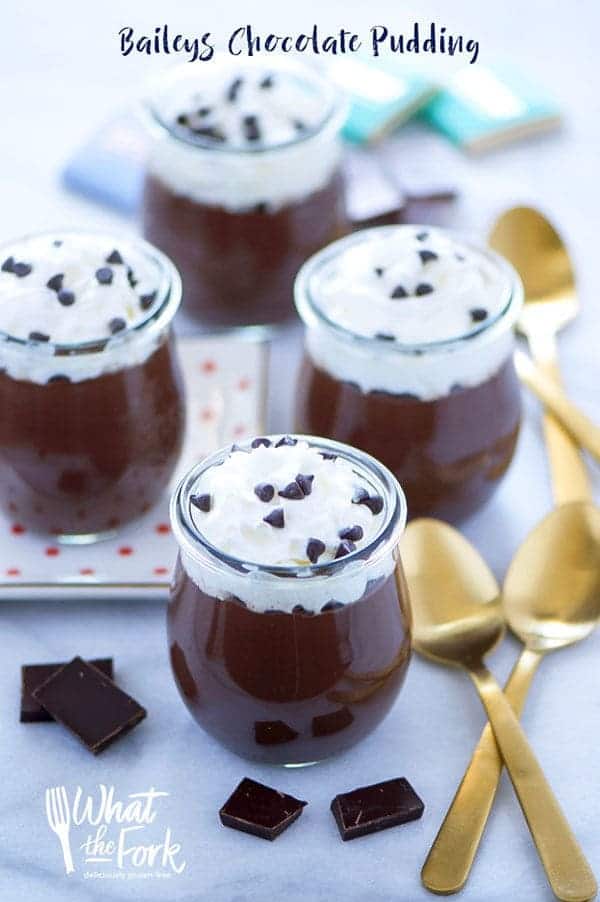 This post is brought to you in partnership with Rodelle and contains affiliate links to ingredients and/or products I use and love. Thank you for supporting brands that support What The Fork Food Blog ♥
I only have a few recipes suitable for St. Patrick's Day on my blog. One being a gluten free Irish Soda Bread (yum ????) and the other being Corned Beef Hash, which is perfect for using up leftover corned beef and boiled potatoes. I always make extra corned beef though just so I know I'll be able to make that Corned Beef Hash – it's phenomenal.
Last year for dessert, I made a Baileys Cheesecake (not on the blog) – it was seriously so, so, so, so good. I might have to make it again just to share it here! This year, I decided I wanted to go a little lighter (more room for corned beef!) and I'll be making this Baileys Chocolate Pudding instead.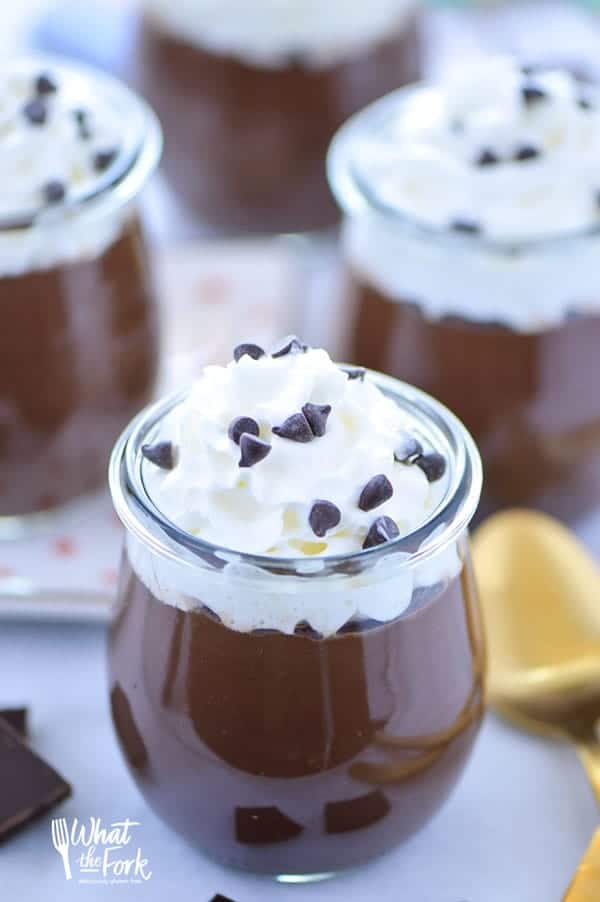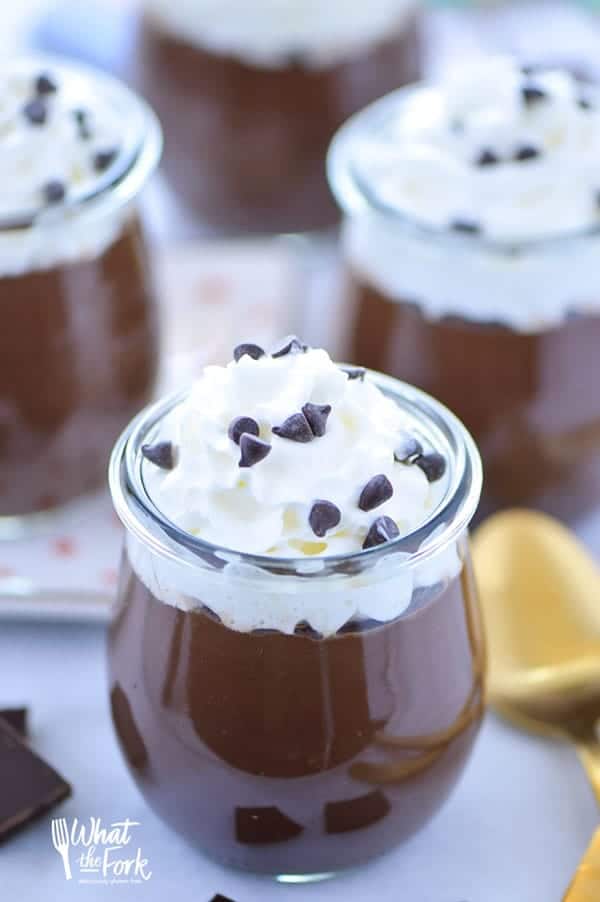 Just a heads up though, this is not a kid friendly dessert. The Baileys Irish Cream is stirred in after the pudding cooks so it's a boozy dessert, just the way I like it ???? For the kids, you can add an extra 1/4 cup of milk when you add the milk in the recipe and just omit the Baileys. Sorry kids, your pudding won't be as fun.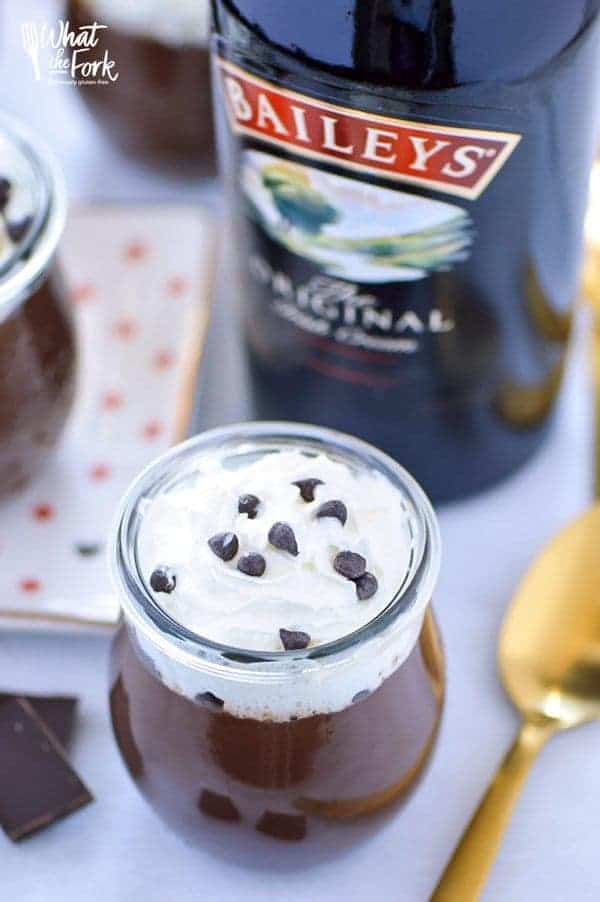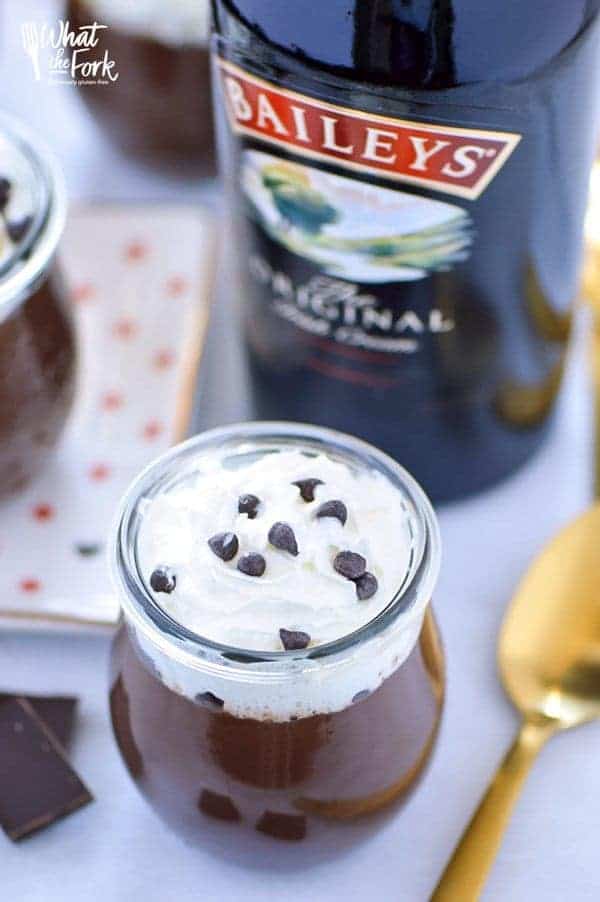 This Baileys Chocolate Pudding is really easy to make. And unlike my Dairy Free Coconut Custard, this recipe contains no eggs which makes it even easier. It also gets an incredibly rich chocolate flavor from two kinds of chocolate: Rodelle Gourmet Baking Cocoa (Dutch processed cocoa powder) and chopped dark chocolate (I used 72% dark).
The chopped chocolate is stirred in at the end and melts from the heat of the pudding. That, along with a bit of butter, gives the pudding such a smooth and creamy feel. SO good. You truly won't be disappointed with this one. You also might find yourself not wanting to share.
If you're looking for more easy, creamy dessert ideas, Wholesome Yum has an incredible Keto Low Carb Creme Brulee recipe. She even adds some brandy to hers to make it a tad bit boozy. Enjoy!
be sure to follow me on instagram and hashtag #whattheforkfoodblog or tag @whattheforkfoodblog – i love seeing what you make!
if you love this easy Baileys chocolate pudding recipe, be sure to follow me on social media so you never miss a post:
sign up for my free newsletter subscription for new recipes and exclusive giveaways + my free ecookbook – recipes with chocolate
Easy Baileys Chocolate Pudding Recipe
Ingredients
1/2 cup granulated sugar
1/4 cup Dutch processed cocoa powder (I used Rodelle Baking Cocoa )
1/4 cup cornstarch
1/4 teaspoon fine sea salt
2 cups whole milk
2 tablespoons butter
1 teaspoon Rodelle pure vanilla extract
3 oz. 72% dark chocolate , finely chopped
1/4 cup Baileys Original Irish Cream
whipped cream, for garnish
chocolate chips, for garnish
Directions
Add the sugar, cocoa powder, cornstarch, and salt to a medium sauce pan and whisk to combine. Pour in the milk and whisk to combine.
Heat over medium low heat until the pudding thickens and comes to a low boil, whisking almost constantly - about 15 minutes. When thickened, stir in the butter and continue to stir for another minute or two.
Remove from the heat and stir in the vanilla extract, chopped chocolate, and Baileys Irish Cream. Stir really well until the chocolate is completely melted and the Irish Cream and vanilla are incorporated. Immediately pour into 4 individual dishes or into one large heat proof bowl. Place a piece of plastic wrap directly onto the pudding (to prevent a skin from forming) and refrigerate at least 4 hours before serving. Top with whipped cream and chocolate chips if desired.


This post is brought to you in partnership with Rodelle and contains affialiate links to ingredients and/or products I use and love. Thank you for supporting brands that support What The Fork Food Blog ♥