Sweet and crispy gluten free Cherry Pinwheel Cookies make a great Valentine's Day treat. They've got a wonderful cherry flavor that is simply irresistible. Bonus – they're much easier to make than you'd think!
This post is brought to you in partnership with Silpat and Le Creuset. As always, opinions are 100% my own.
Gluten Free Cherry Pinwheel Cookies
You guys – these cookies are cherry heaven !❤️ Even my husband who rarely goes without eating chocolate more than 1 night in a row has been eating these cookies every night. I guess if I really wanted to make him happy, I would have dipped these in chocolate.
I, however, don't need all of my desserts with chocolate. I'm actually a big fan of fruity desserts as is my oldest daughter. Give us the fruit and we'll be happy. So of course, these cherry pinwheel cookies were really for us!
Check out that Silpat pictured above ⬆️ It's their special Valentine's Day Baking Mat that they sent to me to try out – I love it! The hearts are so fun and I'm totally digging all the lovey-dovey sayings, they're similar to what you'd read on my gluten free conversation heart cookies. I'm a big fan of Silpat baking mats and this one is no exception. I use their macaron mat for macarons and their regular mats for baking cookies, making chocolate bark, etc. This is a great one to add to the collection!
Lets talk about these cookies for a hot minute. Ohmyfreakingword these are SO good. You know those Pillsbury slice and bake cookies that are often holiday themed? These kind of remind me of those except these taste like cherry. Plus these are gluten free (so you can eat them!) and these taste WAY FREAKING BETTER. They have a texture that's very similar – they're ever so slightly chewy and crispy at the same time. They've also got an amazing buttery taste that you just can not beat when it comes to cookies (sorry guys who are dairy free – I did include a dairy free option in the recipe for you though).
If you couldn't help yourself by sneaking a peek at the ingredients, you may have noticed that these cookies call for a hefty amount of cherry extract. I say hefty because two full teaspoons of a strong flavored extract sounds like quite a bit. DO NOT let that intimidate you. These cherry pinwheel cookies wouldn't taste like cherry without it.
You might even taste the raw dough and think "oh my freakin word, these taste like cherry Twizzler pull-and-peels…" (which are not gluten free, btw). DON'T BE ALARMED. Once baked, the cherry flavor gets toned down a lot which is why you need to use quite a bit. What's the point of making a cherry cookie if it doesn't end up tasting like cherry?
Also, lets talk about that cherry extract. You might be wondering where in the world you might be able to find that. Of course, you can always find it on Amazon. However, I found mine at Walmart of all places! They've actually got a great selection of Watkins extracts (many of which are listed on the Watkins website under the gluten free extracts). I got a couple other flavors that I'm going to have a lot of fun experimenting with.
Another thing I'm excited about – that Le Creuset 3-tier stand! How gorgeous is that pink Hibiscus color?! I love it – it's great for all the little girl birthday parties we host too between the two girls, not to mention Valentine's Day parties too.
There's just way too many good things going on here, I can hardly stand it. Super tasty cookies, cherry extract, Silpat mats covered in hearts, pretty pastel pink dessert stands, and A GIVEAWAY. That's right – one of you will win your very own special Valentine's Day Silpat mat and a Le Creuset 3-tier stand in hibiscus. Giveaway is open to US residents age 18 and older. You can enter the giveaway via the giveaway form below. Good luck and enjoy!
be sure to follow me on instagram and hashtag #whattheforkfoodblog or tag @whattheforkfoodblog – i love seeing what you make!
if you love this recipe for gluten free cherry pinwheel cookies, be sure to follow me on social media so you never miss a post:
---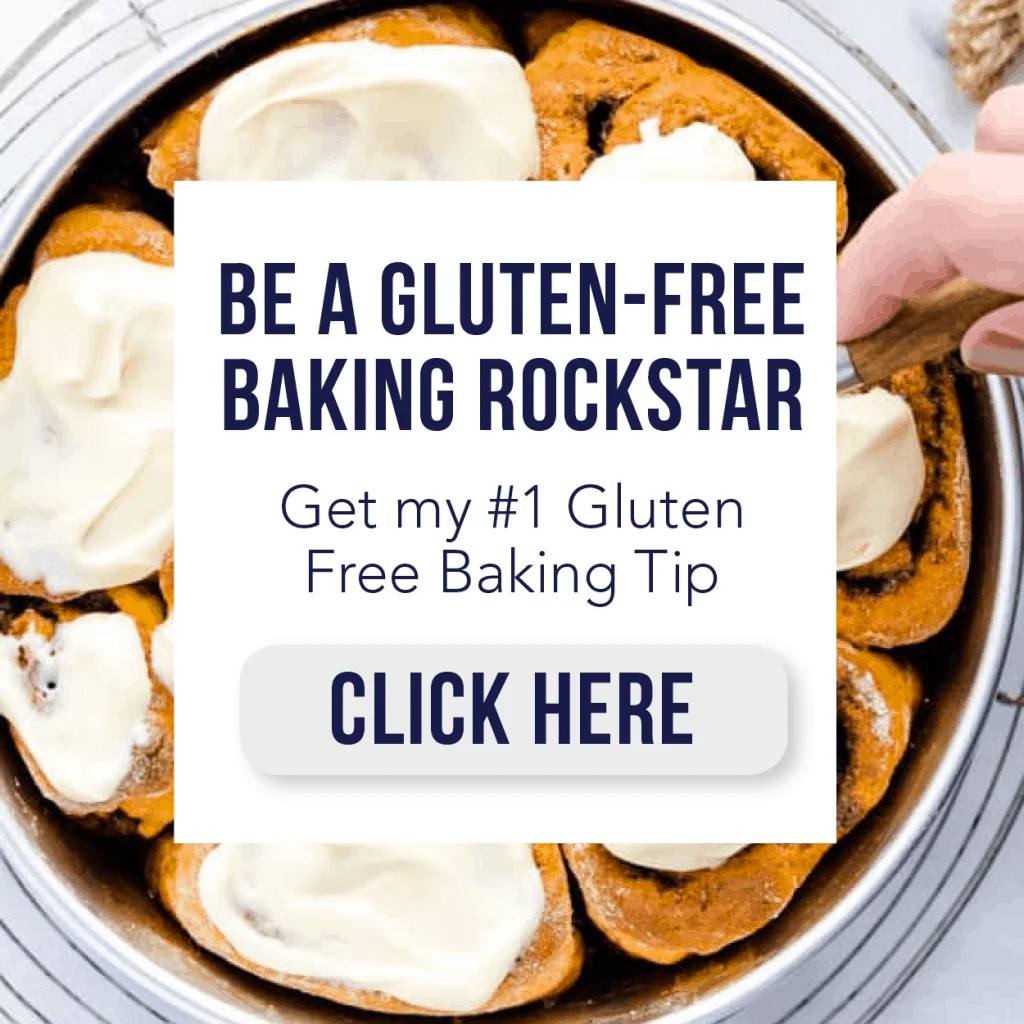 Gluten Free Cherry Pinwheel Cookies
Sweet and crispy gluten free Cherry Pinwheel Cookies make a great Valentine's Day treat. They've got a wonderful cherry flavor that is simply irresistible. Bonus – they're much easier to make than you'd think!
Servings:
3
dozen cookies
Print
Rate
Pin
Ingredients
1/4

cup

sorghum flour

3/4

teaspoon

xanthan gum

1

teaspoon

baking powder

1/2

teaspoon

fine sea salt

3/4

cups

butter

softened*

3/4

cups

granulated sugar

1

large egg

1

teaspoon

vanilla extract

1/2

teaspoon

liquid red food coloring

2

teaspoons

cherry extract
Instructions
Add the gluten free all purpose flour, sorghum flour, xanthan gum, baking powder, and salt to a medium bowl and whisk to combine.

Add the butter and sugar to the bowl of a stand mixer and beat on medium low until smooth and creamy. Add the egg and vanilla extract and mix until combined. Add the dry ingredients and mix on low until completely combined, scraping the bowl as needed.

Divide the dough in half - form half of the dough into a ball and wrap in plastic wrap, keep the remaining half of the dough in the mixing bowl.

Add the cherry extract and red food coloring the the dough in the bowl and mix until all of the red food coloring is evenly distributed.

Turn the red/cherry cookie dough onto a long piece of plastic wrap and use your hands to shape the dough into a rectangle. Cover the dough with a second piece of plastic wrap then use a rolling pin to roll into a rectangle that is about 16 inches long and about 10 inches wide. Carefully remove the top layer of plastic wrap, leave the dough on the bottom plastic wrap and set aside.

Repeat this step with the plain dough, rolling the dough between two pieces of plastic wrap into a 16x10 inch rectangle. Remove the top piece of plastic wrap and very carefully, pick the bottom piece of plastic wrap up and use it to invert the dough onto the red dough.

Press the two doughs together and try to press out any extra space that might be between the two layers. Remove the top layer of plastic wrap and use the bottom piece to help roll the dough into a tight log.

Wrap the dough tightly in plastic wrap and refrigerate for 4 hours or up to 2 days.

Preheat oven to 350 degrees and line a baking sheet with a silicon baking mat or parchment paper.

Unwrap the dough and slice it into 1/4 inch thick slices. Place the cookies on the prepared baking sheet about 2 inches apart. Keep the rest of the unused dough refrigerated until ready to slice and bake.

Bake for 10-12 minutes or until cookies are done - do not brown. Cool on the cookie sheet for 5 minutes before cooling completely on a wire rack. Repeat baking process with the remaining cookie dough.

Once cool, store baked cookies in an air-tight container at room temperature up to 3 days.
Notes
*For a dairy free version, use Nutiva shortening in place of the butter.
For best results, only bake one sheet of cookies at a time.
To keep the cookies round while slicing, rotate the dough a quarter turn after each slice to prevent flat spots.
Freezing: The dough can be frozen up to 3 months. Defrost the dough overnight in the refrigerator before slicing and baking. Baked cookies can also be frozen, defrost at room temperature before serving.
Disclaimers
As an Amazon Associate and member of other affiliate programs, I earn from qualifying purchases.
Nutrition Facts are estimated and aren't always accurate. Please consult a doctor or nutritionist if you have special dietary needs.
This post is brought to you in partnership with Silpat and Le Creuset and contains affiliate links for products I use and love.