Chocolate cupcakes are a classic treat and these gluten free chocolate cupcakes do not disappoint. They're really easy to make and have a dairy free option too!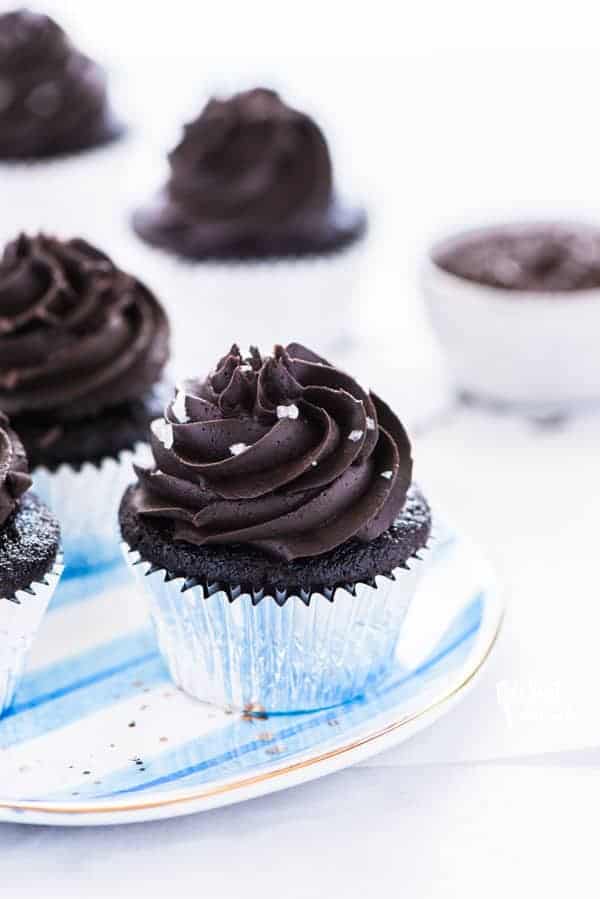 Cupcakes are a staple dessert in any house. They're great for birthdays, holidays, baby showers, wedding showers, parties… basically any type of celebration.
But really, you don't even need a reason to make cupcakes. Especially when it comes to these gluten free chocolate cupcakes.
When writing this gluten free chocolate cupcake recipe, I wanted to adapt them from my favorite gluten free chocolate cake recipe. However, it didn't quite work out as cleanly as I wanted. It took a bit of tweaking. I also only wanted one dozen cupcakes and not 30 like the cake recipe yields.
I'm not a big fan of recipes that make a weird number of cupcakes. I have a couple cupcake recipes that make 20 cupcakes or even 15 cupcakes but for this, I wanted an even 12 for a one dozen chocolate cupcake recipe that could be doubled to make two dozen.
Mission accomplished! Please excuse me while I pat myself on the back. But seriously, it's not that easy to do!
This recipe can also be made with some substitutions for dairy free or vegan gluten free chocolate cupcakes.
Dietary Substitutions
These gluten free chocolate cupcakes can easily be made dairy free. Simply replace the milk with 2/3 cup of unsweetened coconut milk beverage (from the refrigerated section).
To make these vegan, use the milk substitute mentioned above and try subbing the large egg for one flax egg.
Frosting Options
The beauty of homemade chocolate cupcakes is that you can frost them with whatever your heart desires. A classic pairing would be with chocolate buttercream frosting, as pictured. I used Hershey's Special Dark cocoa powder to achieve that beautiful deep, dark color.
But I promise you, a double batch of Nutella Buttercream Frosting would be spectacular too. It's a much lighter frosting, not as intense in chocolate flavor with a delicious subtle nuttiness.
For a vegan version, finish them off with vegan chocolate frosting for the chocolate + chocolate combo everyone loves. There's also a vegan option for the Nutella Buttercream mentioned above.
Classic vanilla buttercream or even Cream Cheese Frosting would be great too.
Really, any frosting would be perfect because almost everything goes with chocolate!
Toppings for Chocolate Cupcakes
I decorated my cupcakes with three different toppings. One third were decorated with mini chocolate chips, another third with chocolate sprinkles, and the rest were topped with a sprinkle of Maldon Sea Salt flakes.
You guys – salted chocolate cupcakes bring salted chocolate to a whole new level! If you're a fan of salted chocolate, you will LOVE that combo in a cupcakes. So classy and such a great flavor adventure. The salted chocolate was definitely my favorite version of the 3.
Just don't go overboard on the salt – just a little pinch/sprinkle will do. If it's a humid day or if you're going to keep the cupcakes refrigerated, save the sprinkle of salt for just before serving.
Enjoy!
PS – Be sure to try my Gluten Free Vanilla Cupcakes! And for a small batch of cupcakes, try my small batch recipe for Chocolate Cupcakes – it's a recipe for 4 cupcakes!
be sure to follow me on instagram and hashtag #whattheforkfoodblog or tag @whattheforkfoodblog – I love seeing what you make!
if you love this recipe gluten free chocolate cupcakes, be sure to follow me on social media so you never miss a post:
---