Peach Pie Overnight Oats have all the flavor of peach pie but are much healthier in the form of hearty oatmeal. Make these at night and a delicious breakfast is waiting for you in the morning. Its the perfect grab-and-go breakfast.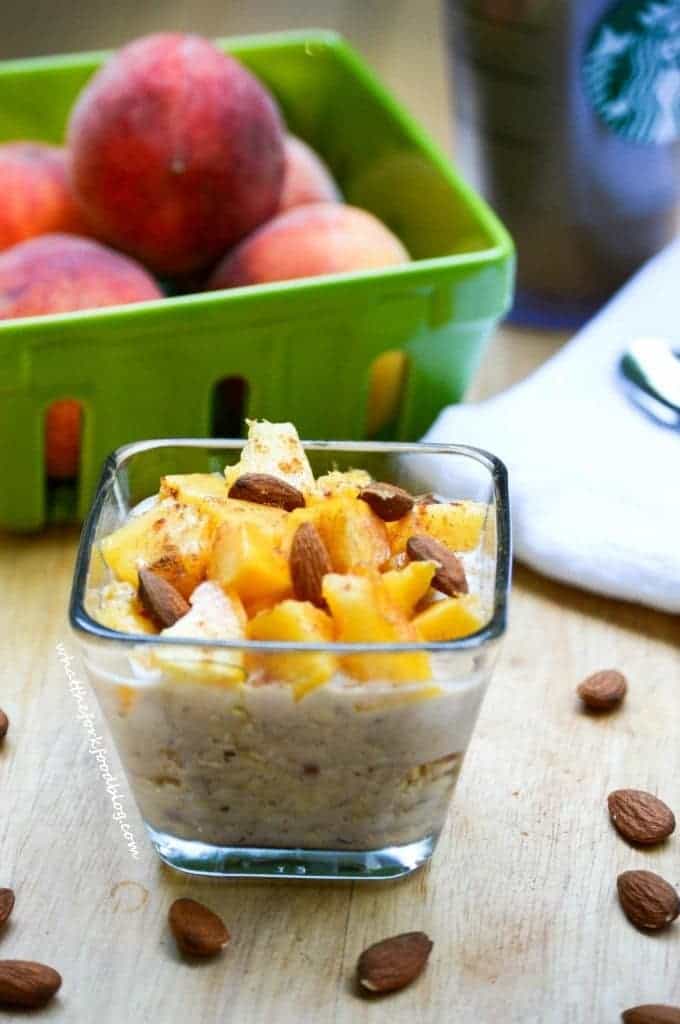 I have never been a fan of hot oatmeal. Never, ever. I always ate it cold growing up. You know those flavored oatmeal packets where you just add hot water? Yeah. I added cold milk and ate it like cold cereal. Everyone thought that was weird. Maybe it was.
These days, cold overnight oats are all the rage. So who's the weird one now?! Adam, I know you're reading this so don't answer that.
Now I'm not saying I invented overnight oats because I absolutely didn't. And I wasn't eating cold oatmeal before anyone else because I'm sure it's been eaten cold for centuries. But I have been eating cold, milk soaked oatmeal my entire life.
Who knew I was a tiny little trendsetting tot? No one. Because I wasn't and I'm not. It's just fun to think that I've always loved my oatmeal sans heat and water and now it's 'a thing'.
I had a bunch of peaches we got at the orchard and wanted to try them out with my overnight oats. Wahlaaa, peach pie overnight oats. Peach pie overnight oats have got the flavor of peach pie but in a nice and healthy cup of oatmeal instead of baked in a pie shell. They're so, so good. Peaches, cinnamon, a little honey… YUM. Peach Pie Overnight Oats, I love you so.
Now that I've tried the overnight soaked oat version, I'll be eating them more often. Soaking them overnight is waaayy better than just eating cold oatmeal with milk. Soaking them overnight makes them nice and thick and creamy. Good stuff, people. Good stuff. Oatmeal is a healthy, hearty way to start your day so eat those oats!
Plus, I no longer have to feel weird about eating cold oatmeal, because like I said, it's now a thing and you'll be eating them right along with me. This little food trend was probably started by foodie hipsters. But whoever it was, thank you for being weird about eating your oatmeal too. These peach pie overnight oats are just plain fantastic… so, enjoy!
PS- If you are really in love with overnight oats, try these Maple Sugar Overnight Oats made by Nicole at Allergylicious!  They are also vegan and super easy to make!
Yield: 2
Peach Pie Overnight Oats
Ingredients
1 C rolled oats
1 C milk
2 Tbsp. whole raw almonds, chopped plus more for serving
1/2 tsp vanilla extract
Pinch salt
1/2 tsp cinnamon
1 Tbsp honey
2 peaches, diced
Instructions
Combine oatmeal, milk, vanilla, salt, cinnamon and honey in a bowl or covered container. Mix well and refrigerate overnight.
Mix before serving and top with peaches, a few whole almonds and an extra drizzle of honey and sprinkle of cinnamon.
Notes
When following a gluten-free diet, be sure to use gluten-free ingredients.
Be sure to follow me on instagram and hashtag #whattheforkfoodblog or tag @whattheforkfoodblog – I love seeing what you make!
If you love this recipe for peach pie overnight oats, follow me on social media so you never miss a post:
sign up for my free newsletter subscription for new recipes and exclusive giveaways + my free ecookbook – recipes with chocolate