Chocolate Chip Cookie Sticks are just like chocolate chip cookies only they're shaped into sticks. They're perfect for dipping, dunking, packing in a lunch and for snacking. Chocolate Chip Cookie Sticks are such a fun twist on the traditional chocolate chip cookie!
Adam is a Phys. Ed. teacher and today is his first day back to work. Yep, all four of us together for two whole months. We're blessed. We had a blast. And we're all sad it's over. I thought I'd do something nice and make him some cookies to take in his lunch. Cookies make Monday a little bit nicer. Especially when that Monday happens to be the Monday following a two month vacation.
If my sweet-toothed husband could only have one kind of 'sweet' for the rest of his life, I'd guess it would probably be a cookie. There are so many kinds of cookies that he loves but chocolate chip cookies are right up there. I also made these chocolate chip cookie sticks a while ago for Kelsey's Baptism and they were a huge hit with Adam and all the other sweet-toothed guests we had.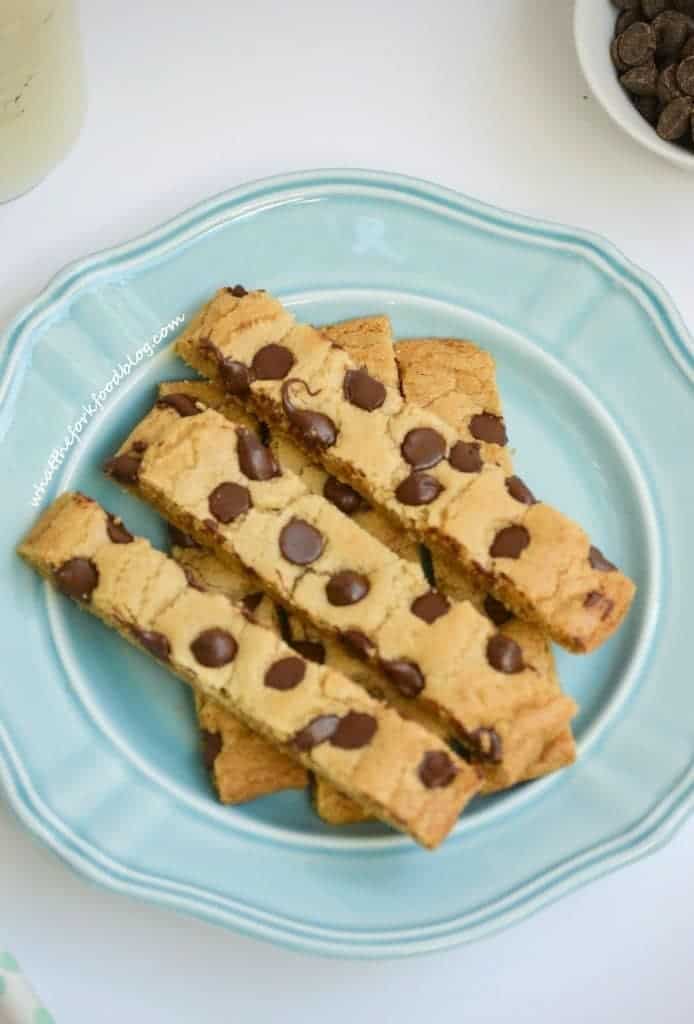 I love the fun shape of these because it's different. Is it a cookie? Is it a bar? It's a cookie stick! And if you're worried about forming them into sticks and whether or not it's a difficult process, it's not. They're SO easy! Just roll the dough flat, bake and slice into sticks.
I did have to experiment a bit to get these cookies just right. My first batch came out too soft so they didn't hold their stick shape well. They would break in half when picked up. After baking them a few ways I figured out the best way to do it. The dough needs to be split and baked on separate baking sheets. While it does all fit on one sheet, the cookies will crisp up better when they have more space.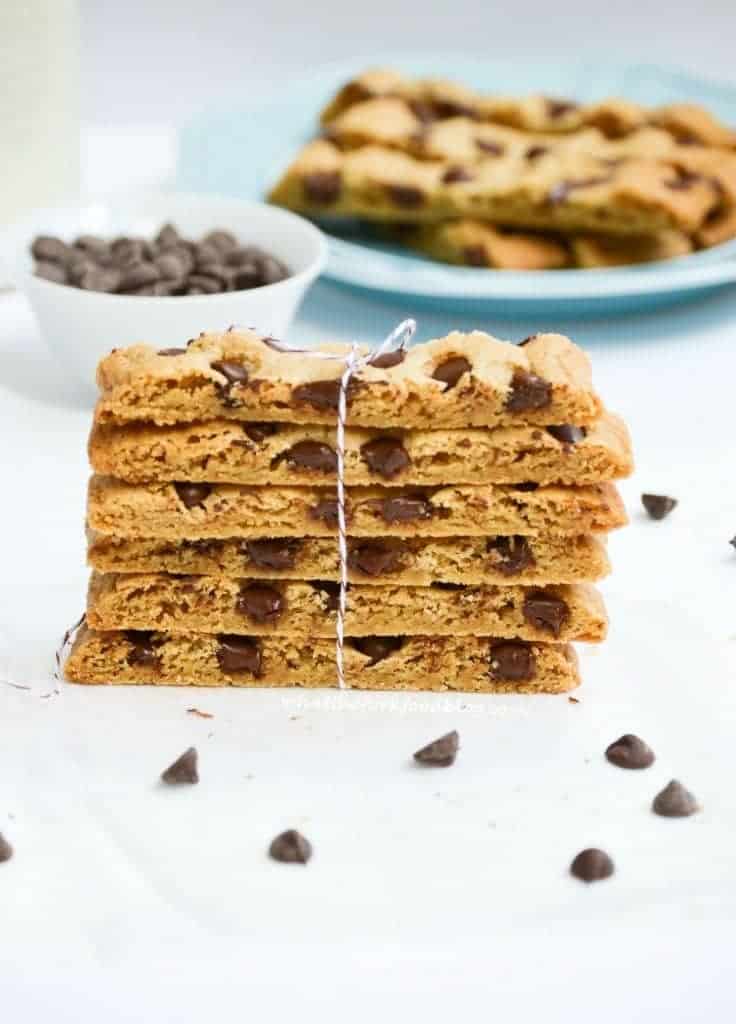 The dough for the chocolate chip cookie sticks also bakes better after being refrigerated a bit. I shaped my dough in the sheets and stuck the cookie sheets in the fridge for about 20 min. It's not a super long time but it's just long enough to put a bit of a chill in the dough so they don't spread as much during baking.
But if you're a chewy cookie type, don't worry! These chocolate chip cookie sticks are plenty chewy. If you want a chewy cookie that is made from coconut flour that's also dairy free, try these Coconut Flour Cookies from Brianna at Flippin' Delicious. But back to these cookies sticks- they're definitely more chewy than crispy. So if you're a crispy cookie type, just bake them a bit longer. Easy, right? Enjoy!
Chocolate Chip Cookie Sticks
Ingredients
1/2 C canola oil
1 egg
1/2 C granulated sugar
1/2 C light brown sugar
1 tsp vanilla extract
1 1/2 C gluten-free all-purpose flour or regular all-purpose flour
1/2 tsp xantham gum (omit if using regular all-purpose flour)
1/2 tsp baking soda
1/2 tsp fine sea salt
1/2 C semi-sweet chocolate chips
Instructions
Pre-heat oven to 375 degrees and line two baking sheets with parchment paper.
In a large bowl, combine oil, sugars, egg and vanilla extract. Mix well to combine.
In a separate bowl, sift together flour, xantham gum (if using), baking soda and salt. Stir to combine and add to the wet ingredients.
Stir the dough until all the dry ingredients are mixed into the wet ingredients. Divide dough in half and transfer each half to a baking sheet. Use your hands to form each piece of dough into a 15"x3" rectangle. Sprinkle 1/4 C of the chocolate chips on each of the dough rectangles and lightly press into the dough. Refrigerate for 20 min.
Bake for 10 min. at 375 degrees. Cool on pans until room temp. and then use a serrated knife or pizza cutter to slice cookies into sticks that are about 1.5 inches wide. Transfer to wire racks to cool completely. Store in an airtight container.
Notes
If you want a crispier cookie, bake 11-12 min.

Cut cookies with a thicker width to help them hold their form when picked up.

When following a gluten-free diet, be sure to use gluten-free ingredients.
If you love this recipe for Chocolate Chip Cookie Sticks, be sure to sign up for free email updates! New recipes will be delivered straight to your inbox!
This recipe is adapted from Taste of Home.