These brown sugar blondies are soft, sweet and filled with bright and colorful mini m&ms. They're so fun to eat and make a great dessert or snack. Bring them to your next bake sale or school function!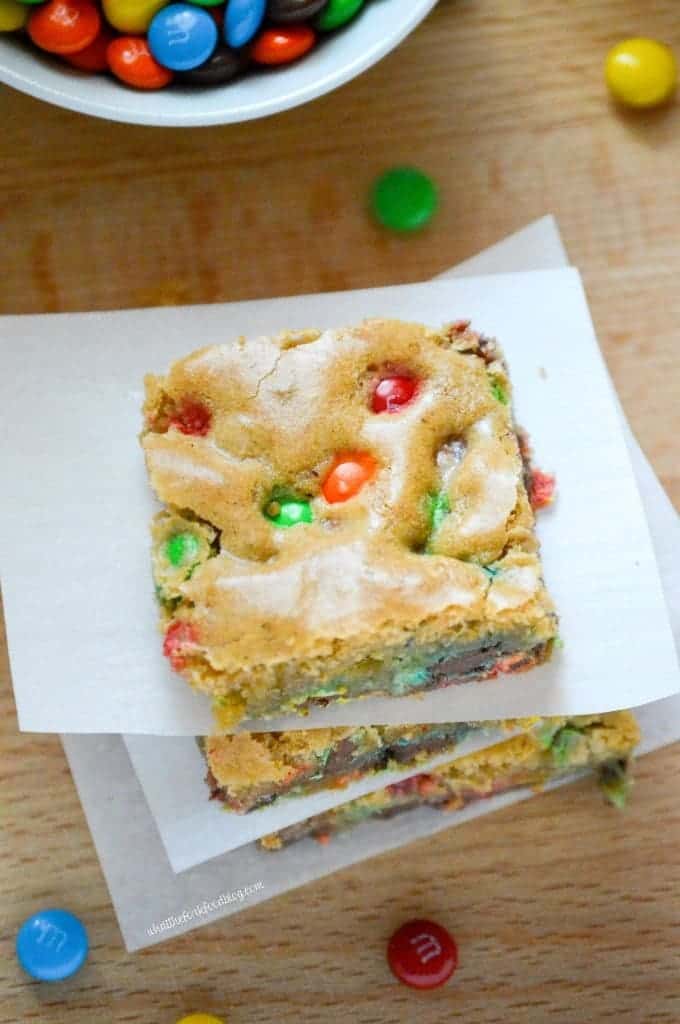 You guys. What a whirlwind weekend! It's amazing how fast you get behind with everything when you're not home on a Friday evening and you're gone all day on Saturday. It's nice having the change in routine. A Friday night out is always welcome. Then Saturday we went to the Big E. Kelsey rode on her first ride, a little, slow-moving train. She was fine when she got on then as soon as it started to move she was screaming crying the whole time. I felt so bad but then as soon as it ended she wanted to go back on. Toddlers…
She went on some other rides and loved them, especially the merry-go-round. Her favorite though was riding the ponies. She is totally a horse girl. We even watched the horses in the equestrian events. She sat there for a good 20 minutes watching the horses doing the small course. 20 minutes! That's like and eternity for a toddler. We had a great time until it started raining, which was a bummer. Not only did it rain but it got COLD. Like 58 degrees cold. But it was still a great day. We'll be going back again soon, just not when there's a chance for rain!
 Since we weren't home most of the weekend it felt like we were playing catch-up all day yesterday, which is why I'm a little late on this post! I was way too tired to work on it last night so here it is 6:30 on a Monday morning and I'm at the computer. Starting my Monday bright and early! But these cutie little mini M&M filled brown sugar blondies are a sure-fire way to make any Monday a little bit more enjoyable. I mean really, who can resist being in a little bit cheerier mood with these super bright mini M&M's? Instant mood enhancer right there. Not to mention there's chocolate inside those bright little shells. So do yourself a favor (or your co-workers) and make these brown sugar blondies with mini M&M's a part of your Monday. These will totally make you the office (or home!) hero. Enjoy!
Yield: 16
Brown Sugar Blondies with Mini M&M's
Ingredients
1 cup all-purpose gluten-free flour or regular all-purpose flour
1/4 tsp xantham gum (omit if using regular flour)
1/2 tsp baking powder
1/8 tsp baking soda
1/2 tsp fine sea salt
4 Tbsp butter, melted
1 cup packed brown sugar
1 egg, slightly beaten
2 tsp vanilla extract
1/2 C mini M&M's plus more for topping
Instructions
Pre-heat oven to 350 degrees and spray or grease a 8x8 (or 9x9) baking pan.
Sift together flour, xantham gum, baking powder, baking soda, and salt and set aside.
In a large bowl, combine butter and brown sugar, mix well. Add egg and vanilla and blend well. Add flour mixture a little at a time until completely combined. Mix in the mini M&M's. Spread evenly in prepared pan. Sprinkle the top with a few extra mini M&M's.
Bake for 22 to 25 minutes. Cool before cutting. Cut into 9 or 16 bars. Store in airtight container at room temperature.
If you love this recipe for Brown Sugar Blondies with Mini M&Ms, be sure to sign up for free email updates! New recipes will be delivered straight to your inbox!