This gluten free pumpkin cake is super moist and surprising light. It's the perfect fall-inspired dessert and sure to be a crowd-pleaser.
photos updated October 2017
This is my favorite pumpkin cake ever. The first time I had this cake was our first Thanksgiving in our new house (several years ago). Adam really wanted to have Thanksgiving at our house with his family and my family. Yes. That's a lot of family. In my house. A month after we moved in.
So when Adam's dad offered to bring a dessert I said sure, go ahead. (I'm usually the type to want to do it all on my own unless it's my mom is bringing something.) Well that dessert turned out to be this spectacular pumpkin cake. I'm so glad I said yes because I (and you!) would have missed out on this gem of a cake.
We used to make this with regular flour before Adam started eating gluten-free and it was an easy recipe to convert. It's great when things work out like that! This cake is so moist but not so moist where it's almost too heavy/dense. It's got the perfect cake texture. And the frosting? It's cream cheese. The best cream cheese frosting everrr, it's so good – sweet and not tangy. Yum, yum annnd yum.
I topped some of my slices with the candy corn pumpkins and some sprinkles. They're not essential but I had them and thought they would be fun to add on top because both of my kids LOVE them. The sprinkles I used are gluten free (check your labels) but I don't think the pumpkins are. So if you're serving this to someone with Celiac Disease, don't use them.
Just pipe on a little extra frosting or just serve it plain like I usually do (when I'm not styling it for pictures). If you want enough frosting for piping, be sure to make double the frosting called for in this recipe. Enjoy!
be sure to follow me on instagram and hashtag #whattheforkfoodblog or tag @whattheforkfoodblog – i love seeing what you make!
if you love this easy gluten free pumpkin cake recipe, be sure to follow me on social media so you never miss a post:
---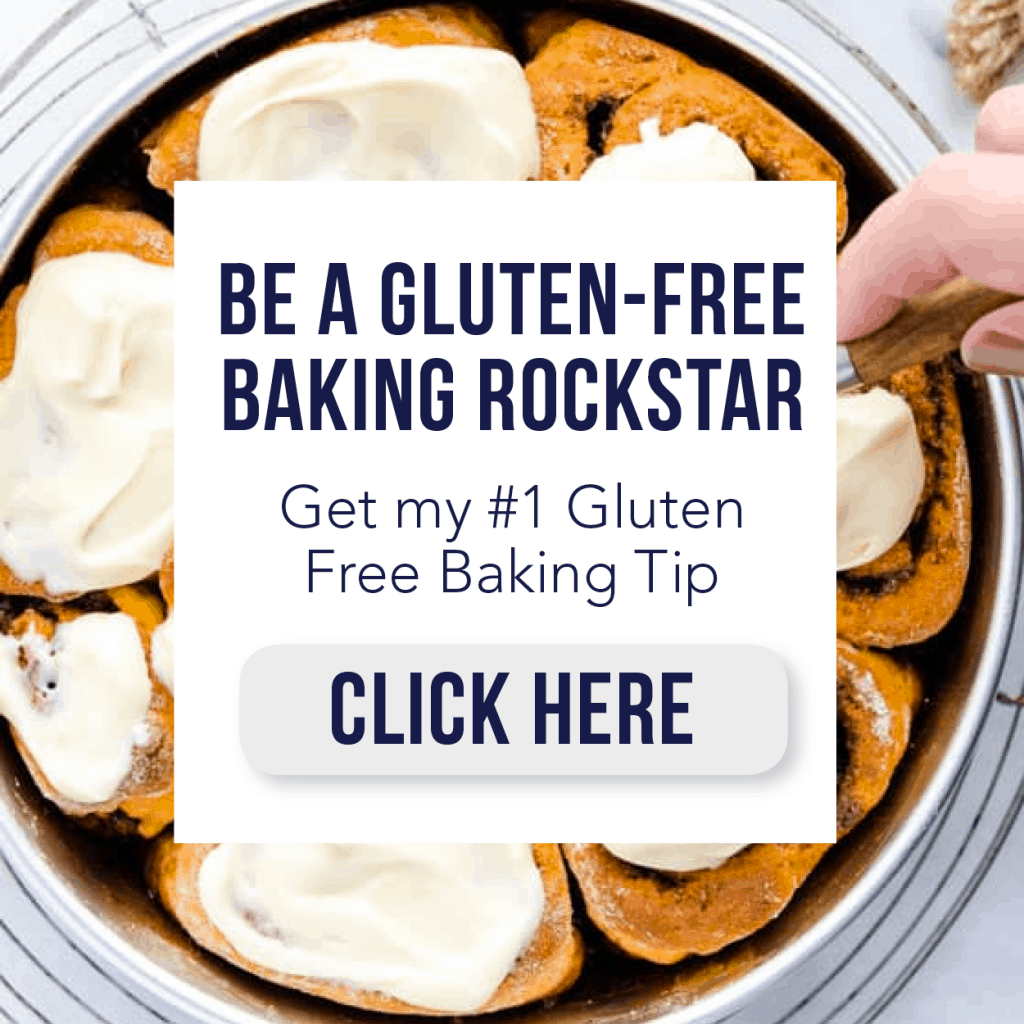 Yield: 20 squares
Pumpkin Cake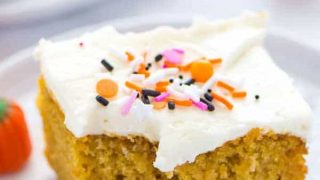 This gluten free pumpkin cake is super moist and surprising light. It's the perfect fall-inspired dessert and sure to be a crowd-pleaser.
Ingredients
4 eggs, beaten
1 15-oz can pumpkin puree (NOT pumpkin pie filling)
1 1/3 C granulated sugar
1 C vegetable oil
1 tsp vanilla extract
2 C gluten-free all-purpose flour (or regular ap flour)(https://www.whattheforkfoodblog.com/recipeindex/gluten-free-purpose-flour-mixes/)
1 tsp xanthan gum (omit if using regular all-purpose flour)
2 tsp baking powder
1 tsp baking soda
1 tsp fine sea salt
1 tsp cinnamon
1/4 tsp nutmeg
For the Frosting:
3 oz cream cheese, softened
4 Tbsp butter, softened
1 tsp vanilla extract
2 C powdered sugar
Instructions
Pre-heat oven to 350 degrees.
In a large bowl, whisk together eggs, pumpkin, sugar, oil and 1 teaspoon vanilla extract until combined.
In a medium bowl, sift together flour, xantham gum (if using), baking powder, baking soda, salt cinnamon and nutmeg and mix together.
Add dry ingredients to the wet ingredients and stir to combine. Pour batter into an UNGREASED 9x13 pan and bake at 350 degrees for 30-35 minutes or until a tester comes out clean and the cake springs back when poked.
Cool completely.
To make the frosting, beat together cream cheese, butter and vanilla until smooth. Add in powdered sugar and beat until smooth. Spread frosting evenly over the top of the cake and decorate with desired toppings. I used fall-colored Sixlets (gluten-free).