Sweet and creamy two ingredient white chocolate ganache whipped cream is perfect for any recipe where you'd use whipped cream. It also makes a wonderfully light and airy frosting for cakes and cupcakes.
I've always loved whipped cream based frosting on cakes. I love how light and airy it is. I know not everyone loves whipped cream frosting but this two ingredient white chocolate ganache whipped cream will surely change your mind! Yes, TWO INGREDIENTS. TWO! I love easy recipes that call for just a few things and turn into something fabulous. This recipe does just that.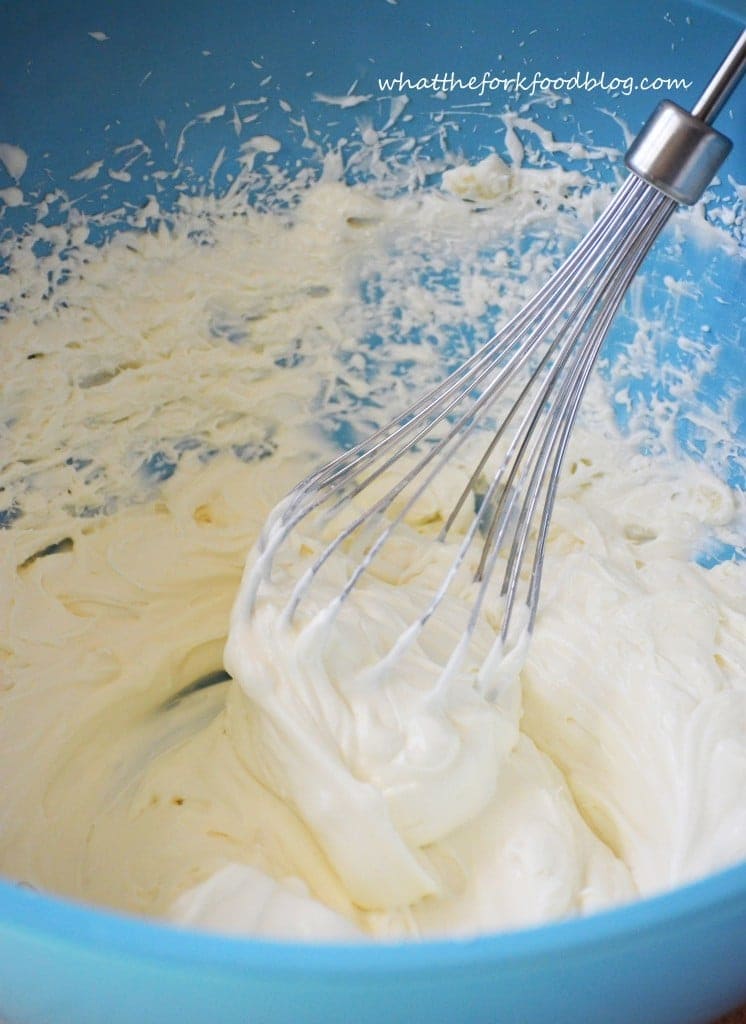 Making white chocolate ganache sounds daunting. But don't run away because it's super easy! It involves heating cream and white chocolate chips together until the chocolate is melted and the mixture is smooth then chilling it. Yep, two ingredients, two steps. So.Easy. Even my husband could make this with no problem.
Don't you just love my lovely little hand model? Helping me with my pictures is quickly becoming one Kelsey's favorite activities. And by "helping" I mean, play with all the things.
The white chocolate ganache gives the whipped cream enough body so that it's thick and sturdy enough to use as a frosting on a standard layer cake. As a cake frosting, it will stay put on a cake for days if refrigerated. Also, just wait until you see what I put this fabulous white chocolate ganache whipped cream on. Hint: it's something you NEED to make for your holiday parties! Enjoy!
**November 30, 2015 UPDATE – I have updated the recipe with specific recommendations for the white chocolate in this recipe. Make sure you are working with NEW white chocolate. Using old white chocolate can result in this recipe not working. Using Nestle brand white chocolate chips will also result in this recipe not working correctly.
Also, the times suggested for whipping the cream may depend on the speed and power of your mixer. The best way to tell if your whipped cream is ready is by seeing how well it holds it's shape on the whisk. If it falls/drips off, it's too soft. If it holds a nice peak and stays firm on the whisk, it's done. Whipping it too long will result in it separating. I've also updated the recipe to specify "whipping cream" vs. heavy cream.**
2 Ingredient White Chocolate Ganache Whipped Cream
Ingredients
1

C whipping cream, divided

1

C white chocolate chips* (see notes for important recommendation)
Instructions
For the White Chocolate Ganache: Heat 1/2 C cream and the white chocolate chips in the microwave at 50% power for 45 seconds. Stir well and then heat at 50% power for 20 second intervals until the chocolate is completely melted. Cool to room temperature then refrigerate overnight.
Once the white chocolate ganache is chilled (it will be soft and not solid like regular chocolate ganache), beat with an electric mixer on low speed and gradually working up to high speed until the ganache is light and fluffy, about 1-2 minutes. Pour the remaining 1/2 cup of whipping cream then beat on low speed working your way up to medium-high speed until soft peaks form and the whip cream holds it's shape on the whisk, about 2 minutes (more or less depending on the speed of your mixer).
Serve with any recipe calling for whipped cream or pipe/spread on cupcakes or a standard size cake. The white chocolate ganache whipped cream frosting will stay stable in the refrigerator for up to 1 week.
 Eggnog Cake with White Chocolate Ganache Whipped Cream Frosting
This post contains affiliate links. As always, thank you for supporting What The Fork Food Blog ♥