This gluten free marble pound cake is such a spectacular treat. Buttery vanilla bean pound cake mixed with a rich, deep chocolate pound cake all in one glorious dessert.

I was not compensated for this post but received products free of charge for review purposes . This post may contain affiliate links. All opinions are mine alone.
Gluten Free Marble Pound Cake
It's been a while since I've shared a dessert recipe with you. I've been spending a lot of time throwing some healthy recipes your way like these chocolate coconut energy bites, green smoothies, granola and vanilla chia pudding – all super delicious. But it's time for some chocolate. Real chocolate. And cake. So I made a marble pound cake – chocolate and vanilla, a match made in heaven.
About a week ago, I received a super awesome package from my friends at Rodelle. If you haven't heard of them, they make some rockin' gourmet vanilla extract and gourmet baking products. And you guys know how much I LOVE my vanilla. Pretty sure I did a little happy dance when I opened up my box of goodies!
Some of the gourmet baking products they offer are gourmet baking cocoa (Dutch processed), pure almond extract, vanilla sugar, vanilla paste, lemon extract and anise extract. They also carry a great line of organic extracts and organic vanilla beans. In addition to all these awesome gourmet baking products, they offer a great line of spices, brines and seasonings. It's like a bakers playground.
Not only does Rodelle supply us with some great baking products, but they're a company that is more than what they sell. Rodelle contributes to projects that protect the environment and promote social and economic development in their key growing regions.
Projects that they've under taken include providing sustainable practices, improving water sanitation, and improving standards of living. It makes me feel good to support and use products from a company that cares about the livelihood and well-being of those who are literally helping them grow their business.
You can read more about Rodelle's commitment to producing great baking products and bettering lives here. Not only that, but they're a completely wind powered company that is conscious of the environmental footprint they're leaving.
You guys, how great is that – a company that really cares! If you haven't tried their products, they're definitely a company you can feel good about standing behind when purchasing their products.
For this recipe, I used the chocolate extract, baking cocoa and vanilla paste. I have never used any of the ingredients before and I was so, so excited to try them out. It actually took me a few days to decide what to make, I had so many ideas!
I'm really happy with my gluten free marble pound cake choice though – it's insanely delicious. It's got that beautiful buttery taste with the hint of vanilla and a deep, dark chocolate taste. It's just sweet enough to satisfy your sweet tooth but it's not so sweet that it'll make you feel like you've just eaten a plate of sugar.
The chocolate extract and dutch processed cocoa powder produce such an intense chocolate flavor – like dark chocolate. It's so unbelievably good. And you're left with a slightly sweet, pleasant after taste that just makes you feel so sweetly satisfied.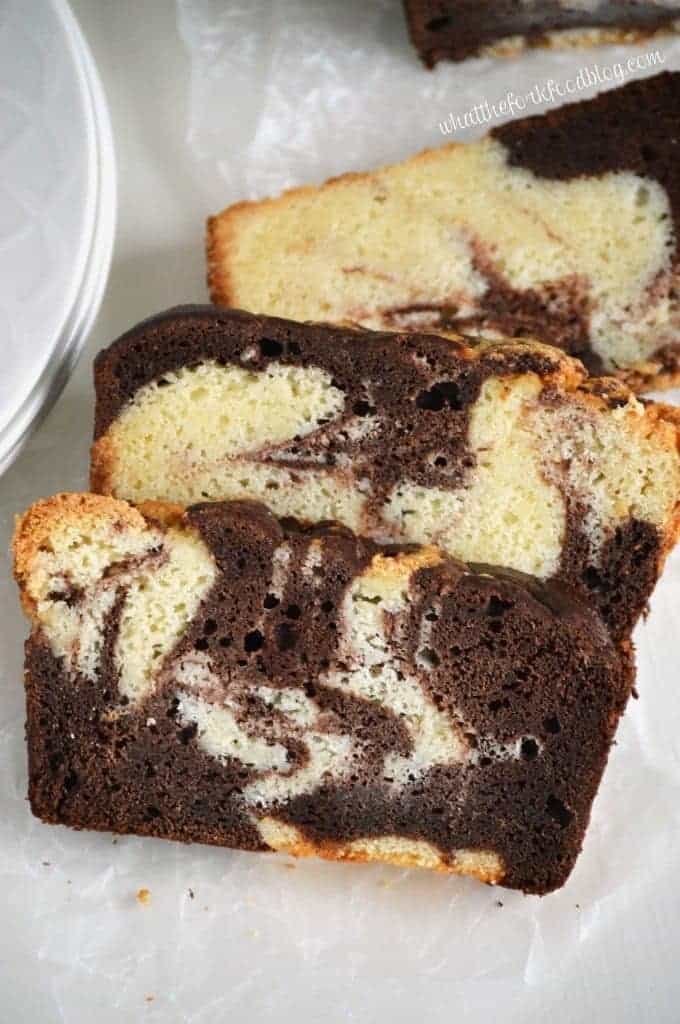 I must admit, this is the first time I had ever marbled any thing. When I was a kid, I always asked for marble cake for my birthday because I could never decide between chocolate or vanilla. My mom always delivered with a delicious homemade marble cake.
I'm not really sure why I've never attempted one myself, maybe it just seemed like too much work? I'm happy to report that making a marble pound cake is not much more work than making a regular cake. Just a couple of extra steps (like two little ones) and you've got yourself two gorgeous cake batters!
The marbling process is pretty easy as well. You just make a checkerboard pattern in loaf pan with half the vanilla batter and half the chocolate batter. Then you layer the second half of the batters on top but on the opposite batter.
So the chocolate now goes over the vanilla and vanilla over the chocolate. I should have taken pictures of this step (sorry!) but The Kitchn has some great step by step photos that will help you out if you get stuck.
I originally planned on topping this gorgeous marble pound cake with chocolate ganache. Then, I thought better of it and decided to leave it relatively plain with just a dusting of cocoa powder. Sometimes, that's the beauty of pound cake.
Less is more, especially since it's already such a rich cake with all the butter, eggs and sugar. HOWEVER with that being said, this marble pound cake would pair beautifully with some whipped cream, a dusting of powdered sugar, vanilla ice cream or even some white chocolate ganache whipped cream if you're looking to dress it up. Or go with my original idea and top it with some ganache. But I love it simple because it's simply delicious 😉
So however you choose to serve this marble pound cake, enjoy!
Be sure to follow me on Instagram and hashtag #whattheforkfoodblog or tag @whattheforkfoodblog – I love seeing what you make!
If you love this gluten free marble pound cake recipe, be sure to follow me on social media so you never miss a post:
---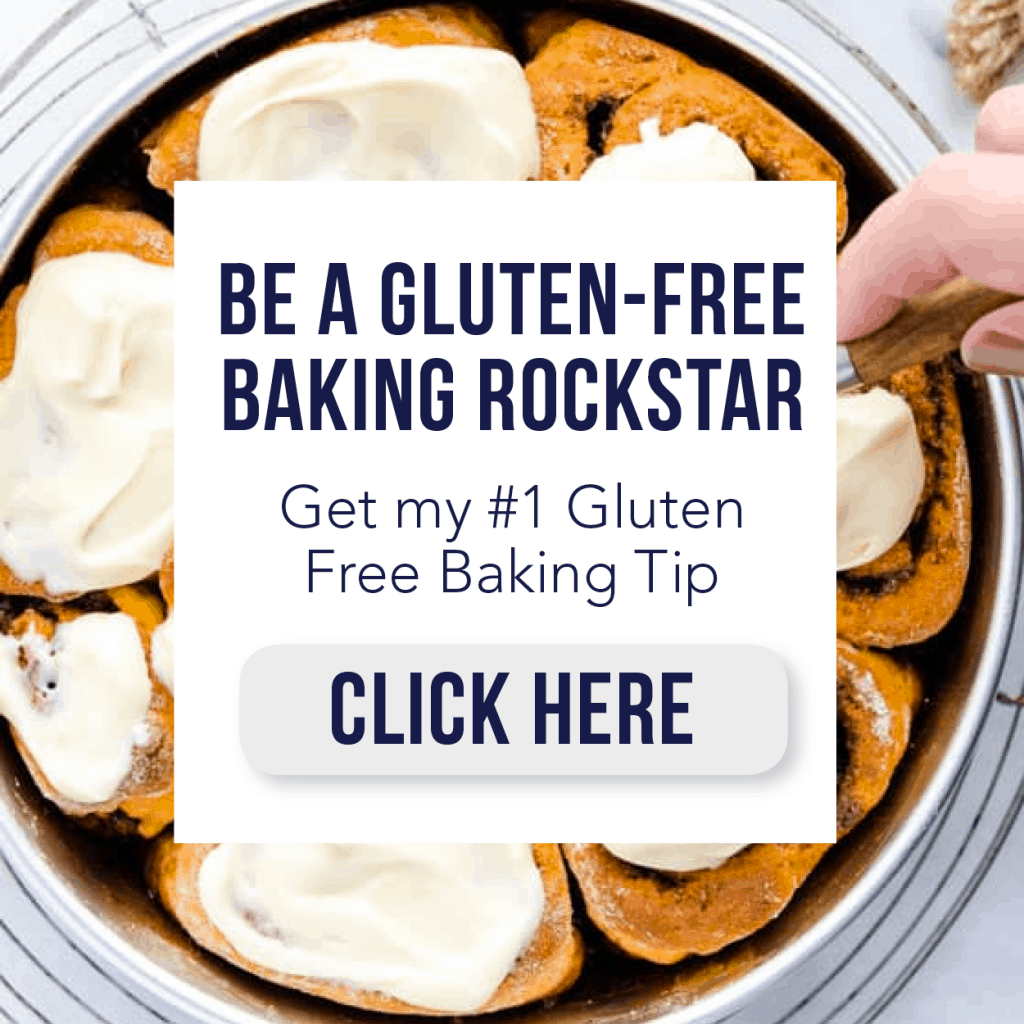 Gluten Free Marble Pound Cake
Total Time:
1 hour
25 minutes
This gluten free marble pound cake is such a spectacular treat. Buttery vanilla bean pound cake mixed with a rich, deep chocolate pound cake all in one glorious dessert.
Ingredients
2 cups gluten-free all-purpose flour
1 tsp xanthan gum
2 tsp baking powder
1/2 tsp fine sea salt
3/4 C (1 1/2 sticks) butter, softened
1 and 1/3 cup granulated sugar
2 large eggs, room temperature
1 tsp Rodelle vanilla paste
1/2 cup heavy cream
1/4 unsweetened Dutch-processed cocoa powder
1/4 C hot water, plus 2 Tbsp
1 tsp Rodelle Organics Chocolate Extract
Instructions
Preheat oven to 350 degrees and spray a 9x5 loaf pan with non-stick spray.
In a medium bowl, sift and whisk together gluten-free flour, xanthan gum, baking powder and salt. Set aside.
In the bowl of a stand mixer, cream together butter and sugar. Beat in the vanilla paste and add the eggs one at a time.
Mix in the dry ingredients and mix until just combined, scraping the bowl as necessary. Mix in the heavy cream.
In a medium bowl, mix together the cocoa powder, hot water and chocolate extract until smooth. Add 1/3 of the cake batter to the bowl and gently stir until the chocolate is completely incorporated.
To assemble the cake, start by creating a checkerboard pattern in the bottom of the pan by spooning dollops of each batter on opposite sides of the pan. (See example here)
For the second layer, alternate the pattern, spooning vanilla batter over the chocolate and chocolate over the vanilla. Use a knife to run a figure eight pattern through the batter several times to swirl the layers together.
Bake at 350 degrees for 50-65 minutes or until cake tester comes out clean. Oven temps vary so check it after 50-55 minutes. My pound cake took a full 60 minutes to bake. Cool in the pan for 20 minutes before cooling completely on a wire rack.
Notes
This pound cake freezes extremely well. Thaw before serving.
This post is linked to Inspiration Monday, Made by You Monday, Two Cup Tuesday, Totally Talented Tuesdays, Create Link Inspire, You're Gonna Love It Tuesday, The SITS Girls, Create & Share DIY and Recipe Party, Gluten-Free Wednesdays, What's Cookin' Wednesday, Allergy Free Wednesday, Wine'd Down Wednesday, Full Plate Thursday, Showcase Your Talent Thursday, Create it Thursday, Crafty and Delicious Party, Your Turn To Shine, Pin Junkie Pin Party, Gluten-Free Fridays, Link Party Palooza, Kitchen Fun and Crafty Friday, Savoring Saturdays, Weekend Wind-Down, Weekend Potluck and Best of the Weekend.