This gluten free white bread is perfect for sandwiches, toast or anything you'd like with bread! This recipe produces a nice soft loaf of gluten free white bread that's got a great texture and chew. This gluten free white bread is also great for toasting!
Gluten Free White Bread
You guys, I did it. I made a nice soft and chewy gluten free white bread! It's great for sandwiches, toasted and not toasted. That's right, you don't have to toast it in order to make it edible! #winning
I'm not a big (yeast) bread maker. The last time I ever tried to make a gluten free bread recipe that wasn't a quick bread, it ended horribly. I mean, the "bread" was a two pound brick. It was heavy, it was dense and it was NOT edible. I hated it, Adam hated it; we all hated it. I don't even think the dogs would have eaten it. Not even the birds if I had put it outside for them. It was THAT bad.
Now here's the thing, I'm not entirely sure it was the recipe that went wrong. There's a very good possibility it was my bread machine not working properly. I haven't used it since and honestly, I don't have any plans to try it any time soon. It sucks wasting so many ingredients, especially with the cost of food these days.
Luckily, this gluten free bread recipe only requires my stand mixer, a loaf pan and my oven – oh, and a different recipe just to be on the safe side. Now making bread can seem intimidating, especially when you're trying to make it gluten free.
DON'T be intimidated! This bread really isn't any more difficult than baking a cake. For real. There's a bit of down time when you're waiting for the bread to rise. But that means you've got a little time to enjoy another cup of coffee with some coffee cake and read the paper while you're sitting in complete silence. Oh wait, I don't do things like that.
For me, it's more like giving kids their bath, wrestling them into clothes and then mopping up the mess we just made in the bathroom. Yayyy down time.
This bread rises beautifully. I had read a lot about baking gluten free bread before attempting it again. And I can't even tell you how many times I read that I should not expect my bread to rise much as gluten free yeast breads don't often rise. Lets just say I was super surprised when I checked my gluten free white bread after the rising time and it had doubled – it actually filled the entire loaf pan and even puffed up over the sides a bit. What?! That was a super pleasant surprise and to me, a good sign that this might actually come out well!
One thing that's super important to get that yeasty bread rising is … the yeast. Hello, captain obvious. But I'm serious. Make sure your yeast is still good! It has an expiration date. If it's old, get new yeast. Another things is to really let your yeast 'bloom'. That's when you proof your yeast by mixing it with warm water (110 degrees) and bit of sugar.
Often times, recipes seem to say let it proof for about 5-10 minutes. I ALWAYS let it go much longer. Sometimes more than 20 minutes. I want every last little speck of yeast to foam up to help my dough out. I always start the yeast part first and let it do it's thing while I'm getting everything else ready.
One thing I wanted to be able to do with this recipe was use my gluten free white rice flour blend. I've been using it with pretty much everything with really good results. Plus, I hate having to measure out a bunch of different flours just for one recipe. I absolutely do not have time for that! I was so happy when it worked. This will definitely be our go-to bread for a while. Goodbye tiny frozen store-bought bread. Enjoy!
be sure to follow me on instagram and hashtag #whattheforkfoodblog or tag @whattheforkfoodblog – i love seeing what you make!
if you love this gluten free white bread recipe, be sure to follow me on social media so you never miss a post:
---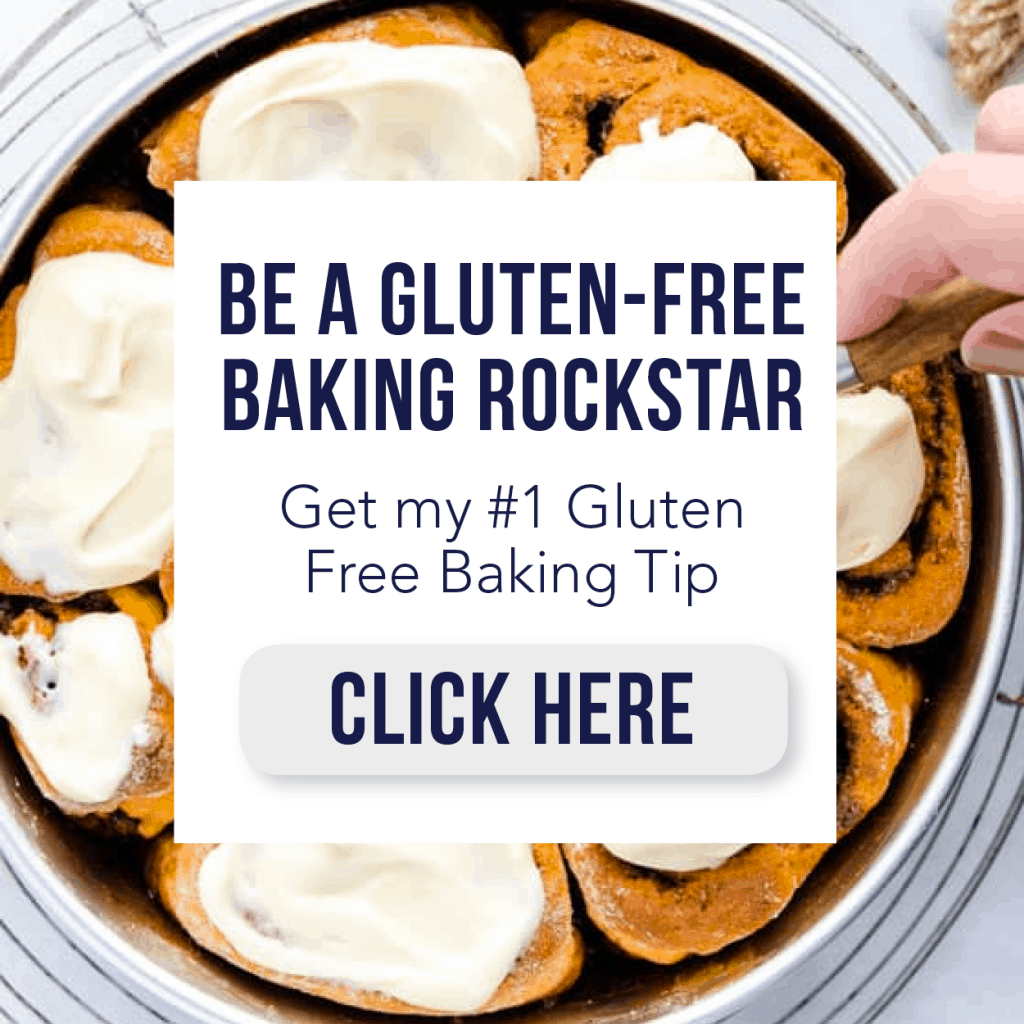 Gluten Free White Bread
Prep Time:
1 hour
45 minutes
Total Time:
2 hours
25 minutes
This gluten free white bread is perfect for sandwiches, toast or anything you'd like with bread! This recipe produces a nice soft loaf of bread that's got a great texture and chew.
Ingredients
2 1/2 tsp active dry yeast
2 Tbsp plus 1/2 tsp sugar
1/4 cup warm water, 110 degrees
1 1/4 cups milk, warmed to 110 degrees
2 Tbsp canola oil
2 Tbsp butter, softened, plus more for bread pan
3 large eggs, room temperature and beaten
1 Tbsp white vinegar
3 C gluten-free all-purpose flour
1/3 cup (46g) cornstarch
1 Tbsp xanthan gum
1 1/2 tsp salt
1 tsp baking powder
Instructions
In the bowl of a stand mixer, gently mix together the yeast and 1/2 tsp sugar. Slowly add in the warm water (so it doesn't splash the yeast up the bowl). Let it sit for at least 15-20 minutes until the mixture is completely foamy.
While the yeast is blooming, sift together the gluten free flour, cornstarch, xanthan gum, salt and baking powder in a separate bowl.
Butter a 9x5 inch loaf pan with about two Tbsp butter. Make sure to grease the sides all the way to the top of the pan.
When the yeast is ready, add the warm milk, canola oil, 2 Tbsp butter, eggs, white vinegar and the remaining sugar to the bowl. Mix on low until ingredients are combined. The butter will still be lumpy since it's not melted.
Add the dry ingredients and mix on low until completely combined. Set the mixer to a medium speed (I use 6 on my Kitchen Aid) and mix for 5 minutes. Scrape the bowl down as necessary - I didn't need to scrape mine but all mixers are a little different.
Transfer dough (it will be the consistency of a quick bread) to the prepared loaf pan. Smooth out the top with wet hands. Lightly cover with plastic wrap and set the bread in a warm place to rise for 1 hour and 15 minutes. Leave a tiny air vent on one corner of the pan. The dough will rise to the top of the pan.
When the bread is done rising, preheat the oven to 375 degrees. Very gently move the bread to the oven and bake for 20 minutes. After the 20 minutes, reduce the oven temperature to 350 degrees and loosely cover the bread with aluminum foil so it doesn't get overly brown. Bake for an additional 20 minutes.
Cool the bread in the pan for about 10 minutes then remove from the pan and cool completely on a wire rack.
Store bread in an airtight container or cut into slices and freeze.