This Chocolate Peanut Butter Cup Ice Cream Cake is the cake for chocolate and peanut butter lovers. It's made up of two layers of gluten free chocolate cake and two layers of homemade chocolate peanut butter cup ice cream that are frosted with peanut butter whipped cream and coated in chocolate ganache. Then it's topped with peanut butter cups and dusted with peanut butter powder. Holy cow deliciousness.
Last month, I shared a little birthday cake with you on Instagram. It was Adam's birthday cake that was made last minute and we dove into it faster than I could take pictures of it. I also didn't really spend extra time to make it pretty and, more importantly, I would have felt bad about hijacking his birthday cake and cutting into it before he could even make a wish and blow out the candles.
So I decided to wait and share that glorious cake with you for another time and another celebration. And yes, today, a random obscure Thursday in April is a celebration because we are celebrating the birth of What The Fork Food Blog. Yep, happy birthday little blog baby, you're one!
Or should I say happy anniversary? Not really sure what term I'm supposed to go with for website, so we'll just go with Happy Birthda-versary, k? It's totally fun to say too, happy birthdaversary! There's a nice little ring to it. I think that might catch on so remember, you heard it here first.
Also, in true birthday/anniversary/birthdaversary fashion, there are gifts. Lots of wonderful, glorious gifts. Not for me, for you! What The Fork Food Blog is nothing without you, my loyal readers, who have helped this little website grown leaps and bounds in the last year. So, for you, and with the help of some great sponsors, (Le Creuset, Casabella, Silpat and KitchenIQ), I'm having a grand old giveaway! You can enter the giveaway at the end of the post. Good luck!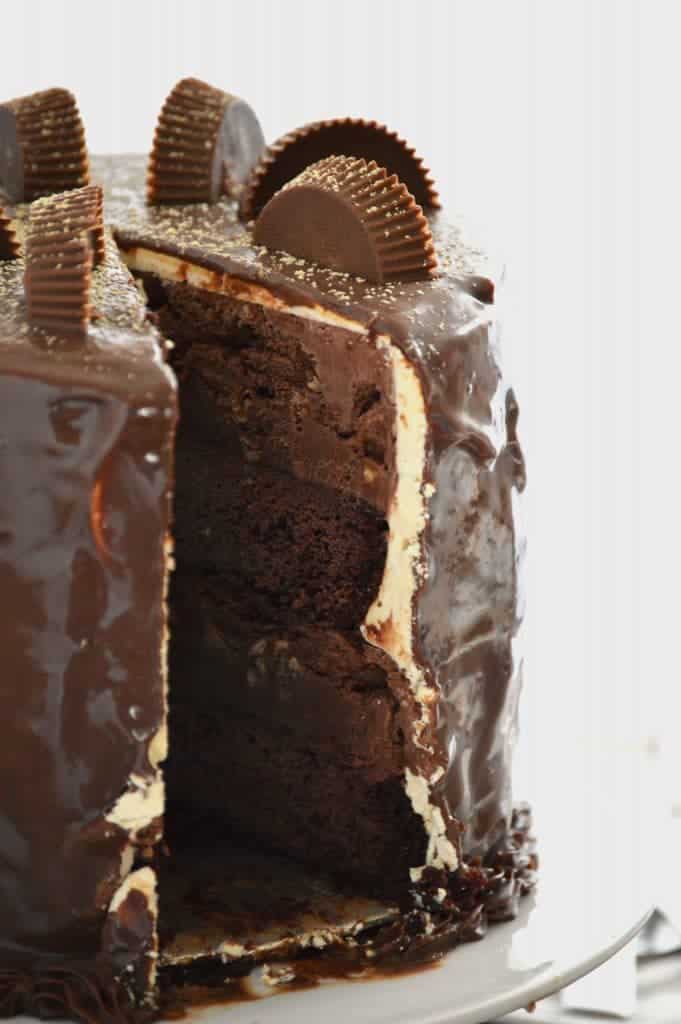 Now, lets get down to the cake. My frosting and piping skills are still a work in progress, but this cake, it is truly a little masterpiece. What it may lack in appearance it more than makes up for it in taste and flavor. It's basically a homemade version of Cold Stone Creamery's peanut butter playground, which was Adam's favorite cake before going gluten-free.
You might need to take a seat for this description, so here it goes. The cake is a 6 inch gluten free chocolate cake with two layers of homemade chocolate peanut butter cup ice cream. It's frosted in peanut butter whipped cream and coated in chocolate ganache and topped with some extra peanut butter cups and a dusting of peanut butter powder. Yep, you can go ahead and pick your chin up off the floor.
This cake is a serious show stopper. Yes, it's a labor of love. But any labor of love for chocolate and peanut butter cups is worth laboring for. There are several steps, lots of chilling time and time to set up BUT there isn't a single step that is overly difficult. And to make it a little bit easier on yourself, you don't have to coat the whole cake in ganache, you could just pour some over the top and let it drip down like I did for Adam's birthday. The ganache coating was probably the most difficult part, and by difficult, I mean tedious. But again, an advanced level difficulty is not needed.
This is definitely one of those cakes that you're going to want to make at least once in your life. It absolutely has a place on any chocolate peanut butter lover's bucket list. Enjoy!

Chocolate Peanut Butter Cup Ice Cream Cake
Ingredients
For the Cake
3/4 C + 2 Tbsp gluten free all purpose flour
1/2 tsp xanthan gum
1 C granulated sugar
1/4 C + 2 Tbsp cocoa powder
1 tsp baking soda
1/2 tsp baking powder
1/2 tsp fine sea salt
1/2 C buttermilk*
1/4 C canola oil
1 egg, room temperature
1 tsp vanilla extract
1/2 C hot coffee
For the Ice Cream
1/2 C cocoa powder
1/3 C granulated sugar
1/4 C brown sugar
3/4 C whole milk
1 1/2 C heavy cream
2 tsp vanilla extract
1 C peanut butter cups, chopped (10-12 full sized)
For the Peanut Butter Whipped Cream
1 C heavy whipping cream
2 Tbsp powdered sugar
2 Tbsp natural peanut butter
1/4 tsp vanilla extract
For the Chocolate Ganache
1 C heavy cream
2 C semi-sweet chocolate chips
4 Reese's peanut butter cups*, optional
peanut butter powder for dusting, optional
Directions
Preheat oven to 350 degrees. Spray 2 6-inch round cake pans, line with parchment paper (cut to fit the pans) and then spray with non-stick spray again.
In a large bowl, sift together the flour, xanthan gum, sugar, cocoa powder, baking soda, baking powder and salt. In a separate bowl, whisk together the buttermilk, oil, egg and vanilla. Pour the wet ingredients into the dry ingredients and mix until combined. Stir in the coffee.
Pour the batter evenly between the two prepared cake pans and bake at 350 degrees for 25-30 min. Mine took 27 minutes.
Cool cakes in the pan 20 minutes and then cool completely on a wire rack. When the cakes are cooled completely, wrap in plastic wrap until ready to use. You can also freeze them at this point.
While the cakes are cooling, prepare the ice cream.
Whisk together the cocoa powder, sugars, milk, cream and vanilla extract until the sugar is dissolved. Pour into an ice cream machine and churn according to manufacturer directions. I churned mine about 20 minutes before mixing in the peanut butter cups.
While the ice cream is churning, line the two (clean) 6 inch cake pans with plastic wrap - use enough so that it over-hangs enough to be able to fold back over to cover the ice cream.
When the ice cream is ready, transfer it to thick pans, splitting it evenly between the two pans. Compress the ice cream into the pans as much as possible and smooth out the top with a spatula. Fold the plastic wrap over the ice cream to cover. Freeze (on a flat surface) at least two hours.
When the ice cream is frozen solid, layer the cakes and ice cream. Place 1 layer of cake on a flat plate (that fits in your freezer). You can also cut out a piece of cardboard for your base and and wrap it aluminum foil, which is what I did.
Carefully place one ice cream layer on top of the cake layer. Repeat layering with the remaining cake and ice cream layers. Place in the freezer while preparing the whipped cream.
To make the whip cream, use a hand or stand mixer fitted with the whisk attachment. Whisk together the heavy whipping cream, peanut butter, powdered sugar and vanilla extract until stiff peaks form. To frost the cake, spread in an even layer on the top and sides. Use an offset spatula to make the frosting as smooth as possible. Freeze for at least 1 hour before topping with the ganache.
When the whipped cream frosting is frozen solid, prepare the whipped cream. Add the heavy cream and chocolate chips to a microwave safe bowl and heat at 50% power for 1 minute. Stir well and heat at 50% power for 20 second intervals until the chocolate is completely melted, stirring well between each heating.
Pour the ganache over the top of the cake, a little bit at a time, and use and offset spatula to slowly bring the ganache down the side of the cake and spread evenly on the sides. Add more ganache a little at a time as needed. Don't add it all at once or it will pour down the sides faster than you can spend it.
Arrange the sliced peanut butter cups on the top of the cake for garnish and dust with peanut butter powder. Use any leftover ganache to pipe along the bottom of the cake. Freeze until ready to serve. Remove from the freezer 5-10 minutes before cutting.
IF YOU LOVE THIS CHOCOLATE PEANUT BUTTER CUP ICE CREAM CAKE, BE SURE TO SIGN UP FOR FREE EMAIL UPDATES! NEW RECIPES WILL BE DELIVERED STRAIGHT TO YOUR INBOX!
This post is linked to Inspiration Monday, Made by You Monday, Two Cup Tuesday, Totally Talented Tuesdays, Create Link Inspire, You're Gonna Love It Tuesday, The SITS Girls, Create & Share DIY and Recipe Party, Gluten-Free Wednesdays, What's Cookin' Wednesday, Allergy Free Wednesday, Wine'd Down Wednesday, Full Plate Thursday, Showcase Your Talent Thursday, Create it Thursday, Crafty and Delicious Party, Your Turn To Shine, Pin Junkie Pin Party, Gluten-Free Fridays, Link Party Palooza, Savoring Saturdays, Weekend Wind-Down, Weekend Potluck and Best of the Weekend.