This gluten free Ham and Cheese Quiche is perfect for brunch but is hearty enough for dinner. Full of ham, bacon and cheese, this gluten free Ham and Cheese Quiche recipe is a protein packed meal full of smoky flavor – a sure crowd pleaser.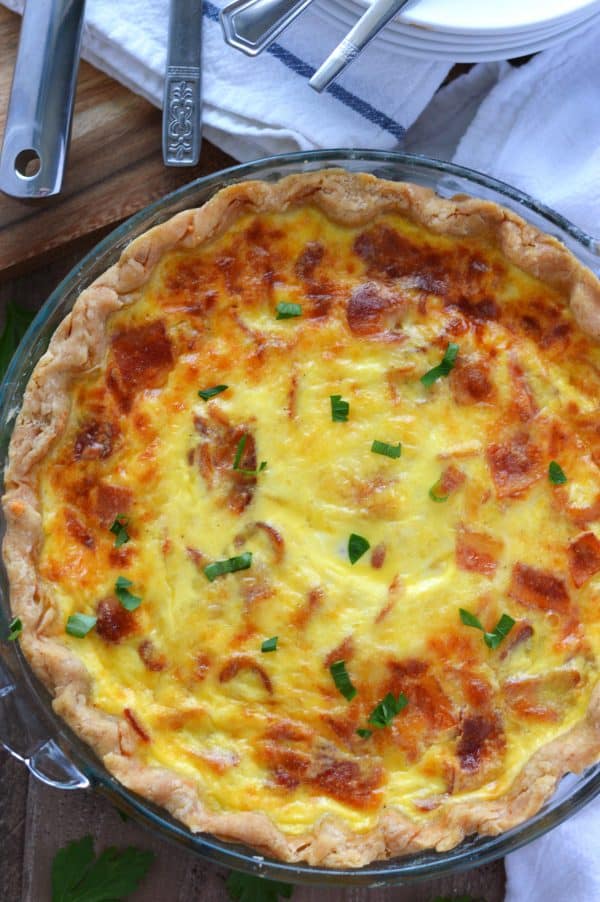 This is a sponsored post written by me on behalf of Hormel Foods for National Family Meals Month. All opinions are 100% mine. Thank you for supporting brands that support What The Fork Food Blog ♥
First, I want to start off by saying be sure to watch the recipe video for this ham and cheese quiche in the post below (right before the recipe)! You can also watch it on Facebook where it can easily be shared.
Eating meals as a family has always been a big part of my life. When I was growing up, my family had dinner together at the table almost every night.
There were a few nights here and there where someone had a meeting or we had school activities during dinner hours as teenagers. But for the most part, we ate when everyone was home for dinner. So some nights we ate at 5:00 and other nights at 7.
Now as an adult, I apply those same values I had growing up to my family. We eat meals together every night.
Not only do we eat dinner together, but we also eat breakfast and lunch as a family when we're home. For us, it's such an important time to gather together.
"Family meals eaten at home have been proven to benefit the health and wellness of children and adolescents, to fight obesity, substance abuse and to make families stronger – creating a positive impact on our communities and our nation as a whole".
You can read more about National Family Meals Month here.
One family meal that we had growing up was quiche, which was the inspiration for this ham and cheese quiche. We often had it for Christmas and Easter brunch, so it was one of those special dishes that really spoke 'family' to me.
This easy ham and cheese quiche recipe is a spin on our family's bacon and swiss quiche. Although that one is still my favorite, it's always nice to switch it up every once in a while so you don't get bored.
If you're not in love with quiche like I am, you have probably been eating one that doesn't have the right egg:milk ratio. The French perfected it long ago with their one part egg to two parts milk ratio.
In other words, half a cup of milk is used for every egg. 3 eggs, 1 1/2 cups milk is the perfect mixture to get you that silky smooth custard that's crazy good.
Many recipes that I've seen on Pinterest just call for way too many eggs that will leave you disappointed. Try it this way and you'll never go back to rubbery/overly eggy quiche!
In this particular gluten free ham and cheese quiche recipe, I used Hormel Cure 81 ham steak. It's already cooked so it's a quick option for weeknight meals and it's perfect for dicing up into the quiche.
Cure 81 hams are the best hand-picked hams that are perfect for any night. Of course, if you have leftover ham in your fridge from Christmas, Easter, or Sunday dinner, you can use that too! Just make sure it doesn't have a sweet glaze on it or it will throw off the flavor of this quiche.
This easy ham and cheese quiche is really for the meat lovers since it's so full of ham and bacon. It's hearty enough to serve for dinner or it would be a great addition to your brunch menu.
If you're looking for ideas for what to serve with this, try it with my gluten free cinnamon coffee cake or blueberry sweet rolls for a sweet brunch option.
You can even have it with a simple strawberry kale salad or gluten free banana oat muffins. So many great options to have with quiche!
No matter what time of day you eat it, sit down with your family and enjoy!
Watch the video below to see how easy it is to make! You can also watch the video on Facebook where it can easily be shared.
be sure to follow me on instagram and hashtag #whattheforkfoodblog or tag @whattheforkfoodblog – I love seeing what you make!
if you love this recipe for ham and cheese quiche, be sure to follow me on social media so you never miss a post:

Ham and Cheese Quiche
Total Time:
1 hour
15 minutes
This gluten free Ham and Cheese Quiche is perfect for brunch but is hearty enough for dinner. Full of ham, bacon and cheese, it's a protein packed meal full of smoky flavor – a sure crowd pleaser.
Ingredients
1 9-inch gluten free pie crust, par baked*
1 C Cure 81 ham, diced
4 slices bacon, cooked and crumbled
1 1/2 C cheddar cheese, shredded
1 Tbsp gluten free flour (or regular flour if not making gluten free)
3 eggs
1 1/2 C milk
1/8 tsp fresh ground black pepper
Instructions
Preheat oven to 350 degrees.
Add the diced ham and bacon to the par-baked pie crust, spreading evenly across the bottom.
In a small bowl, toss together the cheese and flour so the cheese is coated and sprinkle over the meat in the pie crust.
In a large measuring cup, whisk together the eggs, milk and pepper. Pour over the meat/cheese and bake at 350 degrees for 40-55 minutes. When done, the middle will still be slightly jiggly, which is ok. It will set up as it sits. Let the quiche sit for at least 15 minutes before slicing and serving.
Notes
* Directions for my par-baked crust can be found here in the Coconut Cream Pie recipe directions. Baking times can vary greatly depending on your oven. I just got a new oven with a convection option and it took 45 minutes and I probably could have taken it out 5 minutes sooner. In my old oven, it took a full 55 minutes.
Recommended Products
As an Amazon Associate and member of other affiliate programs, I earn from qualifying purchases.
Nutrition Information:
Amount Per Serving:
Calories:

1475.15
Total Fat:

115.35g
Carbohydrates:

22.09g
Protein:

84.28g