My favorite gluten free banana bread recipe – this easy recipe will be one you make again and again. It's the perfect recipe for over-ripe bananas.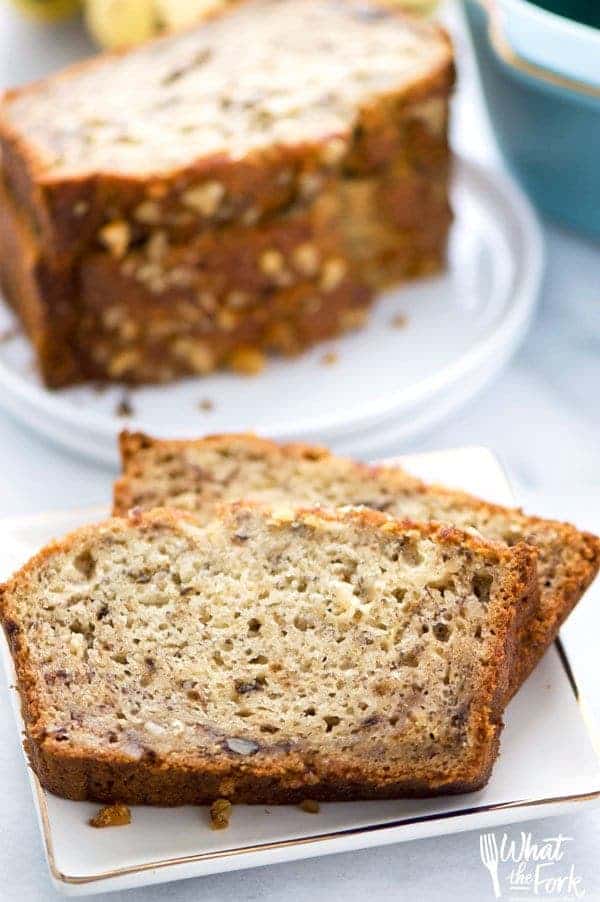 One of the very first recipes I posted when I started this blog was for gluten free banana bread. At the time, I thought it was amazing. Over time, I slowly continued to adapt it and it has evolved into one of my very favorite quick breads.
The base of this gluten free banana bread recipe helped me develop the recipes for my double chocolate banana bread and my gluten free pumpkin banana bread. I've also got several other versions of this simple banana bread recipe with oil that I haven't shared on my blog yet – all from this one delicious base recipe.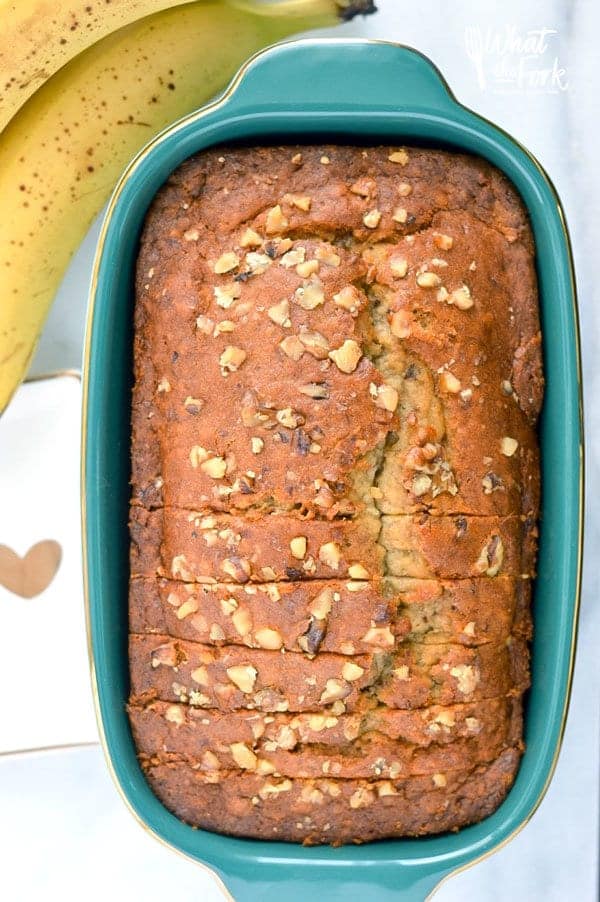 I've mentioned before how I always ALWAYS have over-ripe bananas. It's a blessing and a curse. I will only eat bananas when they're just barely ripe, even still a bit green around the top and bottom. As soon as there's even just one little speck of brown, it's too ripe so I'll let them sit until they're ripe enough to bake with. I feel like I'm always baking with bananas!
That's not always a bad thing though. That means I've baked dozens upon dozens of this super moist banana bread over the years. And even with all those homemade banana breads, we still haven't gotten sick of it. That just goes to show just how good this easy gluten free banana bread is!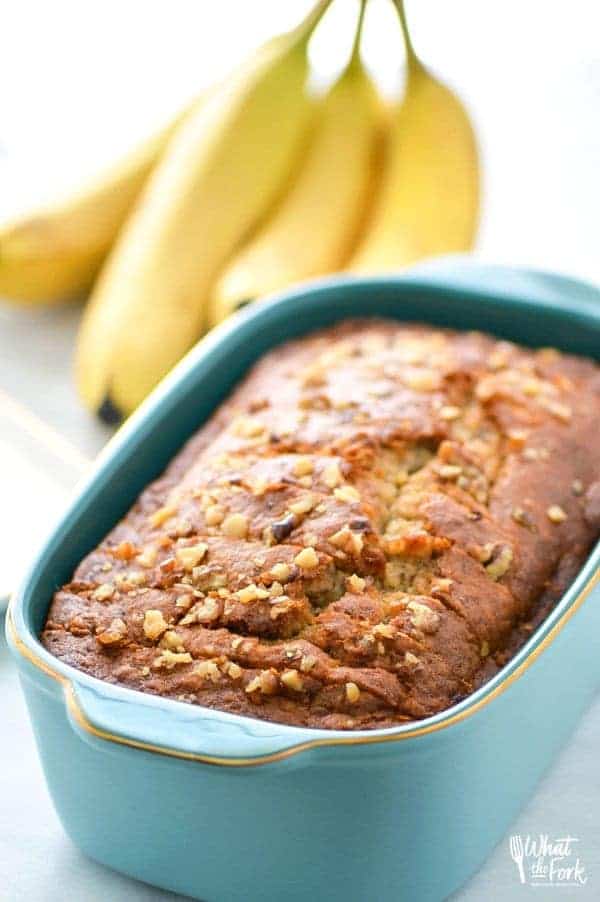 I've also made this recipe many, many times with regular flour and regular milk. I often make this for my husband's grandparents and my next door neighbor that way since they don't have to eat gluten free or dairy free. It's really great that way too so if you don't have to eat gluten free, you don't have to pass on this recipe!
And just for the record, I think I might subconsciously buy too many bananas all the time just so I have an excuse to make this best ever banana bread all the time. Enjoy!
be sure to follow me on instagram and hashtag #whattheforkfoodblog or tag @whattheforkfoodblog – i love seeing what you make!
if you love this gluten free banana bread recipe, be sure to follow me on social media so you never miss a post:
sign up for my free newsletter subscription for new recipes and exclusive giveaways + my free ecookbook – recipes with chocolate
Yield: 10 slices
The Best Gluten Free Banana Bread
My favorite gluten free banana bread recipe - this easy recipe will be one you make again and again. It's the perfect recipe for over-ripe bananas.
Total Time
1 hour
5 minutes
Ingredients
3/4 teaspoon xanthan gum
1 teaspoon baking powder
1/2 teaspoon baking soda
1/2 teaspoon fine sea salt
1/2 Cup granulated sugar
1/2 Cup light brown sugar
1/2 Cup walnuts, chopped
1/3 Cup avocado oil (or canola oil)
2 large eggs, room temperature
2/3 Cup unsweetened coconut milk (or regular milk)
1 Cup mashed banana
1 teaspoon vanilla extract
Instructions
Preheat oven to 350 degrees and spray a 9x5 inch loaf pan with non-stick spray.
In a large bowl, whisk together the flour, xanthan gum, baking powder, baking soda, salt, granulated sugar, and brown sugar. Break up any clumps of brown sugar if necessary. Stir in the chopped walnuts.
In a separate bowl, whisk together the oil, eggs, milk, mashed banana, and vanilla extract. Pour the wet ingredients into the dry ingredients and stir to combine.
Pour the batter into the prepared loaf pan and bake at 350 degrees for 50-60 minutes or until a toothpick or cake tester comes out clean. Cooking time will vary depending on your oven - mine is usually done around 55 minutes.
Cool the bread in the pan on a cooling rack for 15 minutes then remove from the pan and cool completely on the cooling rack. To store, wrap tightly in plastic wrap and store in a zip-lock bag. It will stay fresh up to 3 days. This bread also freezes well.