This Cranberry Orange Moscow Mule is a refreshing twist on a traditional Mule. It's the perfect drink all winter long.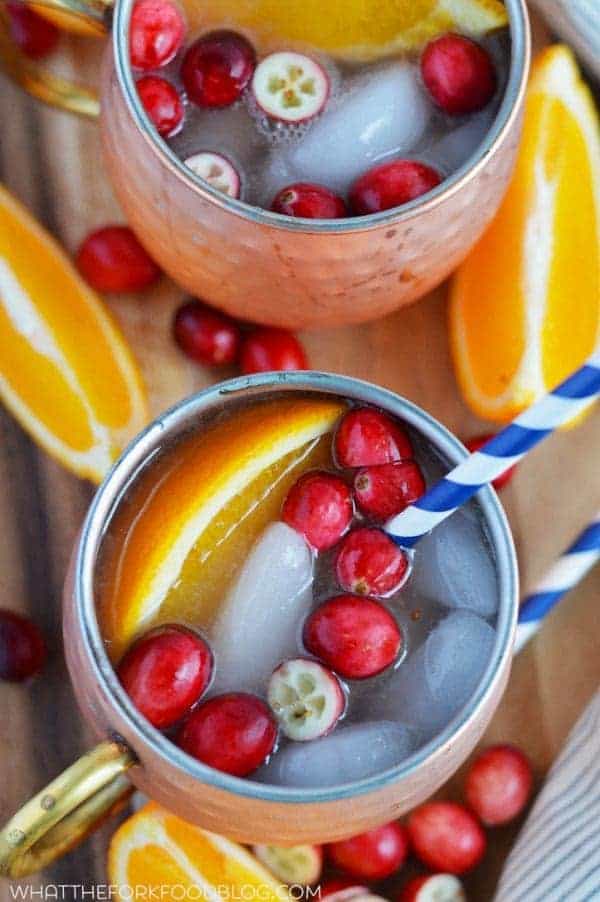 This post contains affiliate links. Thank you for supporting What The Fork Food Blog ♥
I meant to share this Cranberry Orange Moscow Mule recipe with you before Christmas. It really made for a special holiday drink. However, as it seems to happen every December, time slipped away and I wasn't able to get the post done in time. At least I got to share my Cranberry Orange Sangria with you 😉No biggie though, because I'm sharing it with you today. Yes technically cranberry season is probably passing by, but there are still plenty of fresh cranberries available (at least in my stores). You also don't really need the fresh cranberries since they're only for garnish so it's a drink you can truly enjoy all winter long.
I served these glorious drinks on Christmas Eve during our party and I was literally mixing drinks all night long because they were such a hit. Even Adam's aunt who hardly ever drinks enjoyed these. They're such a fun twist on the traditional Moscow Mule which is made with lime juice.
What really makes this Cranberry Orange Moscow Mule special (aside from the cranberry orange combo) is the ginger beer. Ginger beer is essential to Moscow Mules. It's not like regular beer, it's actually soda. BUT it's not your regular old ginger ale. It's got a much stronger ginger taste that really gives these drinks some zip and zing. Please don't use ginger ale and get yourself some ginger beer. It'll make a HUGE difference in flavor.
Enjoy!
be sure to follow me on instagram and hashtag #whattheforkfoodblog or tag @whattheforkfoodblog – i love seeing what you make!
if you love this Cranberry Orange Moscow Mule recipe, be sure to follow me on social media so you never miss a post:
sign up for my free newsletter subscription for new recipes and exclusive giveaways + my free ecookbook – recipes with chocolate
Cranberry Orange Moscow Mule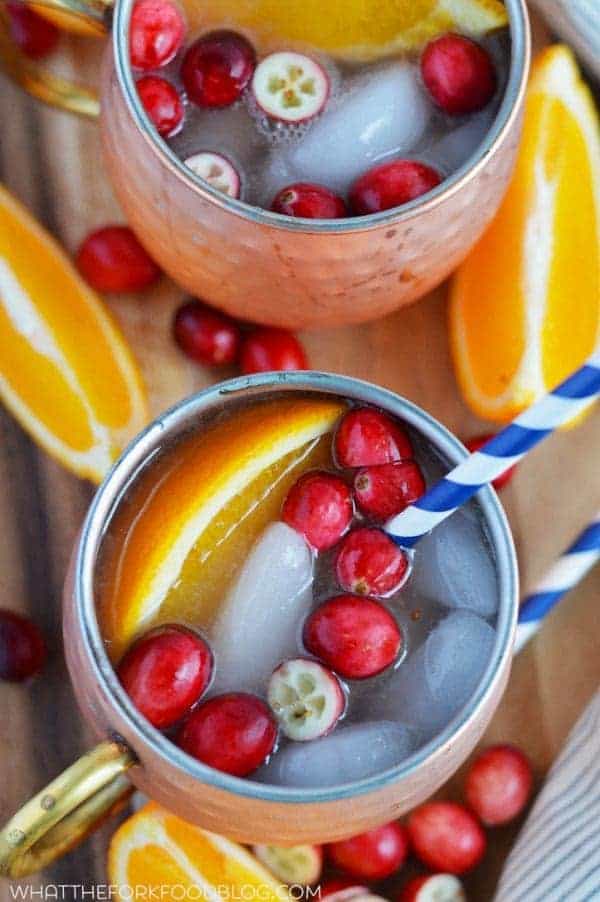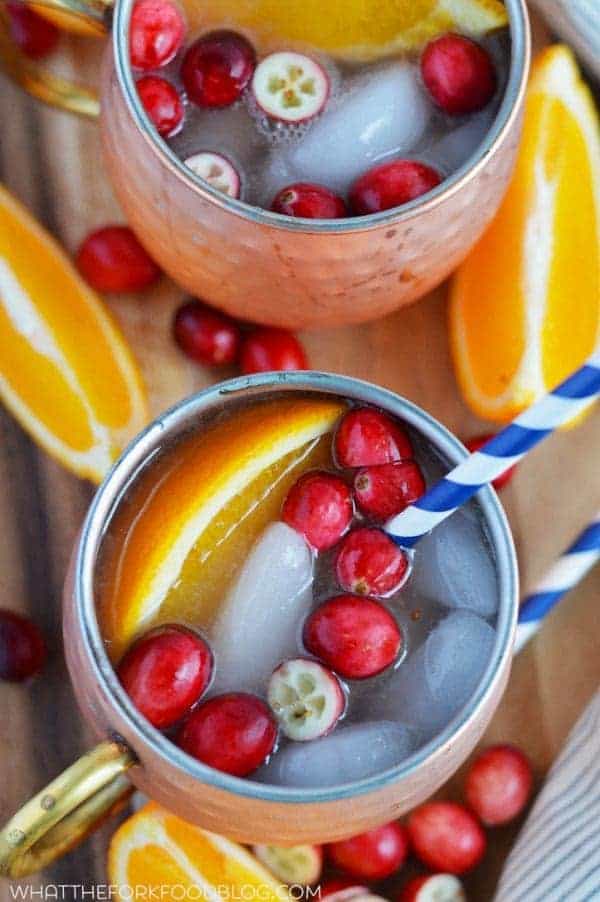 Ingredients
2 oz. vodka
2 oz. cranberry juice
1 oz. orange juice
6 oz. ginger beer (not ginger ale)
orange slices for garnish
fresh or frozen cranberries for garnish
Directions
Add the vodka, cranberry juice, and orange juice to a cocktail shaker and shake until combined.
Fill a Moscow Mule mug with ice and pour the vodka mixture over the ice. Stir in the ginger beer and garnish with orange slices and cranberries.
Recipe Notes
Other recipes you might enjoy:
Cranberry Mulled Wine – Swanky Recipes
Homemade Baileys Irish Cream – With Salt and Wit
Aloha Screwdrivers – What The Fork Food Blog
Mango Mojitos – Nutmeg Nanny