These Chocolate Peanut Butter Oatmeal Smoothies are a filling way to start your day. They're made with wholesome ingredients that will help keep your healthy eating on track.
This post is sponsored by Quaker Oats but all opinions are 100% my own. As always, thank you for supporting brands that support What The Fork Food Blog
♥
You guys totally love your oatmeal smoothies. My Strawberry Banana Oatmeal Smoothies were my fourth most popular recipe on the blog in 2015 and my Peanut Butter Banana Oatmeal Smoothies just missed the list of Top 10 Recipes from 2015.
I'm sure these Chocolate Peanut Butter Oatmeal Smoothies will be just as popular. Because really, who could resist a little chocolate peanut butter combination in the morning? Especially when it's for something that's not going to cause you to cheat on your 2016 healthier eating goals. You're more than welcome ☺️☺️
I'm a really big fan of oatmeal smoothies in the morning. The oatmeal really makes the smoothies filling so they truly keep you satisfied until lunch. I often find that if I have a regular smoothie for breakfast, I'm hungry shortly after.
That's not the case with these chocolate peanut butter oatmeal smoothies. They provide protein from the 1% milk, oats, and peanut butter, provide enough carbs to help keep you fueled, and are sweetened with just enough honey.
I used Quaker Gluten Free Oats for this smoothie and they worked out really, really well. I actually prefer these quick oats in smoothies over the old fashioned oats that I had previously been using.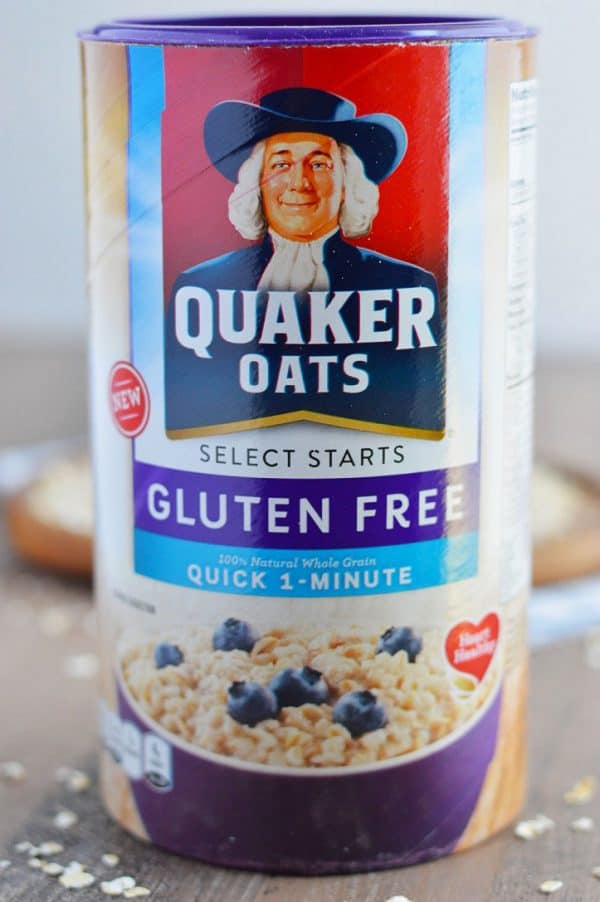 Quaker Gluten Free oats are rolling out and will be readily available nationwide this month. With nearly 140 years of oat expertise and as leaders in oat milling, Quaker has confidently been able to provide gluten free oats to those who need them. And don't worry, the gluten free oats have the same great taste and texture as traditional Quaker Oats.
The gluten free varieties will include the Quaker Quick 1-Minute Oats (which I used in this recipe) and Quaker Instant Oatmeal single-serve pouches in Original and Maple & Brown Sugar flavors. You can read more about their oats and the process on my Quaker Summit Re-Cap post.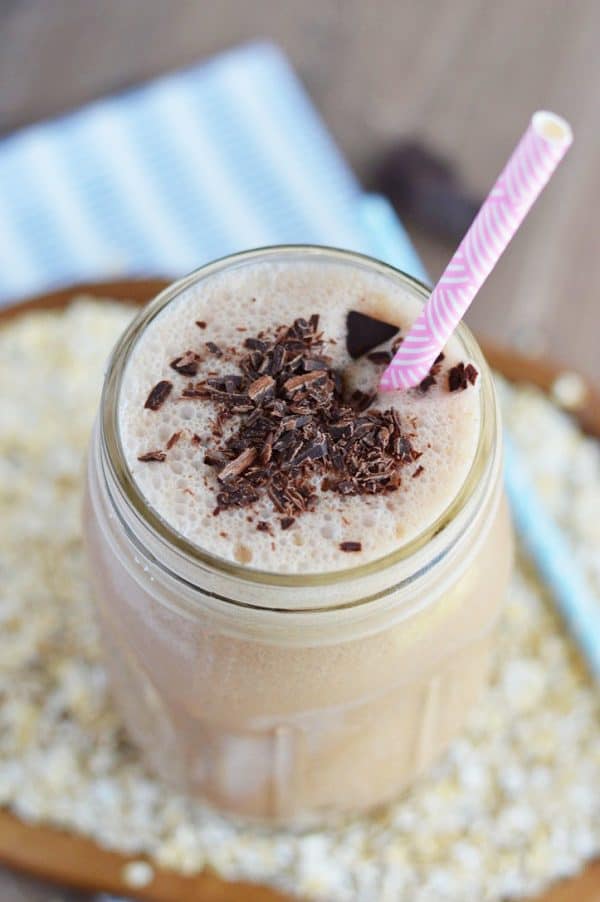 I'm also giving away a Gluten Free Recipe Inspiration Kit. One lucky winner (from the US) will receive a chic tote, a custom 'Love Oatmeal' spoon, an apron, a portable microwavable oatmeal bowl, and the three varieties of Quaker Gluten Free Oats (Quick 1-Minute Oats 18 oz. canister, Original Instant Oatmeal single-serve pouches, and Maple & Brown Sugar Instant Oatmeal single-serve pouches).
You guys, I have the spoon and it is Ah-dorable. It's pictured here covered in peanut butter but it's the cutest little stamped spoon. <LOVE> You can enter via the giveaway form below. Good luck and enjoy!
Quaker Gluten Free Recipe Inspiration Kit
Disclaimer: I advise each person to use their best judgment when deciding whether or not to try Quaker's gluten-free products. I have presented the facts as they were presented to me, and I hope they help you make the right decision for yourself and your family.
be sure to follow me on instagram and hashtag #whattheforkfoodblog or tag @whattheforkfoodblog – i love seeing what you make!
if you love this recipe for chocolate peanut butter oatmeal smoothies, be sure to follow me on social media so you never miss a post:
sign up for my free newsletter subscription for new recipes and exclusive giveaways + my free ecookbook – recipes with chocolate
Chocolate Peanut Butter Oatmeal Smoothies
Ingredients
1/2 C Quaker Gluten Free Quick 1-Minute Oats
1 C ice cubes
1 C 1% milk or unsweetened coconut milk**
2 Tbsp natural peanut butter or peanut butter powder*
1 Tbsp cocoa powder
1 Tbsp honey (or to taste)
1 tsp vanilla extract
Directions
Add the oats to the blender canister and blend until they become a fine powder.
Add the ice, milk, peanut butter, cocoa powder, honey, and vanilla extract and blend until smooth. Pour into a glass and enjoy!
Recipe Notes
Using peanut butter powder will significantly reduce the amount of fat and calories in this smoothie but I prefer the taste that the natural peanut butter gives to the smoothie.
*Using unsweetened coconut milk (from the carton) will reduce the amount of protein in the recipe but it will also cut down on calories and carbs.
When following a gluten free diet, please be sure to use gluten free ingredients.
Click here to download the Quaker Oat-spiration Digital Recipe Booklet. It's full of gluten free oatmeal recipes you and your family will love!