Meyer lemons are a special fruit – they're like a cross between a lemon and a mandarin orange. Get this seasonal fruit before it's gone and make this Gluten Free Meyer Lemon Bread!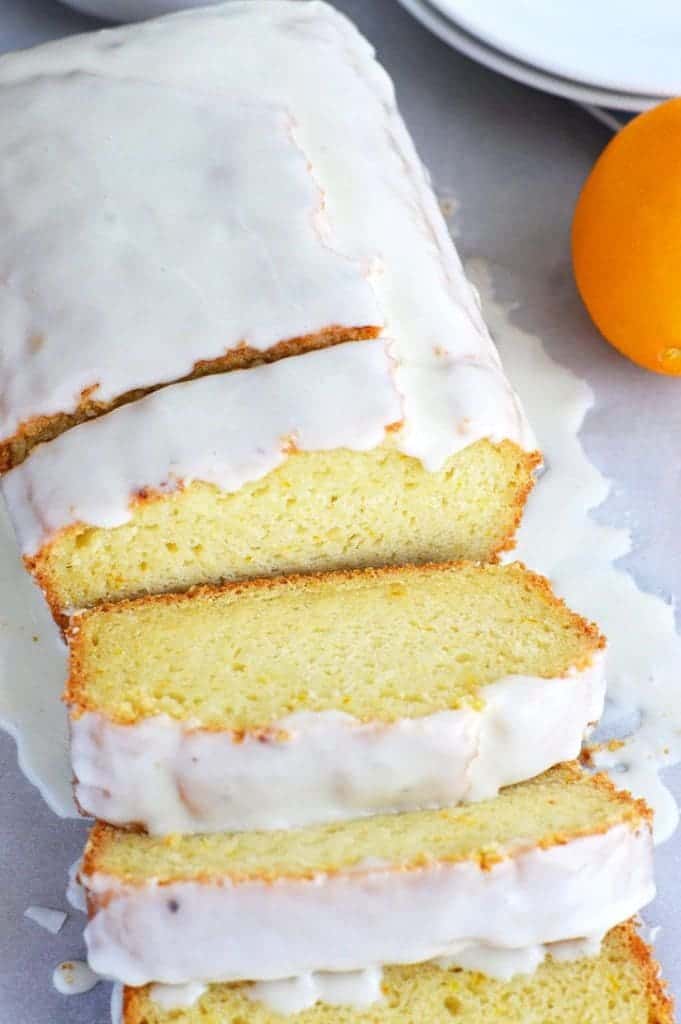 Before this year, I had never had or made anything with a meyer lemon. I've seen recipes for them all over the internet (hello, Pinterest) and have been wanting to experiment with them forever. I honestly don't see them often at the store (maybe I don't look hard enough?) so when I actually spotted some a month ago, I snapped them up and started dreaming up what I'd make with them.
I thought about making some meyer lemon curd but I had just made some paleo lemon curd and wanted something different so I thought, why not a bread? And yes, I know I make a lot of quick breads, I've never made a gluten free meyer lemon bread… different enough.
Plus, you really can't go wrong with too many bread options. I mean, it's completely normal to have 5 different kinds of quick bread in your freezer at any given time, right? It sure does make breakfast options easy and you've always got something to bring to brunch.
This gluten free meyer lemon bread is similar to my lemon poppyseed bread, I pretty much based this recipe off of that one. Since meyer lemons aren't as pungent and tart as regular lemons, this has a very slight citrus flavor that plays so nicely with the sweetness of the bread and glaze. It's subtle so if you're looking for even more citrus flavor, try adding a little more juice in place of some of the milk.
I also used a bit of the meyer lemon juice in the glaze for even more flavor. The glaze WILL set up and dry like most glazes, I just didn't take the time to let it do that. I chose to slice and photograph very shortly after pouring the glaze over it. Patience has never been one of my best traits. Whatever.
In other news, What The Fork Food Blog, aka me, celebrated it's 2nd blog birthday! Last year I think I dubbed it a birthdaversary (birthday/anniversary). You remember what birthdaversaries around here call for, right?
Yep, presents! Well, giveaways. So today my friends at Le Creuset are letting me give away one of their signature saucepans. Not only that, but it's one of their new colors – Hibiscus. It's oh, so pretty. Literally, pretty in pink (my fave). You can enter the giveaway through the giveaway form below the recipe.
Thank you for making it a great 2 years here at What The Fork Food Blog! Good Luck!
BE SURE TO FOLLOW ME ON INSTAGRAM AND HASHTAG #WHATTHEFORKFOODBLOG OR TAG @WHATTHEFORKFOODBLOG – I LOVE SEEING WHAT YOU MAKE!
IF YOU LOVE THIS RECIPE FOR gluten free meyer lemon bread, BE SURE TO FOLLOW ME ON SOCIAL MEDIA SO YOU NEVER MISS A POST:
| SNAPCHAT – WHATTHEFORKBLOG |
Gluten Free Meyer Lemon Bread
Meyer lemons are a special fruit - they're like a cross between a lemon and a mandarin orange. Get this seasonal fruit before it's gone and make this Gluten Free Meyer Lemon Bread!
Print
Ingredients
For the Bread
2 cups all purpose gluten free flour
1 teaspoon xanthan gum
1 teaspoon baking powder
1/2 teaspoon baking soda
1/2 teaspoon fine sea salt
1 cup granulated sugar
2 large eggs, room temperature
3/4 cup unsweetened coconut milk (or milk of choice)
zest from 1 meyer lemon
1/4 cup meyer lemon juice
1/3 cup avocado oil (or canola oil)
1 teaspoon pure vanilla extract
For the Glaze
1 C powdered sugar
1 Tbsp meringue powder
2 tsp meyer lemon juice
1/2 tsp vanilla extract
Directions
To make the bread:
Preheat oven to 350 degrees and spray a 9x5 inch loaf pan with non-stick spray.
In a large bowl, whisk together the flour, xanthan gum, baking powder, baking soda, salt, and granulated sugar.
Beat the eggs in a medium bowl. Add the coconut milk, meyer lemon zest, meyer lemon juice, oil, and vanilla extract. Pour into the dry ingredients and stir until combined.
Pour the batter into the prepared baking pan and bake at 350 degrees for 50-60 minutes or until a cake tester comes out clean.
Cool completely on a wire rack before glazing.
To make the glaze:
Stir the powdered sugar, meringue powder, lemon juice, and vanilla extract together. Add a little coconut milk or water if you want a thinner glaze.
Pour the glaze over the bread and let it set before serving.
Recipe Notes
I use my nightshade free gluten free flour blend in this recipe.
This bread can be frozen with the glaze on it. Just slice it, freeze the slices on a baking sheet, and then store them in a freezer bag/container with parchment paper between layers. You can also freeze the bread whole before it's glazed. Just thaw completely before glazing.
Le Creuset Signature Saucepan in Hibiscus