Super fudgy gluten free brownies will be a staple recipe for years to come. It's a great base recipe to make any kind of decadent brownies you'd like!
<< click here to pin this recipe >>
You guys. You guys. YOU GUYS. THESE BROWNIES. I seriously can't help the all caps right there because these fudgy gluten free brownies are THAT amazing. I've been working for a very, very, very long time to perfect a gluten free Ghirardelli boxed brownie copycat recipe.
The walnut version was our absolute favorite brownie before Adam had to start eating gluten free. I never, ever made brownies 100% from scratch because that little box of brownies was our absolute favorite.
They're so fudgy and so soft in the center and they basically just melt in your mouth. And for some reason, they were incredibly hard to make. I've had other brownies on my blog, like my Chocolate Hazelnut Brownies, Flourless Chocolate Mint Brownies, and Snickers Brownies. I even use the chocolate hazelnut brownies as the base in my Cherry Vanilla Baked Alaska.
ALL of those recipes were great but this one, this one has been my unicorn brownie recipe. The elusive recipe that I just needed to tackle.
And I've finally done that. My freezer may be packed full of brownies right now but it was well worth it. These are so fudgy, soft (from slightly under-baking, the way brownies should be!), chewy along the edges, and basically melt in your mouth. JUST like the ones from the box I set out to re-create. I so #nailedit
Not only have I been working on perfecting a gluten free copycat version of Ghirardelli boxed brownies, but I have also been making my own gluten free flour blend for years now. When I first started baking gluten free, I used a store-bought all-purpose mix. But as I got more experience baking gluten free, I found that I could get better results on my own.
Don't get me wrong, there are some great flour mixes available. Bob's Red Mill Gluten Free 1:1 Baking Flour and the Gluten Free Mama's Almond Blend are two of my favorites. But if you can make it yourself, why not? Especially since making your own flour blend is cheaper than buying pre-made.
Key Ingredients for this Gluten Free Brownie Recipe
All purpose gluten free baking flour (omit xanthan gum if using Bob's Red Mill 1:1)
Cocoa powder
COLD eggs
Cornstarch
Avocado OR Canola Oil
Vanilla extract
---
Equipment Needed
---
How to make Fudgy Gluten Free Brownies
Step 1. Combine the dry ingredients in a large bowl.
Step 2. Whisk together the dry ingredients.
Step 3. Add eggs to dry ingredients and beat well. Then add the rest of the wet ingredients.
Step 4. Mix until the dry ingredients are fully incorporated.
Step 5. Transfer the batter into a prepared pan ( 9×9 metal pan lined with parchment paper). Bake at 325 for 22-25 minutes.
Step 6. Allow brownies to fully cool in pan before removing and cutting.
---
I recently had the opportunity to try a Mockmill attachment for my KitchenAid stand. (If you don't have a KitchenAid, the Mockmill will also work with AEG, Electrolux, and Kenmore mixers.) The Mockmill is basically exactly what it sounds like – a mill. It's a much smaller scale grain mill that works like a commercial mill but can be used in a home kitchen.
It attaches to your KitchenAid mixer just as any KitchenAid attachment would on the front of you mixer. Add your grain to the hopper, turn on your mixer, and let those stones grind the grain into the flour of your choice! I've been making a lot of my own white rice flour and it has worked great!
There are several gluten free grains that are suitable for DIY Gluten Free Flour using the MockMill KitchenAid attachment; which gives you complete control over the flour you use in your gluten free kitchen.
Common Gluten Free Flours you can make at home using the Mockmill KitchenAid attachment:
White Rice Flour
Brown Rice Flour
Tapioca Flour (ground from Tapioca Pearls)
Oat Flour
Quinoa Flour
Corn Flour / Corn Meal (be sure to use food-grade corn)
Beans
There are quite a few others you can try but these are the ones that I use the most when I am baking. I do use Arrowroot flour all the time since it's part of my nightshade-free flour blend, but I'm not about to dry my own Yucca. That's a little too much work for this busy work-at-home mom.
If you're interested in getting your own Mockmill, you can order one directly from Mockmill. They're offering a great package that comes with a Mockmill, the Flour Power book (which is being specially reprinted for Mockmill customers), and corn, teff, and buckwheat. Use code whattheforkfoodblog for $80 off your order.
I used my nightshade-free flour blend in these fudgy gluten free brownies but my white-rice all purpose flour blend would work well too. So now you have it folks – the best EVER fudgy gluten free brownies and a way to start making your own gluten free flour. Enjoy!
Want to elevate these brownies and take them to the next level? Try my Gluten Free Samoas Brownies or my Gluten Free Brownies with Peanut Butter Frosting. Both these recipes start with this fabulous base brownie recipe!
BE SURE TO FOLLOW ME ON INSTAGRAM AND HASHTAG #WHATTHEFORKFOODBLOG OR TAG @WHATTHEFORKFOODBLOG – I LOVE SEEING WHAT YOU MAKE!
IF YOU LOVE THIS RECIPE FOR fudgy gluten free brownies, BE SURE TO FOLLOW ME ON SOCIAL MEDIA SO YOU NEVER MISS A POST:
---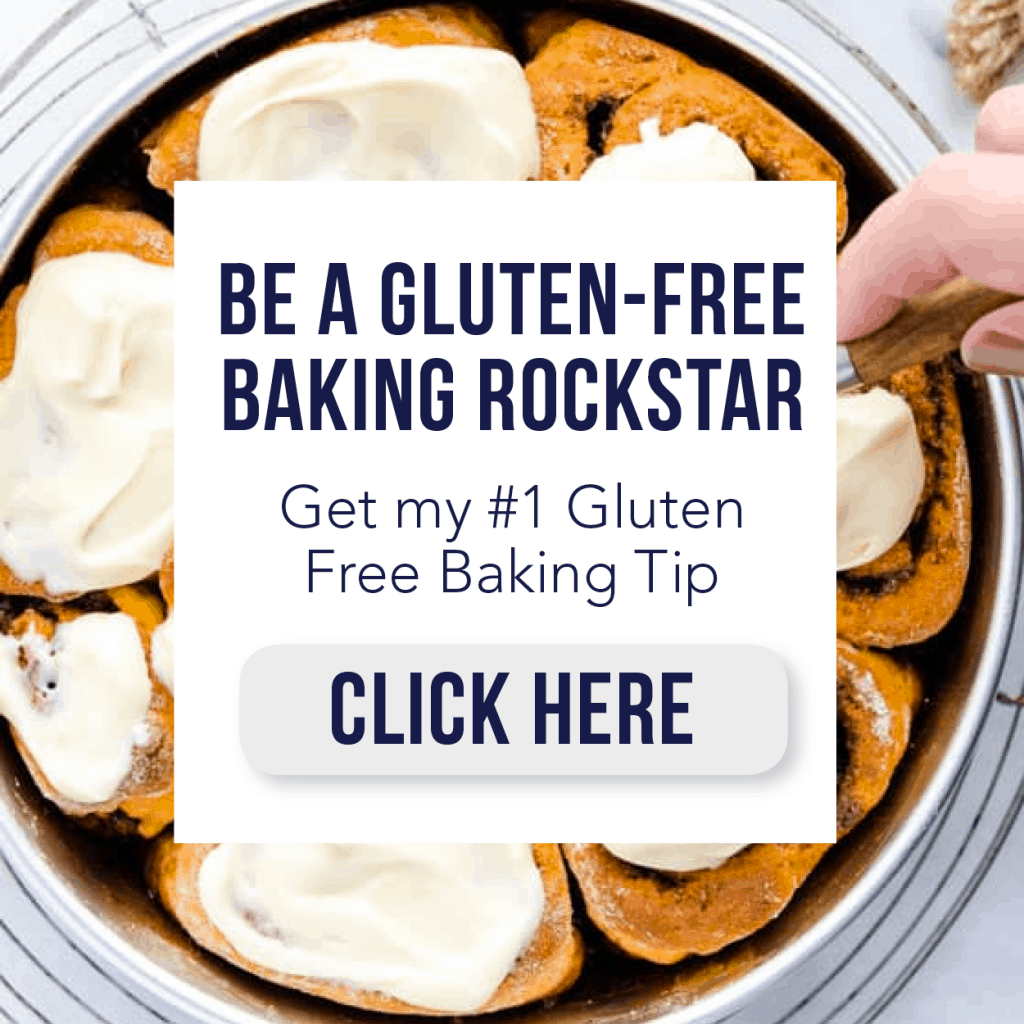 Fudgy Gluten Free Brownies
Super fudgy gluten free brownies will be a staple recipe for years to come. It's a great base recipe to make any kind of decadent brownies you'd like!
Ingredients
1 1/4 C sugar
3/4 C cocoa powder
1/2 C all-purpose gluten free flour
1/4 tsp xanthan gum
1/8 tsp baking soda
1/4 tsp sea salt
1 Tbsp cornstarch
2 large eggs (cold)
4 Tbsp butter, melted
1/3 C avocado oil (or canola oil)
1 1/2 tsp vanilla extract
2 Tbsp water (cold)
Instructions
Preheat oven to 325 degrees and line a 9x9 inch metal baking pan with parchment paper.
In a large bowl, whisk together the sugar, cocoa powder, flour, xanthan gum, baking soda, salt, and cornstarch.
Make a well in the center and add the eggs. Beat the eggs and mix in the butter, oil, vanilla extract, and water. Mix until the dry ingredients are incorporated.
Transfer the batter to the prepared pan and bake at 325 degrees for 22-25 minutes. Cool completely in the pan before cutting.
Notes
Adapted from my Snickers Brownies.
I prefer my brownies very soft and on the slightly under-baked side. Cook a little bit longer if you want the center to be a little more done.
Recommended Products
As an Amazon Associate and member of other affiliate programs, I earn from qualifying purchases.
Nutrition Information:
Amount Per Serving:
Calories:

132
Total Fat:

13g
Carbohydrates:

4g
This post contains affiliate links for products and ingredients that I use and recommend. Thank you for helping to support What The Fork Food Blog ♥