Super fudgy gluten free brownies are easy to make. They are thick, chewy and have the perfect chocolate flavor! They are a decadent gluten free dessert and can also be made dairy-free!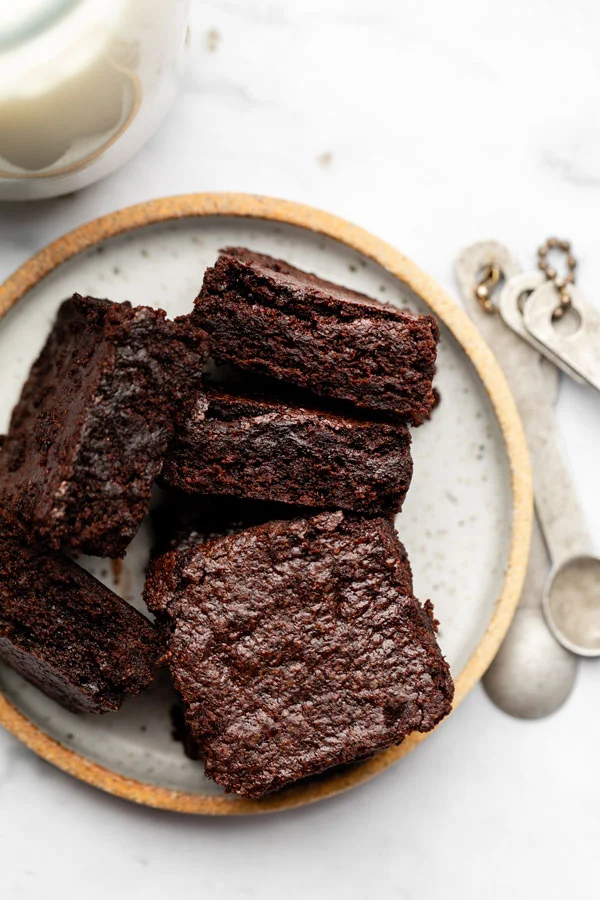 This post contains affiliate links for products and ingredients I use and love. You can read my full disclosure here. Thank you for supporting What The Fork Food Blog so I can continue to provide you with free gluten free recipes ♥
Fudgy Gluten Free Brownies
YOU GUYS. THESE BROWNIES. I seriously can't help the all caps right there because these fudgy gluten free brownies are THAT amazing. I've been working for a very, very, very long time to perfect a gluten free Ghirardelli boxed brownie copycat recipe.
The walnut version was our absolute favorite brownie before Adam had to start eating gluten free. I never, ever made GF brownies from scratch 100% because that little box of brownies were just so good.
But this! This gluten free brownie recipe is a true winner!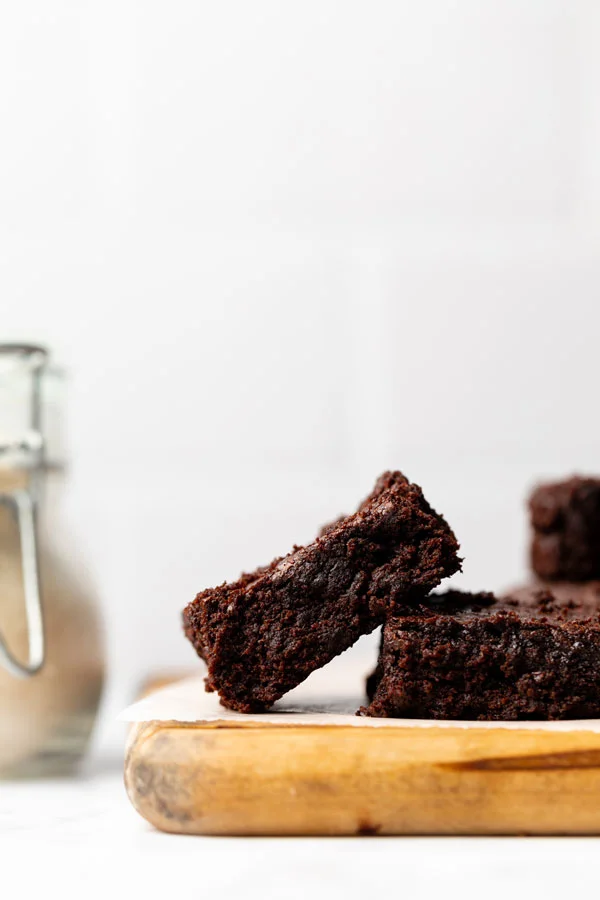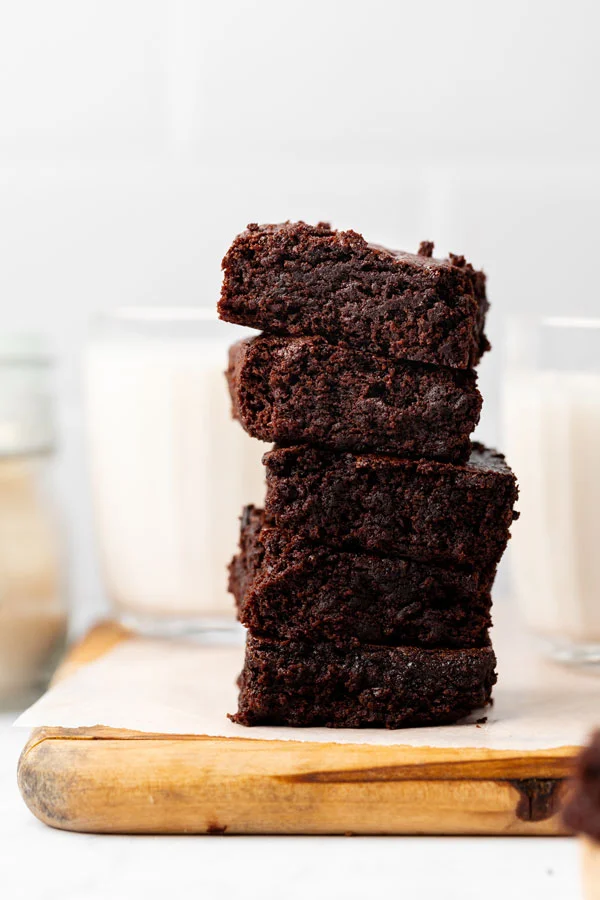 As an Amazon Associate I earn from qualifying purchases.
---
Key Ingredients for this one bowl Gluten Free Brownie Recipe
Gluten Free Flour – omit xanthan gum if using a gluten free flour blend that contains it
Cocoa Powder – I use Dutch Processed Cocoa Powder
COLD Eggs – for vegan brownies, use an egg replacer and the dairy free butter sub listed below.
Cornstarch
Granulated sugar
Butter – use vegan butter for gluten free dairy free brownies
Avocado Oil or Canola Oil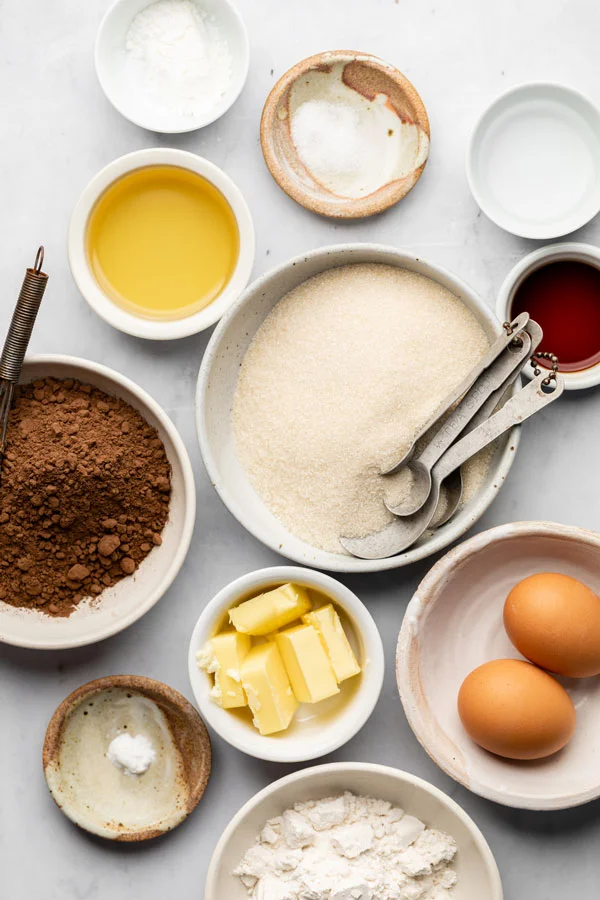 ---
Equipment Needed to Make Homemade Brownies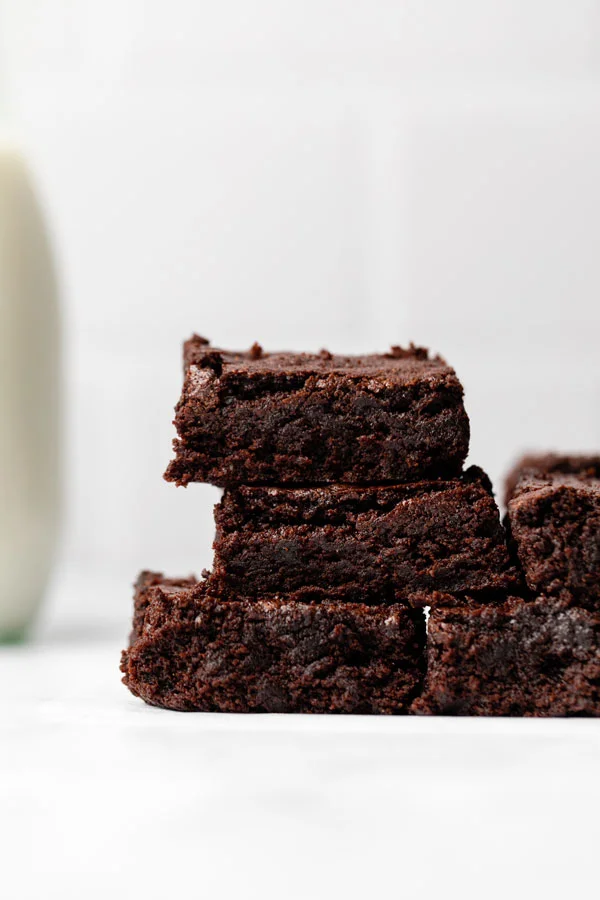 ---
How to make this Easy Homemade Gluten Brownie Recipe in 6 Simple Steps!
Step 1. First, combine the dry ingredients in a large bowl.
Step 2. Second, whisk together the dry ingredients.
Step 3. Third, add eggs to dry ingredients and beat well. Then add the rest of the wet ingredients.
Step 4. Fourth, mix until the dry ingredients are fully incorporated.
Step 5. Next, transfer the batter into a prepared pan ( 9×9 metal pan lined with parchment paper). Bake at 325 for 22-25 minutes.
Step 6. Finally, allow brownies to fully cool in the pan before removing and cutting.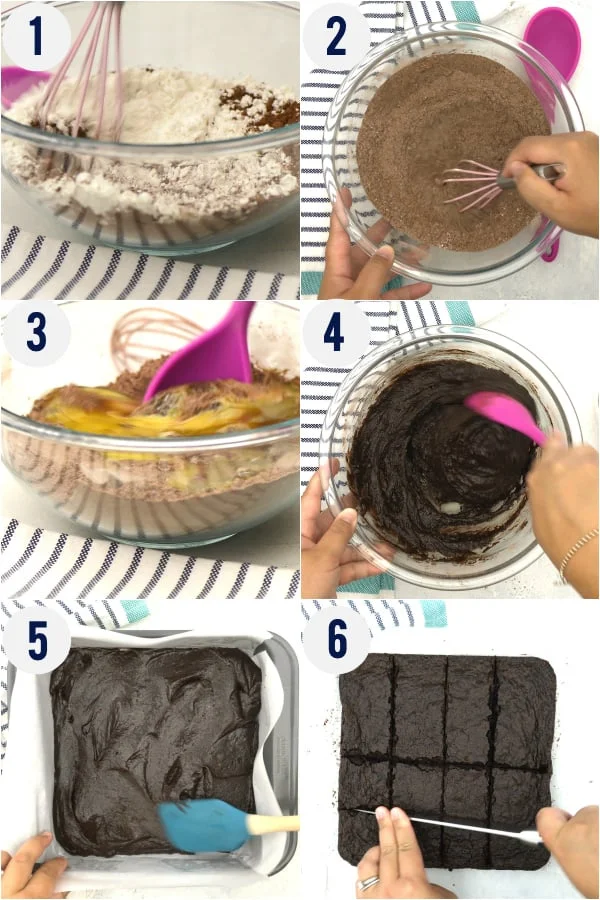 ---
Video Tutorial to make these GF brownies
---
Which type of baking pan is best for GF brownies?
I prefer to use a 9×9 Square Baking Pan. You can still use a glass baking pan, but I have found the brownies come out slightly crispier.
Another good option to use is stoneware. There is no right or wrong answer here. Just your own personal preference!
Ideas for fun mix-ins
My kids (and husband!) enjoy adding some fun mix ins such as:
M&Ms
Reeses Pieces
Marshmallows
GF Oreos
Nutella
Walnuts
Almonds
Macadamia nuts
What types of gluten free flour are best for this recipe?
I recommend using either my nightshade-free flour blend or my all-purpose gluten free flour blend. They both make for a wonderful and consistent brownie batter. The blends I suggest are very easy to make and to store!
You can also try using Bob's Red Mill 1:1 Gluten Free Baking Flour as well as King Arthur Gluten-Free Measure for Measure Flour.
Remember to omit xanthan gum if using a gluten free flour blend that already contains it, such as Bob's Red Mill or King Arthur!
Is this GF brownie recipe easy to double?
Absolutely! Here's what to do: Use a metal 9×13 pan instead and just double the recipe. Now it's double the deliciousness! Now that you have some extra brownies, you can freeze them for later on. Read on below on how to best do that!
Suggestions for storing and freezing your GF Brownies
Storing: After making these brownies, you can store them in an air tight container for 2-3 days at room temperature.
Freezing: For best results, freeze the brownies on a baking pan in your freezer on wax paper for 2-3 hours. Then, I recommend wrapping each brownie in plastic wrap and then storing in a gallon sized freezer bag. When you're ready to enjoy these little bites of deliciousness, take them out to defrost for a couple of hours ahead of time. Easy-peasy!
Measuring your GF Flour Blend tips
I HIGHLY recommend you follow and sign up for this free guide on how to properly measure your GF flour blends. This is a step that is often overlooked but is extremely important! By following this guide I provide you, it will increase the quality of the recipes that you bake. You won't be disappointed!
Pro Tips for Making The Best Chewy Gluten Free Brownies
I used my nightshade-free flour blend but my white-rice all purpose flour blend would work well too. A 1:1 gluten free flour blend can also be used. Just be sure to omit the xanthan gum called for in this recipe if your blend contains it.
For cleaner cut brownies, chill the brownies for at least 30 minutes before slicing. Cutting with a plastic knife works great too!
Use a toothpick inserted to see if it comes out clean. It's OK to underbake these a little bit if you prefer to have them chewier!
Try different mix ins such as chocolate chips or nuts at the end if you like!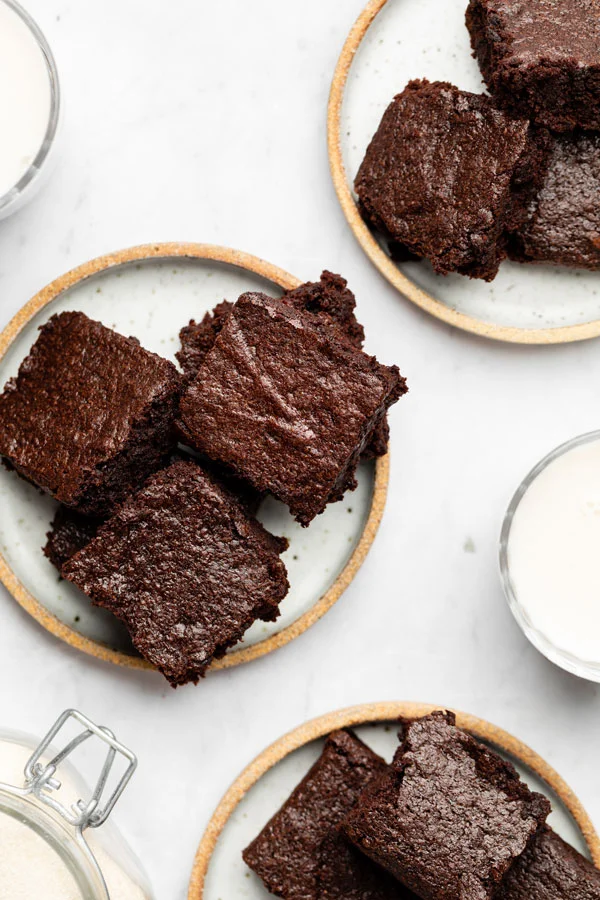 ---
Dairy-Free GF Brownies
It is super simple to make these brownies dairy-free! Instead of regular butter, use melted vegan butter instead. A good brand that would work well is Miyoko's European Style Cultured Vegan Butter. Or if you find another brand that works for you, go for it!
Easy Gluten Free Brownie Recipe from scratch
Not only have I been working on perfecting a gluten free copycat version of Ghirardelli boxed brownies, but I have also been making my own gluten free flour blend for years now. When I first started baking gluten free, I used a store-bought all-purpose mix. But as I got more experience baking gluten free, I found that I could get better results on my own.
They're so fudgy and so soft in the center and they basically just melt in your mouth. And for some reason, they were incredibly hard to replicate. I've had other brownies on my blog, like my Chocolate Hazelnut Brownies, Flourless Chocolate Mint Brownies, and Snickers Brownies. I even use the chocolate hazelnut brownies as the base in my Cherry Vanilla Baked Alaska.
ALL of those recipes were great but this one, this one has been my unicorn brownie recipe. The elusive recipe that I just needed to tackle.
And I've finally done that. My freezer may be packed full of brownies right now but it was well worth it. These are so fudgy, soft (from slightly under-baking, the way brownies should be!), chewy along the edges, and basically melt in your mouth. JUST like the ones from the box I set out to re-create. Gluten-free baking at its finest!
#nailedit
Other Gluten Free Brownie Recipes to Try
Gluten Free Brownies with Peanut Butter Frosting
Peppermint Frosted Brownies (Christmas)
Chocolate Hazelnut Brownies (flourless)
Flourless Mint Chocolate Brownies
Mummy Brownies (Halloween)
---
Be sure to follow me on Instagram and hashtag #whattheforkfoodblog or tag @whattheforkfoodblog – I love seeing what you make!
If you love this recipe for Gluten Free Scones, be sure to follow me on social media so you never miss a post:
---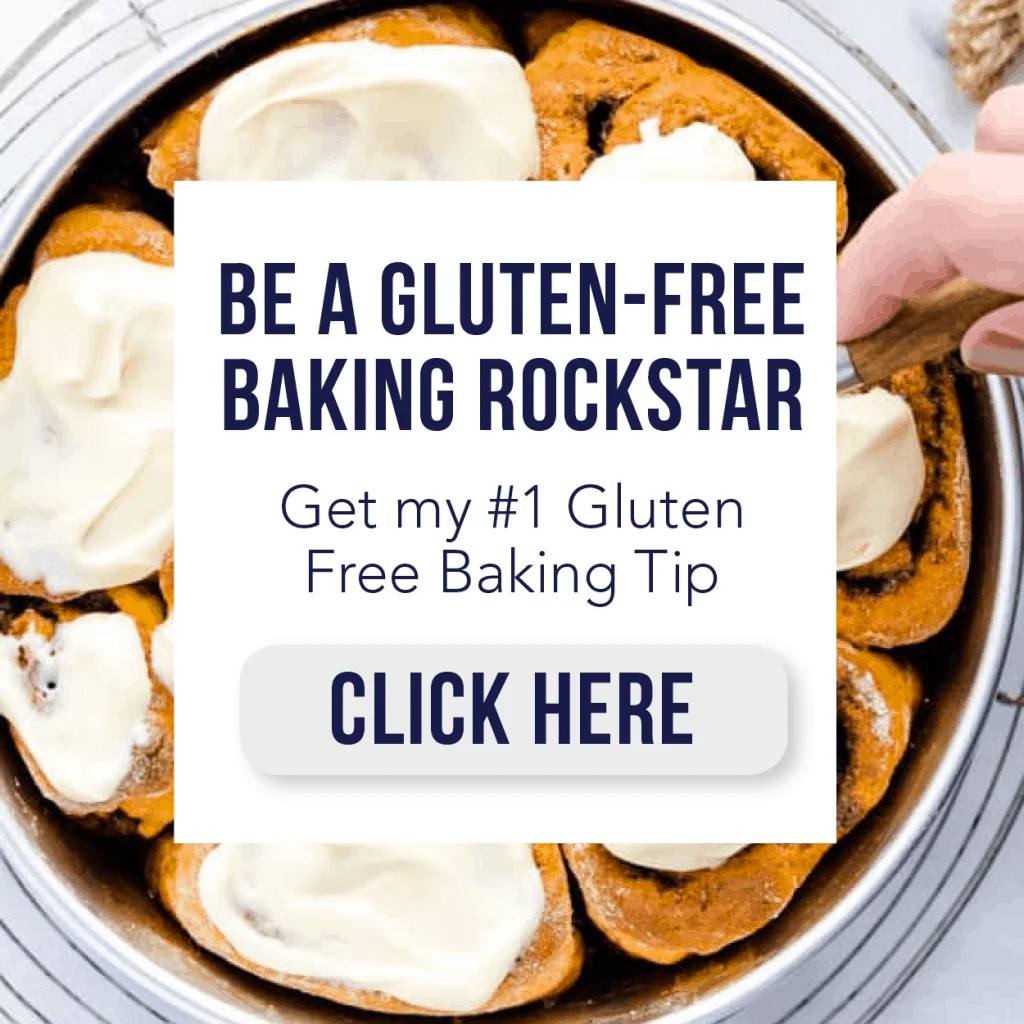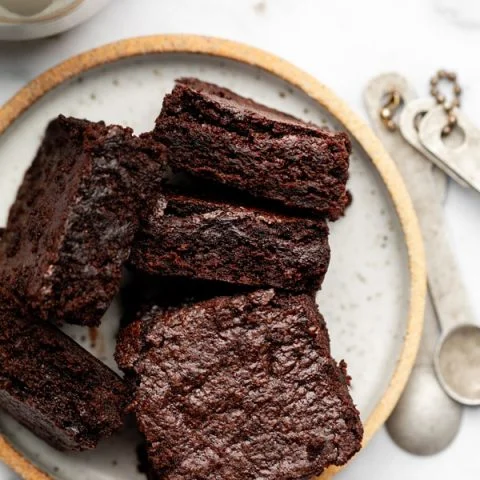 Fudgy Gluten Free Brownies
Super fudgy gluten free brownies are easy to make. They are thick, chewy and have the perfect chocolate flavor! They are a decadent gluten free dessert and can also be made dairy-free!
Ingredients
1 1/4 C sugar
3/4 C cocoa powder
1/4 tsp xanthan gum
1/8 tsp baking soda
1/4 tsp sea salt
1 Tbsp cornstarch
2 large eggs (cold)
4 Tbsp butter, melted
1/3 C avocado oil (or canola oil)
1 1/2 tsp vanilla extract
2 Tbsp water (cold)
Instructions
Preheat oven to 325 degrees and line a 9x9 inch metal baking pan with parchment paper.
In a large bowl, whisk together the sugar, cocoa powder, flour, xanthan gum, baking soda, salt, and cornstarch.
Make a well in the center and add the eggs. Beat the eggs and mix in the butter, oil, vanilla extract, and water. Mix until the dry ingredients are incorporated.
Transfer the batter to the prepared pan and bake at 325 degrees for 22-25 minutes. Cool completely in the pan before cutting.
Notes
For dairy free brownies, use melted vegan butter in place of the regular butter.
I prefer my brownies very soft and on the slightly under-baked side. Cook a little bit longer if you want the center to be a little more done.
Chill the brownies for 30 minutes for cleaner cut slices.
This recipe can be doubled and baked in a 9x13 pan.
These brownies freeze well. Defrost at room temperature before serving.
Recommended Products
As an Amazon Associate and member of other affiliate programs, I earn from qualifying purchases.
Nutrition Information:
Amount Per Serving:
Calories:

132
Total Fat:

13g
Carbohydrates:

4g
Updated Photos from @themindfulhapa Added in 2021
<< click here to pin this recipe >>