Chocolate Macadamia Nut Cookies are a classic made gluten free! This recipe makes a bakery-style cookie that's soft in the middle and crisp along the edges.
click here to pin this recipe >>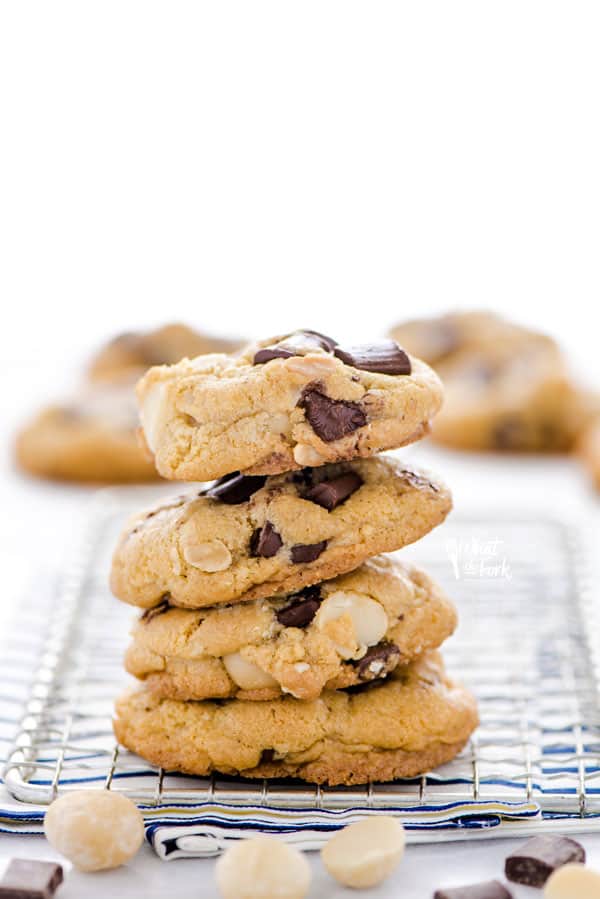 This post contains affiliate links for products and / or ingredients used to make this recipe. As always, thank you for helping to support What The Fork Food Blog ♥
This recipe for gluten free chocolate macadamia nut cookies is one that I've had in my arsenal for several years now. Truthfully, I was saving it to use in a cookbook but seeing as my cookbook is all about quick breads, it would be one of those things from Sesame Street that's "not like the others".
I figured I should probably stop holding onto this recipe and just share it with everyone. There's really no point in keeping something to myself that I know you guys will love. Sharing is caring, right? And that certainly always applies to cookies 🍪
In this recipe rundown below, we're covering all the bases! You'll learn what the key ingredients are in this recipe, equipment needed, tips for making these cookies, and how to store these cookies for optimal freshness.
You'll also learn how to freeze the dough, bake the cookies from frozen dough, and how to refresh your cookies if they've been sitting on the counter for a few days.
I know you guys are absolutely going to love this chocolate macadamia nut cookie recipe. Crisp edges, gooey center, lots of chocolate, macadamia nuts… so much flavor! Enjoy this one, guys!
---
Did you make this recipe? Leave a star rating and let me know in the comments! You can also leave a photo/comment on this pin for others to see.
---
Key Ingredients for Chocolate Macadamia Nut Cookies
Macadamia Nuts – I use raw unsalted macadamia nuts in this recipe. You can get them whole or chopped but I prefer getting whole. I usually chop half of the nuts and then leave the rest whole. I use the brand Aurora, which I can find easily at Stop & Shop. I've also used Diamond brand (halves & pieces) and they were good. If all you can find is dry roasted macadamia nuts, you can use those but make sure they're unsalted.
Chocolate – I use semi-sweet chocolate chunks in this recipe and I love the result. Just sweet enough without being too sweet. If you want White Chocolate Macadamia Nut Cookies, just use white chocolate chips in place of the semi-sweet chocolate. You can also use dark chocolate if you prefer.
Sorghum Flour – I use a little sorghum flour in this recipe to give the cookies a "wheatier" taste. If you don't have sorghum flour, just sub it for a 1/4 cup of the flour blend you're using.
Shortening – this recipe calls for a small amount of shortening to help with the structure of the cookie. The small amount of shortening helps the cookies hold that beautiful shape and the butter gives the cookies that flavor we just can't get enough of. I use Nutiva Organic Shortening, which contains red palm that is sustainably-sourced. Nutiva shortening comes with Fair for Life and Palm Done Right certifications. PS this post is not sponsored by Nutiva, it's just a product that I use and love.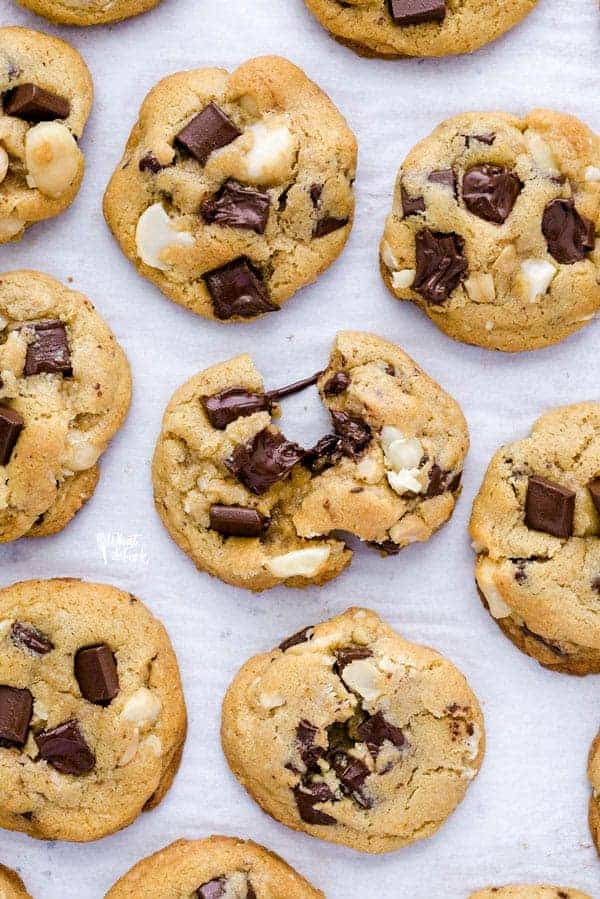 pin this recipe to your Gluten Free Cookies board >>
---
Equipment Needed to Make This Recipe
---
How to Make Gluten Free Chocolate Macadamia Nut Cookies
Step 1. Mix together your dry ingredients and set them aside.
Step 2. Beat together the sugar and butter. Add the egg and vanilla and mix until smooth and creamy.
Step 3. Mix in the dry ingredients and then stir in the chocolate chips and macadamia nuts.
Step 4. Chill the dough!
Step 5. Scoop, shape, bake.
Step 6. Cool cookies on the baking sheet and then dig in!
---
Tips for Making Chocolate Macadamia Nut Cookies
Don't skip the chilling time for the dough. Chilling cookie dough helps the flavors meld together. Brown sugar based doughs really benefit from the chilling time because it gives them a deeper, richer, and more "omg that's good" taste.
Let the cookies cool on the baking sheet for 5-10 minutes when they come out of the oven. They need that time to help firm up. If you try and move them too soon, they'll fall apart on you. Be patient because it'll definitely pay off in the end!
Don't crowd the oven. I bake 6 cookies at a time on a single cookie sheet and I bake them on the middle rack. While the first batch is cooling, I bake the second batch. Then when the 2nd batch comes out of the oven, the 1st batch is ready to be moved from the cookie sheet to a cooling rack.
---
How to Freeze the Cookie Dough
Once your cookie dough has chilled in the fridge for 24 hours (for optimal flavor!), you can form your cookie dough balls. Scoop each cookie with a large cookie scoop, roll into a ball, then flatten slightly. Place the formed cookies on a wax paper or silicone baking mat lined baking sheet and freeze until solid.
Once the cookie dough balls are frozen solid, they can be transferred to a freezer bag. Keep the dough frozen until ready to bake and the cookie dough can be baked from frozen. They'll just need a few extra minutes in the oven.
---
How to Store Macadamia Nut Cookies
The baked cookies should be stored in an air-tight container at room temperature up to 3 days. For optimal freshness, freeze any baked cookies that will not be eaten the same day they're baked. Defrost at room temperature before eating.
You can also heat the cookies in the microwave for 5-10 seconds to restore freshness and melt the chocolate a bit for that fresh out of the oven taste.
---
Other Gluten Free Cookies To Try
---
Be sure to follow me on instagram and hashtag #whattheforkfoodblog or tag @whattheforkfoodblog – I love seeing what you make!
If you love this recipe for Macadamia Nut Cookies, be sure to follow me on social media so you never miss a post:
---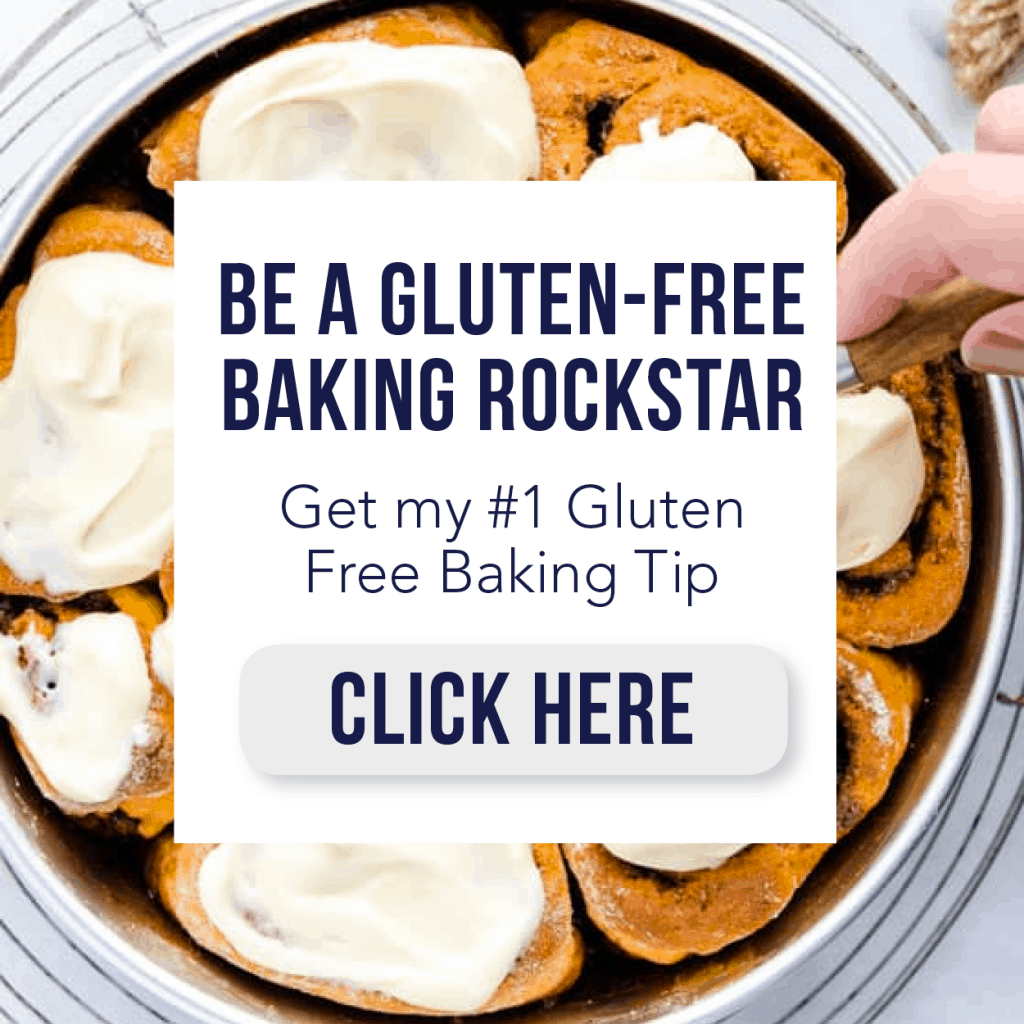 Gluten Free Chocolate Macadamia Nut Cookies
Total Time:
1 days
29 minutes
Chocolate Macadamia Nut Cookies are a classic made gluten free! This recipe makes a bakery-style cookie that's soft in the middle and crisp along the edges.
Ingredients
3/4 teaspoon xanthan gum
1/2 teaspoon baking soda
1/4 teaspoon baking powder
1/2 teaspoon fine sea salt
1/2 cup unsalted butter, melted
3/4 cup light brown sugar
1/2 cup granulated sugar
2 large eggs
1 1/2 teaspoons pure vanilla extract
1 cup semi-sweet chocolate chunks (or chocolate chips of your choice)
Instructions
Whisk together the gluten free flour blend, sorghum flour, xanthan gum, baking soda, baking powder, and salt in a medium bowl then set aside.
Add the melted butter, shortening, brown sugar, and granulated sugar to the bowl of a stand mixer fitted with the paddle attachment. Beat together until smooth. Then add the eggs and vanilla extract and mix until smooth and creamy.
Add the flour mixture to the wet ingredients. Mix on low until the flour is completely incorporated, scrape down the bowl as needed.
Mix in the chocolate chunks and macadamia nuts until incorporated evenly through-out the dough. Form the dough into one large ball then cover the bowl with plastic wrap and refrigerate 24 hours.
Preheat oven to 350 degrees. Line a baking sheet with parchment paper or a silicone baking mat.
Use a large cookie scoop (3 Tablespoons) to scoop the dough. Roll into balls then slightly press the top to flatten a bit. Bake 6 cookies at a time on the center rack for 14 minutes (longer for a crisper cookie).
Once done, let the cookies cool on the baking sheet for 10 minutes before moving to a cooling rack.
Bake the remaining cookies in batches, keep the dough chilled while waiting to bake it.
Store in an air-tight container up to 3 days.
Notes
I use my Nightshade-Free Gluten Free Flour Blend in this recipe. 2 cups of my blend weighs 265 grams.
Read the post for for information on freezing the dough, baking frozen dough, and freezing baked cookies.
Recommended Products
As an Amazon Associate and member of other affiliate programs, I earn from qualifying purchases.
Nutrition Information:
Yield:

18
Serving Size:

1
Amount Per Serving:
Calories:

299
Total Fat:

18g
Saturated Fat:

8g
Trans Fat:

0g
Unsaturated Fat:

9g
Cholesterol:

36mg
Sodium:

113mg
Carbohydrates:

34g
Fiber:

2g
Sugar:

20g
Protein:

3g
Nutrition Facts are estimated and aren't always accurate. Please consult a doctor or nutritionist if you have special dietary needs.
Did you make this recipe for gluten free macadamia cookies? Leave a star rating and let me know in the comments! You can also leave a photo/comment on this pin for others to see.
This post contains affiliate links for products and / or ingredients used to make this recipe. As always, thank you for helping to support What The Fork Food Blog ♥