These delicious, chewy Gluten Free Chocolate Chip Cookies are so rich, soft and sweet. They are perfectly gooey on the inside. Dairy-free option as well!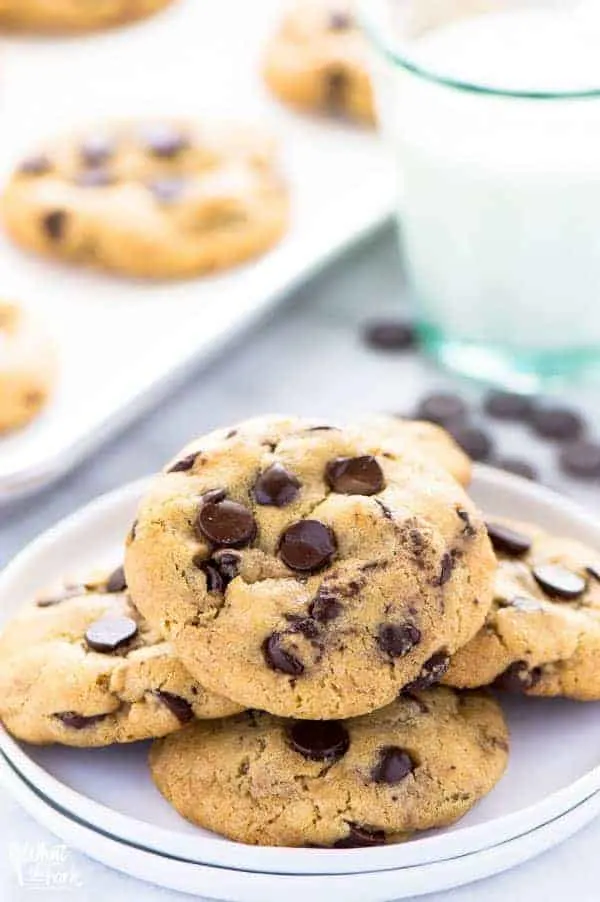 This post is sponsored by DAGOBA Chocolate. As always, opinions are 100% my own. Thank you for supporting brands that support What The Fork Food Blog ♥
The Best Gluten Free Chocolate Chip Cookies
I'm going to start right off the bat with this proclamation: These are the most delicious, bakery style gluten free chocolate chip cookies out there. I know- it is a pretty big claim. And it's totally worth this proclamation because these really are!
I'm so proud of these bakery style cookies! Someone who isn't gluten-free would have a difficult time telling that they are indeed GF.
I promise you, you will love these just as much, if not MORE. If you love gluten-free baking, then this delicious recipe is just for you! My husband agrees, even though he's known for loving cookies with both chocolate and peanut butter!
Why is this the best gluten free chocolate chip cookies recipe?
Since these are considered bakery-style, they are pretty big in size. Also, they are soft and chewy, slightly golden brown on the edges-with a gooey center full of chocolate flavor that will keep you coming back for more!
These cookies were a lot of work. Not literally to make the cookies, but creating the recipe. It took me a lot of time and I went through a lot of ingredients to get here. Blood, sweat, and tears my friends!
Does the dough need to be chilled ahead of time?
You NEED to chill the gluten free cookie dough for at least 8 hours. 24 hours or up to 48 hours is best. Yes, you read that correctly. LONGER IS BETTER. It really helps to develop the flavors.
Do not skimp on quality ingredients. I repeat, DO NOT skimp on the quality of your ingredients here. Grass-fed butter over a store-brand, use pure vanilla extract, and use a high-quality chocolate like Dagoba.
ALL the ingredients need to be room temperature, including the melted butter. Yes, even though the dough will chill, bring that egg to room temperature. It will mix better.
The middle of these cookies will look under-baked when you take them out. Trust me – take them out! They will finish cooking through as they cool on the pan. If you keep baking them until the center looks done, they will be over-cooked.
Freeze leftover cookies to maintain their freshness if not eaten within a day.
See recipe notes for freezing the raw cookie dough.
Make sure your oven is proper temperature. Bake time may vary depending on your oven and if it's calibrated correctly!
PS- don't forget the baking soda and salt. This recipe calls for baking powder as well!
---
Key Ingredients you will need
All-purpose gluten free flour blend (omit xanthan gum if using Bob's Red Mill 1:1)
Vanilla extract
1 large egg, room temperature
DAGOBA Chocodrops (Chocolate chips)
xanthan gum
baking soda
baking powder
fine sea salt
butter melted
light brown sugar
granulated sugar
1 large egg room temperature
pure vanilla extract
---
Recommended Kitchen Equipment Needed

---
How to make Gluten Free Chocolate Chip Cookies (step by step process shots)
Step 1. Combine the dry ingredients into a large bowl and stir together.
Step 2. In another large bowl, add the wet ingredients and whisk together until combined.
Step 3. Add the remaining wet ingredients (egg and vanilla extract) and stir to combine.
Step 4. Pour the dry ingredients into the wet ingredients.
Step 5. Use a mixer fitted with the paddle attachment until fully combined.
Step 6. Add the chocolate chips.
Step 7. Stir until the chocolate chips are incorporated into the dough. Cover and let chill for at least 8 hours.
Step 8. After dough has chilled, scoop the dough out onto a prepared baking sheet (lined with parchment paper or non-stick spray).
Step 9. Slightly flatten the top of the cookie dough. Bake for 14 minutes at 350 degrees.
Step 10. Cool the baked cookies on the baking sheet before removing.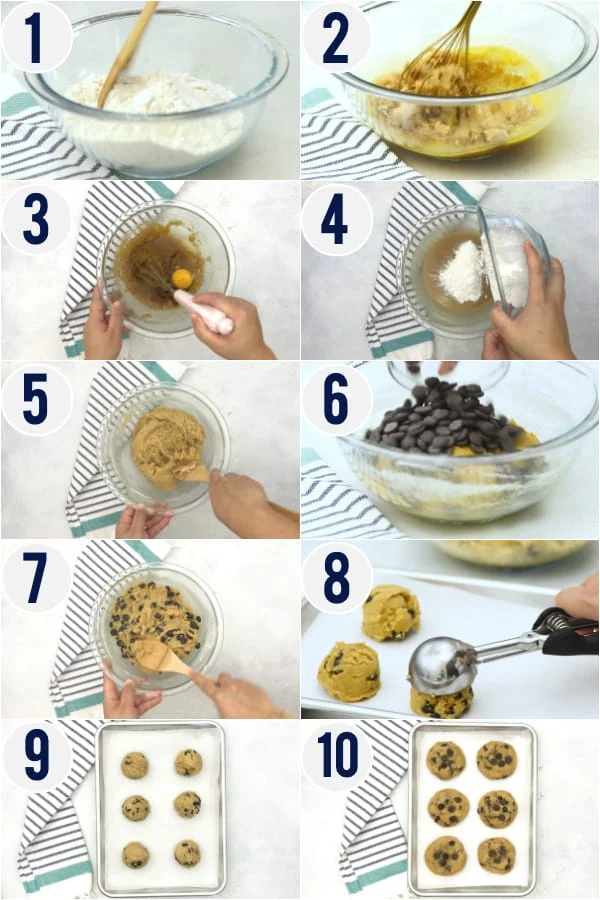 Mix in ideas
Want to make your easy bakery-style cookies a little more fun? Try these different mix ins!
Sprinkles
Reeses pieces
M&Ms
Macadamia nuts
Pecans
Walnuts
If you love macadamia nuts, you should try my gluten-free chocolate macadamia nut cookies! You won't regret it. Promise 🙂
What kind of gluten free flour blend is best?
I have a few recommendations that I mentioned previously.
Try my all purpose gluten free flour blend. It's very easy to make and you can store it for months in an air-tight container. Make sure that if you use this blend for my recipe (it's in the recipe card), add xanthan gum!
How do I make these gluten free chocolate chip cookies dairy-free?
There are only a couple of substitutions that you need to make! First, I recommend using Enjoy Life chocolate morsels or Enjoy Life chocolate chunks. These are both dairy-free, nut-free and vegan! Also, in place of butter, use Miyoko's European Style Cultured Vegan Butter.
Important Note: Bob's Red Mill, King Arthur, and Cup4Cup already have xanthan gum added.
Practice makes perfect gluten free chocolate chip cookies!
Minus the blood, obviously, because that would be disgusting. But yes to the sweat because I'm the smart little cookie (pun totally intended) who decides to start testing cookie recipe after cookie recipe when it's 90+ degrees outside.
Anyways, and tears because recipe testing is no joke. I mean, just look at the ingredients and multiply that by at least 15. That's an insane amount of gluten free flour, butter, eggs, vanilla, and chocolate to go through. And by insane amount, I definitely mean A LOT!
And yes, I did test this recipe at least 15 times because it took tweak after tweak to arrive at this insanely delicious, and dare I say it, PERFECT result.
But I did it for you, my friends, because a really great recipe for bakery style gluten free chocolate chip cookies is exactly what everybody needs. So you're welcome (sang in the Maui voice from Moana, of course).
Properly storing and freezing directions
To store: Place the cookies in an air-tight container stored at room temperature for no more than 3 days.
To freeze: You have a couple of options here! First, you can store cookies that you've already baked in a freezer bag or air tight container in the freezer and pull them out to thaw or even warm up when you're ready.
Another option is to make the dough, roll them out, and place in a gallon-sized freezer bag or container. Then, when you are ready to bake, you can place them on a cookie sheet and bake directly from the freezer. You'll typically have to bake the cookies for an additional two minutes. It may vary depending on your oven so keep checking on them!
Measuring your gluten free flour
I highly recommend you follow and sign up for this free guide on how to properly measure your flour. It's so important to do it properly. It will make this recipe and all of your other recipes that you bake much more likely to come out properly. Consistency is key!
Delicious, chewy gluten free chocolate chip cookies
I sacrificed so you don't have to because mediocre chocolate chip cookies are not worth it. When you're using good ingredients, you expect good results every time.
So let's talk a little bit about the trials and tribulations. I've tried making these without refrigerating the dough. While you can make them, they won't be the same. The dough will spread and you'll end up with crispy/chewy cookies. Tasty, but not what I'm after.
Also, as I mentioned above, using good ingredients is KEY. I know, it's a little too Ina Garten to say "good vanilla extract" but it's absolutely true in this recipe if you really want your cookies to be the best ever.
Since these are chocolate chip cookies, chocolate is the single most important ingredient here. You really want to use a good quality chocolate – it will completely impact the way your cookies taste
More delicious Gluten Free cookies to try
Watch the video below (right above the recipe) to see how easy it is to make these bakery style gluten free chocolate chip cookies. You can also watch this video on Facebook where you can easily share it.
be sure to follow me on instagram and hashtag #whattheforkfoodblog or tag @whattheforkfoodblog – i love seeing what you make!
if you love this recipe for gluten free chocolate chip cookies, be sure to follow me on social media so you never miss a post:
---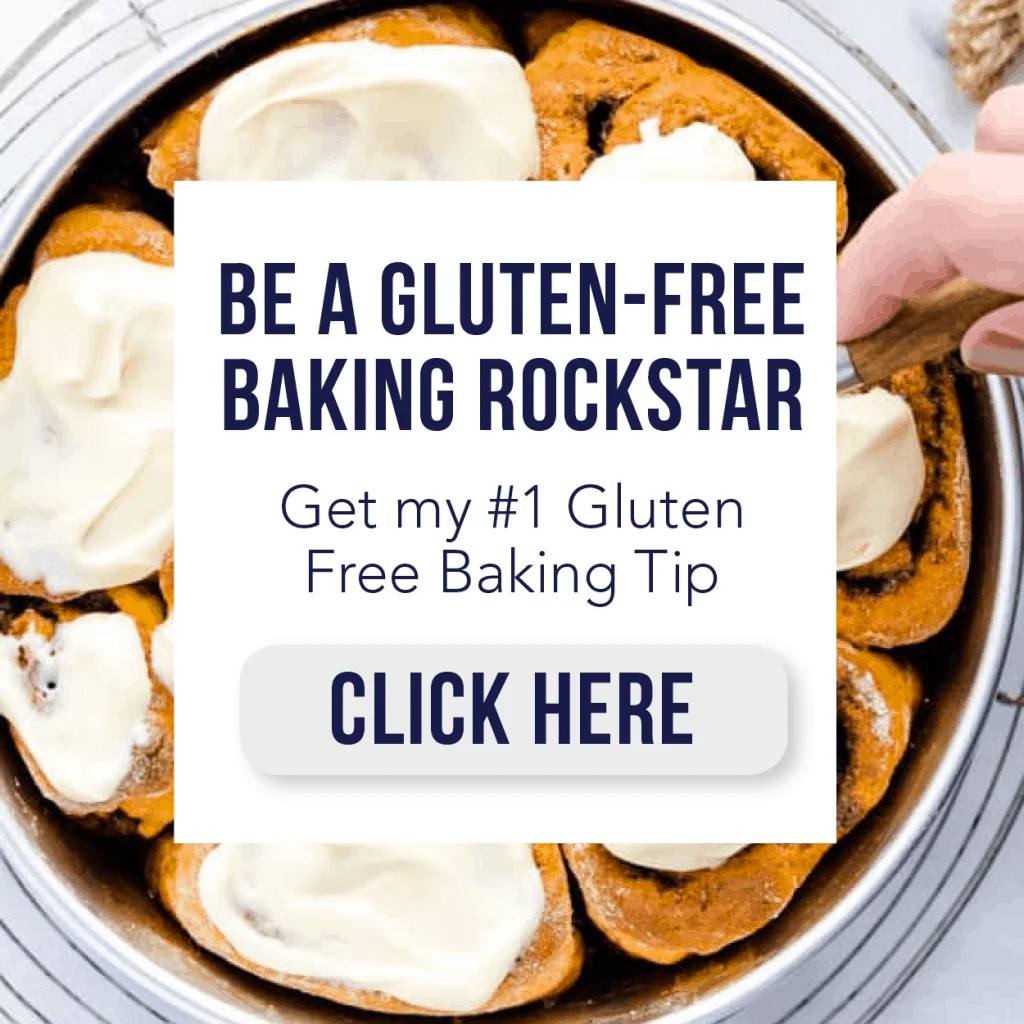 Gluten Free Bakery Style Chocolate Chip Cookies
These delicious Bakery Style Gluten Free Chocolate Chip Cookies are so chewy, soft and sweet. Dairy-free option as well!
Print
Rate
Pin
Ingredients
2

cups

all-purpose gluten free flour

see note 1

3/4

teaspoon

xanthan gum

1/2

teaspoon

baking soda

1/4

teaspoon

baking powder

1/2

teaspoon

fine sea salt

1/2

cup

butter

melted (see note 2)

3/4

cup

light brown sugar

1/4

cup

granulated sugar

1

large egg

room temperature

1 1/2

teaspoons

pure vanilla extract

1

cup

6 oz. DAGOBA Chocodrops
Instructions
In a medium bowl, whisk together the gluten free flour, xanthan gum, baking soda, baking powder, and salt until combined. Set aside.

Add the butter, brown sugar, and granulated sugar to the bowl of a stand mixer. Mix on medium-low speed until combined. Scrape down the bowl and add the egg and vanilla extract and mix well.

Pour in the flour and mix on low speed until completely combined. Turn off the mixer and add the chocolate chips, stirring them in by hand. Form the dough into one large ball in the bottom of the bowl then cover the bowl with plastic wrap and chill for at least 8 hours (24-48 hours is best).

After the dough has chilled, preheat oven to 350 degrees and line 2 baking sheets with parchment paper or silicon mats. Let the dough sit out at room temperature while the oven is preheating.

Once the oven has preheated, scoop the dough out and form into 16 even-sized balls of cookie dough.

Place 8 cookies per baking sheet (bake in 2 batches) and flatten very slightly on the top. Keep the 2nd half of the dough balls refrigerated while the first batch bakes.

Bake for 14 minutes on the center rack. Cool the baked cookies on the baking sheet. Do not over bake.

Store leftover cookies in an airtight container for up to 24 hours. After that, freeze leftover cookies to preserve optimal taste and texture.

See notes for freezing the raw cookie dough.
Notes
I use my Gluten Free Nightshade-Free Flour Mix in this recipe.
For best results, use a high quality butter such as grass-fed butter, organic butter, or European style butter.
To freeze the raw cookie dough, chill for 24 hours before scooping into dough balls. Once the dough has chilled, scoop in to balls, place on a parchment lined baking sheet and flatten slightly. Then freeze solid before transferring to a freezer bag for storing.
This recipe can be doubled.
For flatter cookies like pictured, be sure to flatten the dough balls a little bit (like a puck). If you choose to bake rounded dough balls, cookies will be taller/puffier but will still taste equally delicious!
Nutrition Information
Serving:
1
g
|
Calories:
154
kcal
|
Carbohydrates:
24
g
|
Protein:
2
g
|
Fat:
6
g
|
Saturated Fat:
4
g
|
Polyunsaturated Fat:
0.3
g
|
Monounsaturated Fat:
2
g
|
Trans Fat:
0.2
g
|
Cholesterol:
15
mg
|
Sodium:
166
mg
|
Potassium:
17
mg
|
Fiber:
2
g
|
Sugar:
14
g
|
Vitamin A:
177
IU
|
Calcium:
24
mg
|
Iron:
1
mg
Disclaimers
As an Amazon Associate and member of other affiliate programs, I earn from qualifying purchases.
Nutrition Facts are estimated and aren't always accurate. Please consult a doctor or nutritionist if you have special dietary needs.