Read these baking tips to find out what the best apples for baking are. It'll make all the difference when baking apple pie, apple crisp, apple muffins, and apple cake!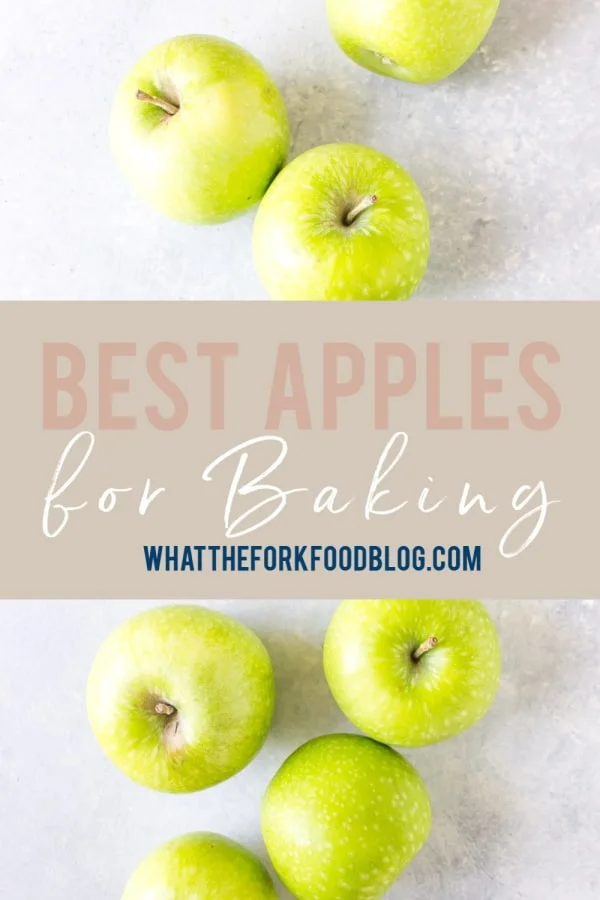 Best Apples for Baking
Whether you're in the midst of apple season and just picked a bunch of apples at the orchard or you're craving apple pie in the middle of Spring, you need to know which apples are going to be the best for baking and which apples won't hold up in the oven.
I did quite a bit of research on this topic because I want to make sure you and I both bake the best baked goods with apples as the star ingredient. I've shared a synopsis of some of the top sources below and I've also included an easy to follow list of apples (with apples from additional sources) for quick reading.
Here we go 🍏🍎👇
According to New England Today, the best apples for baking are firm-tart apples, and firm-sweet apples. Firm-tart apples are apples like Granny Smith, Esopus Spitzenburg, Northern Spy, Ida Red, and Pink Pearl. Firm-sweet apples are Ginger Gold, Golden Delicious, Jazz, Jonagold, and Pink Lady.
Bon Appetit says the best apples for baking are Jonagold, Honeycrisp, Braeburn, Mutsu, Winesap, Pink Lady (Cripps Pink) but they also use Granny Smith often. They've listed several apples that have already been mentioned that are crisp and either sweet or tart.
The Kitchen prefers Granny Smith, Jonathan or Jonagold, Cortland, Braeburn, and Honeycrisp. Again, all the apples they've chosen are crisp and either sweet or tart.
Cook's Illustrated said their preferred baking apples are Golden Delicious, Braeburn, Jonagold, Granny Smith, Empire, and Cortland.
With so many options, how do you choose what apples are good for baking?
Consensus is that there is one major factor in picking good baking apples – they need to be crisp. You can use tart apples, sweet apples, or a combination of tart and sweet as long as they're crisp.
This rule of thumb is a great one to follow whether you're looking for the best apples for baking pie, apple crisp, apple cake, apple muffins, apple bread, or any recipe that calls for apples as an ingredient in baked goods.
The best apples for baking are apples that hold their shape and don't get mushy when baked or cooked. It's important to choose apples that keep their structure, which is what you'll get when you start with crisp apples.
I happen to love the combination of firm-tart apples and firm-sweet apples. I used that very combination, using Granny Smith Apples and Golden Delicious Apples, in my Gluten Free Apple Pie Bars. They hold their shape beautifully when baked and stay firm once cut into bars.
See my complete list of Firm-Tart Apples and Firm-Sweet Apples below. Use this list to help you pick a combination of apples that are available to you when baking!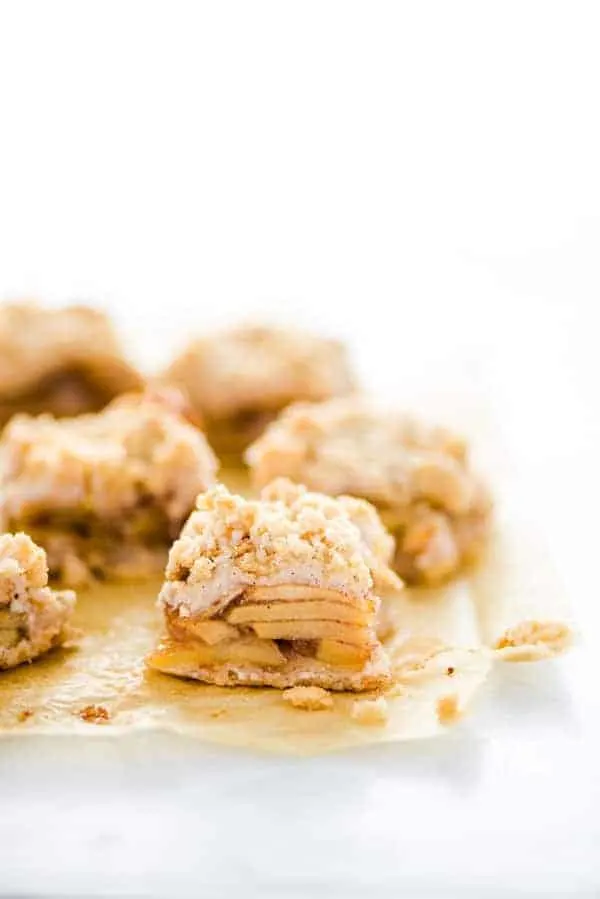 Did you like this baking tip? Let me know in the comments! You can also pin this post for others to see.
---
Crisp Sweet Apples for Baking
Honeycrisp – our all time favorite apple for eating. It's actually THE ONLY kind of apple my youngest will eat. Ever. 🙄
Ginger Gold
Golden Delicious
Jazz
Jonagold
Jonathans – These apples are grown in the Midwest and are a combination of Jonagolds and Golden Delicious. They're firm with a sweet-tart taste.
Fuji – Fuji apples are very large! They're nice and crisp and sweeter than Honeycrisp. Fun fact, Fuji apples used to be one of my favorites for the sole reason that they were enormous.
Gala
Pink Lady
Braeburn
Mutsu/Crispin
---
Crisp Tart Apples for Baking
Granny Smith Apples
Esopus Spitzenburg (an heirloom variety)
Northern Spy
Ida Red
Pink Pearl
Melrose
Cortland
Empire
Rhode Island Greening
Rome Beauty
Melrose – This breed of apple is grown in Ohio. They're a cross between Red Delicious and Jonathans and are a firm-tart apple.
---
Can I Bake with Macintosh Apples?
A reader recently told me that they prefer baking with Macintosh Apples even though they know that goes against most advice. They prefer the soft, mush texture that Macintosh Apples produce in baked goods.
While I highly recommend following the advice of using crisp apples when baking, if you truly prefer the flavor and texture of Macintosh Apples, go for it! Just know, Macintosh Apples do not hold their shape when baked.
This advice goes for baking with other soft apples too.
---
Gluten Free Apple Recipes to Try
---
Be sure to follow me on Instagram and hashtag #whattheforkfoodblog or tag @whattheforkfoodblog – I love seeing what you make!
If you love this recipe for gluten free peach shortcake, follow me on social media so you never miss a post:
---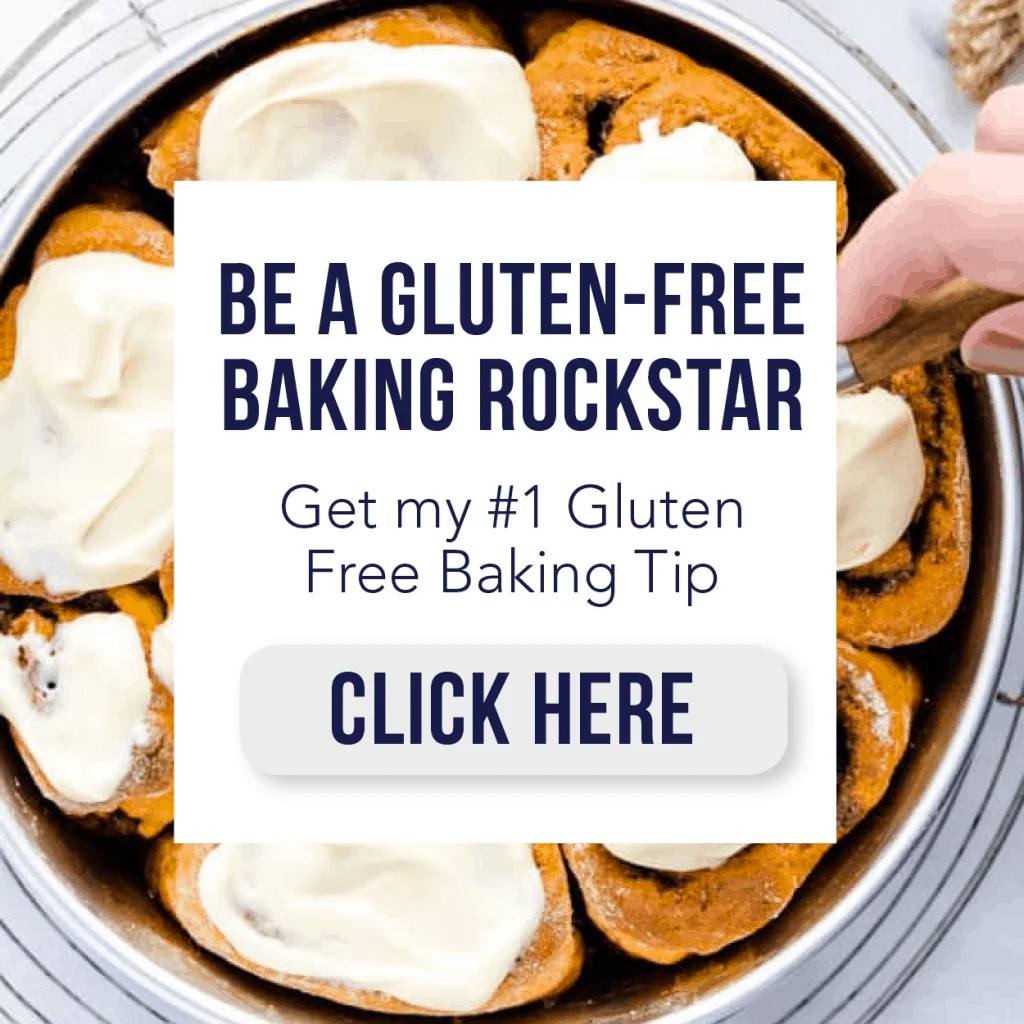 Did you like this baking tip? Let me know in the comments! You can also pin this post for others to see.