These gluten-free cinnamon swirl muffins are full of flavor and have the perfect amount of cinnamon to make for a quick and easy breakfast!
Gluten Free Cinnamon Swirl Muffins
Cinnamon swirl bread is one of my fav quick breakfasts but I just wasn't in a quick bread mood. I was feeling muffins but I still wanted the cinnamon swirl bread taste. So… Gluten Free Cinnamon Swirl Muffins. YUM.
There's just something so wonderful about cinnamon. It's such a complex flavor. Is it sweet? Spicy? What is it? It makes me feel all warm and cozy and it just tastes and smells so… perfect. That's really all I can say, it's the perfect spice. And aside from vanilla, it's my favorite.
In my opinion, muffins are one of the best quick breakfasts you can make. You can make a regular batch or double them depending on how many muffins you want.
Since Adam eats 2 or 3 muffins at a time, I often make a double batch. You can also freeze these Cinnamon Swirl Muffins really easily. Just stick 'em in a freezer bag and defrost them as needed. I also recommend toasting them up with a little butter – SO.GOOD.
These Cinnamon Swirl Muffins do not disappoint. They're sweet but not too sweet and they've got the perfect amount of cinnamon. And another bonus – the cinnamon makes your house smell amazing when you're baking these little beauties. They make a pretty spectacular breakfast any day of the week. Enjoy!

Be sure to follow me on Instagram and hashtag #whattheforkfoodblog or tag @whattheforkfoodblog – I love seeing what you make!
If you love this cinnamon swirl muffins recipe, be sure to follow me on social media so you never miss a post:
---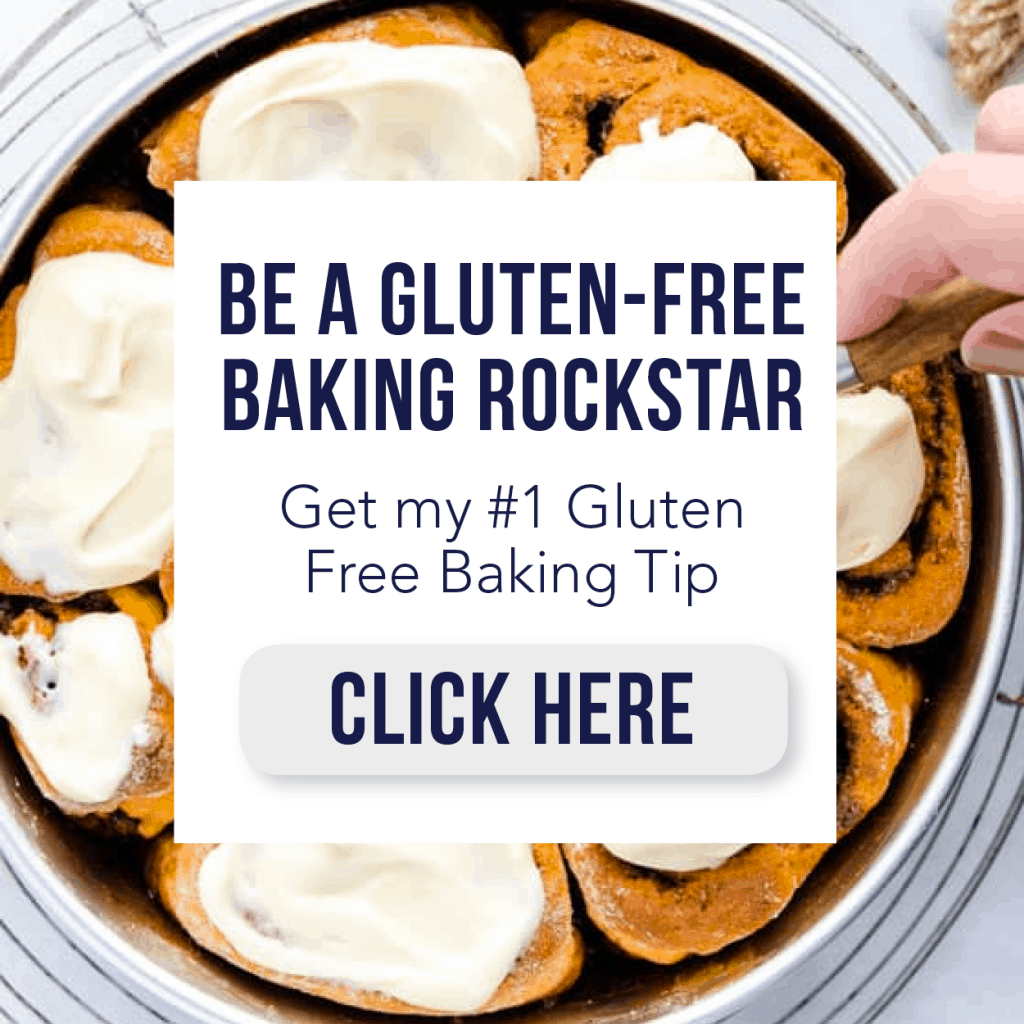 Cinnamon Swirl Muffins
These gluten free cinnamon swirl muffins are packed full of flavor! As a bonus, they freeze very well and are especially good toasted with a little bit of butter!
Ingredients
2 C. gluten-free all-purpose flour
1 1/2 tsp xantham gum
1 Tbsp baking powder
1/2 tsp fine sea salt
3/4 C granulated sugar
2 eggs, room temperature
1 C milk, room temperature
1/4 C canola oil
1 1/2 tsp vanilla extract
3 Tbsp brown sugar
1 Tbsp cinnamon
Instructions
Pre-heat oven to 400 degrees and spray a 12 cup muffin tin with non-stick cooking spray.
In a large bowl, sift together flour, xantham gum, baking powder, salt and sugar and set aside.
In a small bowl, mix brown sugar and cinnamon together and set aside.
Mix milk, eggs, canola oil and vanilla in a large measuring cup or a bowl.
Add wet ingredients to the dry ingredients and mix until just combined.
Fill each muffin cup 1/3 to 1/2 way full with batter. Top the batter with half of the brown sugar/cinnamon mixture.
Add the rest of the of the batter to the muffin cups and top with the remaining brown sugar/cinnamon.
Use a toothpick to lightly swirl through each muffin.
Bake at 400 for 15 minutes or until a tester comes out clean.
Notes
These muffins freeze very well and are especially good toasted with a little bit of butter! When following a gluten-free diet, please be sure to use gluten-free ingredients.
Don't forget to sign-up for email updates so you can get these awesome recipes delivered straight to your inbox!