This homemade BBQ sauce is exactly what the title of the post says it is. It is, hands down, the best homemade BBQ sauce you'll ever have. It's sweet, tangy and has a little tiny kick.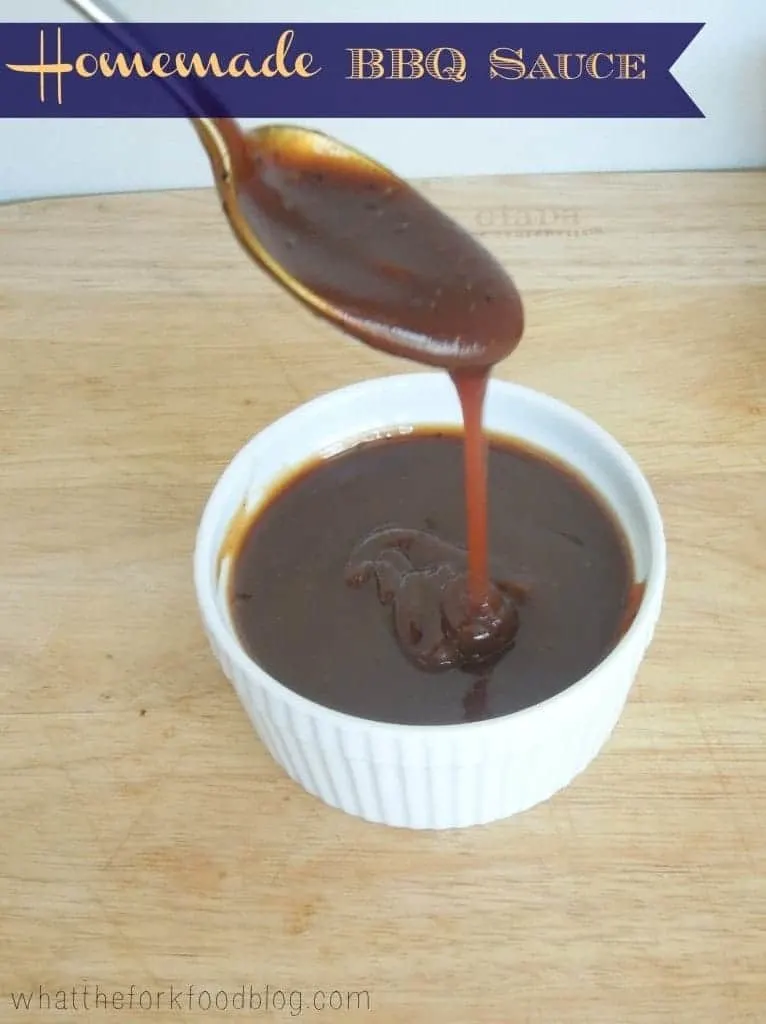 Homemade BBQ Sauce
I give this homemade bbq sauce an A+++++++ (And that just brought me right back to 5th grade, ha!) But seriously, if you love Sweet Baby Rays BBQ sauce, this is a must try. I found this Sweet Baby Ray's copycat recipe from Half Baked Harvest on Pinterest and knew I had to try it.
We recently switched to homemade bbq sauce because, why not? For starters, its soooo easy to make. It's so easy that you almost can't even call it cooking and the results speak for themselves. It's way better than anything you'll get in a store. And take a look at these spices: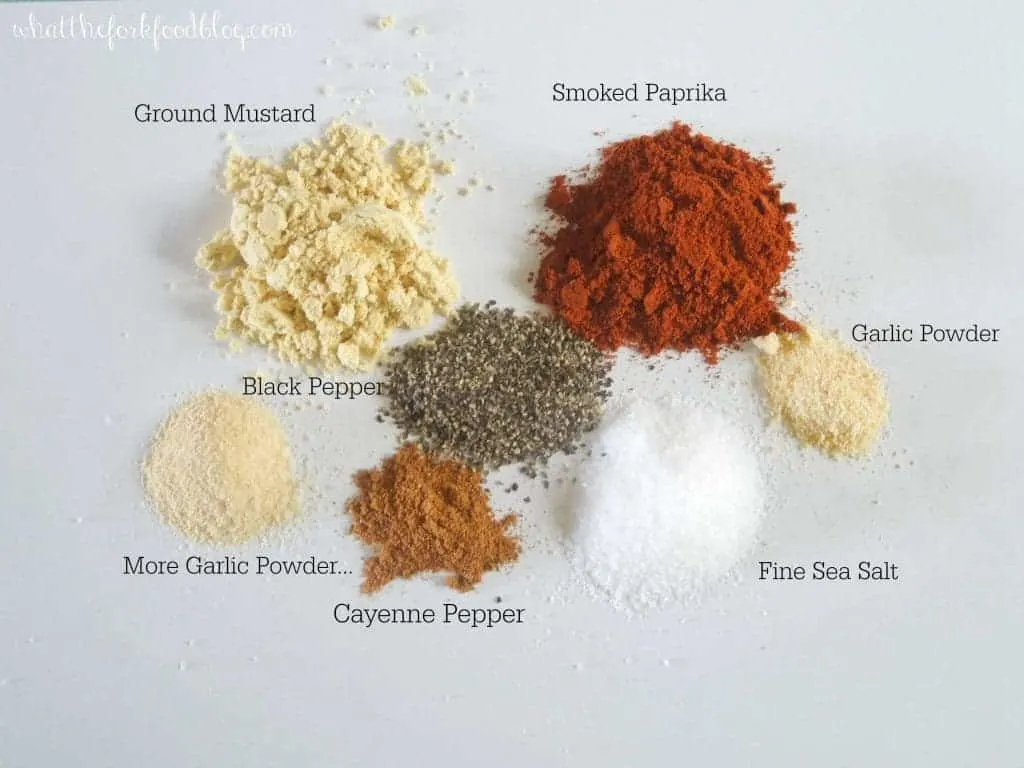 Hello pretty little spice palate! Plus anything that starts with garlic and salt is meant to be delish. Am I right?!And the smoked paprika, oh that smoked paprika! The color is gorgeous but the taste? Phenom. Smoked paprika is such a wonderful little spice. The smokiness that it lends to the bbq sauce is essential to making the flavor explode. If you don't have smoked paprika, get it! There's no substitution for it… unless, I guess, you use liquid smoke.
But there's something about liquid smoke that creeps me out. It is the most unnatural sounding thing in the whole world. It's an oxymoron. Liquid smoke? No thank you, I am not eating that. Anyways… use the smoked paprika!
By the way, I must have had a total mom brain moment when putting together my spices. I'm really not sure why a put the garlic in two different piles. Oh well… There's nothing like going back to edit your photos and wondering wtf I was thinking.
I like to mix my spices together before adding to the rest of the ingredients in the pot. This way I can make sure I get all the little clumps out. I find that dried spices like the paprika and mustard sometimes form little clumps. I really want my spices incorporated into the wet bbq sauce base really well so nobody wants a clump of spices in their sauce.
I apologize for overusing the word clump. There was just no way around it.
Since barbecue sauce is really an individual taste type of thing, taste your sauce often while its cooking to check for seasoning. You can add more sugar, vinegar or cayenne pepper to suit your taste buds. But don't do what I did and eat a Reese's peanut butter cookie cup right before you taste the sauce.
After you add the cornstarch, taste it again and check the consistency. Again, add ingredients to taste or more cornstarch/water for a thicker sauce. If it's too thick, add a little water. That's all there is to it and now you know how to make homemade bbq sauce! Also, don't be like me and eat a handful of trail mix before tasting. Oops… #thetoddlermademedoit
And did I mention I made this sauce right before lunch?
This homemade bbq sauce recipe is just hands down excellent. Put it on anything your little heart desires. It's good on anything and everything, even strawberries. That was only discovered because, again, #thetoddlermademedoit. She was upset her strawberry got in her bbq sauce (for dipping her nuggets) and gave it to me.
Then demanded I eat it. Since parenting a toddler often involves picking your battles, I ate said strawberry. I was pleasantly surprised because it was actually good. Thank god…Now go make this easy homemade barbecue sauce! Try it with my BBQ shortribs or BBQ chicken potato skins too! Thank you, Half Baked Harvest, for sharing this Sweet Baby Ray's copycat recipe! You totally #nailedit
be sure to follow me on instagram and hashtag #whattheforkfoodblog or tag @whattheforkfoodblog – i love seeing what you make!
if you love this recipe for homemade bbq sauce, be sure to follow me on social media so you never miss a post:
---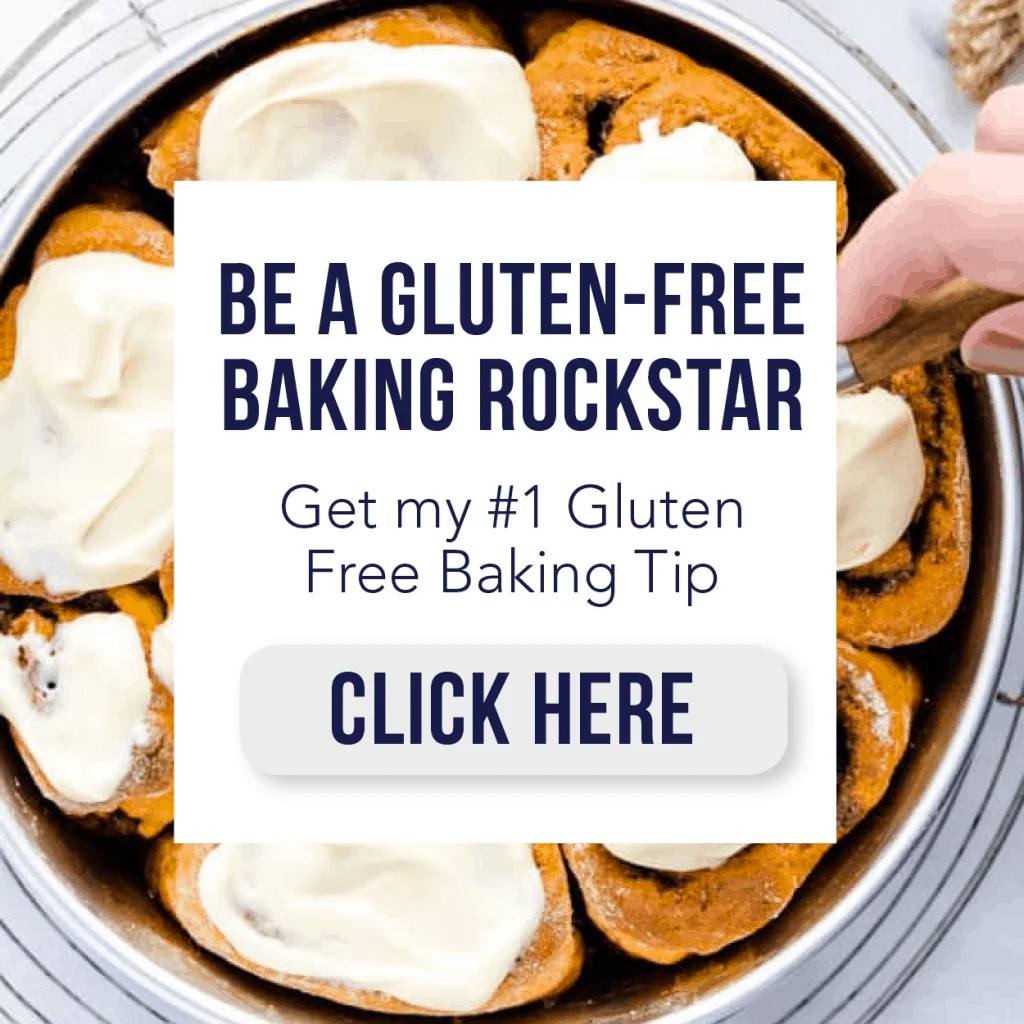 The Best Homemade BBQ Sauce You'll Ever Have
This homemade BBQ sauce is exactly what the title of the post says it is. It is, hands down, the best homemade BBQ sauce you'll ever have. It's sweet, tangy and has a little tiny kick.
Print
Rate
Pin
Ingredients
1 1/4

C

ketchup*

1

C

brown sugar

1/4

C

molasses

1/4

C

apple cider vinegar

1/4

C

plus 2 Tbsp water

1

Tbsp

worcestershire sauce

2 1/2

tsp

ground mustard

2

tsp

garlic powder

2

tsp

smoked paprika

1 1/2

tsp

fine sea salt

1/4

tsp

cayenne pepper

1

tsp

black pepper

2

Tbsp

cornstarch
Instructions
In a small bowl, mix together mustard, garlic powder, smoked paprika, salt, cayenne pepper and black pepper. Press out any clumps.

In a medium pot, whisk together ketchup, brown sugar, molasses, worcestershire, vinegar, and 1/4 C water over medium heat.

Whisk in spices and bring to a low boil. Taste for seasoning and add more vinegar or sugar to taste if necessary. Continue to simmer for about 5 minutes.

In a separate bowl, combine cornstarch and 2 Tbsp water. Mix until cornstarch dissolves and whisk into the bbq sauce until thick. Be sure to whisk as you're pouring the cornstarch mixture in to avoid any clumping.

Taste again for seasoning, add if necessary. Store in an airtight container in the refrigerator.
Notes
* I use Simply Heinz or Heinz Organic Ketchup
Nutrition Information
Serving:
1
g
|
Calories:
154
kcal
|
Carbohydrates:
38
g
|
Protein:
0.4
g
|
Fat:
0.3
g
|
Saturated Fat:
0.03
g
|
Polyunsaturated Fat:
0.1
g
|
Monounsaturated Fat:
0.2
g
|
Sodium:
477
mg
|
Potassium:
242
mg
|
Fiber:
0.4
g
|
Sugar:
35
g
|
Vitamin A:
276
IU
|
Vitamin C:
0.4
mg
|
Calcium:
52
mg
|
Iron:
1
mg
Disclaimers
As an Amazon Associate and member of other affiliate programs, I earn from qualifying purchases.
Nutrition Facts are estimated and aren't always accurate. Please consult a doctor or nutritionist if you have special dietary needs.