Soft sugar cookie bars frosted with vanilla buttercream and covered in Halloween colored sprinkles. They're sweet, soft and make the perfect treat.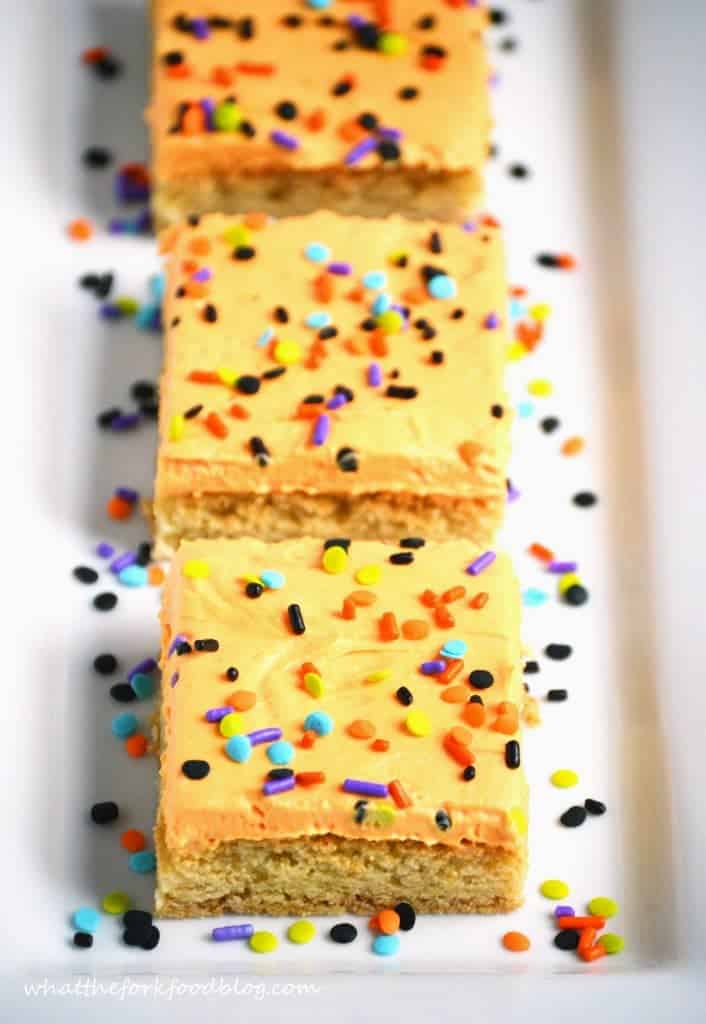 Soft frosted sugar cookies are a beautiful thing. They're usually iced and covered in cute, bright and festive sprinkles. Another beautiful thing? Soft frosted sugar cookie bars. The difference? They're a lot less work than making cookies! And less work is truly a beautiful thing. It also doesn't hurt that these sugar cookie bars are coated in my all time favorite vanilla buttercream and decked out in cutesie Halloween colored sprinkles.
Now here's the thing about the sprinkles. There are lots of sprinkles that are not gluten-free because of cross contamination. BUT I scoured the internet looking for gluten-free sprinkles. So much of the information seemed conflicting so I decided to just go right to the source. I had already bought the Cake Mate Halloween Mix sprinkles and I didn't want them to go to waste. I shot Cake Mate a quick email asking what the gluten-free status on their sprinkles was and they quickly got back to me and said:
"Our Cake Mate Halloween themed sprinkles and decorating sugars are gluten-free and processed in a facility that does not process wheat products.  We always recommend you read your labels and Cake Mate will list the ingredients and whether it is made on machinery that also produces wheat."
So that's great news! Bring on the sprinkles! But I guarantee once you sink your teeth into these sugar cookie bars you won't care whether there are sprinkles or not. These bar cookies are so soft, the flavor is unbelievable and the frosting is so smooth, velvety and absolutely perfect. The Halloween sprinkles add a festive look but it's the taste of the sugar cookie bars that will win you over. Plus sugar cookie bars are way easier than making individual cookies! Enjoy!
Frosted Sugar Cookie Bars - Perfect for Halloween!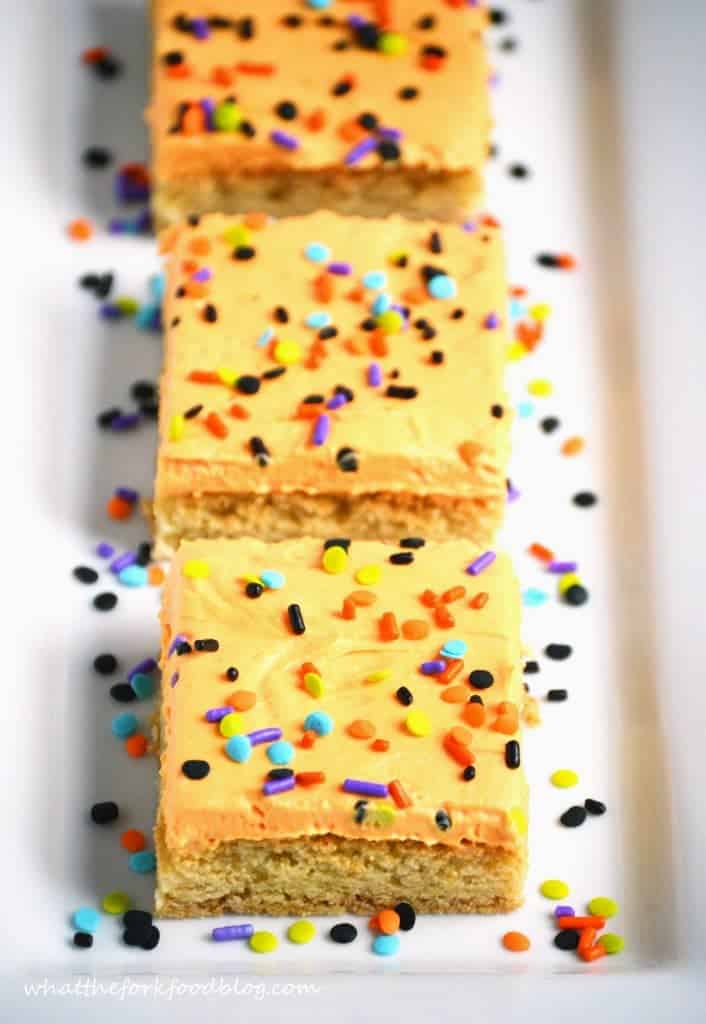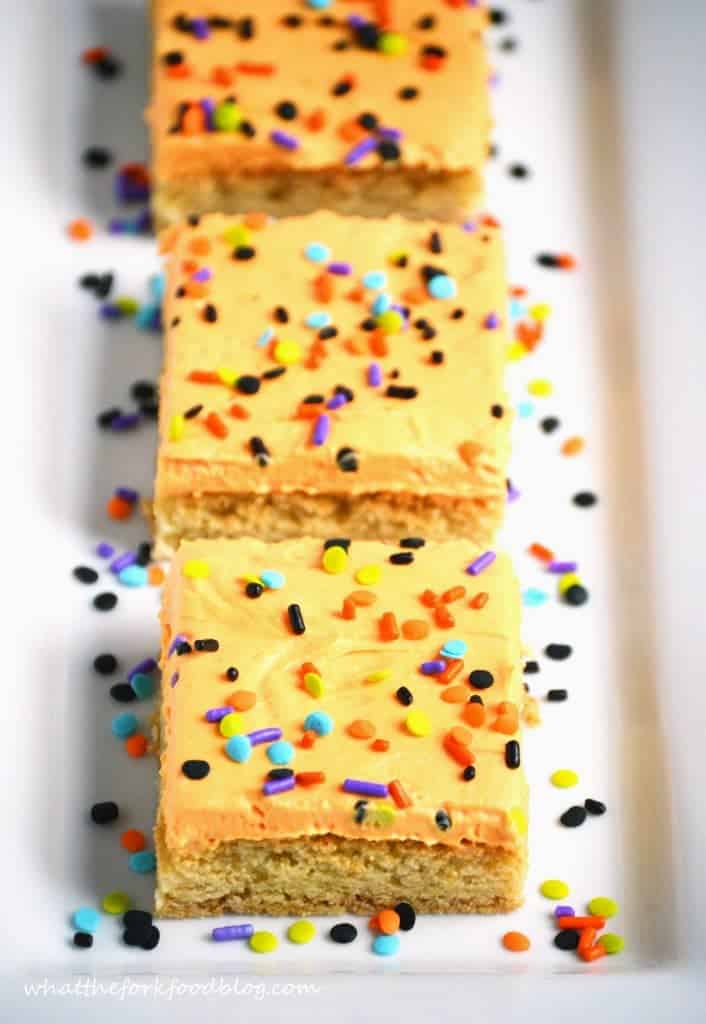 Ingredients
For the Sugar Cookie Bars
1/2 C butter, softened
3/4 C granulated sugar
1 egg, room temperature
2 tsp vanilla extract
1 1/2 C gluten-free all-purpose flour
1 tsp xanthan gum
1/4 tsp fine sea salt
1 tsp baking powder
1/2 tsp baking soda
1 1/2 tsp cornstarch
For the Vanilla Buttercream Frosting
1 1/2 C confectioners' (powdered) sugar
1/2 C butter, softened
1 tsp vanilla extract
1 Tbsp heavy whipping cream
food coloring (optional)
Cake Mate sprinkles (gluten-free) for decorating
Directions
Pre-heat oven to 350 degrees and line an 8 inch (or 9 inch) square baking pan with enough aluminum foil so there is an over-hang.
In a medium bowl, sift together the gluten-free all-purpose flour, xanthan gum, salt, baking powder, baking soda and cornstarch. Stir and set aside.
Cream together 1/2 C butter and the granulated sugar until light and fluffy. Scrape down the bowl and beat in the egg and vanilla extract. Add the dry ingredients and mix until just combined, scraping the bowl as needed.
Transfer the dough to the prepared pan and spread evenly in the pan. The dough will be sticky so it might help to press the dough in with well-floured hands.
Bake at 350 degrees for 22-25 minutes.
Cool in the pan on a wire rack. Do not frost until completely cool.
While the sugar cookie bars are cooling, make the frosting. To make the frosting, Beat together 1/2 cup butter and confectioners' sugar on low. Increase speed to medium and beat for 3 minutes. Add vanilla and whipping cream and food coloring (if using) and beat for another minute. For the orange color I used 12 drops of yellow and 6 drops of red food coloring.
Use the aluminum foil to lift the sugar cookie bars from the pan. Evenly spread frosting over the completely cooled bars and top with sprinkles. Makes 16 bars. Enjoy!
If you love this recipe for Frosted Sugar Cookie Bars, be sure to sign up for free email updates! New recipes will be delivered straight to your inbox!
 This recipe is linked to Merry Monday, Inspiration Monday, Made by You Monday, Inspire Me Monday, Two Cup Tuesday, Tasty Tuesday, Totally Talented Tuesdays, Create Link Inspire, You're Gonna Love It Tuesday, Time to Sparkle, Handmade Tuesdays, Tickle My Tastebuds, The SITS Girls, Create & Share DIY and Recipe Party, Gluten-Free Wednesdays, What's Cookin' Wednesday, Allergy Free Wednesday, Show and Share Wednesday, Wine'd Down Wednesday, A Little Bird Told Me Link Party, Full Plate Thursday, Showcase Your Talent Thursday, Create it Thursday, Pin It Thursday, Your Turn To Shine, Pin Junkie Pin Party, Gluten-Free Fridays, Pure Blog Love, Link Party Palooza, Foodie Friday, Kitchen Fun and Crafty Friday, Foodie Friday, Strut Your Stuff Saturday, Show Stopper Saturday, Saturday Night Fever, Weekend Bites, Weekend Wind-Down, The Weekend Social,  Weekend Potluck, Best of the Weekend, Weekend Recipe Link Party and Sweet & Savoury Sunday.