Sweet and spooky Gluten Free Ghost Cupcakes for Halloween! These cupcakes are simple and easy to make with ingredients you already have in your pantry!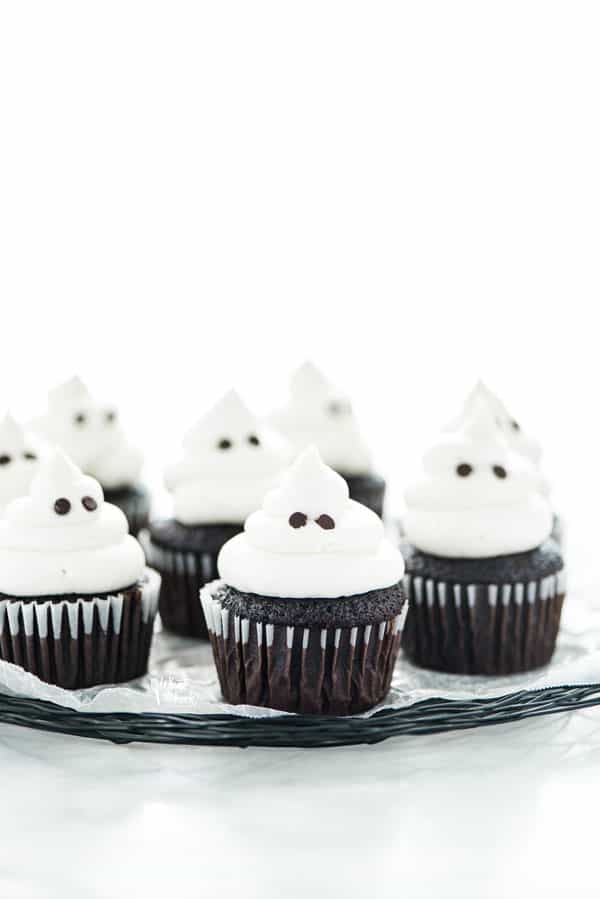 This post contains affiliate links for products and ingredients I use and love. You can read my full disclosure here. Thank you for supporting What The Fork Food Blog so I can continue to provide you with free gluten free recipes ♥
Gluten Free Halloween Ghost Cupcakes
I've been on a roll with the Halloween desserts this year and this week and have already shared some really fun Halloween cookies. Today, we've got some super cute Halloween Ghost Cupcakes!
These cupcakes are really easy to make. I use my favorite Gluten Free Chocolate Cupcake recipe (which makes 1 dozen cupcakes) and pair it with my favorite Vanilla Buttercream Frosting recipe.
It's a dreamy combination, especially if you love chocolate cake with vanilla frosting.
You don't even need any special Halloween cupcake decorations, just mini chocolate chips for the eyes! If you prefer, you can even place a 3rd chocolate chip for a mouth. Use standard white cupcake liners to keep with the ghost theme or use your favorite Halloween cupcake liners.
As an Amazon Associate I earn from qualifying purchases.
---
Key Ingredients for Chocolate Cupcakes with Vanilla Buttercream
Gluten Free Flour – I use my Nightshade Free Gluten Free Flour Blend with excellent results.
Cocoa Powder – Dutch Process Cocoa Powder is my preference in these cupcakes. It give them a deep, rich chocolate flavor and dark-colored cake.
Egg – This recipe calls for a single egg. To make these cupcakes egg-free, use a Flax Egg or your favorite egg substitute for baking.
Coffee – coffee brings out the chocolate flavor in these cupcakes. Use hot water as a substitution if needed.
Mini Chocolate Chips – for the eyes! Use a 3rd one as the mouth if desired.
---
Equipment Needed to Make Gluten Free Cupcakes
Muffin Pan – a standard muffin/cupcake pan is perfect!
Cupcake Liners – I prefer plain white cupcake liners for these cute Halloween cupcakes but feel free to use Halloween-themed cupcake liners.
Piping Bags – I use disposable piping bags because they work better with piping tips than Ziplock bags. A reusable piping bag will work too.
Piping Tip – For the perfect ghost swirl, use an Ateco #809 piping tip or Wilton 1A piping tip.
Did you make this recipe? Leave a star rating and let me know in the comments! You can also leave a photo/comment on this pin for others to see.
---
How to Make Simple Ghost Halloween Cupcakes
Step 1. Bake the cupcakes. Then cool them completely.
Step 2. Make the vanilla buttercream frosting. Prep your piping bag and tip.
Step 3. Frost the cupcakes and decorate them with mini chocolate chips. Serve and enjoy!
---
Tips for Making Ghost Cupcakes
Cool the cupcakes completely before frosting or else the buttercream will melt.
Don't over-soften your butter – bring it to room temperature an hour before making the buttercream.
Place the chocolate chips pointy side in to give the eyes a nice smooth look/finish.
---
Other Halloween Food Ideas To Try
Mummy Macarons – coming soon!
---
Be sure to follow me on Instagram and hashtag #whattheforkfoodblog or tag @whattheforkfoodblog – I love seeing what you make!
If you love these Halloween cupcake ideas, be sure to follow me on social media so you never miss a post:
---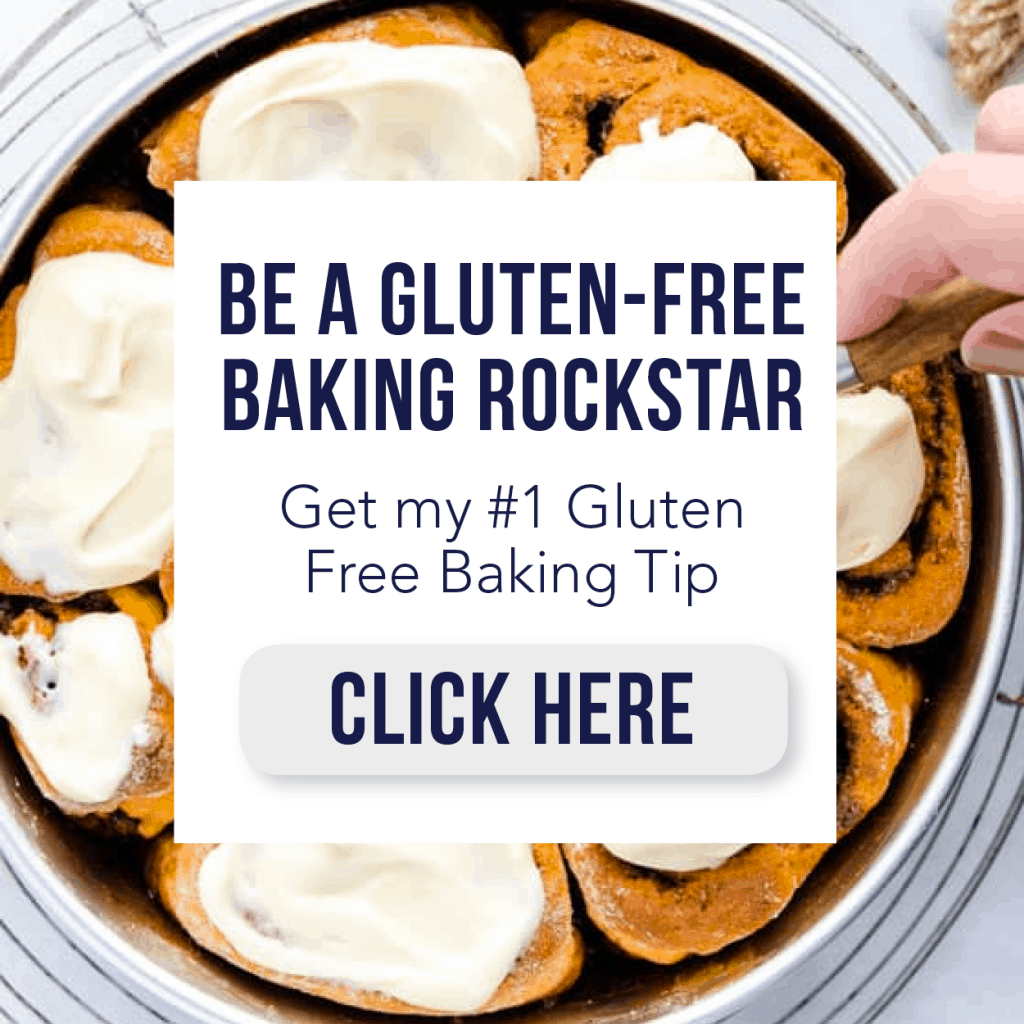 Gluten Free Halloween Ghost Cupcakes
Sweet and spooky Gluten Free Ghost Cupcakes for Halloween! These cupcakes are simple and easy to make!
Ingredients
For the Cupcakes:
1 cup Gluten-Free Flour Blend (see notes)
1/2 teaspoon Xanthan Gum
1/2 cup Dutch Processed Cocoa
1/2 teaspoon Baking Soda
1/2 teaspoon Fine Sea Salt
1 cup Granulated Sugar
1 large Egg, room temperature
2/3 cup Milk
1/3 cup Avocado Oil (or neutral oil of choice)
1 teaspoon Pure Vanilla Extract
1/3 cup Coffee, hot
For the Frosting and Decorations:
1 cup (2 sticks) unsalted butter, softened
3 cups Powdered Sugar
Pinch of fine Sea Salt
1 teaspoon Pure Vanilla Extract
2 Tablespoons Heavy Cream
24 mini chocolate chips
Instructions
To Make the Cupcakes:

Preheat oven to 350°F and line a 12-cup muffin tin with paper liners or spray with non-stick spray.
In a medium bowl, whisk together the gluten free flour, xanthan gum, cocoa powder, baking soda, salt, and granulated sugar. Set aside.
In a large bowl, whisk together the egg, milk, oil, and vanilla extract. Add the dry ingredients to the wet ingredients and stir until just combined. Then stir in the hot coffee until completely incorporated.
Transfer the batter into the prepared muffin tins, dividing it equally among the 12 cups.
Bake for 20-24 minutes or until a tester comes out clean. Cool in the pan for 5 minutes before removing to cool on a wire rack. Cool completely before frosting.

To Make the Frosting and Decorate:

Add the butter to the bowl of a stand mixer fitted with the paddle attachment and beat until smooth.
Add half of the powdered sugar and a pinch of sea salt and beat on low until the sugar is mostly incorporated. Add the remaining powdered sugar and beat on low until combined. Increase speed to medium and beat for 3 minutes.
Stop the mixer and scrape down the bowl. Add the vanilla extract, whipping cream, and food coloring (if using) and beat for an additional minute on low, increasing the speed to medium once the whipping cream is incorporated.
Transfer the frosting to a piping bag fitted with a large round piping tip. Pipe a tall swirl on top of each cupcake to form the ghost.
Place two mini chocolate chips on each cupcake for the eyes with the point of the chocolate chip facing in.
Store in an air-tight container and serve at room temperature.

Recommended Products
As an Amazon Associate and member of other affiliate programs, I earn from qualifying purchases.
Did you make this recipe? Leave a star rating and let me know in the comments! You can also leave a photo/comment on this pin for others to see.